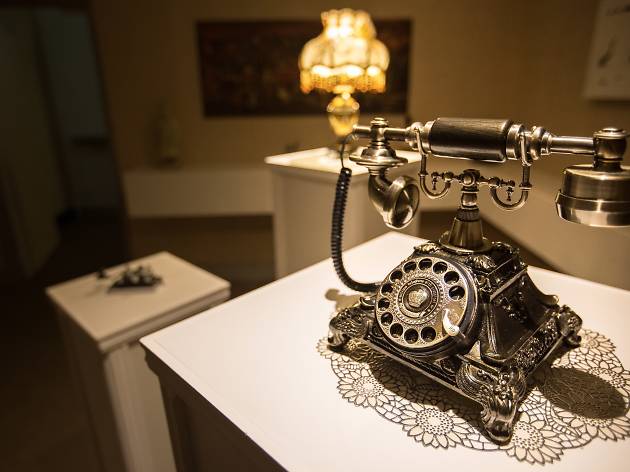 Dodge lasers like a thief in this museum heist
Slip through the doorway between David Jones and Rip Curl on Market Street and you'll find a lift that takes you up to a series of escape rooms created by Jason Tang and Anthony Chiu. CT Adventure Escape Rooms has three themes to choose from: a jungle expedition called 'Gotcha', a terrifying room called 'The Witch' that has just a five per cent success rate, and a museum heist called 'MU-T' – with a far friendlier 30 per cent chance of escape.
We like our odds of busting into (and out of) the museum. Eye masks on, we're led into the first room knowing we have 60 minutes to work out way through the puzzles and eventually retrieve the 'T'. Our escape room expert calls out what's in the room – she's a veteran games nerd and knows it's all about communication and teamwork.
We have a few easy wins: A key! A handle! A video tape! It feels like we're flying through… We'll be out of here in record time. Then comes the video tape. Like a spoof version of The Ring, we're told our fate – there'll be a telephone, there'll be numbers, there'll be people out to get us. Why is she dressed like that? Is that a child's voice?
In the second room, the theme becomes a little clearer but a few clues slow us down. Luckily we have a tall person in the team to reach some of those mechanisms, but we use two phone calls for clues to trigger some of the puzzles – the morse code, for example, doesn't correspond to short and long pulses. But we've come this far, so we push through and smash our way through other mechanical puzzles with the help of four pairs of hands.
We reach the final room, but time is running out… Our smallest thief weaves her way through laser beams as others yell numbers from rooms one, two and three. Ten minutes on the clock. Three codes disarmed. We watch the video again… We're so very close, but out of luck. Undeterred by our failure, we know we'll be back to tackle The Witch.
Outcome: Failed
Atmosphere: ✮✮✮
Creativity of puzzles: ✮✮✮✮
Difficulty: ✮✮✮
Fun: ✮✮✮
Best quote: "This room isn't made for short people."
Our tip: Listen to that videotape very carefully.
Venue name:
CT Adventure Escape Room
Contact:
Address:
7/61
Market Street
Sydney
2000

Opening hours:
Wed-Sat 11.30am-10.50pm; Sun 11.30am-10.30pm
Price:
$120-$180 per room
Rating Breakdown
5 star:

0

4 star:

0

3 star:

0

2 star:

0

1 star:

1
Friendly & helpful staff So much fun! We had a great time. The Witch room was very elaborate and cool.we did work it out eventually and the challenge added to the excitement. I disagree with previous negative reviews..
It's a Team building, I would definitely go back to do one of the other rooms - My colleagues highly recommend MuT.
WORST ESCAPE ROOM YET
We did the Gotcha room, after reading the description online I thought it looked pretty interesting so we booked in. Once inside the escape room I realised what I had gotten into, the clues were disjointed and didn't make sense, everything was written in broken english or not in english at all, there was no logical flow of the clues or rooms, all of the number codes were 4 numbers so you had to try every single lock or device which took up precious time, you had to play the snake game and if you're terrible at it like we were it takes about 20 mins! And worst of all it was entirely Pokemon themed! On the website it is described as a ship journey to the jungle to rescue the elf Pika, obviously they haven't paid any royalties or copyright so do not disclose on their website the Pokemon theme. As a person who has no clue about anything Pokemon related I was very upset because I could not participate in most of the clues in the second and third room because it involved matching Pokemon to their abilities and names etc. The quality is terrible, clues printed on worn out faded paper, all in broken english, terrible knock off Pokemon graphics. All in all if it wasn't for the fact we had used a voucher to do the escape room I would have asked for my money back