George
"I sit, I squawk, I steal coins from the tip jar"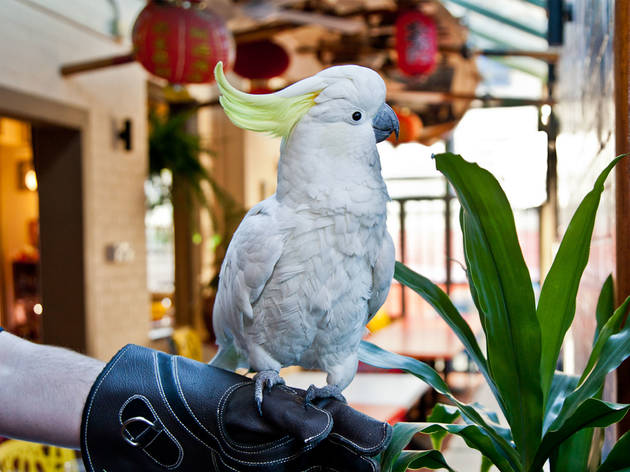 George the cockatoo may be the world's first and/or only avian bartender. A stalwart of Glebe drinking hole the Friend in Hand, George has been pouring drinks for about 12 years. "Want a beer?" he asks as we enter the pub. We politely decline – we're driving, and it's 2pm – and settle in to ask him some questions.
George, how do you like working at the Friend in Hand?
I love it! I get to yap at people all day and they feed me all the dim sims and barbecue pork I can eat. Which is a lot.
What does a cockatoo bartender do?
I sit, I squawk, I steal coins from the tip jar when nobody's looking. It's a pretty demanding job. Not ever y bird could do it.
Do the customers like you?
Most of 'em. But nobody is liked by everyone. Not even Hugh Jackman. There's one lady who comes in most afternoons and has a few beers. She's been doing it for years. She always gives me some of her dinner, so I get pretty excited when I see her and star t jumping up and down on my perch. She lets me hop onto her shoulder and I sit there until she leaves.
We heard one of them tried to kidnap you once!
Yeah, that was crazy. I was sitting on this dude's shoulder and he went outside for a smoke and then just kept on walking. I couldn't fly because I was frozen with fear, and then I blacked out. When I came to I was sitting on my log at the bar.
Read more about the Secret life of Sydney pets