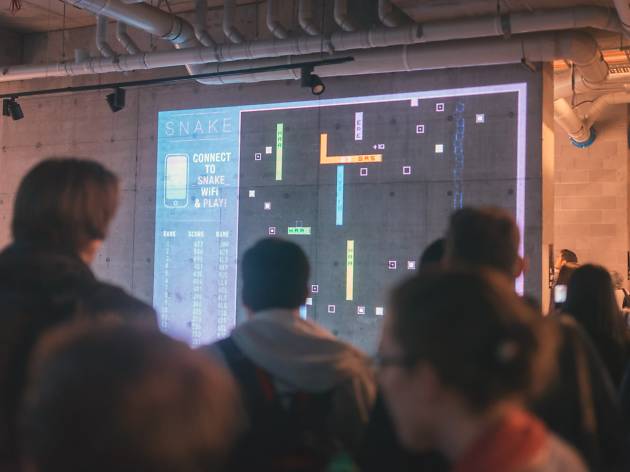 Time Out says
Dial into some digital nostalgia with this up-sized, multi-player reboot of the mobile gaming classic.
If you're an early millennial (or if you really want to split hairs, a xennial), you'll probably have fond memories of your first mobile device. They may seem woefully primitive compared to the smart technology we all possess today, but those frontier days of the mobile revolution were a simpler time, when 30-character SMS messages and pixilated phone cams seemed like the stuff of science fiction made reality. But perhaps the most magical innovation of those early generation cell-phones was the advent of mobile gaming.
Of the small collection of games that first graced mobile phones, Snake must rank as one of the most addictive. Now this handheld arcade classic is making a brief comeback in central Sydney. For one week only from September 30, a giant, multiplayer version of the game will be hosted at Darling Square in Haymarket. Mobile tech past and present collide as you use your smartphone to join the game. It's absolutely free to play and multiple people can plug in simultaneously, so get ready for some seriously competitive digital nostalgia.
The objective remains the same: simply navigate a digital serpent around an arena, gobbling up blobs of food on the way, being sure to avoid crossing your own or any other snake's path. With each successful meal, the snakes get longer and more difficult to wrangle. Players can access the game via Play Portal, and the best of the best will earn bragging rights with their scores displayed on public leader boards.
Details
Best selling Time Out Offers