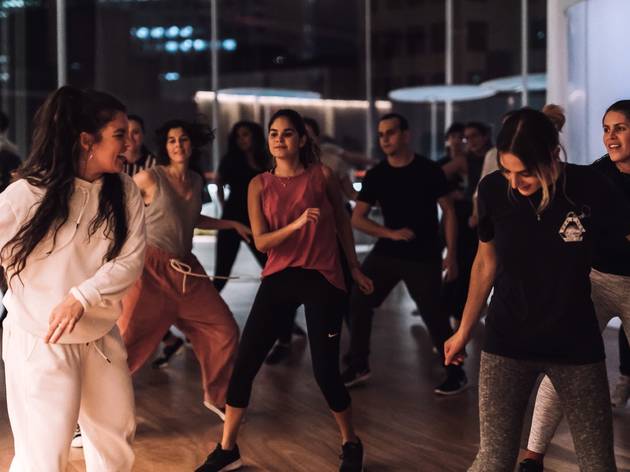 1/9
Photograph: Supplied
2/9
Photograph: Supplied
3/9
Photograph: Supplied
4/9
5/9
Photograph: Supplied
6/9
Photograph: Supplied
7/9
Photograph: Supplied
8/9
Photograph: Supplied
9/9
Photograph: Supplied
It's so much more than just learning how to groove, this dance class wants to make you happier too
If you've ever wanted to look better on the dancefloor (and who hasn't) this class by Vanessa Marian is designed to make you look and feel good about yourself. In fact, health and wellbeing is part of the ethos here. Groove Therapy wants to bring you into an environment that gets you moving, while stimulating your brain to improve your memory, coordination and boost those feel good endorphins.
Speaking to Time Out, Marian says, "We're so overworked in Sydney. We take everything and ourselves so seriously and it's just not good for mental wellness. Change starts with exercise, building a sense of community, an environment that's inclusive... giving you a sense of purpose every week."
Marian teaches a weekly dance therapy class at a Sydney nursing home. It was her experience there, seeing the connection between dance and well-being, that drove her to found Groove Therapy. She was touched by the reactions of her participants to music and movement, particularly one 94-year-old woman, called Vicky, who has dementia. She's also seen the positive outcomes of dance in her classes with disadvantaged teenagers.
She says, "I've started to see a pattern in how genuinely therapeutic dance has been for so many people, and people tell me they've come out of depression because they're dancing every week."
The 27-year-old runs each class as part of a three-week series that looks at different styles within the street style genre. "It's an education," says Marian, who teaches a mix of genres from Jamaican dancehall to Afrobeats. "Hip hop isn't just one style. There are thousands of sub styles and I do three weeks of different styles so that if you're a regular you get to work on the moves and get better at it."
Classes are open to anyone, of all ages and dancing abilities. For this teacher, moving is about a sense of community, not just getting fit or feeling confident. "It's really cool when you go to other countries where dance is so normal and not a single person even notices [you] because they're dancing with you. I want to start a culture of dancing," she says, and the quickest way to do that is simply "not caring what anyone else thinks."
Classes take place every Tuesday and Wednesday. Book in advance or drop-in to give it a go.