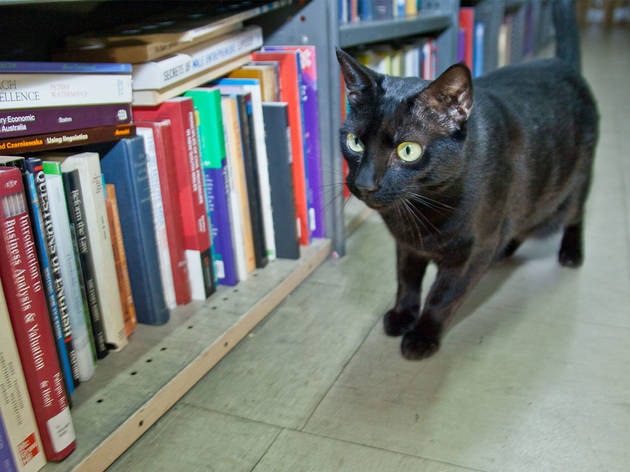 Oscar
"They hired me when I was a kitten, and saved me from a life on the streets"
Gould's Book Arcade is a Newtown institution. Established in 1967 by activist Bob Gould, it's been keeping Sydneysiders well read for decades. Gould's is huge, with aisles and aisles overflowing with books. It's easy to get lost in there, so if you need help, long-time employee and feline of few words Oscar the cat will (reluctantly) sort you out.
Hi Oscar, do you mind if we ask you a few questions?
Look, I'm really busy. Can you keep it quick?
We'll try our best! How long have you worked at Gould's?
Since I can remember. They hired me when I was a kitten, and saved me from life on the streets.
Is it a good place to work?
Well I have nothing to compare it to, but I enjoy coming to work every day and I don't have any complaints. I guess that means yes.
What do you do here?
I'm in charge of finding warm spots to nap in, sleeping on books, and walking around like I own the place.
So where are the best spots to lie?
In the morning I generally nap in the Russia, Eastern Europe, and Stalinism section – it gets the best morning light. Then in the afternoons I'll either nap in the Craft, Pottery, and Antiques section, or the Maritime, the Sea, and Oceanography one, depending how busy we are.
Do you have any favourite books?
I'm a big Bukowski fan. And I love Elmore Leonard. But I'd say my all-time favourite book is Life of Pi.
Read more about the Secret life of Sydney pets
Best selling Time Out Offers