Sydney Fish Market Behind the Scenes Tour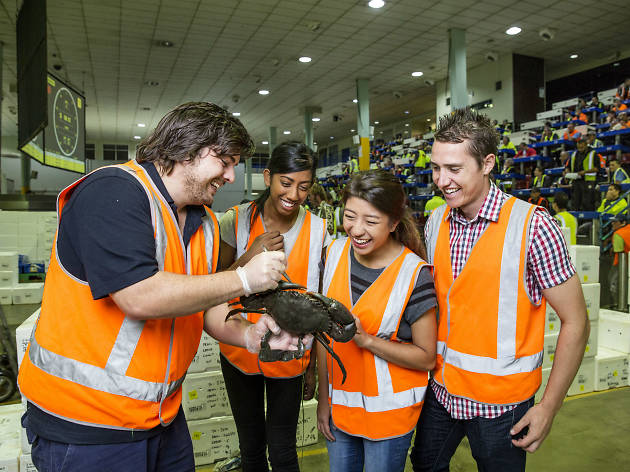 Time Out says
Friendly warning! We're working hard to be accurate. But these are unusual times, so please check that events are still happening.
PLEASE NOTE: As of March 16, these tours have been temporarily suspended due to COVID-19 precautions
Please refer to the Sydney Fish Market website for up to date information about when tours re-open to the public.
If you want to catch fishermen at work, you've got to get up early. Sydney Fish Market runs almost-daily tours that start at 6.40am. Wrapped up warm, our group of six visitors meet outside Doyle's Restaurant where tour guide Alex gives us a briefing and a few impressive facts about the largest fish market in the Southern Hemisphere. For one, it's now considered the second most diverse seafood market in the world after Tokyo's markets.
We enter the auction floor on the mezzanine level, where we can see buyers seated in front of three huge screens, jeering as a sale is completed. Alex jokes that the jeers might be because the young bidder paid too much and set the bar high for the other sales in that category. In any case, we're fascinated by the electronic Dutch auction system, which gives the buyers in the room just two seconds to make a decision.
Sydney Fish Market has been using the Dutch auction system for over a decade and their data informs the cost of fish purchased on any week of the year. Auction prices start at $3-to-$5 above the data price per kilo and as the counter clicks at high speed, buyers in the room tap away on blue keypads at plastic desks and a sale is made before you can say 'medium blue swimmer crab'. Alex says it's significantly more efficient than a voice auction, and wasted stock is as low as 0.5 per cent on any one day.
We learn that there's 55 tonnes of fish out on the auction floor on this Monday morning, brought in by more than 1,000 suppliers across the Asia-Pacific region. At 3am, three quality assurance staff inspect the seafood and grade it according to the predicted shelf life, size, weight and condition of every species. Wearing our high-vis jackets and closed-toe shoes we venture onto the auction floor for a tour of the 100-plus varieties of fish and shellfish.
Alex picks up an NSW-caught C-grade crab and encourages us all to give the shell a squeeze. Quick tip: when buying crustaceans, make sure the shells are as strong as possible and the dirtier looking, the better. We hear that fish travels from as far as the Northern Territory by truck, but (perhaps more interestingly) the number of days since a fish was caught is not the determining factor for freshness. It's how the fish has been treated since it was caught that matters.
We're introduced to an 85.4-kilogram striped marlin – as long as a person, even without its head. We sniff the gills of a bright pink whole-sized eastern pigfish, to test for freshness. We watch Alex grapple with the weight of a shimmering, iridescent snapper from South Australia. We coax a live pipi from its shell as Alex talks about hitting up Golden Century for a bowl of them cooked in XO sauce. But the prize of the day is a B+ grade yellow tuna fish that's estimated to cost upwards of $22,000. It's the first B+ that Alex has seen in weeks; he's stoked.
As we weave our way past working fishermen and buyers who are keen to move their stock off the wet floor and out to retailers, our toes are numb from the chill. The tour finishes up in the marketplace where we witness Hawkesbury river rock oysters being shucked at Christie's Seafoods. It's a packed two-hour tour, and if you need a photo to show off your morning adventure (there's strictly no photography on the auction floor), Alex will fish out a live king crab and rock lobster from their tanks for the perfect selfie.
Details