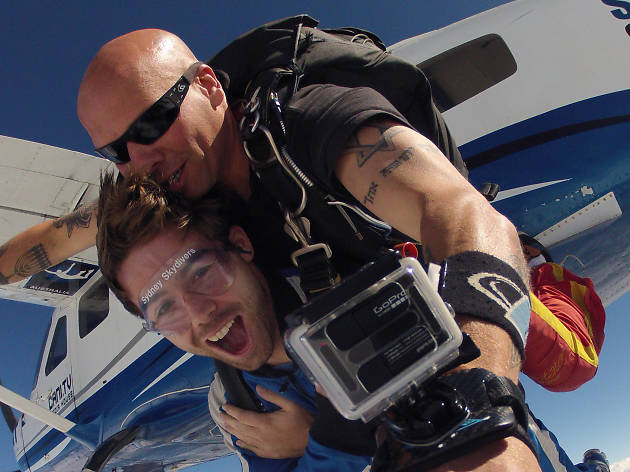 Time Out says
Ever wondered what it's like to reach terminal velocity? You can just an hour outside of Sydney
Before we tell you about what skydiving with Sydney Skydivers is like, we'd like pause consider how nuts the activity is – humans invented the plane so we could fly, then we worked out how to jump right back out of it. It defies logic and instinct – but there's a reason people are do it right across the world. The thrill is in line with the altitude.
When you arrive out at Sydney Skydivers (a base in Picton, which is around an hour's drive from the CBD) you'll check in – waiver forms will instil an initial jolt of fear – but before you can process it, you'll be getting suited up. After you're fitted out in your very cool blue all-in-one, you start with a quick run-through from your tandem buddy (which all new divers get – once you've completed 25 tandem dives, then you can bounce out of the plane solo). On our visit, our instructor Peter has been jumping for around 15 years. "I did it a bunch of times [for fun] and then worked out that if there was a way I could make a living from it, I should do it." Oddly enough it's not until we are airborne that we find out Peter is afraid of heights.
Once you're kitted out and strapped into your harness you'll be whisked off to your aircraft. Before a reassuring double check of all the gear and some happy snaps, it's time to get on board. The flight is much like taking off in a normal aircraft, with cars turning into dots and the horizon broadening. You can see back to the Blue Mountains and over to the sandy beaches of Wollongong, with plenty of fields and winding roads in between. With around 15 minutes on average of cruising time, you'll almost get settled in. But you're not on this joyride for keeps– you're about to jump out of it. On our visit a crew of around 12 experienced jumpers are amped up, high-fiving and fist pumping each other. Before you know it they are crawling out of the plane door like monkeys, jumping with more enthusiasm than we can fathom for such a daring feat.
Then, we're up. After a brief internal 'Why the hell am I doing this' our feet are dangled off the edge and we're out of the plane. You plummet for around a minute – long enough to really contemplate what might happen if the parashoot fails' – but then a jolt signals the opening of a bright blue chute. The later part of the trip is leisurely in contrast – you have time to take in the views and even have a go a steering. Finally, landing is a bit like coming off a slippery dip, and smoother than any 747 we've been on.
If you're thinking about diving out of a plane, do it. Or better yet, get someone to make you do it – this takes away the hardest part (getting the courage up to book it). Once that's done, the rest is as easy as one, two, three, jump.
Sydney Skydivers also offer a free shuttle service departing from the Sydney Skydivers' Departure Lounge, located at 196 Elizabeth St, Surry Hills 2010.
Details