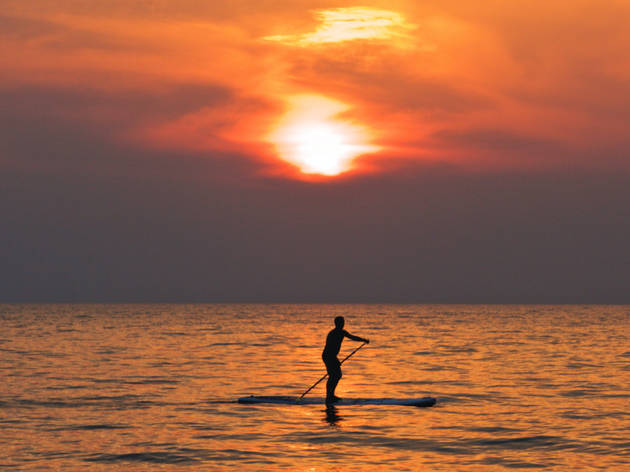 The best physically distant activities to try in Sydney this spring
Enjoy the return of warmer weather while keeping yourself and others safe
As the balmy spring air banishes the last chilly days of winter, it won't take long for Sydneysiders to flock to all our amazing beaches, parks and public spaces to make the most of the city's famously fair weather.
However, this spring will have to look a little different to previous years. While many social restrictions across Sydney have been relaxed or lifted in recent months, the virus is still present in our communities. We all still need to do our part to help slow the spread and keep our city open, by following good hygiene and remaining 1.5 metres distance from others in public. Fortunately, there are plenty of springtime activities in Sydney that make the most of the great outdoors while still allowing for physical distancing – so give these a try, and enjoy spring in safety.
RECOMMENDED: How to go out safely in Sydney right now.
Surfing
Needless to say, surfing is not an activity where you'll risk much proximity to others. What you will get up close and personal with, however, are the buffeting waves of the Pacific, so you'll want to take a lesson or two before you join the thousands of surf devotees who regularly tame the breakers along Sydney's shoreline. Surf Skool offers lessons throughout the Northern Beaches, where Australia's love of the sport began in the early 1900s. South of the city, Cronulla is another hub for Sydney's surfing community, with the local Surfing Academy ranking among the best in the area. On the north side of town, Manly Surf School offers lessons seven days a week, caters to all abilities, and offers both board and wetsuit hire.
Paddleboarding
While it's a more zen activity in comparison to its tubular cousin, stand-up paddleboarding still shares a similar vibe to surfing – mostly in that it's not only a great way to experience the water, but it's also ridiculously cool. Only truly experienced hands should brave the chop out on the open ocean, but for those SUP beginners out there, the harbour waters are just the kind of sheltered setting where you can master the basics. The Balmoral Boatshed, the Manly Kayak Centre or WATSUP at Watson's Bay all offer both board hire and lessons, and it's the perfect time of year to start, just ahead of the summer rush.
Kayaking
Want an upper-body workout with a side helping of jaw-dropping harbour views? Grab a paddle and head to one of the many great kayaking schools dotted throughout Sydney. And it's not just the harbour you can explore by kayak, but also the many quiet waterways and secluded coves that feed into the city's big blue heart, not to mention the harbour islands. But first things first – before mounting a major expedition, it's a good idea to start with a guided tour, and Sydney by Kayak has a plethora of options from dawn trips to romantic private tours for two. Check out our pick of the best kayaking tours in Sydney for full details.
Snorkelling
We've checked, and according to all current medical advice, there is no need to socially distance from fish. The Great Barrier Reef may be Australia's OG snorkelling go-to, but while borders are still closed, there is still plenty of marine life to spy on right here in Sydney. In fact, choosing just where to go on your next snorkel safari might be your biggest problem. From rock beaches to harbour islands and even a training pool, we've picked out a few of Sydney's best snorkelling spots to get you started.
Open water swimming
Almost all the public swimming pools in Sydney have now reopened to the public, but shared facilities may not be too appealing to all of us at present. Give the changing rooms a miss and get in your laps at the biggest pool in the city, namely Sydney Harbour. Within the headlands, the waves are far gentler so the conditions are perfect for open water swims. Head to Balmoral Beach where there's a netted enclosure specifically for briny bathing. There's also Watsons Bay Baths, which has been welcoming open water swimmers since 1905 and even has Olympic-sized lanes marked out for those with more serious training in mind. More casual dippers are pretty well served at any of Sydney's harbour beachfronts, so check out our list to find one near you.
Forest bathing
Don't worry, this activity doesn't require you to strip off in the woods. Contrary to its name, forest bathing is actually a form of solitary mediation that originally emerged from Japan in the 1980s. In recent years, it's gained popularity as both a fitness trend and a mindfulness practice. Surrounded by nature, on a bushwalk in a national park or even just in one of the city's pleasant gardens, forest bathers allow the sounds, smells and sensations of the natural environment to wash over them, and as far as social distancing is concerned, this mediation is best experienced solo. As a form of ecotherapy, it can be both an antidote to the frenetic stress and tech-dominant reality of urban living and a way to centre and calm the mind in a peaceful, restorative setting. And Sydney could hardly be better equipped, with its many parks, coastal walks and natural escapes mere kilometres from the hustle of the CBD.
Gardening
Is there a better time of year to take up gardening than spring? Whether you have acres of space or just a humble balcony to work with, you can transform any outdoor area into your own personal oasis. If you know how, that is. Plants can be extremely fickle, so picking the best varieties for the specific conditions you're working with is vital. To take some of the guesswork out this, we picked the brains of the fine folk at Sydney City Farm for their top gardening tips and tricks. Go forth, green-thumbed friend, and get growing.
Fly solo, stay distant
It can be difficult to master the art of hanging out by yourself. But a bit of introspection and calling all the shots can be extremely rewarding. Make time for yourself and try out Sydney's best adventures for one.
Best selling Time Out Offers