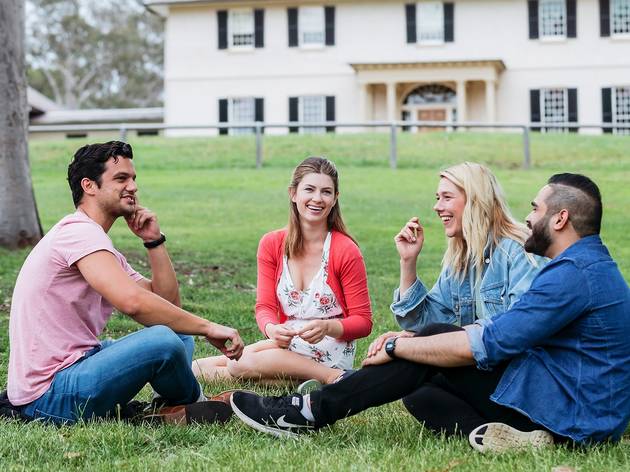 What you can and cannot do in Sydney
Everything you need to know about the changes to restrictions in the city and beyond
Updated March 18, 2021
For up to date information on current regulations, you can also visit nsw.gov.au.
Should I wear a mask?
Yes, in situations where you cannot pratice social distancing form others. However, it's no longer mandatory to wear one, unless you're on public transport and in public transport waiting areas (including on flights and in airports) in Greater Sydney. If you're found in these settings without a mask, you could be subject to a $200 fine.
Can I have friends or family over?
You're currently allowed to welcome a maximum of 50 guests into your home for the purposes of socialising. Party on.
Can I go to a restaurant or café?
Yes. The number of people permitted in a venue will now be determined by the two-square-metre rule, which means that the upper limit of a venue's capacity is no longer arbitrary but rather determined by its size. All patrons who visit an eatery will be required to check-in with their contact information on arrival using the Service NSW Covid Check-In App. Venues not using the Service NSW app could face a fine of $5000.
What about pubs and bars?
Pubs, gaming venues, bars and RSLs are allowed to serve customers as long as they are abiding by the two-square-metre rule. This also includes cellar doors, breweries and distilleries. As of March 17, vertical consumption is allowed again – so you're now able to drink without being seated. All patrons are still required to check-in with their contact information.
Can I go shopping?
You can shop to your heart's content, as long as you're wearing a mask. There are also limits on the number of people allowed in a shop at any one time and you may be asked to submit to a temperature check or to leave your contact information before entering.
Can I use public transport?
You can, but it is mandatory to wear a mask at all times when using public transport, including in wiating areas for public transport, even if the vehicle or platform is relatively empty. Why not use pedal power for your next journey instead? Cycling is not only a great form of exercise, but it's also better for the environment.
Can I visit art galleries and museums?
Museums and galleries have now been reopened to the public. There are limits on visitor numbers to be determined by venues and some are introducing pre-booked entry or allowing visitors on a first come, first served basis.
Can I get a haircut or visit my beauty therapist?
You betcha.
Can I work out?
Definitely, but gyms much have strict hygiene measures in place. Group fitness classes are now allowed a maximum of 50 participants. Sporting venues must adhere to strict hygiene measures.
Can I travel around regional NSW and Australia?
There are currently no travel restrictions in place for any journeys within NSW, or from NSW to any other state. Travel permits and mandatory 14-day quarantine periods are not required for interstate journeys at present, but things change quickly, so we recommend checking before travelling.
Are national parks open?
They sure are, and many of their campgrounds are also open to visitors. There are still some occupancy restrictions and some facilities at certain parks are unavailable, so we suggest checking ahead on the parks service website before you travel.
Can I have a party?
Yes! As of February 24, you're allowed to welcome a maximum of 50 people into your home.
Can I go to the library?
Good news book worms, libraries are open, holiday closures notwithstanding. Limitations on visitor numbers will be in place, and many are still operating only as 'click and collect' facilities. You should check in with your local library branch to see how they're handling this. In the meantime, there are thousands of e-books available to download from City of Sydney libraries.
Can I hang out in a park?
You sure can, either by yourself or with up to 49 other people. Enhanced hand hygiene is advised, so don't forget to take some hand san with you.
Can I travel overseas?
All international travel, with very few exceptions, has been banned and is not likely to resume until late this year. If you are returning from overseas, you will be required to quarantine for 14-days in a hotel before rejoining Australian society. Fines and legal proceedings for those found breaking travel restrictions remain in effect.
Can I, or should I, get tested?
In an effort to clamp down on community transmission, NSW Health is advising that anyone with the slightest flu-like symptoms should get tested. You can find your nearest testing centre on the NSW Health website.
Stay safe
Protect yourself and others around you by staying on top of personal hygiene and physical distancing. Follow this handy guide and help keep Sydney Covid safe.