What you can and cannot do in Sydney right now
As restrictions are eased in the coming weeks and months, we'll keep you up to date with the latest developments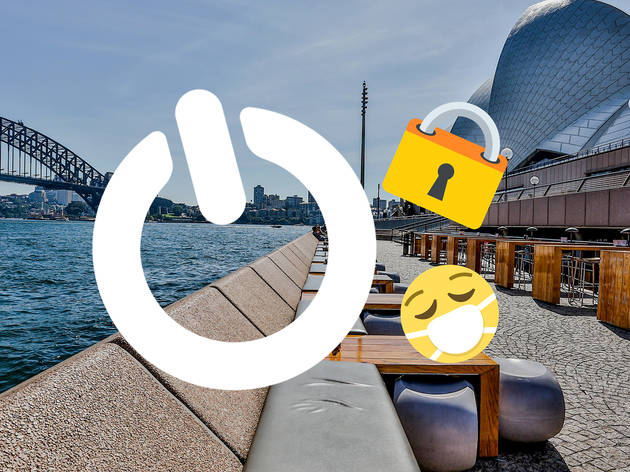 Updated May 25, 2020
It has been more than two months since everyday life was turned upside down by a slew of social restrictions. Compared to other places in the world, Australia has been pretty lucky; the strict, swiftly implemented lockdown rules – and the way Sydneysiders embraced them – has now brought the spread of infection largely under control, according to data from NSW's infection "heat map".
So much so, in fact, that authorities have begun to roll back some social restrictions. The restrictions in NSW have been eased since May 15, as the state government follows a slightly modified version of the Morrison government's stage one plan. From June 1, the rules will ease up some more.
If you're confused about the current restrictions in our state, you're not alone. So to break things down a little, we've summed up the main things Sydneysiders want to know.
For more up to date information on current regulations, you can also visit nsw.gov.au
Time In is committed to keeping you in the loop with the best ways to stay entertained and connected. Celebrate your city while staying Covid safe with the best things to do at home.
Your questions answered
We are currently in stage one of a three-stage process to ease social restrictions, as advised by the federal government, to be rolled out over the next two months. However, there is no concrete timeline in NSW currently as the state government is not required to follow every federal recommendation. Certain protocols such as physical distancing may be in place for several more months to come, but Australia is in a much better situation than many other countries, which is something to feel optimistic about.
Can I use public transport?
You can, but the NSW government is urging people to avoid trains and buses at peak times, before 10am and after 2pm. Ferries and the light rail network are less busy, but if you can avoid using public transport, you should. An increase in car traffic is expected as more workplaces begin to reopen, and a huge overflow car park will take over Moore Park to cope with the influx. But we'd encourage you to use pedal power for your commute: cycling is not only a great form of exercise, it's also better for the environment too.
Can I get a haircut or visit my beauty therapist?
In thoroughly exciting news for anyone who is in desperate want of an eyebrow shaping or urgent manicuring of their talons, beauty salons have been added to the list of venues set to reopen on June 1. There will be regulations in place – don't expect to leaf through the latest glossy gossy magazine in the foyer – which we've covered over here. In the meantime, there are some exceptions for remedial and medicinal massage. Hairdressers and barbers are also still trading, so you can still have your mop sorted out or your fade freshened.
Fear not, all you swole folk chomping at the bit to recoup your mad gains. Outdoor gym facilities reopened May 15 (although they must be used with caution) and outdoor boot camps are allowed with a maximum of 10 people to a group. Multipurpose sports courts in public parks, used for basketball and netball, will remain closed. While we don't yet have a set date for indoor gyms and yoga stuidos, they have been earmarked to reopen in June.
If all the animal livestreams that are coming out of lockdown have just left you even more hungry to see critters great and small in person, your time has come. Zoos, aquariums and animal parks will reopen from June 1. There will be stringent protocols, and like most attractions joining the great June relaunch, you'll likely need to book ahead.
Can I visit art galleries and museums?
From June 1, museums and galleries will be able to reopen their doors. This makes NSW the first state in the country to announce the reopening of cultural institutions to visitors. However you likely won't be able to just rock up for a browse, with limits on visitors to be determined by venues and pre-booked entry likely to be introduced. Visitors will also be required to log their contact details, either by downloading the CovidSafe app or by individually submitting contact details upon entry.
Can I travel around regional NSW and Australia?
In great news for regional tourism, which has also had the devastating impact of last summer's bushfire crisis to contend with, the ability to travel and holiday anywhere in NSW will be reinstated from June 1. We answered all your questions about day trips and domestic travel in NSW and interstate over here.
Most of them are open right now for exercise purposes, but communal facilities such as toilets, water fountains and barbecues are not accessible at all parks at the moment. Campgrounds within national parks are also not currently operating, but at least some will be reopening on June 1, with further details due in the next week from the state's parks authority.
Can I go to a restaurant or café?
Cafés and restaurants are allowed to seat a maximum of ten people, dependent on the size of the venue, and from June 1, up to 50 guests will be allowed in sufficiently large venues. Previously, only take away service has been allowed. However, you may not be able to grab a seat at your local like old times. Businesses will need to ensure each patron on the premises has at least four-square-metres of space. Here's an explanation of the new rule and ways you can avoid being a dick when dining out.
What about pubs and bars?
Good news if you're hankering for a pint and a parma: pubs, gaming venues and RSLs are allowed to serve seated dining since May 15, with a maximum occupancy of ten customers at any one time. From June 1, up to 50 customers will be allowed in sufficiently large venues, but all guests must be served seated – standing at the bar will remain off-limits.
Can I visit my friends or family?
As of Friday, May 15, five people (inclusive of children) are allowed to visit private residences for the purposes of socialising. While this is all very exciting, you should still be following physical distancing protocols when you call in on your mates, and you should stay clear of older relatives over the age of 70. If you are at all symptomatic – even the slightest of sniffles, a scratchy throat or a little more fatigue than usual – you should get tested. Read more about the latest announcement here.
If you are only inviting five people, inclusive of children, and your party is on or after May 15, and you're still practicing physical distancing within the home, go for your life. Ten people are allowed to gather in outdoor spaces, including public parks, but you still need to follow physical distancing rules, so no matter how good it is to hang with your mates, hugs, handshakes and high-fives remain on hiatus.
Can I bring my reusable coffee cup to a café?
A new contact-free initiative from Responsible Cafés could see many coffee shops allowing personal reusable takeaway cups allowed back in, however as keen as you may be to stare down Karen with her skinny latte with two Equals in a non-recyclable cup to go, this is up to individual cafés. Read more about it here.
Swimming pools are technically allowed to reopen from May 15, but several run by City of Sydney will remain closed as local authorities wait for the NSW government to issue health orders. It's unclear when this will happen. We recommend calling ahead of your visit to make sure your local pool is operating. Beaches will remain open for exercise purposes, including swimming, surfing and paddleboarding, as well as general recreation as long as your group does not exceed ten people.
Can I hang out in a park?
You sure can. From May 15, you can leave your house for non-essential reasons, such as hanging out at the park, either by yourself or with up to nine other people. You will, however, need to strictly adhere to physical distancing rules while you're there, and enhanced hand hygiene is advised, so don't forget to take some hand san with you.
Can I let the kids loose on the playground?
In news that is sure to delight anyone cooped up with tiny humans, public playgrounds have opened again. Physical distancing and hygiene should be practised (as best as you can manage that with tots).
Can I go back to the office?
The current advice is that if you can work from home, you should do so. However, this is just a recommendation and some businesses have begun to reopen offices. Check out the state government's work safe website to see if your workplace has all the necessary hygiene and sanitation measures in place.
All international travel, with very few exceptions, has been banned and is not likely to resume until next year, and will not return to normal until 2023. Fines and legal proceedings for those found breaking travel restrictions remain in effect.
Certain shops have been allowed to open since May 1. This is under the proviso that they're selling essential supplies. However, it was up to individual retailers to determine whether their goods are essential to their customers. Do you deem scented candles essential to your lifestyle? You can probably pop out to get some, but remember to practice social distancing. Stores that are not supermarkets or pharmacies are still only allowed to let in one person to every four square metres, with a maximum occupancy of ten customers.
Can I, or should I, get tested?
In an effort to clamp down on community transmission, NSW Health has announced that anyone with the slightest flu-like symptoms should get tested. If you work with vulnerable people, for example, in a nursing home, boarding school, or any other kind of residential facility, and you experience any respiratory symptoms, no matter how mild, you must be tested. The state is aiming to conduct 10,000 tests a day, and health authorities are encouraging people to get tested multiple times if they have any suspicion that they could be infected.
What's the go with weddings and funerals?
Weddings are allowed to have up to 10 guests from May 15, while funerals are allowed 20 mourners indoors or 30 outdoors. And yeah, you've guessed it, everyone in attendance must still observe social distancing and enhanced hygiene protocols. It might feel almost cruel not to offer a hug or handshake at these special or sombre occasions, but contact is the primary means of transmission and weddings and funerals have produced infection clusters in the past in NSW.
You no longer require a specific reason to go for a drive in NSW. So in the words of Rihanna, shut up and drive. You can drive to anywhere else in NSW to visit someone, you just have to hold off travelling for a holiday until June 1.
If you're in a real tooth-related pickle or you're hankering to get those chompers whitened, you should be in luck. Level three restrictions on dentists were eased from late April with many elective procedures now allowed. Many dental clinics have been operating at a reduced capacity. If you're unsure about treatments you can seek, you can contact your local public dental service for triage and advice.
While uprooting your living arrangements is hopefully not something you need to do during a pandemic, moving house or moving between two places of residence has been permitted all along. Just make sure you observe hygiene and physical distancing rules.
Should I download the government's contact tracing app?
Dubbed CovidSafe, the technology is one of the tools Australian health authorities are using to limit the spread of disease. Based on digital contact tracing, it's modelled on a similar app used in Singapore. Its purpose is to suppress the issue of 'community transmission' – where infection is spread between people in public. We've answered all your questions about it here.
How long does it take to recover from the disease?
Of the first 2000 people diagnosed in Australia, half of those surveyed were fully recovered within 16 days of the initial onset of symptoms, three-quarters were recovered within three weeks and 96 per cent were well by six weeks. Read more here.
Stay safe
Protect yourself and others around you by staying on top of personal hygiene and physical distancing. Follow this handy guide and help keep Sydney Covid safe.