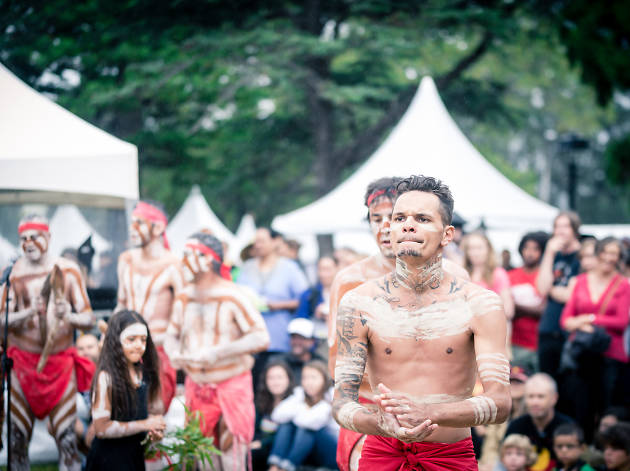 Celebrate the world's oldest surviving culture at the 16th annual festival
Yabun is a long running Survival Day gathering in Camperdown that provides a positive space for people to share in the culture of Aboriginal and Torres Strait Islander people in the country. 'Yabun' is a Gadigal word that means 'music to a beat' and the free festival includes stages of live music, market stalls to browse and workshops for kids and adults in arts and crafts, sport and more in-depth discussions around contemporary issues faced by the community.
The day's musical line-up includes ARIA-award-winning country musician Troy Cassar Daley, younggun rapper Baker Boy from North East Arnhem Land, Uncle Joe Geia from North Queensland who is best known for the song 'Yil Lull,' all-female group Kardajala Kirridarra from the Northern Territory who sing in Mudburra language and English, and contemporary duo Electric Fields who have been likened to Daft Punk and Nina Simone.
Plus, jazz and soul legend Johnny Nicol, hip-hop artist Dobby, up-and-coming songstress Mi-Kaisha, country and gospel performer Jarrod Hicklin and jazz and blues band Baraya.