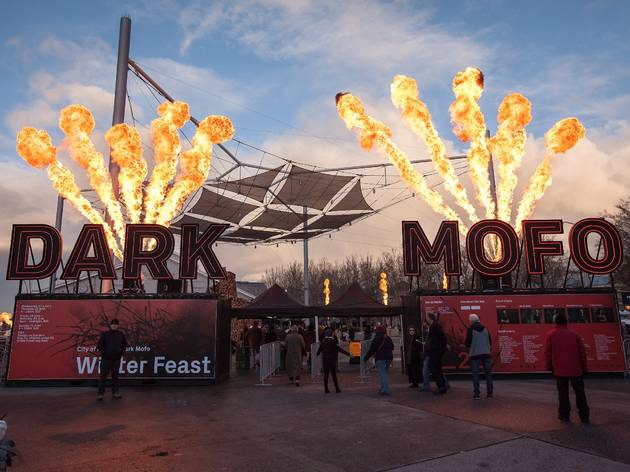 All the things we expect to feel at Dark Mofo this year
Tasmania's bleeding-edge bacchanal will be weirder than ever
Calling all you winter warriors, art freaks and experience hunters, MONA's annual festival of dark arts is back to celebrate the winter solstice with almost two weeks of music, performance, food and art. This is not a festival of bangers – expect weird, niche and experimental to trump pretty and pleasing every time, which is exactly why you should want to go. Seriously, here are just some of the things you can expect to feel over the 12 Days of Dark Mofo.

Like you've been teleported to Berlin for a rave
If you took Calvin Harris to Berghain you'd probably emerge on a Monday morning with the echoes in your brain that sound not unlike Zhu. In recent years this LA-based producer has been blowing up over the internet thanks to his dark electronica (minor chords, ostinatos and dissonance) paired with lush vocals on hits like 'Faded' and 'In the Morning', and now he's bringing the party down under.

Like you almost understand the secrets of the universe
What happens when you set up Japan's leading electronic composer inside CERN (and we do mean the European Council for Nuclear Research where the Large Hadron Collider is housed)? We don't know but we really want to find out. Coming to Dark Mofo this year is Ryoji Ikeda's supersymmetry [experience]. Developed at CERN, this installation combines noises and visuals that make you feel like you're discovering another plant, or is that just what understanding physics feels like? The work explores supersymmetry, which is a mathematical model explaining why particles have mass, and we suspect an immersive art and music piece will be more fun than the years of academia needed to answer that question for real.
(photograph: Cult of Fire)

Like someone punched you right in the feels
You know how sometimes you just look at a performance and know it's going to tear at your heart and make you feel all the things? We're getting those vibes in a big way from Songwomen of Black Arm Band, an Indigenous supergroup performing women's stories. The Songwomen will be joined by True North, which is described as a "performance in light, sounds and language" from Tim Moriaty of the Yanyuwa people, with a little Baroque flute care of Cynthia-Louise Dellit.
Like sleep might in fact be over-rated
Veteran Australian artist Mike Parr (maybe you caught him at the Biennale recently) is taking over a historic mental institution and will be showcasing video, sounds, photos, objects and interactive pieces in his installation, including an endurance art event where he draws for 72 hours and the cost of entry is a mirror of any kind.
(photograph: Mike Parr)
Like you've stared down the reaper
And here was have a soundtrack for staring into the void. Hymns to the Dead is a collection of music from dark side, including Czech death metal from Cult of Fire, Swedish prog-black metal from Tribulation, Greak death metal from Dead Congregation and a little touch of local doom metal from Melbourne's Inverloch. We're thinking it could be really cathartic, or terrifying. Either works.

Like the end of days sounds a lot more melodic than you were expecting
Chelsea Wolfe writes some of the most beautiful sounding songs of distress we've ever heard. If Marilyn Manson and Sarah Blasko collaborated it'd probably be pretty close to Chelsea Wolfe's folk metal and Dark Mofo is you only chance to experience this it's brutal, mesmerising, electronic music live.

Like you want to punch-dance your rage out
Emerging from London in 2012 like Joy Division's teenage cousin, post-punk band Savages combine emotional lyrics with driving drums and guitar. This year they'll be bringing the 'rock' to the Odeon theatre for a little chaos and disruption.

Like the world is on fast forward
Ukrainian piano extraordinaire and composer, Lubomyr Melnk is recognised as one of the worlds fastest concert pianists, and this year Melnk will be performing his Rivers and Streams at Dark Mofo. Lubomyr is known to play up to twelve notes in a second and this will the only Australian show for the virtuoso.

Cold
It sounds mad, but each year people voluntarily strip down, don a bathing cap and join the Nudie Swim. Following the longest night of the year it has become a ritual to hit the water at Sandy Bay at the crack of dawn to welcome the light, shed your inhibitions and prepare for the new year – or just a great excuse to get your kit off.
(Photograph: supplied by Dark Mofo)
By Gina Karlikoff and Emily Lloyd-Tait
Getting there
This winter, QANTAS have increased their flights to Tasmania, so it's quicker and easier than ever to get to the Isle of the Curious. Tasmania is just an hour's flight from Melbourne, two hours from Sydney, and three from Brisbane.