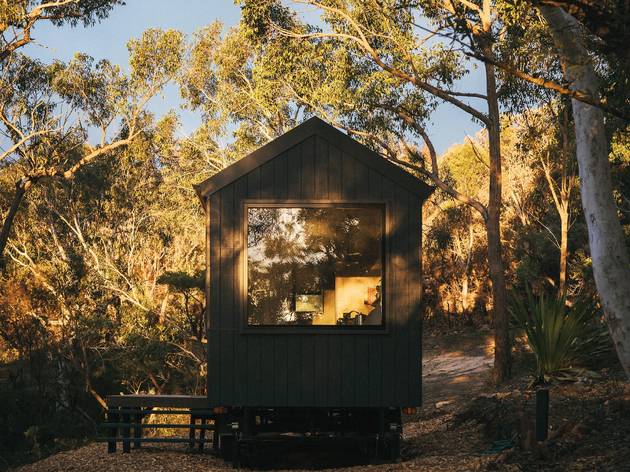 1/5
Photograph: Supplied/Declan Backall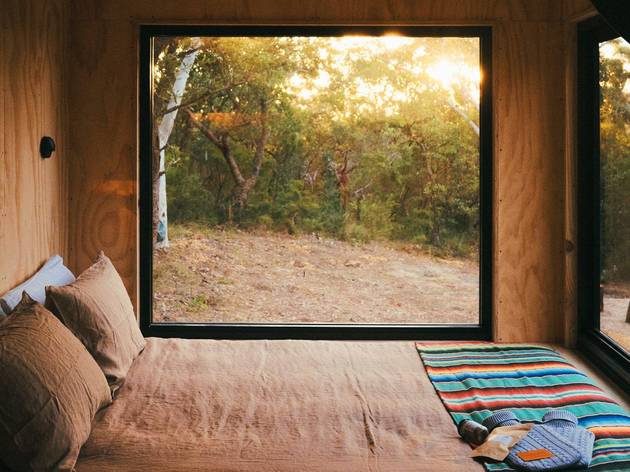 2/5
Photograph: Supplied/Declan Blackall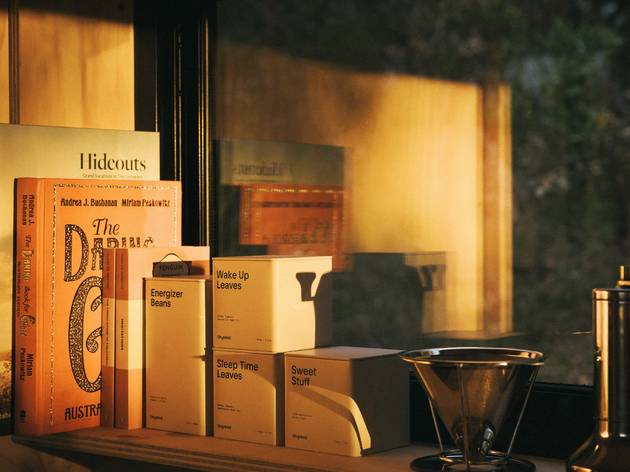 3/5
Photograph: Supplied/Declan Blackall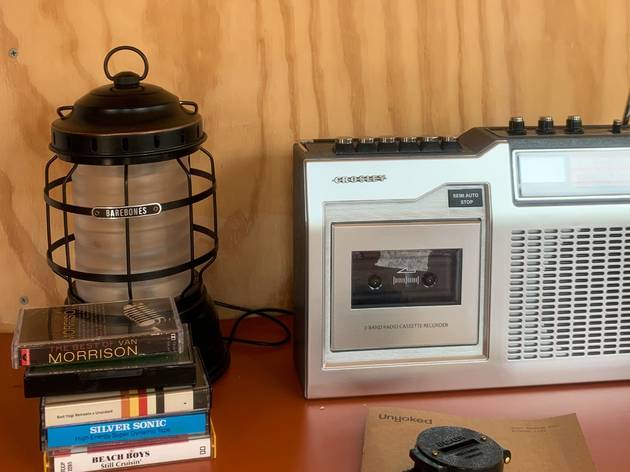 4/5
Photograph: Supplied/Declan Blackall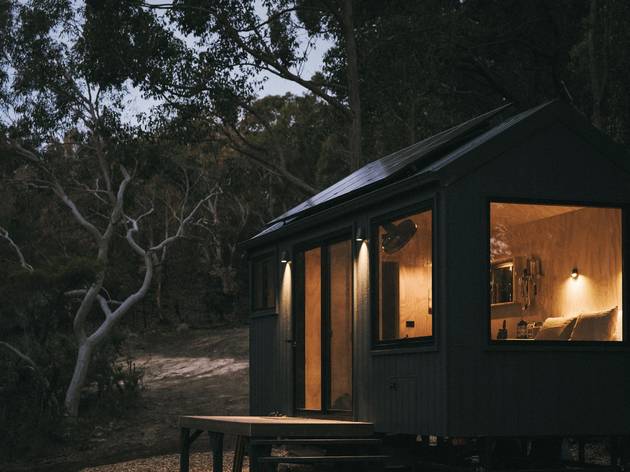 5/5
Photograph: Supplied/Declan Backall
Time Out says
Head to Unyoked's Yen cabin for an aesthetically-minded getaway suited to the wilderness novice
Now that isolation has taken on its dread-inducing, depressingly familiar meaning, there are many for whom trekking out to a far-flung cabin in the wilderness won't have the appeal it once did. Maybe that's the reason the tiny homes of Unyoked, set up in remote sites around NSW and Victoria, continue to enjoy popularity amongst the city-slicking crowd they're unashamedly marketed towards: they're a temperature-controlled version of a cabin in the woods, picture-perfect and kitted out with familiar creature comforts and mod cons – so you'll never feel completely adrift.
Under the calm but firm guidance of Google Maps, we pull into the car drop-off point for Unyoked's 'Yen' cabin in the hinterland of the Central Coast to be met with two things: a wheelbarrow to cart our luggage through the forest ahead, and a sign pointing us towards our woodsy home for the weekend.
"Leave all your worries behind," urges a sign in front of the trees. As if hearing its cue, my phone's reception promptly drops out. Sure, maybe it's the inner-city hipster's version of the 'Live Love Laugh' poster – but there's something comforting about it.
Despite what the sight of the wheelbarrow steels us for, it's only a round of a corner later and a peek past a deceptively dense thicket of trees that we spot the cosy, wood-slatted Yen. Unyoked cabins are measured in levels of 'spice' based on their accessibility, proximity to services and more; Yen is considered 'mild spice', so at the lower end of the remoteness scale. She's an indigo-hued beauty, propped up on wheels and sat in the middle of a clearing with a hammock swinging hazily to the side and a fire pit in front, dotted with hewn tree-trunks to sit on.
Inside, a polished bathroom, fully functional kitchen and a clean, pared-back aesthetic gives you all the material comforts you could want. The cabin's decor and toiletries are aspirational but ubiquitous enough to prompt brand recognition: sleek Archie Rose cocktails in the minibar, rustic In Bed linen, chic, enamel Falcon plates, and a springy Koala mattress.
Despite being encircled by a literal forest of potential firewood, there are also bags of neatly chopped logs for you to buy. We're determined not to take the easy option, and come back with a clutter of twigs and wood from the surrounding trees. Our shins end up a little scraped up and we eye the firewood bags with a mix of smugness and regret. Such is the emotional complexity that being immersed in nature can inspire.
Time to flop on the bed, framed by expansive glass windows and dressed in soft, fir-coloured linen. It sits under a light-coloured wood-panelled ceiling; it's the stuff Scandi-chic dreams are made of. The grey-green leaves of scribbly gums swish outside, their scrawled-on trunks giving texture to the landscape.
Yen furnishes you with a sense of adventure without letting you stray too far from the known. Elegant, modern design is interspersed with small concessions to the analog. Twiddle the dials on the old-school radio and feel like you're in a grainy music clip about the summer of '69. Marvel at the tapes, push one into the casette player to hear its soft click and get a strange sense of satisfaction when Van Morrison wafts out of the speaker. Grind Single O coffee beans in the morning and wonder why you've contented yourself with the joyless efficiency of a pod machine for so long. Swing around the compass, open up your 'Field Guide' (written with the esoteric references and jaunty copy of a poetry major after a puff) and imagine yourself an intrepid explorer rather than a millennial who's just downed a $18 bottled Negroni.
Unyoked packages up all the appeal of an ordinary hideout in the woods – simplicity, proximity to nature, and a sense of being removed from reality, yet protected – and paints it with a high-gloss sheen. You're about 80 metres from civilisation, but waking up to the sight of an early sun over vividly green, just-rained-on bushland, you could always pretend you're a little further.
Details