Heads up! We're working hard to be accurate – but these are unusual times, so please always check before heading out.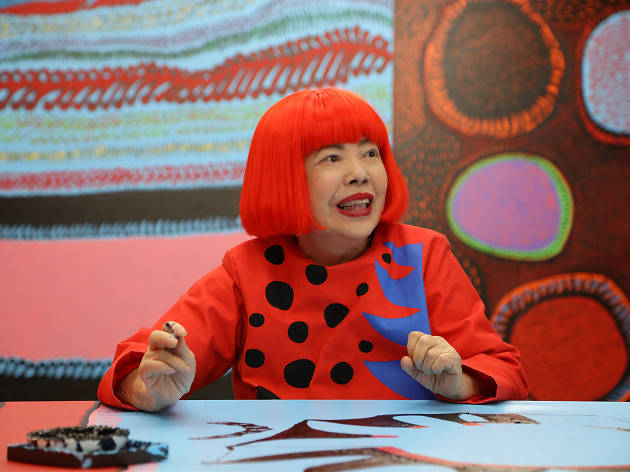 Evolution of Japanese art: from modern to contemporary art
The creative explosion of Japanese art in the 20th century happened against a backdrop of a nation throwing off the cloak of isolation and embracing the world – with thrilling results. By Julie Anne Sjaastad
Think Japanese art and you'll likely conjure a dizzying array of images in your head. To even the most casual observer, everything from silk calligraphy and pottery to manga drawings and woodblock prints will spring to mind. Visitors with a slightly better grasp of Japanese culture will be familiar with Yayoi Kusama, who at a sprightly 90 years of age is arguably the hottest artist of the moment, famed for her polka dots and pumpkins, and now has her eponymous museum in Shinjuku. Or Yoko Ono, whose performance art and installations are often built around public interaction. You may have also heard of Mariko Mori, whose works take inspiration from science fiction, such as her site-specific architectural sculpture 'Wave UFO' (2003).
Then there's Yoshitomo Nara, who is best known for his paintings and sculptures of adorable yet sinister-looking children and animals, which actually explore a deeper narrative of Japan's youth subculture. And of course, Takashi Murakami, who is perhaps the most influential Japanese contemporary artist, continues to fuse traditional art with Japanese pop culture.
These artists have all rightly earned global recognition for shaping the art world's perception of modern Japanese art beyond the obvious historical perceptions. They are also just the tip of the iceberg that is Japan's fertile art scene. And what unites them all is a thrillingly diverse array of creativity that is at once familiar and yet utterly different to anything beyond the shores of Japan. All this is arguably thanks to it being borne out of the nation's past struggles to decide whether to embrace the outside world or go it alone, as a potted history of its art bears witness.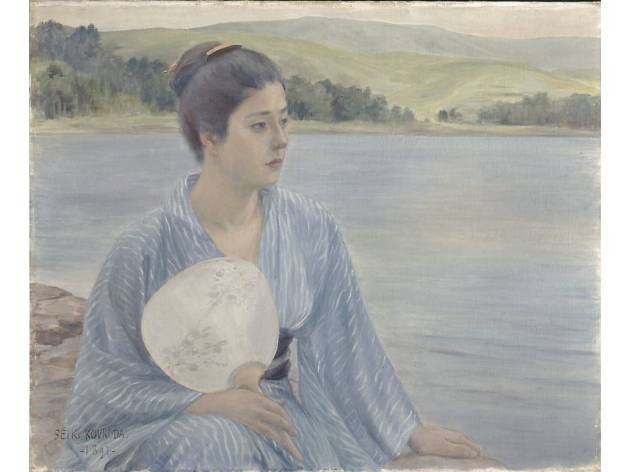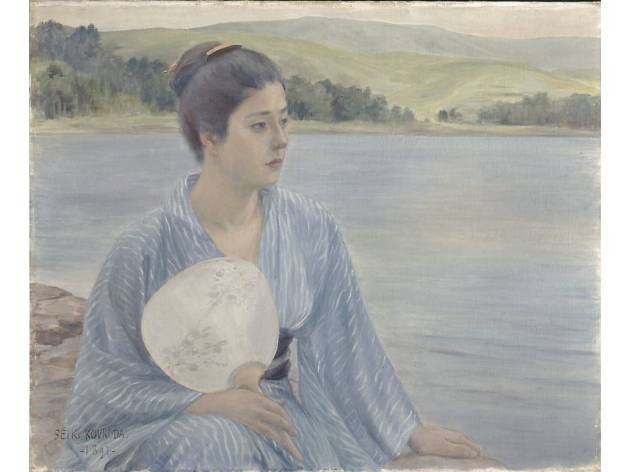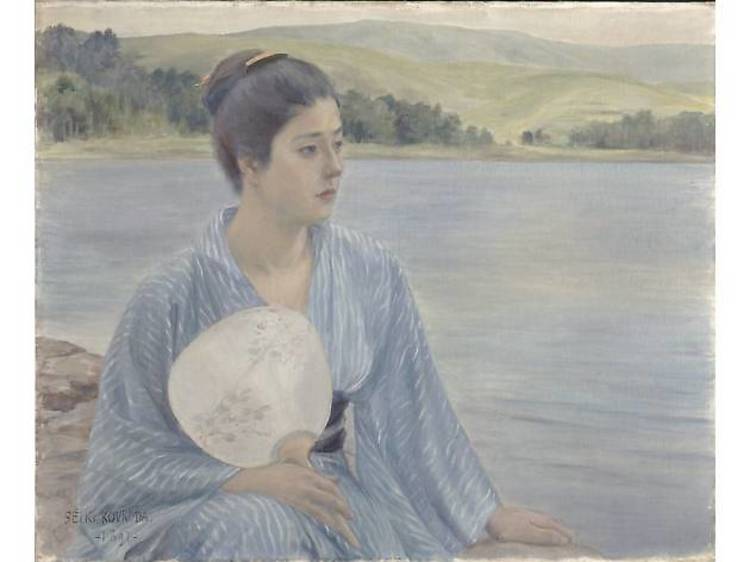 Lakeside, By Kuroda Seiki, 1897 (Important Cultural Property)
Delve back into Japanese art history and you'll see a long tradition of using nature, religion and East-Asian philosophies as subjects, hence the prevalence of waves, mountains, plants and flowers. The most iconic example of this practice is Katsushika Hokusai's wood print 'Under the Wave off Kanagawa' from the series 'Thirty-Six Views of Mount Fuji' (c. 1829-1833), which depicts a giant wave at the cusp of crashing.
However, after almost 300 years of self-imposed isolation, Japan reopened its borders and began trading with the West during the Meiji restoration period (1868- 1912) and with this, Western art, culture and technology flooded into the Japanese consciousness. Just as late 19th century European artists like Edgar Degas and Claude Monet were greatly influenced by their exposure to Japanese art, artists in Japan also reinterpreted their nation's traditional styles with modern influences. In 1897, the Tokyo School of Fine Arts established the department of Western painting– it was here that many Japanese artists learned of Western art and its themes and techniques.
This meeting of minds at the turn of the 20th century can be seen in works such as 'Lakeside' (1897) by Seiki Kuroda. Presented at the International Expositionin Paris in 1900, the painting of a Japanese lady sitting and enjoying the cool against a background of a lake and mountains was one of a number of works that led to Kuroda being seen as the father of Japanese modern art. 'Lakeside', which can be viewed at Tokyo National Museum, drew critical acclaim from the Parisian art society for combining two very different styles of painting.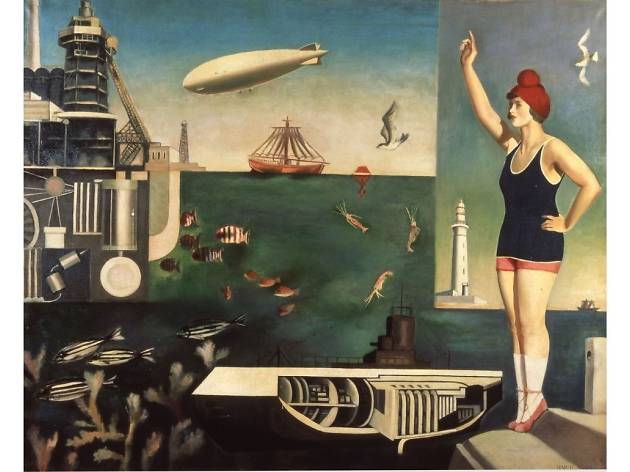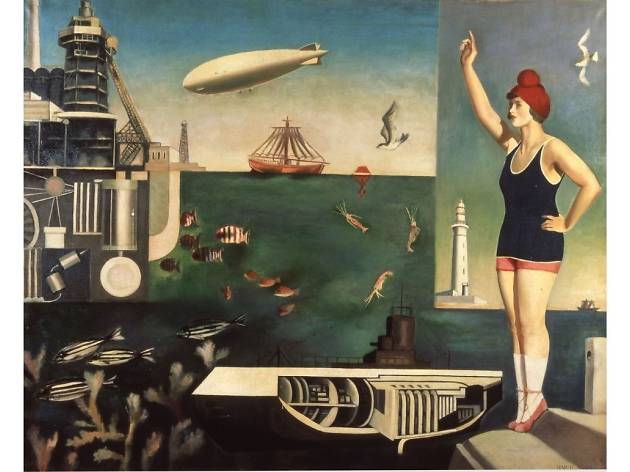 Koga Harue, Sea, 1929, The National Museum of Modern Art, Tokyo
Shogo Otani, chief curator for The National Museum of Modern Art, Tokyo (MoMAT), says a direct line can be drawn back from Japan's rich and diverse art scene today to this period. 'Back then, Japanese artists were influenced by modern art, but at the same time these artists created their own style while keeping to tradition,' he says. Otani cites two works that highlight the transition between the traditional and the modern: Gyokudo Kawai's (1873-1957) 'Parting Spring' (c. 1916) and Harue Koga's(1895-1933) 'Sea' (1929).
The former work is a typical traditional art with nature as its subject. These six-fold screens, showing an exquisite image of a gorge with cherry blossoms fluttering in the wind, represents one of the most elaborate and artistically refined works Kawai ever painted. Although he studied Japanese painting in Kyoto and Tokyo, he was inspired by Western art and its depiction of emotions. In this work, Kawai focused on each stroke to capture the expression of movement in the cherry blossoms and the rapid flow of the water.
Koga's 'Sea', however, is a seminal work in Japanese art history. This whimsical portrayal of the ocean, complete with a submarine, fish, airship, sailboat and a lady in swimsuit, fully embraces the best aspects of surrealist imagery that was popular at that time, in a world struggling through depression and about to dive into the madness of another world war.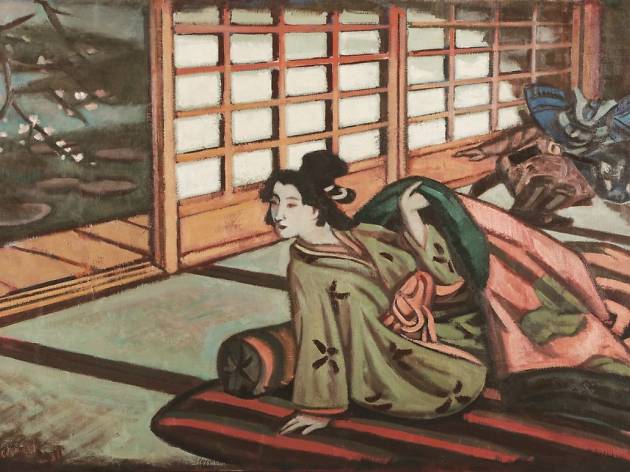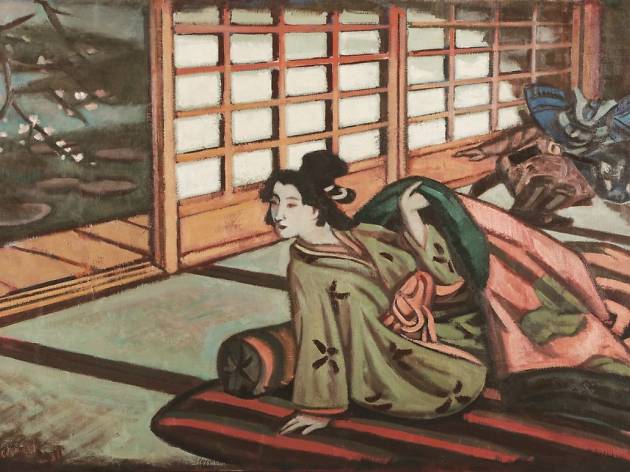 Fukuzawa Ichiro, Title Unknown (Any Person Has a Romance, Late at Night, The Fragrance of the Plum Blossoms Comes to Rest on My Arm.), 1931, Tomioka City Museum
Ichiro Fukuzawa is another artist who introduced and promoted surrealism to the Japanese audience. While most of his early works such as 'Professors – Thinking About Other Things at Meeting' (1931) and 'April Fool' (1930) fully embraced the surrealistic technique , 'Untitled (Any Person has a Romance, Late at Night, The Fragrance of Plum Blossoms Comes to Rest on My Arm)' (1931) kept certain elements of traditional Japanese art. The painting depicts a woman in kimono, rising from her bed. In the background stands a samurai, about to enter her room. While the setting takes place in a Japanese environment, the composition and colours of the painting are clearly influenced by surrealism.
This welcoming of international ideas was proof that Japanese artists could embrace the zeitgeist of their era, while holding onto the age-old techniques and styles that made their work radically different to anything outside the country's borders.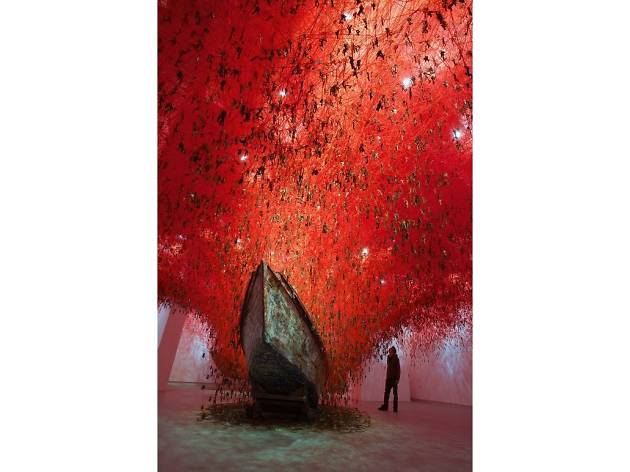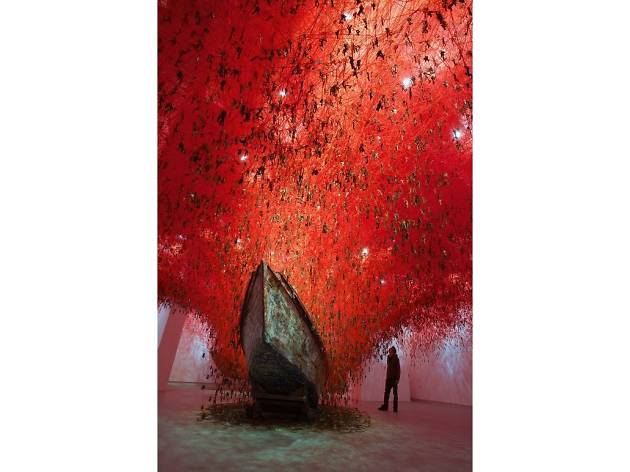 The Key in the Hand, 2015, Japan Pavillion, 56th International Art Exhibition - LA Biennale Di Venezia, Venice, Italy. Photo by Sunhi Mang © Dacs, London, 2019 and the artist
After World War II, Japanese art went through further major changes and experimentation. This period gave birth to artist collectives like the radical Gutai Group, who rejected traditional styles in favour of large-scale multimedia and performance art in the 1950s, and Mono-ha, who experimented with large-scale monuments and spaces in the 1960s through to the 1970s.
Fast-forward to the 1980s and you see the art scene's foray into post modernism, which was also the period when Japanese artists started to make a bigger impact in the international art world. The boundary between traditional and modern was slowly blurring as new artists presented new expressions, propelled by the mainstream, pop culture and academicism.
The 1990s, however, became the most pivotal point in Japanese contemporary art. A new generation emerged, with the aforementioned Takashi Murakami and Yoshitomo Nara at its helm. Japan witnessed the so-called 'superflat' movement – pioneered by Murakami – that combines the aesthetics of pop art and kawaii culture. However, these artists mostly found success abroad rather than in their own country, as the local art society were more directed towards traditional and modern art.
Another example of an artist who found more success outside Japan is Chiharu Shiota. Her work 'The Key in Hand' was shown at the 56th Venice Biennale (2015); it consists of over 50,000 keys hanging from a cloud of threads, turning the entire art space into a complex labyrinth. At the centre are two rustic boats, there to catch 'a rain of memories' (ie, the keys). The installation received rave reviews from both viewers and critics as it was a new approach to art. Many of her works tell stories about her life, often narrating her feelings of being caught between two cultures: her adopted home in Germany and her birth country of Japan.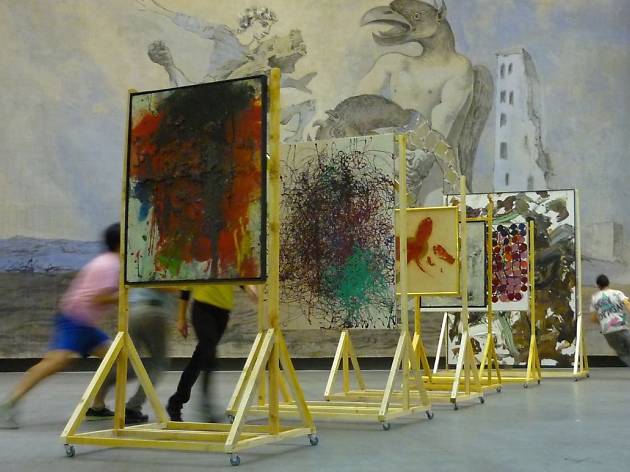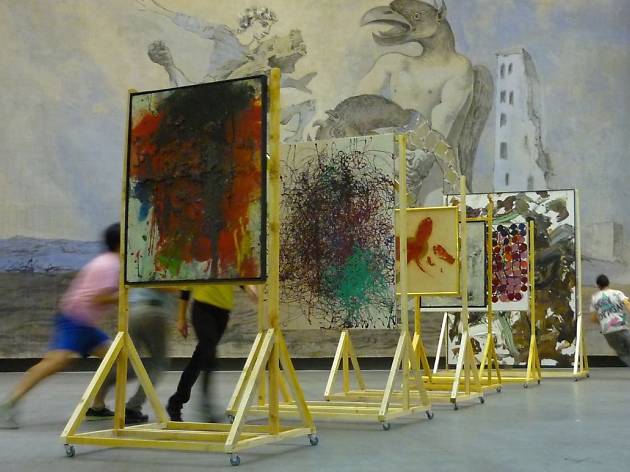 Ei Arakawa, See Weeds. 2011, Alison Vieuxmaire, Courtesy of the artist and Taka Ishii Gallery, Tokyo
This new crop of artists has piqued the interest of collectors from the private sector, who are increasingly buying works from young Japanese artists. New galleries have emerged in recent years and there has been a resurgent interest in Japanese art from local museums.
One such artist is New York-based Ei Arakawa, who in 2011 unveiled 'Tryst' at the Taka Ishii Gallery. 'Tryst' was considered a ground breaking piece as it unites painting with performance art.
The installation consists of five handmade LED screens which displayed re-appropriated and digitalised paintings from a pivotal point in the Gutai Group's history. These are accompanied by musical compositions to express the relation between paintings and performance.
But still there is work to be done in promoting these artists both at home and abroad. In a discussion with one of the co-founders of Gallery Misako & Rosen, Jeffrey Ian Rosen laments the lack of awareness for contemporary art in Japan. 'Japanese galleries travel most of the time, showing their artists and works abroad as the market here is small and relatively young.' However, Rosen is positive that contemporary art is becoming popular in Japan, thanks to new, independent galleries and art residencies that take aim at nurturing young talents and presenting Japanese art to a broader public.
And if the journey is even close to being as inventive and forward-thinking as the past century of Japanese art, that future is set to be bold, inventive and utterly original.
More on Tokyo's art scene
Our picks for the best art museums in Tokyo, from traditional Japanese paintings to Renaissance classics and contemporary works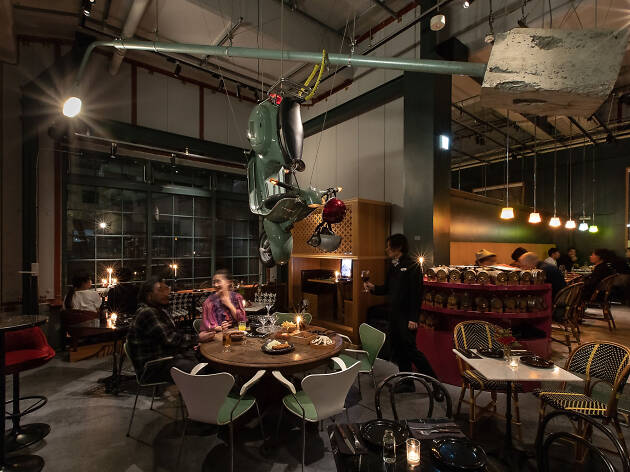 These bars and restaurants also double up as a gallery of sorts, serving up cool art alongside food and drinks
Besides Tokyo's art museums and galleries, the city also boasts many art pieces that are free to see out in the open