Valentine's Day is often a time for couples to go on romantic dinners, or a reminder that it's time to seek out some anti-Valentine's Day activities. It's also a time when all kinds of special chocolate treats and desserts appear. This year, a few restaurants in Tokyo have also joined the Valentine's Day extravaganza by combining their signature savoury dishes with chocolate — and, yes, that includes ramen, udon, fried chicken and even dim sum. Here are some unique chocolate dishes you can only get your hands on during this romantic season.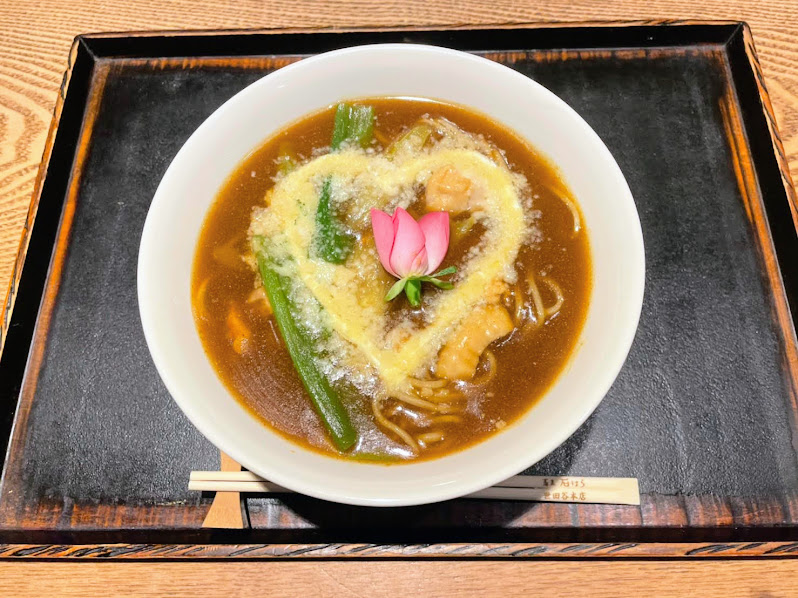 Chocolate curry soba
Setagaya soba restaurant Ishihara is known for its stone-milled buckwheat noodles that are typically enjoyed with a mentsuyu dipping sauce. For Valentine's Day, though, it's offering a chocolate-based curry soba (¥1,420). This special soba is topped with a heart-shaped white chocolate drizzle and an edible pink flower. Don't worry if you're imagining an overly sweet curry soba because the chocolate is there to balance out the saltiness of the broth, so in truth it's more of a savoury dish than a dessert.
Make sure to get here early as the chocolate curry soba is only offered to five people per day from February 7 to 28.
Chocolate chicken
Korean fried chicken store Chicken Street in Shibuya is ready to celebrate Valentine's Day with an unusual combination. Its fried chicken usually comes in flavours like yangnyeom (Korean sweet, sour and spicy sauce), cheese and garlic soy sauce, but from February 1 to 14 you can get your hands on chocolate fried chicken. A platter of crispy fried chicken topped with a sweet and salty chocolate sauce starts from ¥1,500.
Chocolate dim sum
Soup dumplings are usually packed with pork-filling and flavourful soup, but Jin Din Rou has teamed up with Minimal Bean to Bar Chocolate to create a special chocolate version. This dessert dumpling is filled with rich chocolate made from Minimal's Fruity chocolate bar. You can get the dumplings on their own (two for ¥550) or in a set that includes two chocolate dumplings and a side of Taiwanese fruit tea (¥1,250).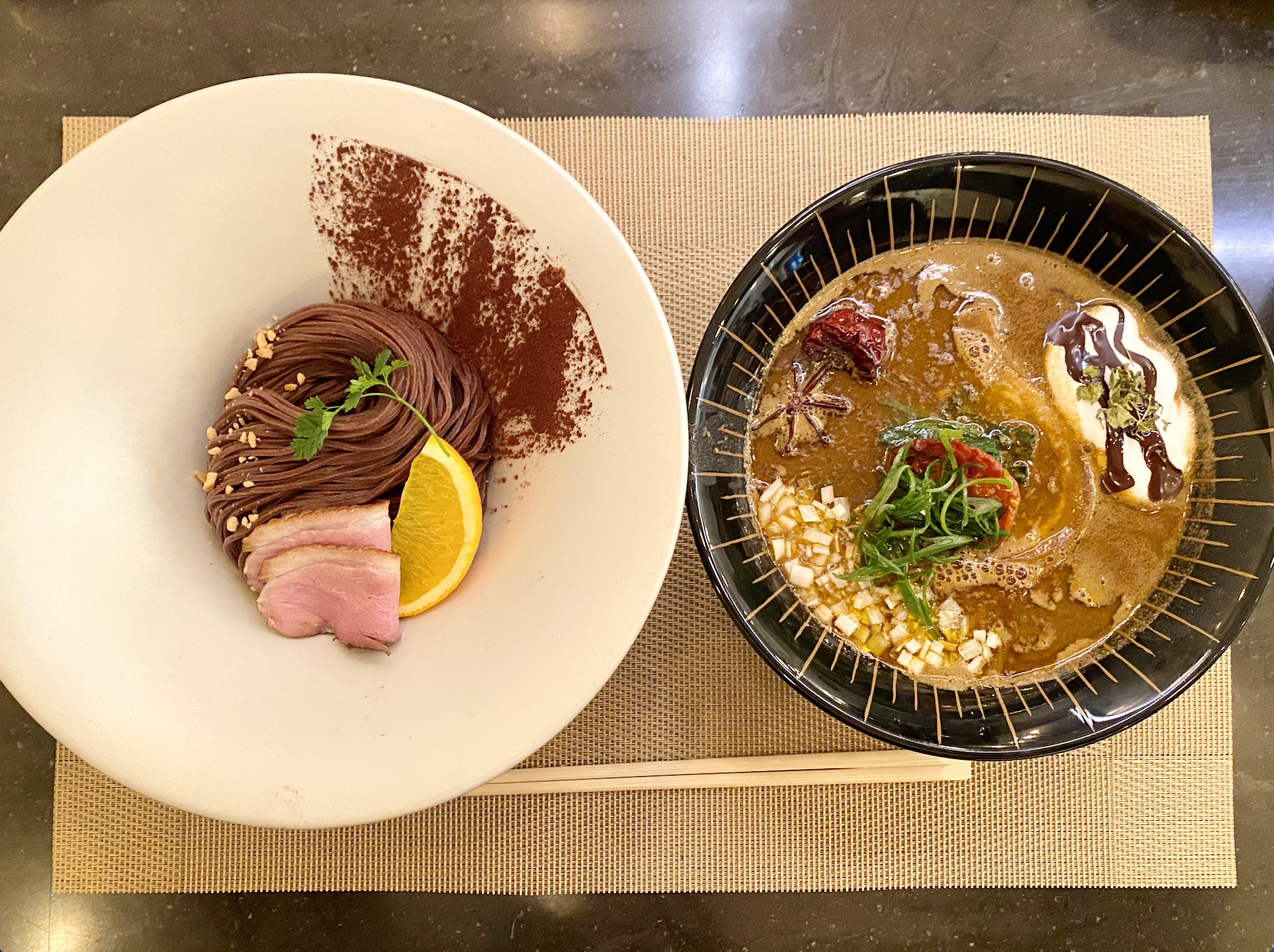 Chocolate tsukemen
Shono Tomoharu, owner of several ramen restaurants including the Michelin-starred (awarded in 2019) Mensho Tokyo outpost in San Francisco, is serving up chocolate noodles once again for Valentine's Day at Mensho Gokokuji, Mensho SF and Mensho Tokyo. The restaurant previously created soupless vegan chocolate mazesoba and chocolate tsukemen (dipping ramen) for Valentine's Day, and this year it has come up with a miso and mole chocolate tsukemen (¥1,400).
Unlike your average thick and chewy tsukemen noodles, the chocolate noodles are thin with a faint aroma of cacao. Then there's the multi-layered miso-based dipping sauce, packed full of spices and somewhat resembling a curry. More surprises come with unusual toppings like semi-dried tomato, whipped cream, unsweetened chocolate sauce and a slice of orange, which we recommend squeezing on top of your noodles for a surprisingly tasty combination.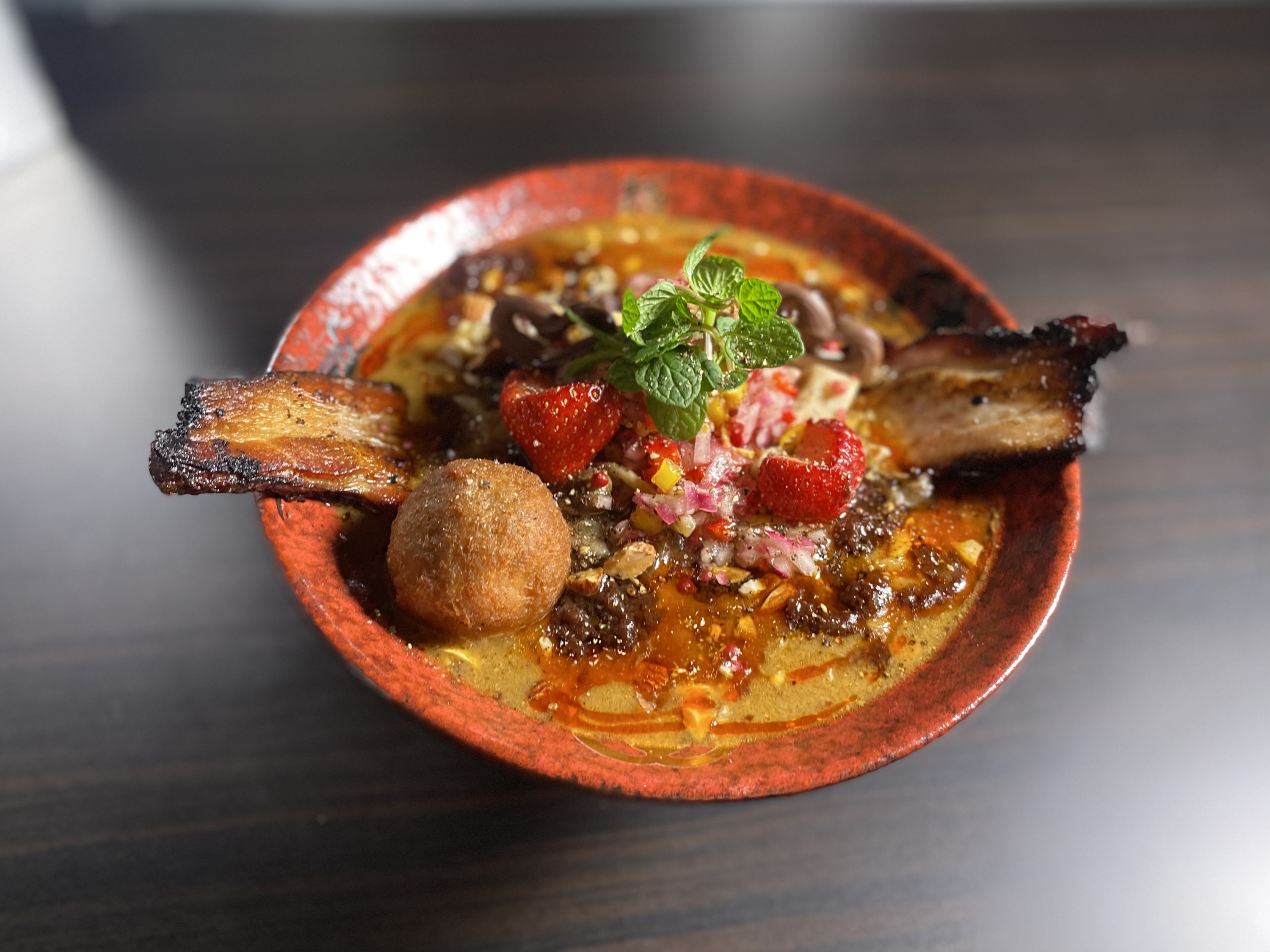 Chocolate ramen
Menya Musashi has plenty of experience in serving up chocolate ramen for Valentine's Day, with this the 15th year it has given the noodle dish a cacao twist. Its latest creation is a rich miso ramen with chocolate lard made from Ghana milk chocolate. More chocolate is used in the deep-fried meatballs and it's also topped with smoked chilli oil, char siu bacon, pistachios, sauteed mushrooms and pickles. Beneath all this is a bowl of Menya Musashi's homemade miso-based broth.
The chocolate ramen costs ¥1,200 and you can get it at Menya Musashi in Akihabara and Nishi-Shinjuku until February 14.
This article was published on January 30 and updated on February 7.
More from Time Out Tokyo
Everything we know about the new Harry Potter attraction opening in Tokyo in summer 2023
The best times to visit Tokyo in 2023 – according to your interests
6 new Japanese films and series coming to Netflix in February 2023
There's now a decadent Godiva shokupan for Valentine's Day
Bear-shaped KitKat is now available in Japan for Valentine's Day
Want to be the first to know what's cool in Tokyo? Sign up to our newsletter for the latest updates from Tokyo and Japan.