With social distancing being the norm these days, and as restaurants are now closing early due to the state of emergency, eating in is the new eating out – hence we are all getting takeout now more than ever. While Tokyo has an abundance of restaurants serving beef bowls, katsu rice, sushi rolls and other meat-filled dishes, our vegan and vegetarian friends are somewhat left wanting with the limited meat-free choices in the city. So to get you started, here are a few vegan restaurants in Tokyo that are open for takeout right now.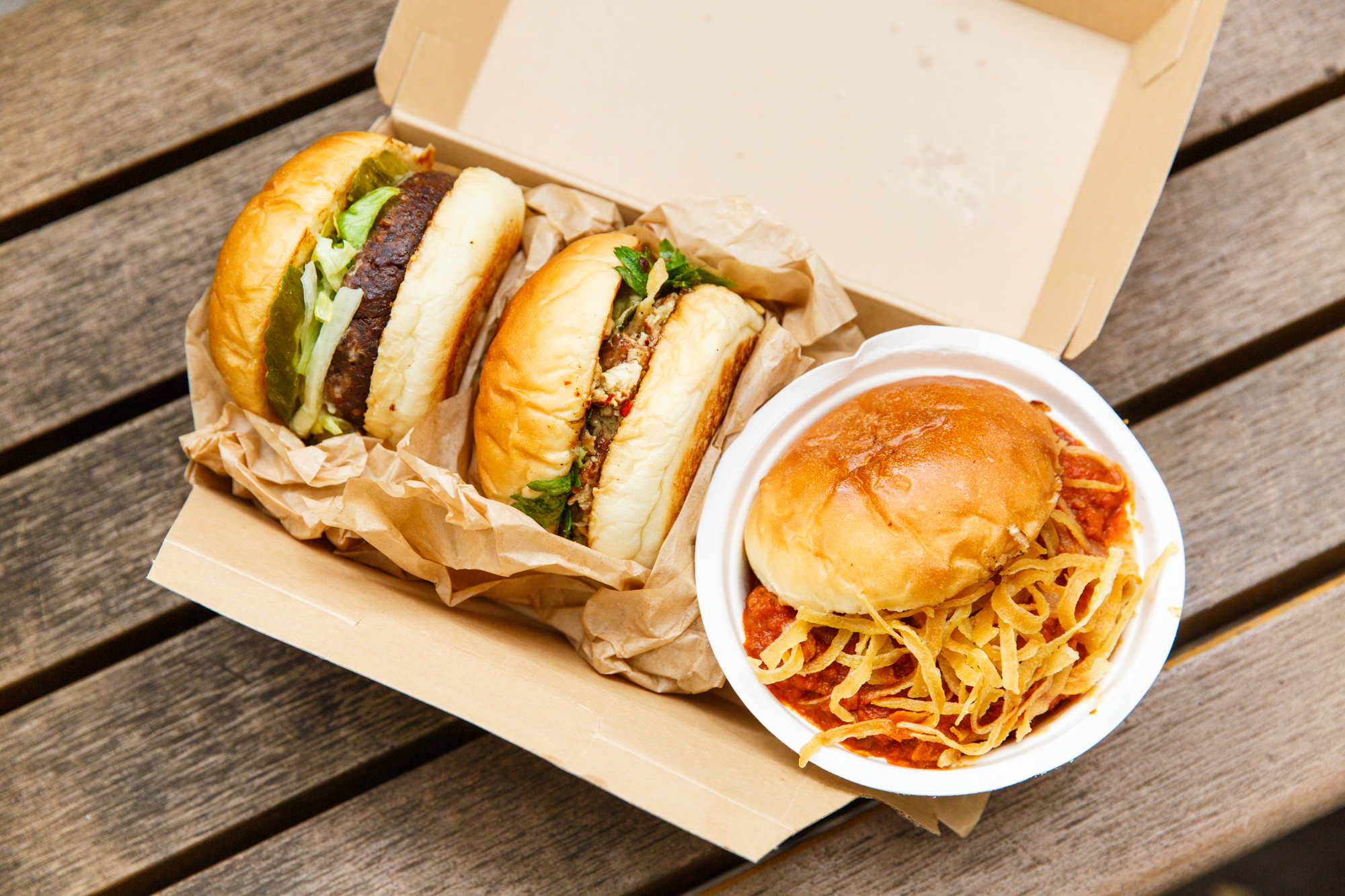 New York City's famous vegan burger joint does live up to its name. The signature Superiority Burger (¥800) will amaze you with its plant-based spicy patty that looks and tastes identical to any regular burger. Plus, with an additional ¥800, you can get a side of broccoli salad topped with garlic confit and paprika hot sauce as well as your drink of choice.
All the baked goods at Alaska Zwei are vegan, meaning no butter, milk, eggs or any animal-derived products. You'll find everything from sweet to savoury, such as bagels, chocolate cornets, cinnamon buns and muffins. The bakery has quite a selection of creative pastries too; we particularly love the tofu katsu focaccia and miso cream sandwiches.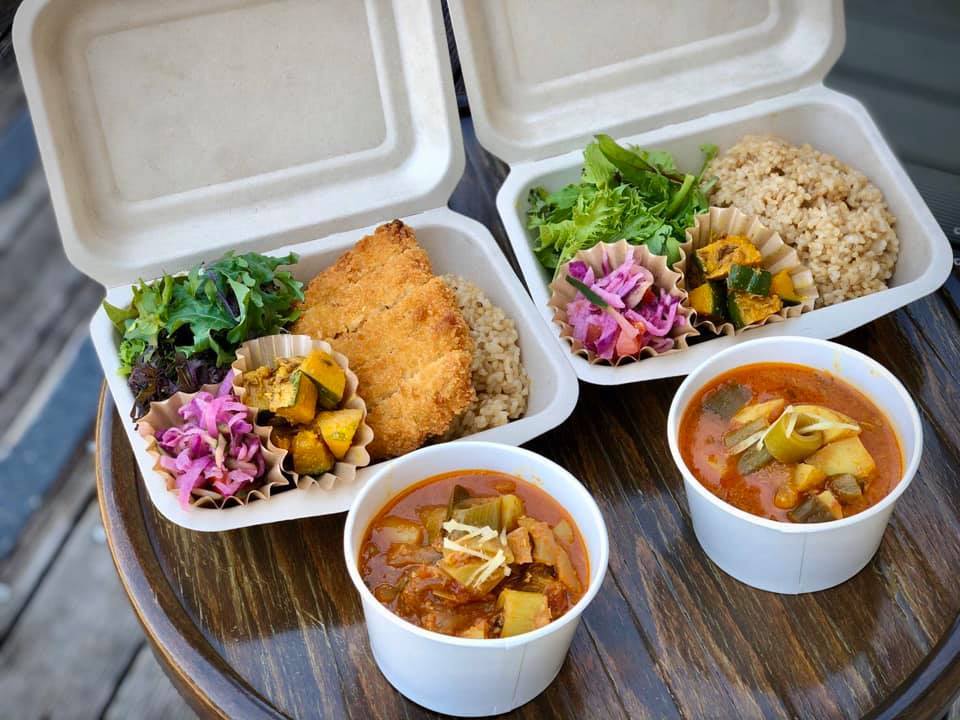 The takeout menu at Sasaya Cafe changes weekly, but the bento boxes are packed with nutritional dishes that are perfect for those looking for a quick yet healthy meal. The bento boxes range from ¥1,100 to ¥1,350 while the salads and sandwiches will set you back around ¥800.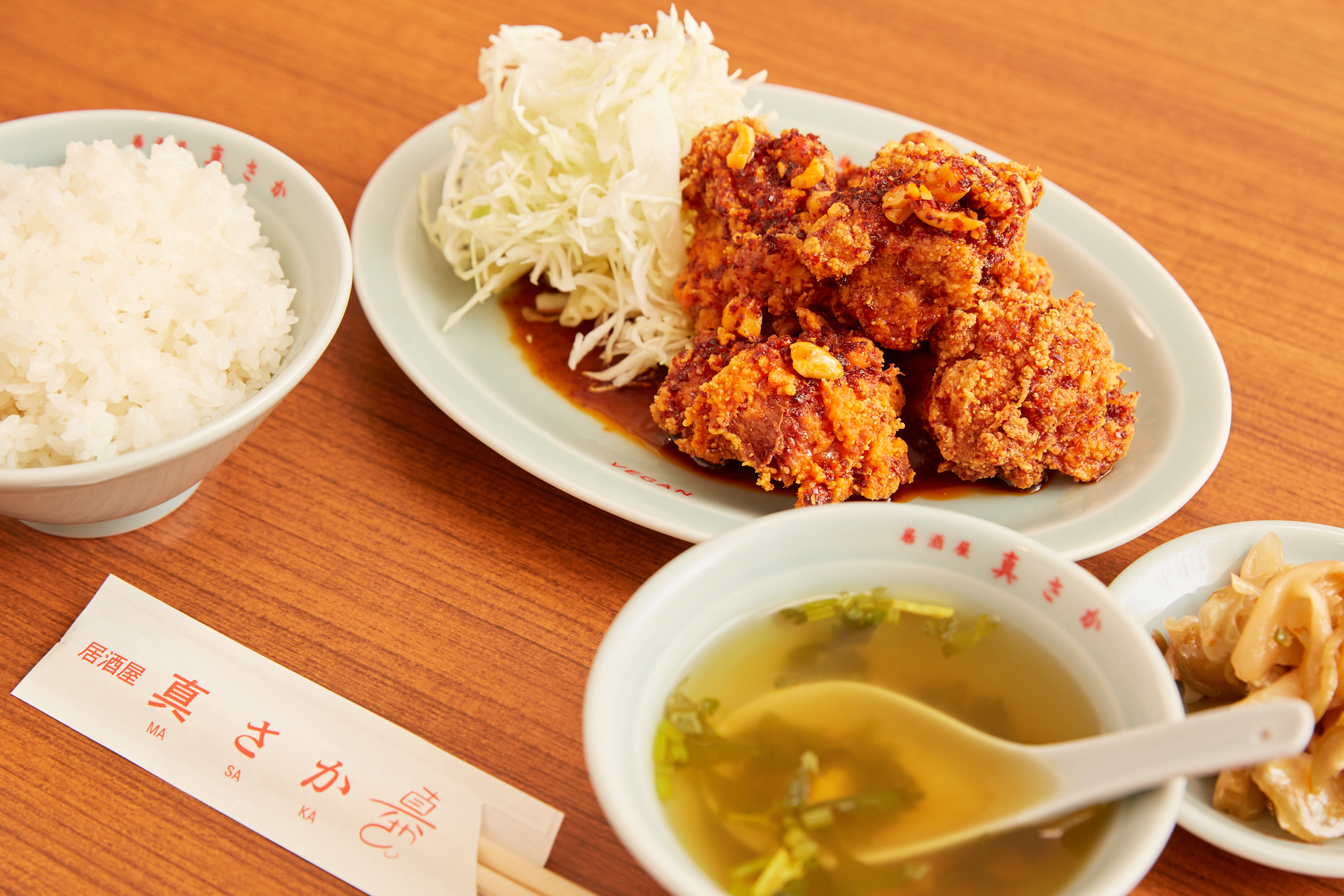 Since opening in the new Shibuya Parco late last year, this vegan izakaya has attracted a legion of fans with its tasty meatless reinvention of Japanese soul food and now you can get Izakaya Masaka's food for delivery.
You can't go wrong with anything on the menu, but we recommend the karaage (fried chicken) bento (¥900) which includes vegan karaage, rice, veggies, pickles and soup. The fried 'chicken' is cooked to perfection – crispy on the outside while the meat still retains its juices – and comes in five different flavours: Chinese black vinegar, Sichuan spicy hot, sweet and sour, radish with ponzu, or teriyaki with mayo.
You'll be spoilt for choice at Cori. The vegan selection here ranges from grilled vegetable salad (¥1,350) and teriyaki tofu plate (¥950) to soy chicken burgers (¥1,500) and veggie mapo rice (¥1,200). The burgers and plate meals come with a side of freshly baked homemade fries.
From baguettes (¥290) and croissants (¥330) to melonpan (¥290) and aromatic sour cream and onion bread (¥350), all the goodies at this vegan bakery are free from eggs, milk, butter and honey. We recommend the amazake roll (¥290), which has a naturally sweetened white bean paste mixed with amazake (a sweet fermented rice drink) in the centre of a satisfyingly chewy bread roll. The goods are baked three times a day – early morning, around midday and in the afternoon – guaranteeing bread that is fresh-off-the-oven no matter when you visit.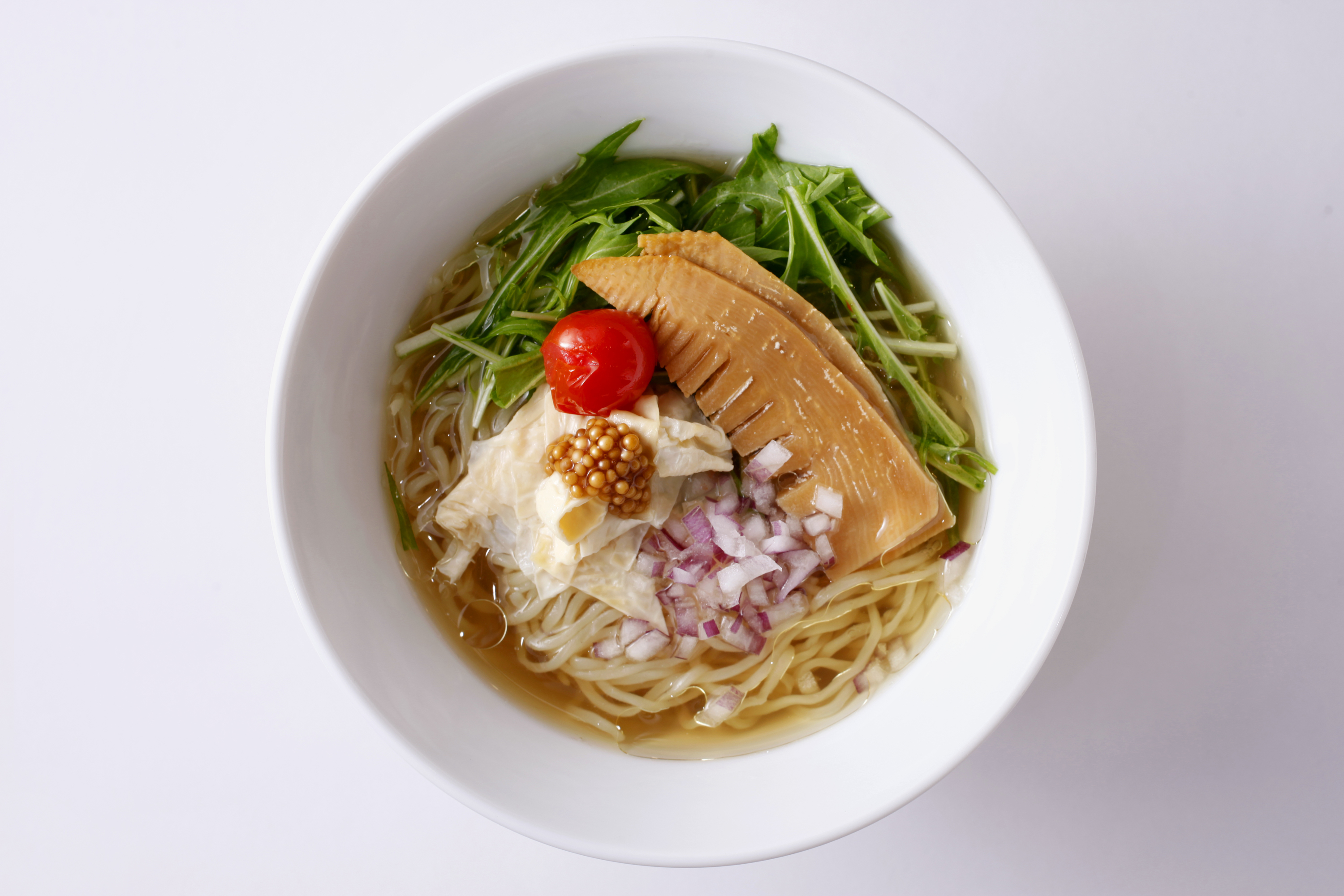 From the chef-owner of upscale Ginza restaurant Renge Equriosity comes a fun, casual restaurant serving vegan burgers and noodles in the heart of Harajuku. The standard meat-free noodle dish (¥700) features a light shoyu-based broth flavoured with a dash of salt and lemon, and topped with seasonal vegetables. Takeout is available for most dishes, so they're perfect for a picnic at nearby Yoyogi Park.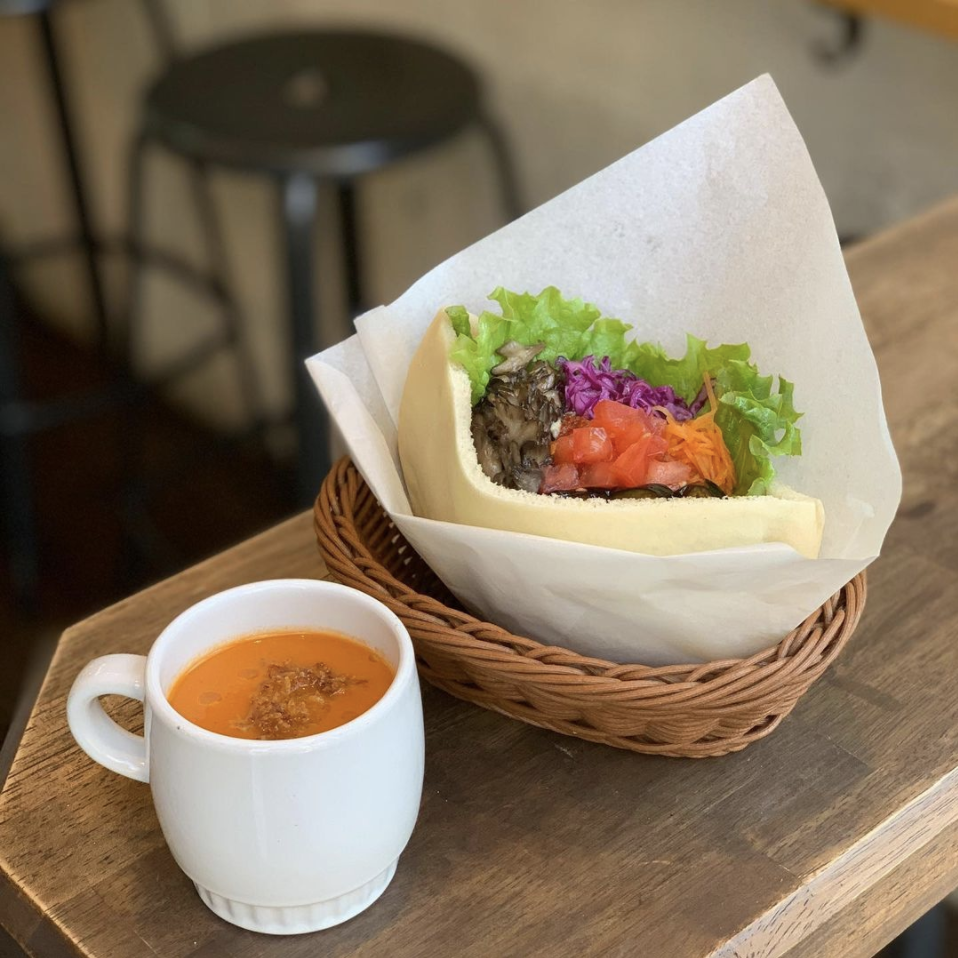 Ballon serves voluminous falafel sandwiches – or as the shop calls it, vegan fast food – in three sizes: small (¥550), regular (¥780) and large (¥1,180), jam-packed with your choice of veggies. For those who are gluten-free, order the falafel salad bowl, which includes maitake mushrooms, eggplant, carrot, vegan mashed potatoes and tomatoes on a bed of lettuce. They are assembled in a matter of minutes and easy to take on-the-go. Got a sweet tooth? The shop's soft serve is also vegan and doesn't include any eggs, dairy or refined sugars, so it's the perfect guilt-free dessert.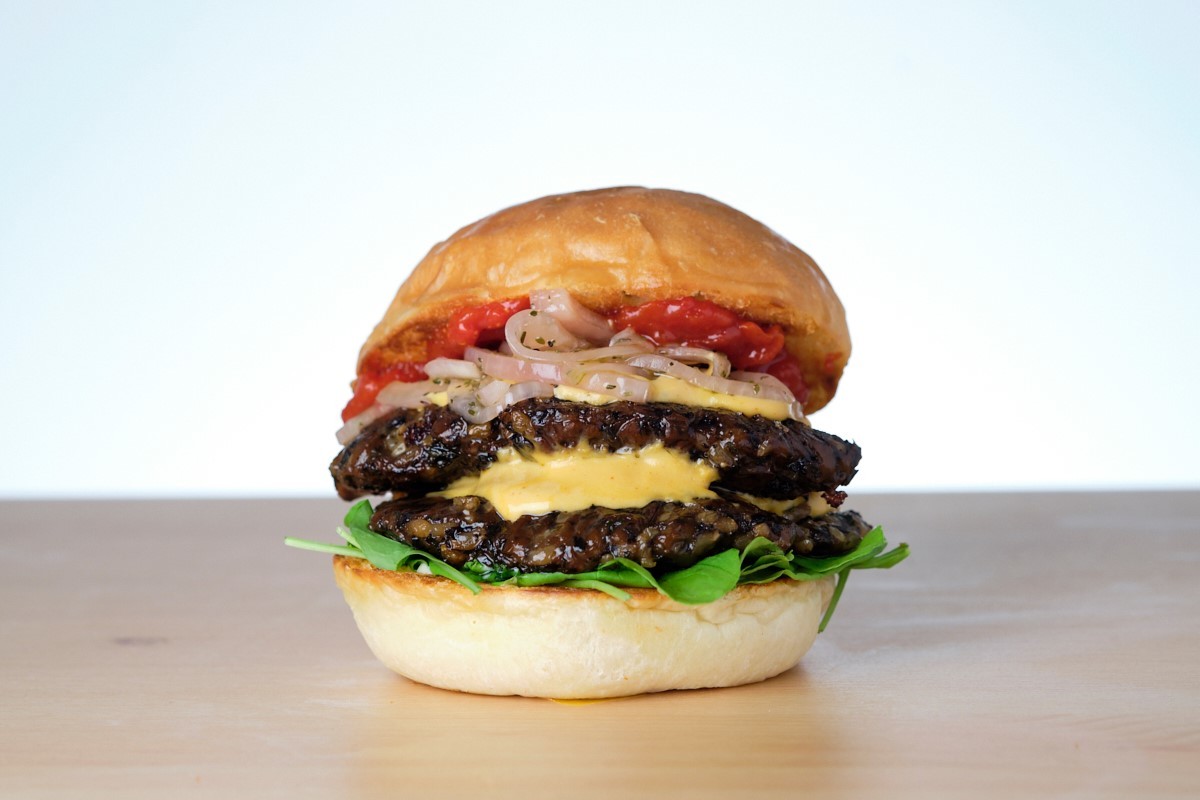 Everything on the menu at this American-syle burger shop is entirely plant-based. The vegan patty uses a unique combination of shiitake mushrooms, brown rice and onions giving it a similar consistency to a meat patty, and a real umami kick. We recommend going for the Superior Burger (single patty ¥1,000, double patty ¥1,350), paired with some french fries (¥400) and a vegan vanilla milkshake (¥700).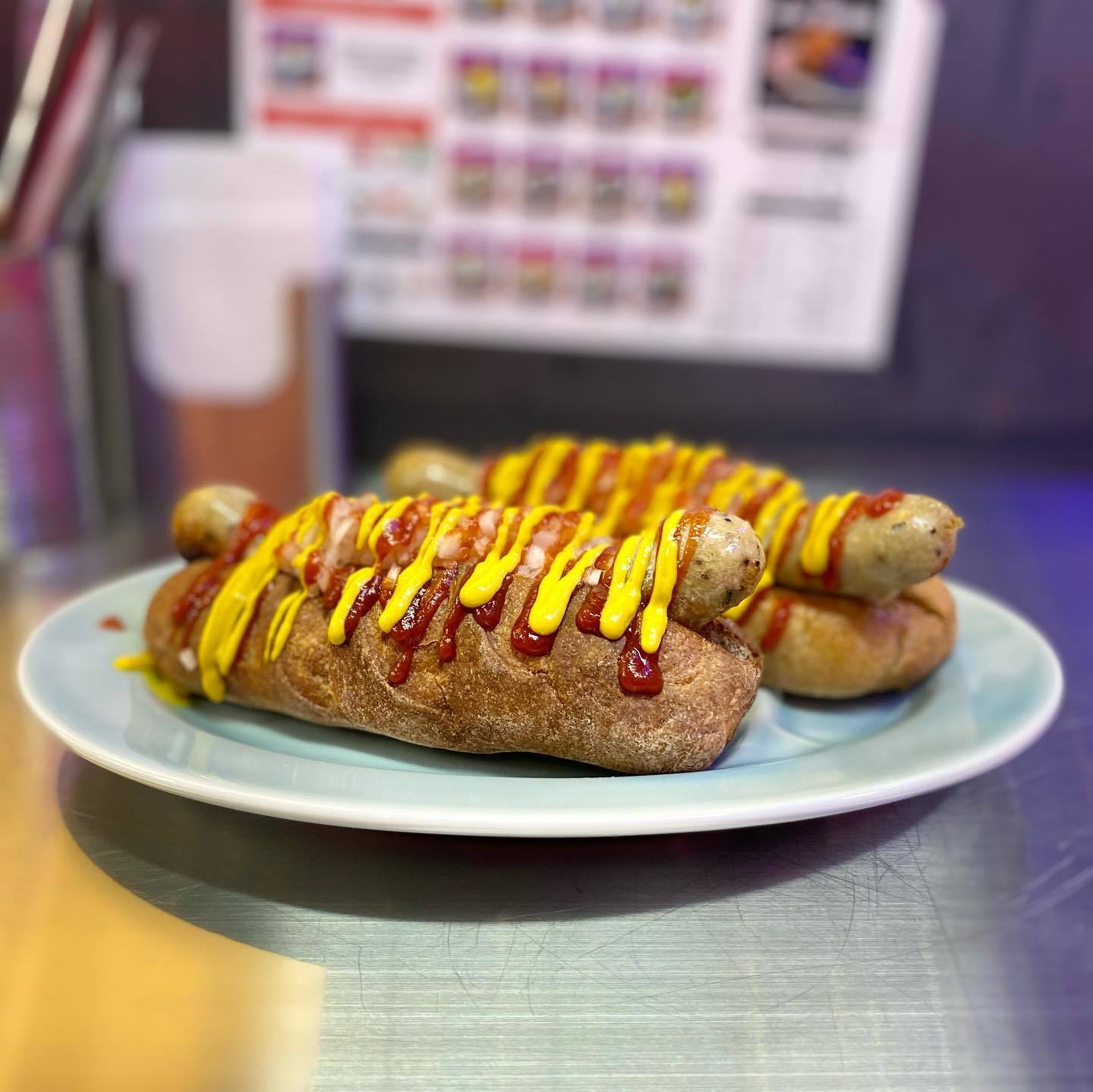 This underrated hot dog stand in Nakameguro is one of the few places in the city where you'll find housemade vegan sausages. The shop recommends trying a plain hot dog (¥490) first without any ketchup or mustard to fully enjoy the flavour. But if you're looking for something more filling, try the Original (¥640) which is topped with tomato and corn salsa, lettuce, grilled onion and bell pepper and drizzled with housemade vegan mayo. You can ask for additional toppings and sauces, so the possibilities here are endless.
Shibuya Loft's newest restaurant serves what it calls 'healthy junk food', made entirely out of plant-based ingredients. You can get a filling egg salad sandwich (¥518) made with vegan 'eggs' sandwiched between fluffy doughnut buns, a spicy mazesoba (¥968) made with brown rice noodles and plenty of veggies, or a butter chicken curry (¥988) that tastes as rich as the classic Indian dish. Complete the meal with an organic craft cola (¥462) or a refreshing fruit tea (¥858).
This small vegan cafe in Asakusa serves a range of vegan nikuman steamed buns using soy meat and veggies to replicate the classic street food. It comes in four different flavours: vegetables (¥340), soy meat (¥380), mala (¥360) and curry (¥360). The shop is also stocked with sweets like strawberry shortcake (¥750), rich tiramisu cake (¥650) and a colourful rainbow cake (¥880), as well as the very trendy cheese cream drinks (from ¥600) which are all made without dairy.
Prefer to eat out? Here are Tokyo's best vegan cafés and restaurants.
Most popular on Time Out
Take our Time Out Index survey and tell us what life is like in Tokyo
Huis Ten Bosch theme park in Nagasaki is hosting one of Asia's biggest rose festivals
Watch these documentaries about Japanese food
These Tokyo museums and attractions are closed during the state of emergency
Tokyo shops and department stores: closures and opening hours during the emergency
Want to be the first to know what's cool in Tokyo? Sign up to our newsletter for the latest updates from Tokyo and Japan.