With the teamLab Planets digital art museum and Small Worlds Tokyo miniature theme park, the area around Toyosu Market is shaping up to be a cool place to hang out on Tokyo Bay. Now Nike Japan, in collaboration with developer Mitsui Fudosan Residential, has opened a colourful new outdoor sports park across from the market. Called Tokyo Sport Playground, the sprawling park is designed to be fully accessible, catering to people of all ages and genders, as well as those with disabilities.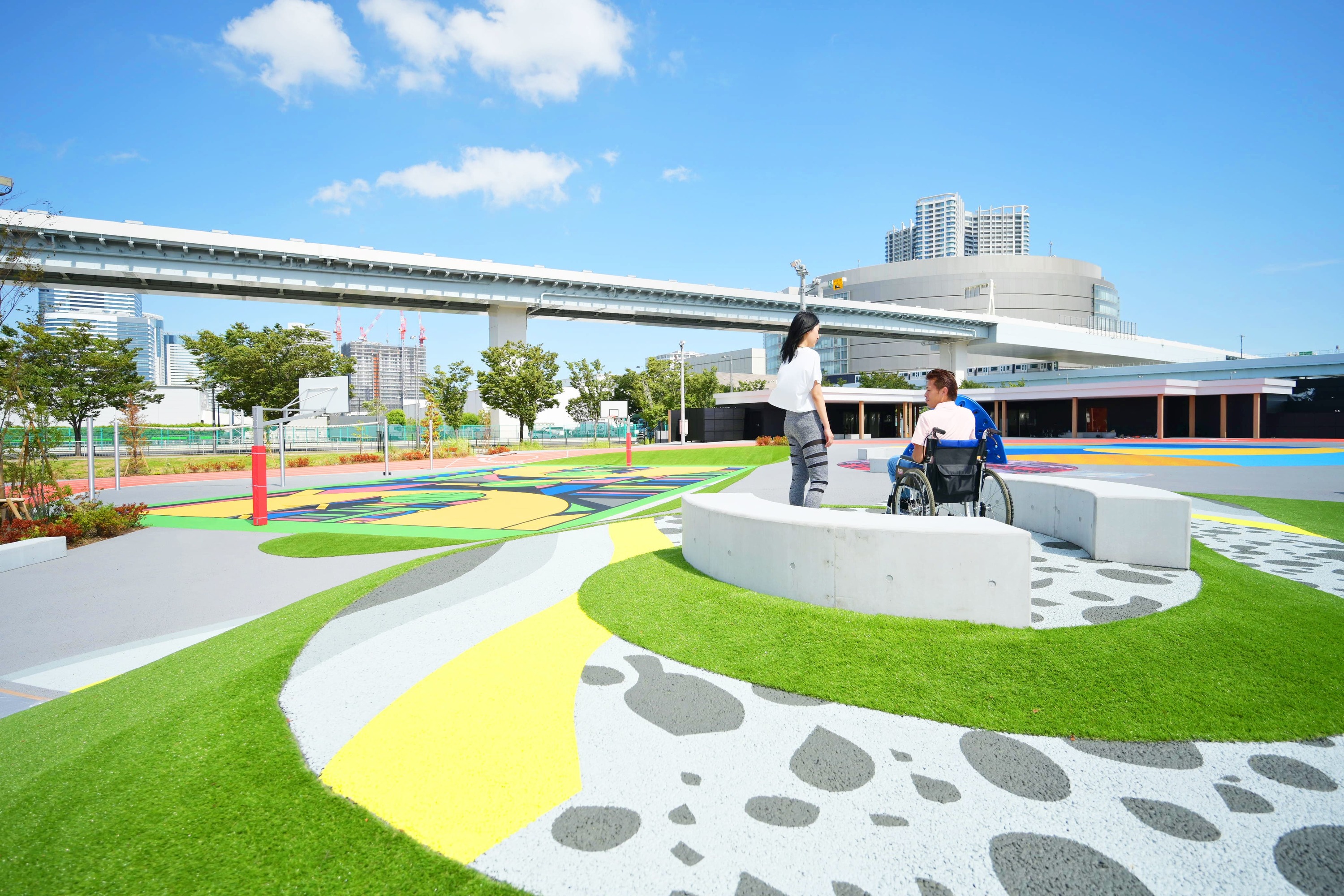 Running until September 20 2021, Tokyo Sports Playground is open from 3pm to 9pm on weekdays and 10am to 9pm on weekends. There are six main sections where you can train, play sport or just hang out. Plus, you can check-in at the Club House to store your belongings in lockers or freshen up after a good workout. Best of all, the park is completely free as long as you make a booking via the Nike app in advance.
The park's central hub is the Waffle Trainer Square, an open area that's available for activities like yoga and dance. To the right is the Air Raid Court, which has a small basketball court ideal for 3-on-3 games, and the ACG Adventure, a large blue jungle gym. On the left hand side, you'll find the SB Dunk Skate Plaza – an elaborate skate park – and the Air Max Terrace, which makes the perfect place to spectate. For runners and joggers, there's also a 280-metre Cortez Track that wraps around the entire park.
The names, designs and colour schemes of every section have been inspired by Nike's most popular athletic shoes, starting with the classic Cortez running shoes from the 1970s all the way to the 2002 SB Dunk.
Nike plans to hold fun events and programs regularly throughout the year, including a weekly girls-only evening, hosted by Japanese skateboarder Sayaka Takano, to encourage female skaters to use the park.
More news
Nihonbashi's hip new food hall Commissary has pizza, tacos, craft beer and more
The new limited-edition Pokémon Tokyo Banana will be available at 7-Eleven
Pride House Tokyo Legacy is Japan's first permanent LGBTQ centre – now open in Shinjuku
An interactive art festival is coming to all 30 stations on Tokyo's JR Yamanote line
Take a weekday getaway to Fujiyoshida and work remotely from the base of Mt Fuji