In times of stress and anxiety, it's fun to indulge in fantasy worlds. Whether it's hanging out at the virtual Pokemon theme park or just watching Netflix, a few hours in another world can really lift our spirits. Studio Ghibli is a prime example of pure escapism: we can spend all day watching the filmography or indulging in video tours of the Ghibli Museum. So what's next after you've finished watching all of the masterpieces?
Back in December 2019, Hayao Miyazaki's 'Nausicaä of the Valley of the Wind' was
adapted
for the kabuki stage at
Shinbashi Enbujo
. The show was limited, only running for a couple of weeks, but now the special programme is available to
stream online
until September 25 – perfect for these never-ending days of staying indoors. The 1984 anime feature follows Princess Nausicaä as she protects the Valley of the Wind from environmental disaster in a post-apocalyptic world. Lauded for its dramatic visuals, anti-war message and sci-fi world building, the film was
originally distributed by the Toei Company but is now considered a part of the Studio Ghibli film canon.
Kabuki shows are notoriously long, around four hours, which works in favour of this story. Both the movie and kabuki adaptation are based on the seven-volume manga of the same name, written and illustrated by Miyazaki. With kabuki's extra-long run time, the show incorporates the full storyline and final ending of the manga, which did not appear in the film. The all-male production stars kabuki favourites Kikunosuke Onoe V as Princess Nausicaä and Shichinosuke Nakamura II as Kushana.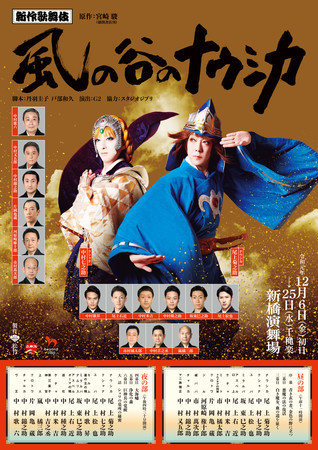 The kabuki performance is available on the Japanese streaming service Mirail until September 25. There are two streaming options: ¥4,500 for the whole performance or ¥2,500 for half of the performance (you can choose either part one or part two). The rental is available for up to seven days after purchasing. In true kabuki fashion, pick up a bento or order delivery, settle into your couch and enjoy the long performance.
More news
Manga City Tokyo is the most comprehensive exhibition to date on Japanese manga and anime
Without tourists, some of Tokyo's most popular places now seem quieter than usual
Toranomon Yokocho is an exciting remake of a classic Japanese yokocho
Japan's beautiful Pokémon manhole covers have finally made it to Tokyo
This Japanese YouTube series turns Shibuya into a realistic video game world