Tokyo's top 15 puddings
Go hunting for creamy custard delights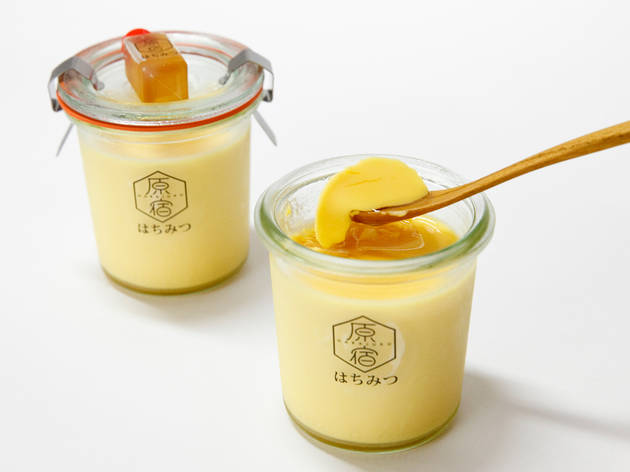 We recently discovered that custard pudding aficionados, of which there are quite a few in Japan, can debate textures, tastes and appearances for hours on end. Such intense struggles over the relative merits of smooth versus dense purin may seem arcane to less dedicated sweets fiends, so we decided to try to get to the bottom of the debate and clarify what the fuss is all about. Consequently, we've spent the last few days loading up on creamy, cholesterol-filled goodies, and finally picked out 15 top performers for you to try out. We certainly learned a thing or two about pudding passion – go through the list and you will, too.
Tokyo's most palatable puddings
Found far out in western Tokyo, Tamago Kobo makes simple but absolutely delicious puddings, served with a few ground nuts on top. The caramel sauce on the bottom is mildly sweet and has a refreshing flavour, making for a smooth, perfectly balanced combo.
Read more
All things eggy are the speciality at this quirky Shimokita shop that sources its product straight from a farm in Chiba's Asahi. Their top creation is the nameraka-purin ('smooth pudding', ¥248), sold in a cute egg-shaped container. Perfect as a quick power snack.
Read more
The Okusawa Custard (¥400) here is made from rich milk (two and a half times thicker than regular milk, they say) and eggs from Iwate. Plenty of vanilla beans are used to bring out the milky flavour, and you can choose from two types of caramel sauce. For those looking for something more eggy, we recommend the Shuri no Sato (¥350), this one made with free-range eggs from Kochi.
Read more
This Setagaya shop wows with the Yutan no Oyatsu (¥248) pudding, made with a 'kid-friendly' recipe. Its cute looks hide a sophisticated taste, based on mildly sweet, smooth custard, topped with unsweetened whipped cream and bittersweet caramel sauce. The crème caramel cake (¥432), on the other hand, is layered with dense pudding and cream – a sure treat for custard lovers.
Read more
Happy Pudding Mahakala (Ureshii Purinyasan Mahakala) in Nakameguro uses top-level eggs from Hyogo Prefecture for its delectable, smooth treats. Their signature Ureshii Purin (¥370) is made with bright orange egg yolks and features a rich, luxurious flavour.
Read more
Best known for its rolled cakes, Katsuno also makes some seriously tasty puddings. The Kimi variety is crafted only with the freshest yolks from eggs sourced directly from contracted producers, ensuring superb quality. This one is a soft, subtle mixture that requires only a minimal addition of caramel sauce.
Read more
Japan's first authentic French patisserie chain, Colombin wows with its limited-edition Harajuku Hachimitsu pudding (¥1,029), made with honey collected from bees raised on a Harajuku rooftop. The flavours are kept simple, with the emphasis firmly on the eggs. Pour some extra honey on top for a richer taste.
Read more
The oeuf puddings – pocket-sized confections of custard and caramel sauce, each served in an egg shell (¥179 each) – are what really made Quatre patissier Kenji Higashi's name. Topped with whipped cream, these delicacies are soft, subtle and refreshing, while the brown sugar-based sauce adds a nice accent. Packed in egg cartons, these cuties make great gifts.
Read more
Lettre d'Amour's 'Shirokane Pudding' (¥420) only requires four ingredients: milk, cream, eggs and sugar. The 47% cream comes from Gunma and divides this treat into two layers: the upper layer is smooth with its rich taste of eggs and cream, while the bottom layer has a lighter, milky flavour. The pudding is topped with an extra layer of whipped cream, so make sure to dig deep on every scoop.
Read more
This Hiroo hideout, a reservations-only confectionery shop with no menus, makes an exception with its take-out puddings, sold all day long at the storefront. These wholly baked goodies are firm but have a smooth texture, and come with sides of caramel sauce, lightly sweetened whipped cream and liquored raisins. The sets tend to sell out before closing time, so call ahead to make sure you get your fill.
Read more
Ningyocho's Tsukushi, a traditionally Japanese confectionery shop, first opened its doors way back in 1877. Their Ningyocho pudding (¥540 for a two-pack) is based on the founder's original recipe, and includes fine custard strained twice for a smooth and dense texture. Topped with bitter caramel, this creation really stretches the standard definition of a pudding. Small yet surprisingly filling.
Read more
Testa Rossa Cafe's trademark Asakusa Silk pudding (¥380) lives up to its name with a superbly smooth texture, created with Hokkaido cream and brand eggs from Ibaraki. The milky taste spreads slowly through your mouth, and is backed up by a powerful, eggy flavour. The bottles, decorated with Asakusa landscapes, are another highlight.
Read more
Run by an Italian pastry chef, Baton serves up a delicious Mikoto pudding (¥356), created using Hokkaido cream and Chiba eggs. The pudding is smooth with a strong cream accent, complemented by the rich taste of vanilla beans. Its caramel sauce has hints of both sweetness and gentle bitterness.
Read more
If you're not too keen on making long trips all in the name of pudding, upscale supermarket chain Seijo Ishii provides a convenient alternative: their standard purin has maintained its popularity over the years and still makes for a decent choice. It may be served in a flimsy aluminium cup, but portions are sizeable and the thick texture can't be faulted.
Read more