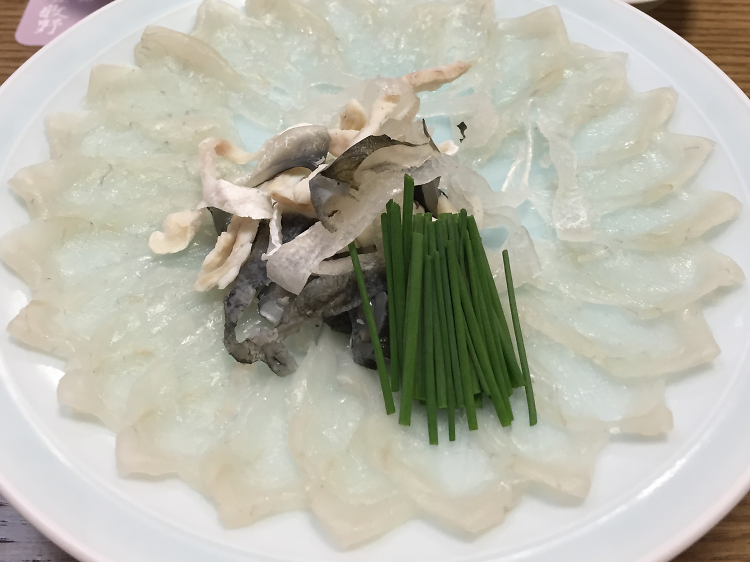 Fugu (pufferfish) is a delicacy in Japan and consuming it is a matter of truth and dare. Truth is, you already know fugu is extremely poisonous. A tiny bit of the tetrodotoxin found in its ovaries, intestines and liver is enough to kill you, so chefs have to train for years to earn the government-issued license to prepare the fish. And there's only a small elite group of them in Tokyo. The dare part is gathering your courage and taking a big bite.
Fugu is unlike any other fish; in fact, it hardly tastes like fish at all. The flesh, served in thin, translucent slices as sashimi, is surprisingly crunchy and gelatinous, with a clean, delicate taste. Chunks of the meat, when deep-fried, take on a silky, smooth texture that's akin to chicken. Some restaurants also offer sake steeped in fugu fins.
Over at Makino, a top fugu restaurant and a Love Tokyo Awards 2016 shortlister, you can even try the wobbly nikogori, which is essentially boiled fugu in its own jelly. For a luxurious experience, the three-Michelin-starred Usukifugu Yamada-ya is the Tokyo branch of Ryotei Yamadaya, which has been serving pufferfish since the Meiji era. Prefer a more affordable fugu sashimi meal? Head to Wadatsumi.