Heads up! We're working hard to be accurate – but these are unusual times, so please always check before heading out.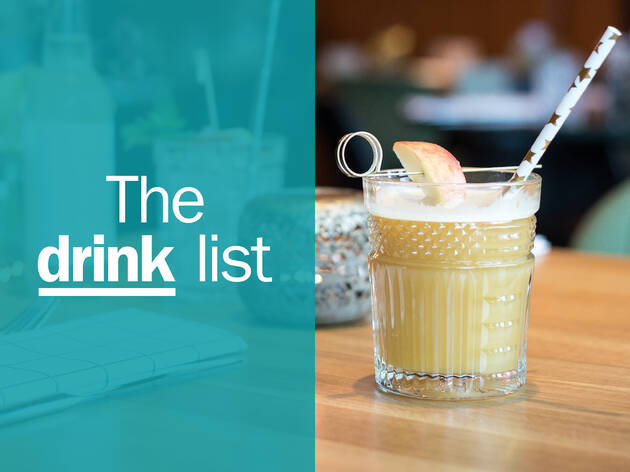 The 15 best bars in Toronto
Take down shots at neighborhood dives or swanky cocktail lounges when drinking at the best bars in Toronto
Sitting on a sun-drenched patio at one of the best bars in Toronto with a crisp glass of rosé might sound a bit cliché. But, for sun-hungry Torontonians, patio hunting is a coveted summer pastime. The city has some excellent outdoor imbibing spots to jockey for seats, whether you're brushing shoulders with the post-work suited set in a fancy downtown lounge or feeling hip in the artsy West End after a delectable dinner at one of the top restaurants in town.
Come winter, these watering holes are your place to seek refuge from this Canadian city's blustery weather: escape winter's worst in a transportive tiki lounge or curl up to a basement bar's fireplace with a craft pint in hand. And if drinking is just not your thing, opt to hide from the cold snow at the best museums in town or scouting through indoor attractions.
Best bars in Toronto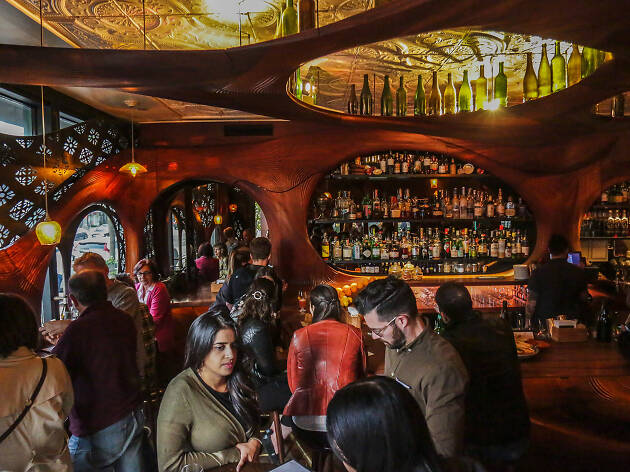 Photograph: Courtesy Flick/cc/Alexa Fernando
What is it: You'll hear the bustling crowds of this slick Spanish-inspired bar before you see them. Bar Raval's covered patio is often filled with patrons standing elbow-to-elbow while sipping on sophisticated cocktails, leaving a hand free to pick at pintxos, tapas and canned seafood conservas (foods preserved in cans and jars).
Why go: Transport yourself to Spain without leaving Toronto. Bar Raval's Gaudi-inspired wooden interior is full of curving, rich wood, inviting you to stay a while longer.
Photograph: Courtesy Yelp/Jeff S.
What is it: Find one of the city's best selections of beer on tap at this narrow Little Italy beer bar. Expect a heavy focus on funkier brews like sours, lambics and wild yeast beers along with rare, shareable bottles aged in the Cantina cellar.
Why go: Birreria Volo serves beer in wine glasses, encouraging you to sip, not chug, your beverages. The communal table setup begs neighboring patrons to strike up conversations while the rear patio boasts a beer hall-like setup.
Photograph: Mahjong
What is it: Pass through a neon-lit corner store to enter this retro bar inspired by the Cantonese game of Mahjong. Playful cocktails blend flavors from east and west while the kitchen serves small plates like Sichuan fried chicken.
Why go: Drinking at Mahjong feels like being part of a cool, secret club. It's a popular spot for celebrating birthdays or breaking the ice after a first date. On weekends, the bar fills up fast as a DJ and dance floor emerge.
Photograph: Courtesy YelpCherrie T.
What is it: Unsurprisingly, this Dundas St. W. spot is known for serving refined cocktails. Owner Jen Agg (of Rhum Corner and Grey Gardens fame) has created a space that's inviting and well-spirited, in both drinks offerings and atmosphere.
Why go: Elegant, yet laid back, Cocktail Bar is a perfect option for an after-work bevvy or pre-dinner appetizers. Beers and wines are available but you'd be remiss not to order a cocktail here.
Photograph: Bar Chef
What is it: One of Toronto's essential cocktail bars, Bar Chef plays with molecular gastronomy to create memorable beverages. Bartenders here pride themselves on preparing all infusions, bitters and syrups in-house so that their cocktails taste as good as they look.
Why go: Watch as patrons "ooh" and "ahh" when pieces of drinkable art are presented to them. Bar Chef is a truly modern drinking experience that easily impresses.
Photograph: Eugen Sakhnenko
6. The Rooftop at Broadview Hotel
What is it: The Broadview Hotel brought life back into the beautiful heritage building that formerly housed the longstanding strip club Jilly's. Its Rooftop Bar is one of the city's best patios with stunning 360-degree views.
Why go: History and style are blended gracefully with cheeky nods to the building's past occupant. Tourists and locals alike will appreciate the sunset views of the CN Tower while sipping on a glass or two of crisp white wine.
Photograph: Courtesy Yelp/Emily M.
What is it: Located in the increasingly trendy Bloorcourt neighborhood, Paradise Grapevine brings hipster style to the classic wine bar concept. The by-the-glass options emphasize old-world wines along with sippable local brews on tap.
Why go: The covered and heated patio is open until 2am, thanks to a grandfathered license that keeps the bar bustling well past the usual 11pm outdoor patio cutoff. Simple snacks like charcuterie and cheese mean there's no reason to leave.
Photograph: Courtesy Yelp/Sinem S.
What is it: Paris Paris is a daytime and nighttime locale, where the tables are packed but there always seems to be room for everyone. Depending on your speed, this could be a pre-dinner party or your plan for the whole night.
Why go: It's worth smooshing in or sharing a table. With incredible food and an exciting and adventurous wine list, Paris Paris has also hosted special wine nights from the superstar Grape Witches (PP's GM and sommelier Krysta and natural wine importer Nicole's edu-party pop-ups) featuring natural wines and female sommeliers.
Photograph: Courtesy Yelp/S.B.
What is it: Pink walls, palm leaf motifs and neon signs give this "secret" basement bar a 1980s Miami Beach feel. It's a welcome addition to the growing Yonge and Eglinton neighborhood with a small burger-centric menu and plenty of retro-tropical beverages.
Why go: Located under La Carnita's uptown taco joint outpost, Good Fortune Bar offers creative cocktails and an impressive beer list. Prepare for loud music and delicious drinks that go down a little too easy.
Photograph: Courtesy Yelp/ Fermin R.
What is it: Showcasing local craft beers long before they were trendy, this St. Lawrence Market bar and restaurant is an unfussy spot with an impressive 40-plus beers on tap and a decent offering of whiskies, cocktails and local Ontario wines.
Why go: Pool tables and live music on weekends give C'est What a pub-like vibe while the basement location and multiple fireplaces make it an excellent spot to cozy up on cold or rainy evenings.
Photograph: Courtesy Yelp/Evelyn A.
What is it: This Japanese-Rockabilly bar embraces American nostalgia, British punk rock and the Land of the Rising Sun in one tidy joint. Step back into time while browsing tunes on the bar's jukebox and sipping on Asian-inspired cocktails.
Why go: To bask in vintage vibes, delicious drinks and a great selection of Japanese whisky and sake. Draught beer is also available for more casual drinking. Note that the bar is cash only.
Photograph: Courtesy Yelp/Amber C.
12. Shameful Tiki Room Toronto
What is it: There is absolutely no shame involved in drinking at this Parkdale tiki bar. The interior is full-on Polynesian kitsch and the drinks are just as playful as the decor. Order a punch-style bowl to share with friends and expect a bit of fanfare (gongs, fog machine mist) to accompany your beverage.
Why go: Blacked-out windows and a heavy velvet curtain at the entrance amp up the feeling of escapism, which is especially appreciated on a cold winter night.
What is it: This hip bar in East Chinatown feels like home with its mismatched furniture, friendly staff and community-driven events. Drinks vary from discount domestic beers to elevated cocktails, so you're bound to find your beverage of choice.
Why go: Farside makes space for creativity and engages the community with events like Trivia Club, VHS movie nights and DJs on Fridays and Saturdays. The bar's inclusivity makes it approachable to locals and visitors alike.
Photograph: Courtesy Yelp/Nicole S.
What is it: With its big back patio and dimly lit lounge, Sweaty Betty's is one of Toronto's longest-standing dives. Enjoy no-frills cocktails, lots of beer and a great selection of whisky at the buzzing intersection of Queen and Ossington.
Why go: Whether you're seeking a casual meeting place for a quick drink or you've been lucky to snag seats on the bar's back patio, Sweaty Betty's keeps you fueled without breaking the bank.
Photograph: Courtesy Yelp/Brian C.
What is it: This iconic Toronto institution has been getting us drunk (and curing our hangovers) since 1987. Share some pitchers of beer with friends, catch a show at the upstairs stage or satisfy your craving for late-night nachos at this College and Bathurst spot.
Why go: To experience a staple of Toronto culture and enjoy affordable easy-drinking brews. And in case you get a little too messy the night before, Sneaky Dee's offers a weekday breakfast special for only $5.50.
Check out more late-night hangouts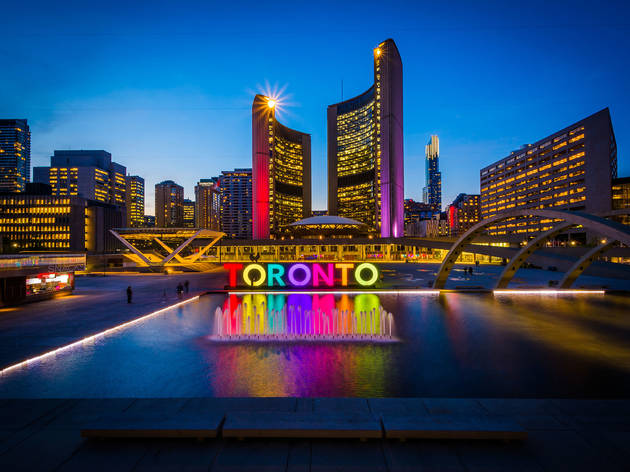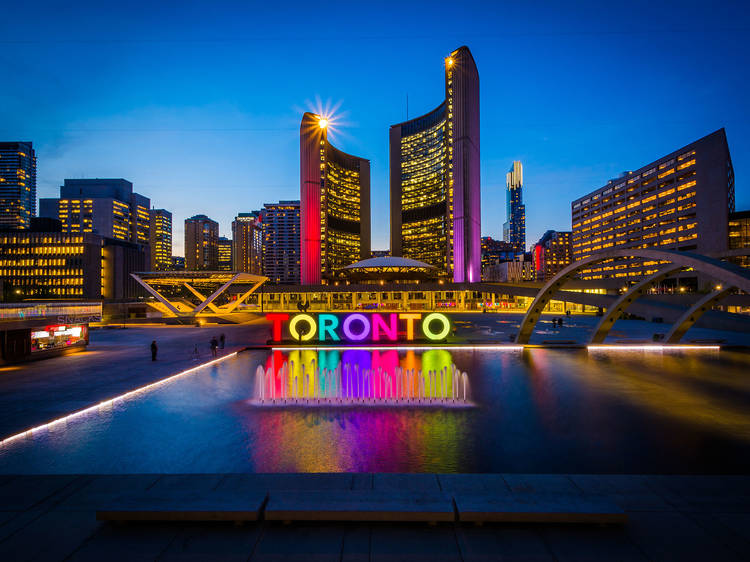 Walk down any major street and—most nights of the week—you'll find people spilling out of bars, restaurants, parks, parties, and patios. Toronto boasts venues for every interest, whether you want to dance all night, play a board game or share a private convo over a glass of wine.