Heads up! We're working hard to be accurate – but these are unusual times, so please always check before heading out.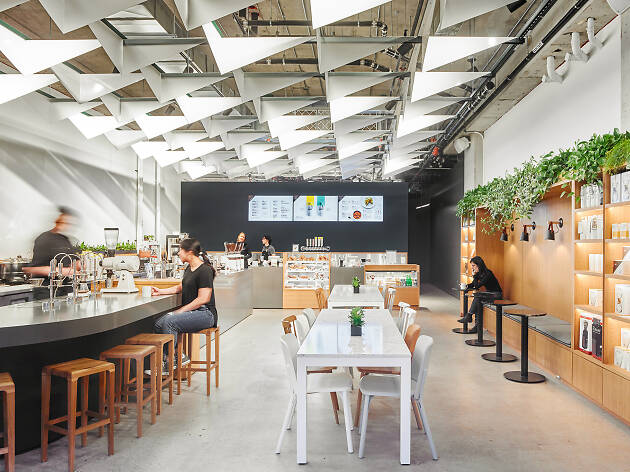 The 15 best cafés in Toronto
Cater to your caffeine addiction at the best cafés in Toronto and marvel at the top-notch roasting methods employed here
Whether you're a bonafide coffee nerd or a closeted caffeine addict (we know you're out there), the best cafés in Toronto will delight you while fueling your city explorations (visiting the myriad museums, attractions and things to do in town will require energy, after all).
Laptoppers are a dominant force in the city's cafés, as the self-employed and work-from-home populations here have grown in recent years. The roasting scene is following suit as local operations up their game with responsibly sourced beans and careful roasting methods.
Our list is also sure to please tea fiends and those in search of a light bite to accompany their brews.
RECOMMENDED: Full guide to the best restaurants in Toronto
Best cafés in Toronto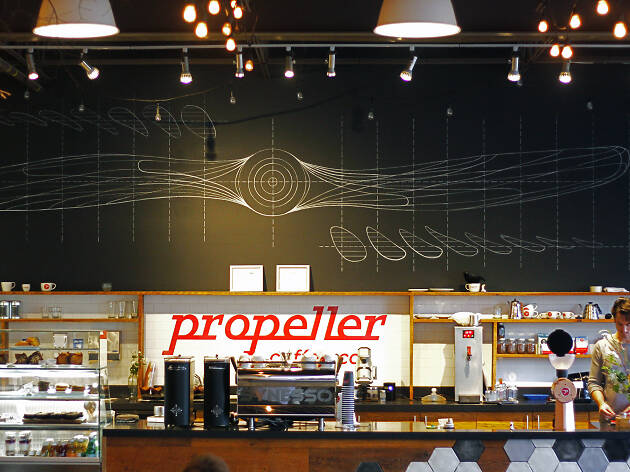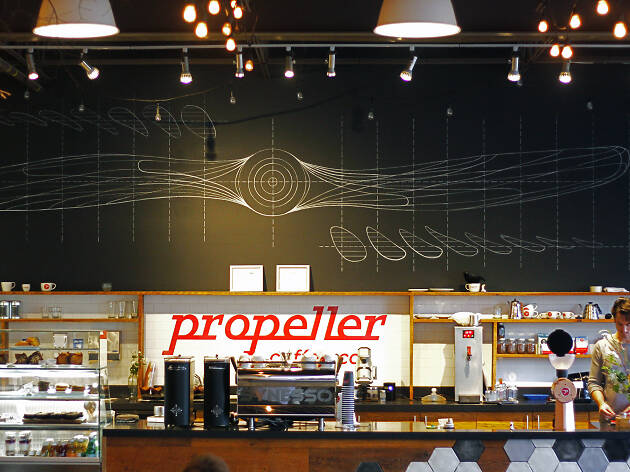 Photograph: Danielle Matar
What is it: Tucked away a few minutes north of Bloor St. among auto shops and small factories, Propeller is our favorite secret spot in the city. Brews here are made with house-roasted beans, a fact that's earned the venue the title "Micro Roaster of the Year" by Roast Magazine in 2016.
Why go: Garage door fronts, large shared tabletops for workspaces and a spacious warehouse-like vibe make this café feel like an industrial studio.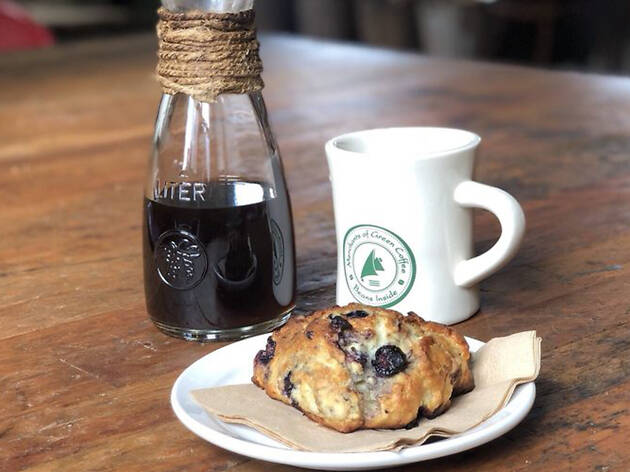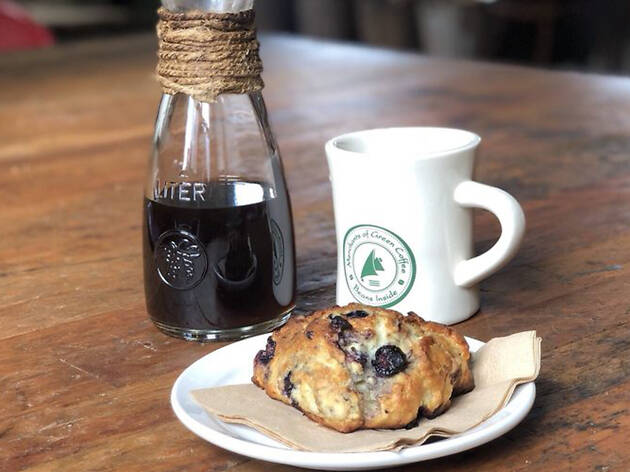 Photograph: Courtesy Yelp/Yu P.
2. Merchants of Green Coffee
What is it: This East End café and retailer specializes in green coffee – raw beans that you can roast at home in the oven for the freshest brew. For a caffeine-free option, the Evergreen Forest Tea is a wild-foraged blend of fresh balsam, cedar and spruce tips that tastes like wilderness in a cup.
Why go: With a key location overlooking the Don Valley, Merchants of Green Coffee is the perfect spot to catch the afternoon sun.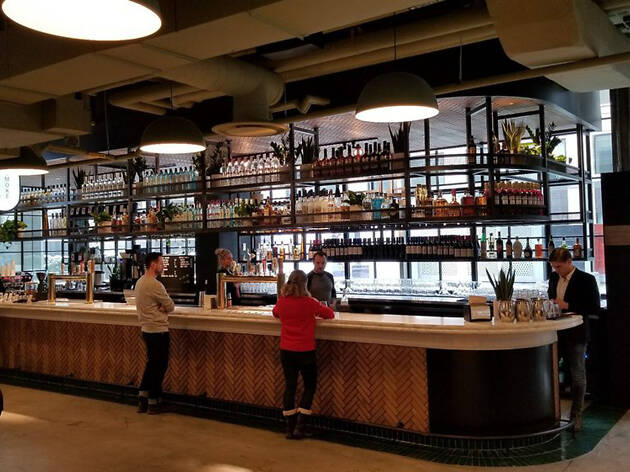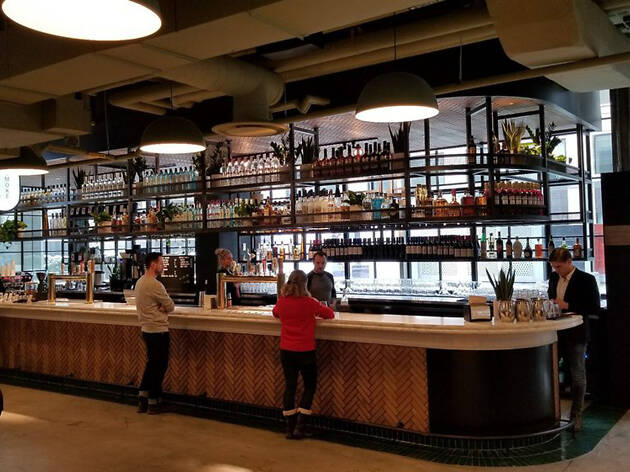 Photograph: Courtesy Yelp/Jennifer K.
What is it: Clean, sleek and monochromatic-cool. This 420-friendly coffee shop pours rich and flavorful brews in a space that combines a high-end coffee experience with gear and gadgets for sophisticated smokers.
Why go: Sip on some coffee while learning about the best cannabis practices in this stylish yet approachable space on trendy Queen West.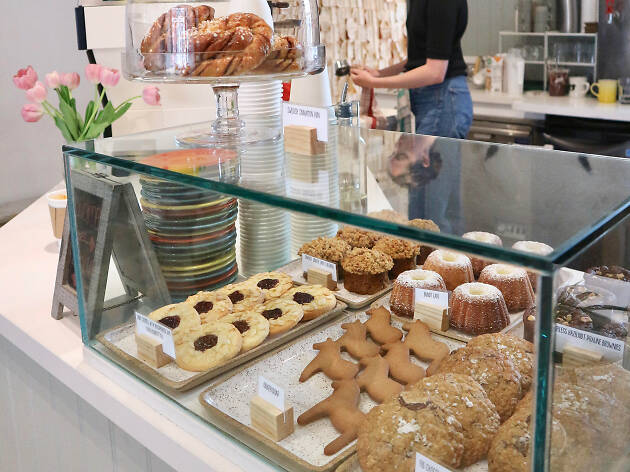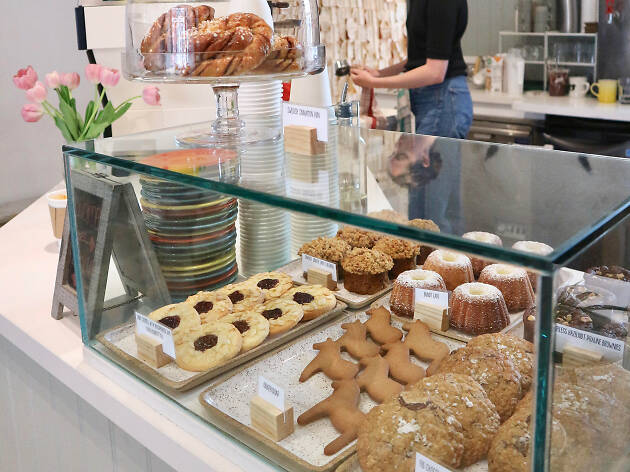 What is it: Taking a hint from Sweden's coffee culture, Fika is a bright, airy and cozy space that serves food, pastries and, of course, coffee in the heart of Kensington Market.
Why go: This chill, Scandi-inspired spot encourages slowing down and taking a midday break from the ever-bustling streets. The backyard patio and garden (complete with a hammock) is the perfect hidden space to escape the city crowds.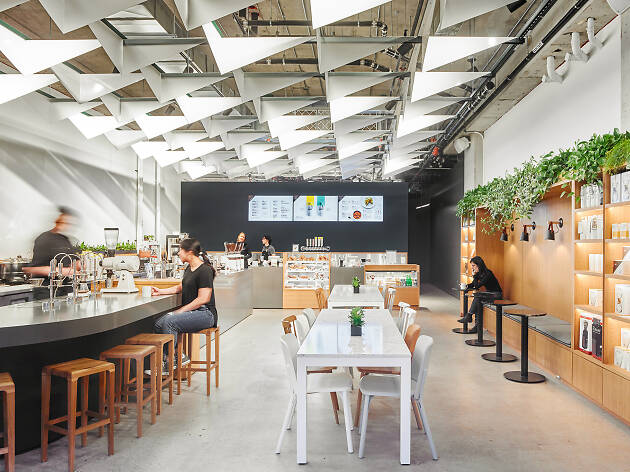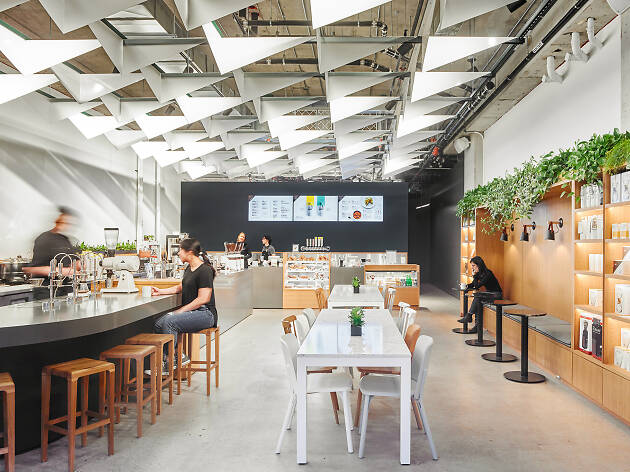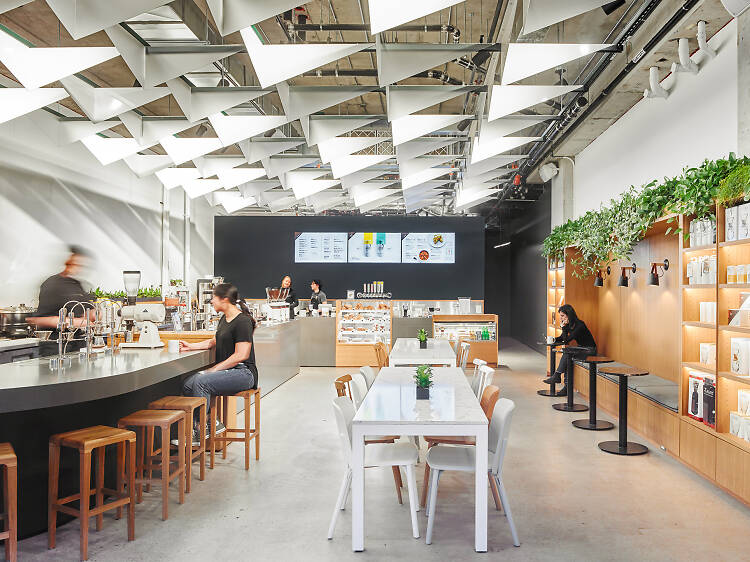 Photograph: Courtesy Pilot Coffee
What is it: Pilot Coffee is specialty coffee culture at its finest. The East-end headquarters combine a roastery with a lab, tasting bar and the heart of the distribution center while outposts across the city help keep the masses caffeinated.
Why go: At the headquarters, customers are invited to see Pilot's process as a whole, gaining a further appreciation for the craft of coffee.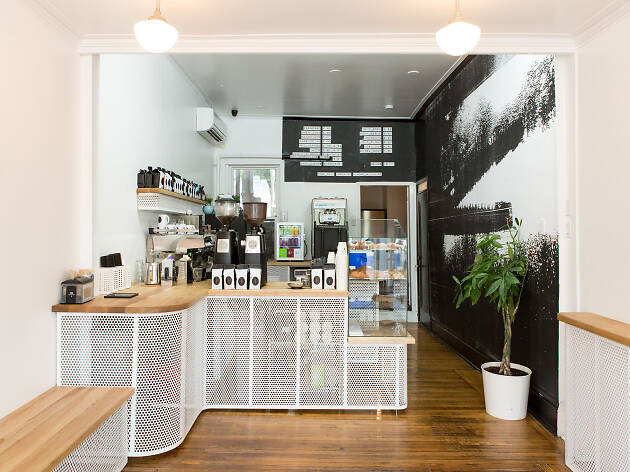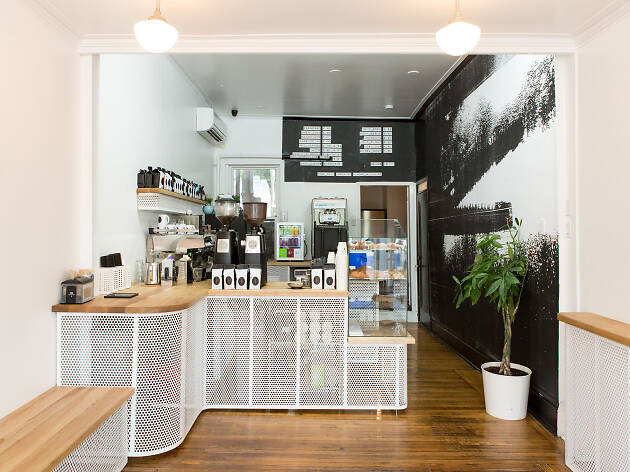 Photograph: Sam James Coffee Bar
What is it: Almost 10 years after opening its original outpost on Harbord, this hip coffee shop has expanded into a family with numerous locations across the city. Expect high-quality coffee with friendly, community-driven vibes at each spot.
Why go: For a quick, convenient cup of the good stuff, Sam James Coffee Bar is an excellent option. With five different locations peppered across Toronto, you can have your SJCB fix, no matter which 'hood you're in.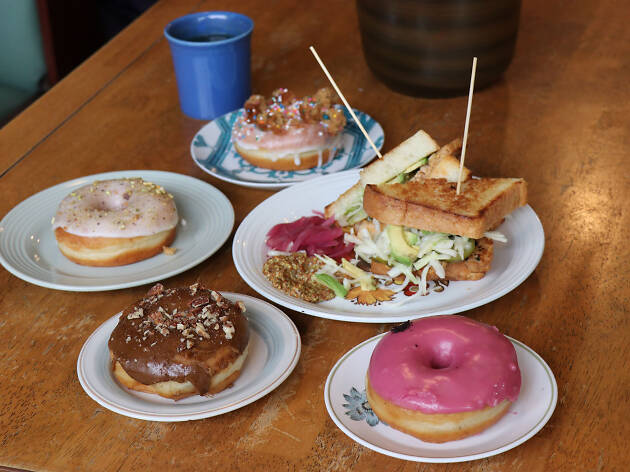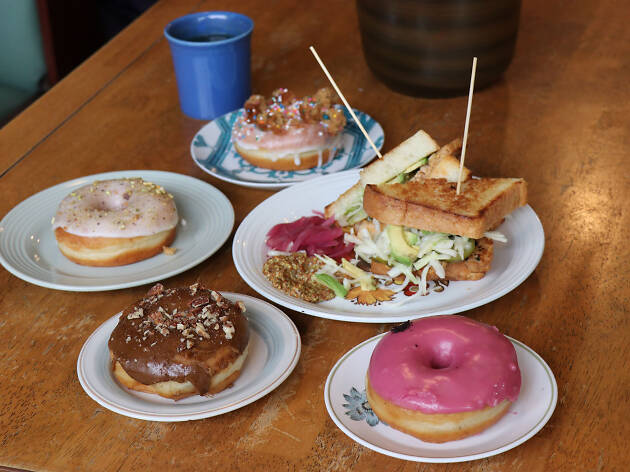 Photograph: Bloomer's
What is it: Vegan eats and treats meet great coffee and loose-leaf tea at this Bloor and Ossington café. Plant-based eaters congregate here over tofu club sandwiches and filling meat-free bowls.
Why go: The donuts here are second to none with a super soft texture and interesting flavors like rose pistachio on offer. Ask servers to set aside your preferred flavor for dessert while you're ordering your main because the donut case can clear out in minutes given walk-in orders.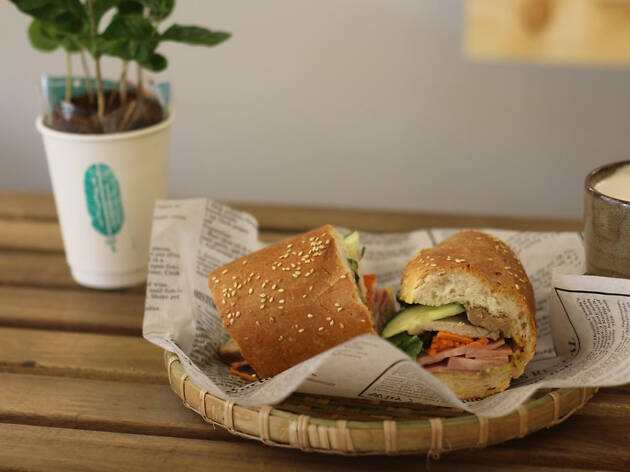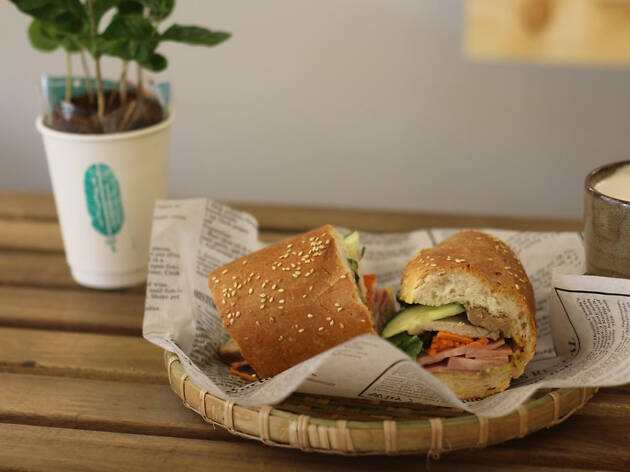 Photograph: Courtesy Yelp/Rustle & Still Café
What is it: Vietnamese owners find an unlikely but magical combination serving fresh banh mi sandwiches with Viet coffee and tea lattes flavored with hojicha, pandan or purple sweet potato. Wi-Fi-free weekends remind us to unplug and socialize.
Why go: Rustle & Still Café's plant game is on point, which means you can sip your fancy latte and catch up on emails among a jungle-like assortment of leafy greens and potted plants.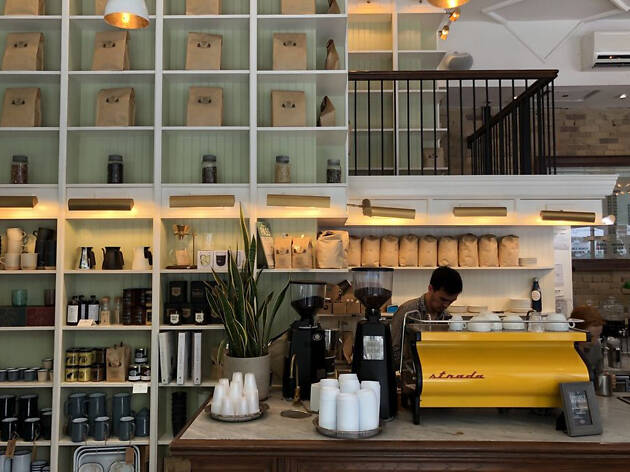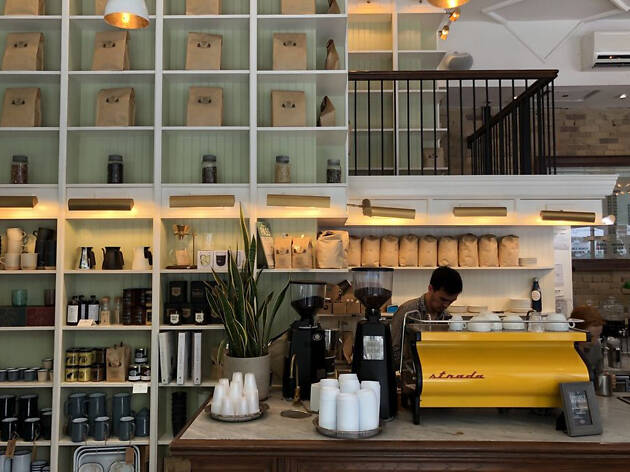 Photograph: Courtesy Yelp/Sangyeon C.
What is it: Located in the epicenter of the Financial District, this historic spot that used to house the hat and fur retailer W. and F. Dineen Co. has become one of the city's best for coffee. Bustling with tourists and locals on their morning commutes, Dineen Coffee Co. serves delicious quality coffees, snacks and sandwiches.
Why go: This beautifully restored heritage building is worth the visit, even if it's just to appreciate its perfectly executed design.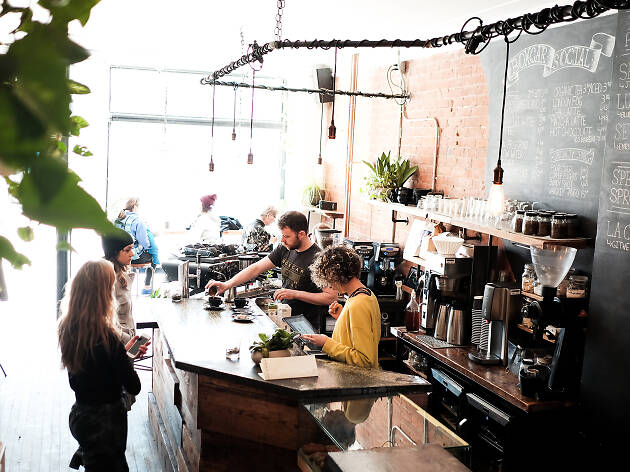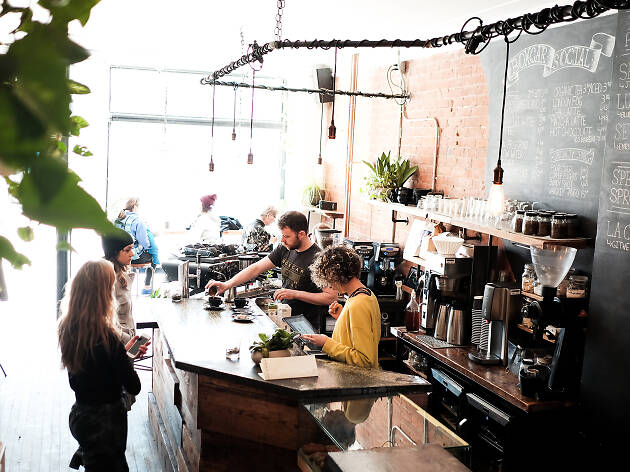 Photograph: Courtesy Boxcar Social
What is it: Wine lovers and coffee nerds merge at Boxcar Social, where sommelier-baristas serve flights of coffee to highlight regional nuances, a bit like tasting the terroir of wine. Each coffee is brewed to the best temperature and timing to showcase a bean's best flavors.
Why go: Because coffee hour transitions to wine, cocktails and charcuterie boards. The Harbourfront location is a sprawling spot with beautiful views of Lake Ontario.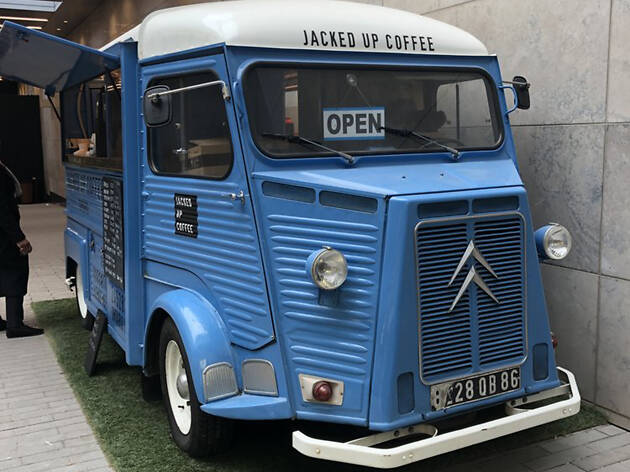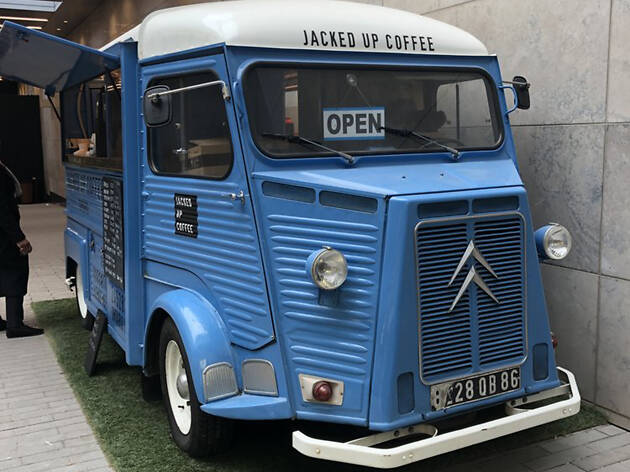 Photograph: Courtesy Yelp/May C.
What is it: While it began as a mobile coffee truck, Jacked Up Coffee now serves fresh coffees from two vintage Citroens that have been lovingly restored. The trucks are now permanently located in Yorkville, on the ground floor of 225 King St. for a more reliable coffee fix.
Why go: Is there anything cuter than grabbing your morning coffee from a bright blue coffee truck? We think not.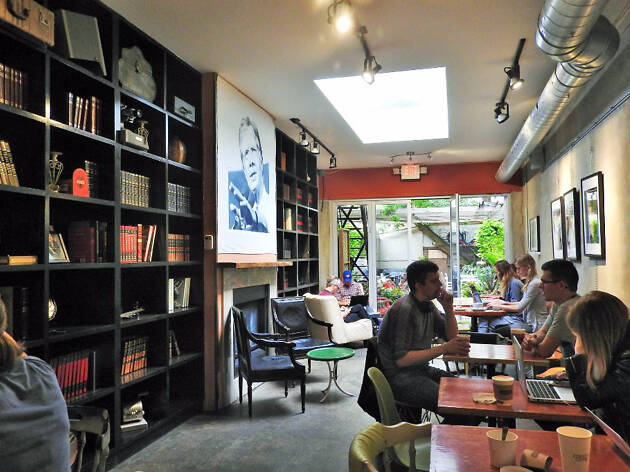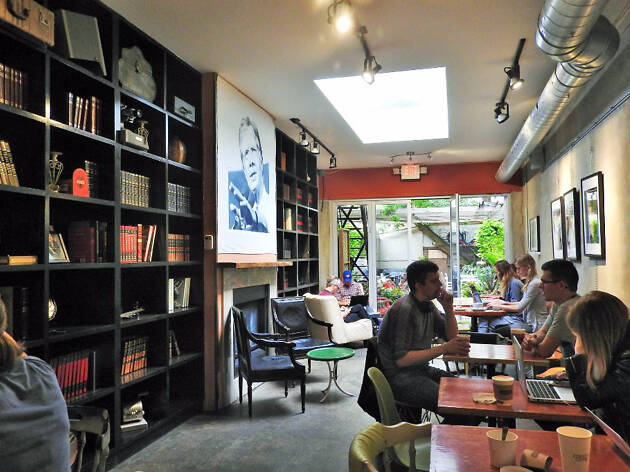 Photograph: Courtest TripAdvisor/crisa50
What is it: Another one of Toronto's coffee micro-chains, Jimmy's Coffee knows what's up when it comes to pouring a mean espresso or Americano. The Kensington Market outpost offers friendly service, knowledgeable staff and a fabulous back patio in the heart of the vibrant neighborhood.
Why go: For a casual coffee in an eclectic space that's warm, inviting and perfect for dates, study sessions and morning pick-me-ups.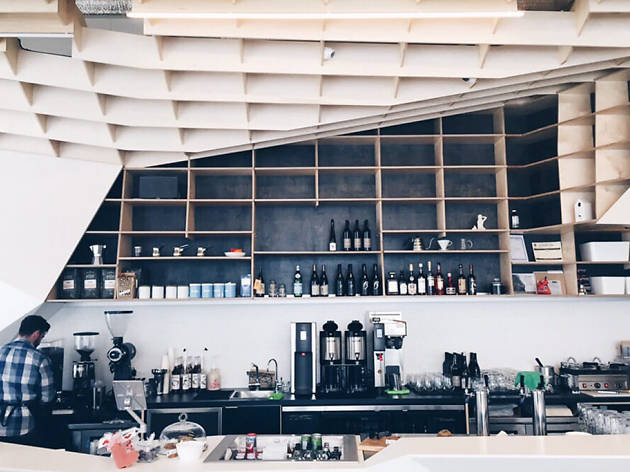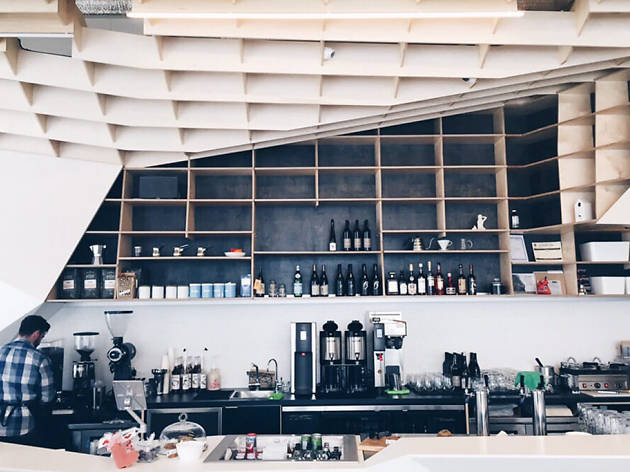 Photograph: Courtesy Yelp/Diane G.
What is it: Sleek, modern and oozing with Scandinavian-inspired style, Odin is a gorgeous spot to enjoy a strong brew when you're in Toronto's East End. Accented with white wood and impressive geometric features, this space is extremely inviting and a welcome addition to the Corktown coffee scene.
Why go: For delicious coffee from local East Side roaster Pilot Coffee, friendly service and an aesthetic that feels like it's straight out of a Design Milk article.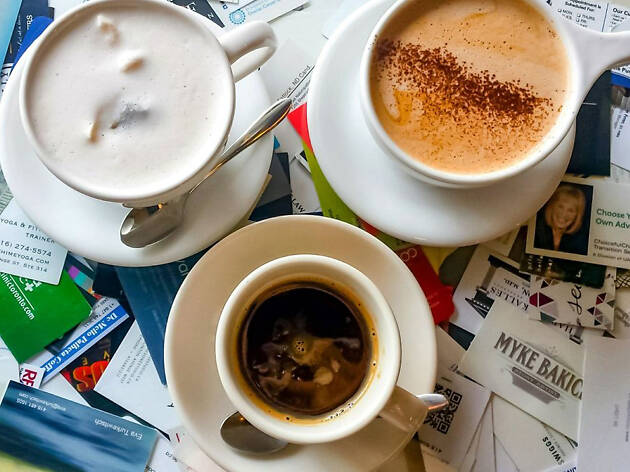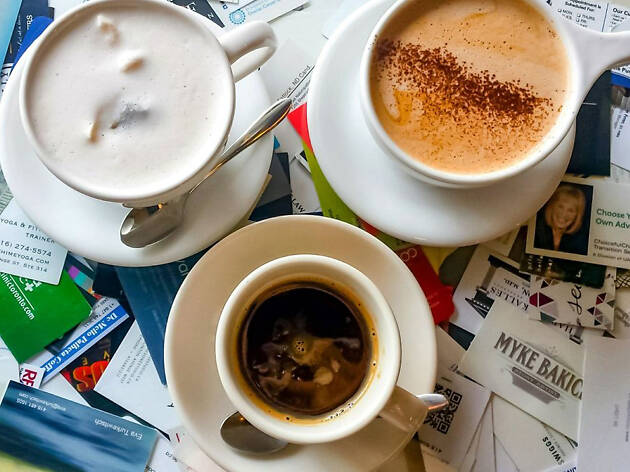 Photograph: Courtesy Yelp/Elfy C.
What is it: Named after the O.G. coffee explorer, Francisco De Mello Palheta, this midtown Toronto coffee joint is part micro-roaster and part specialty shop for the caffeine-inclined. Sourcing only the highest quality green beans and roasting them in house, the team at De Mello Palheta is serving the best product possible.
Why go: From the fun, graffiti-adorned exterior to the rustic yet industrial dining space and roastery in the back, De Mello Palheta is an essential stop for any coffee lover.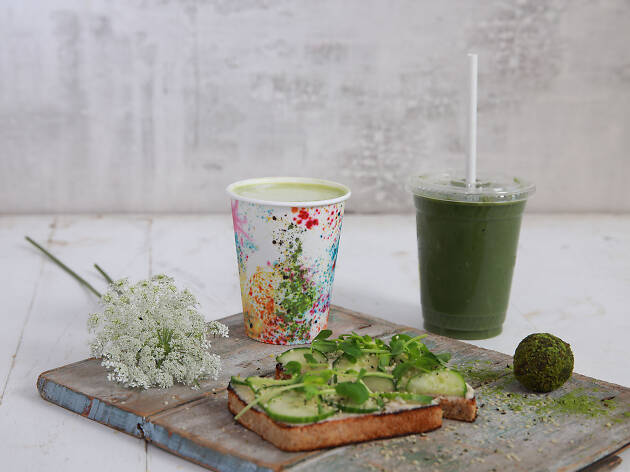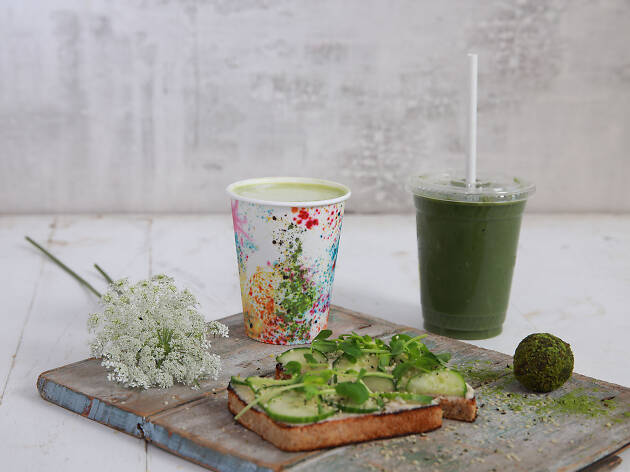 Photograph: Harrison Taylor
What is it: Opened by a holistic nutritionist, Nutbar is where the health-obsessed can appease their cravings for coffee and sweet snacks. Void of white sugar and white flour, it's a feel-good spot for superfood-laden eats.
Why go: If you're cutting down on caffeine, Nutbar's smoothies and superdrinks will have you feeling energized with ingredients like turmeric, chaga and spirulina.
Feeling hungry?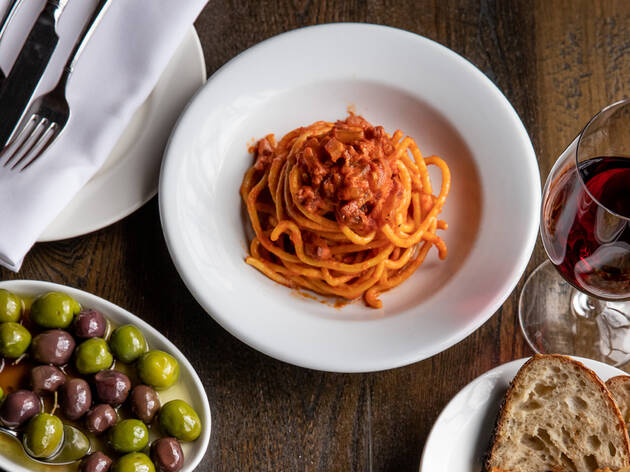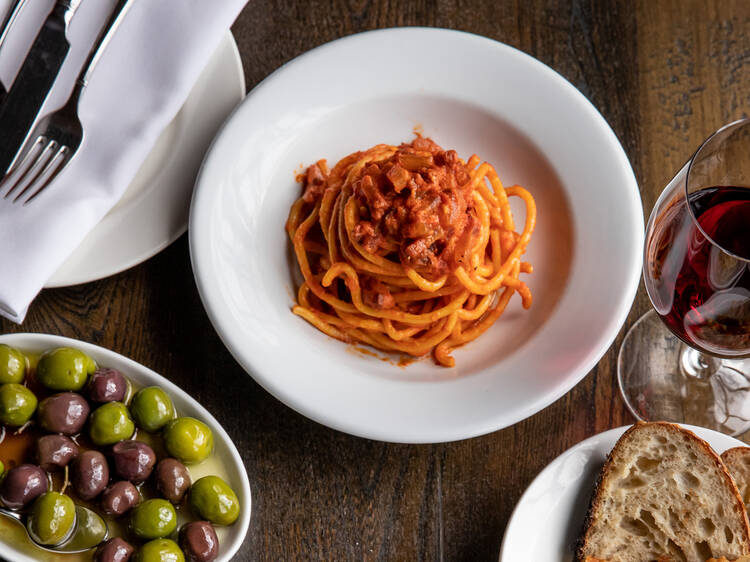 Once upon a time, the best Italian restaurants in Toronto used to be… generic. But times have changed: starting with an influx of immigrants coming from Italy between the 1950s and 1970s, the local restaurant scene has flourished into a destination for top-notch pastas and pizzas that folks from all over the country flock to.