Heads up! We're working hard to be accurate – but these are unusual times, so please always check before heading out.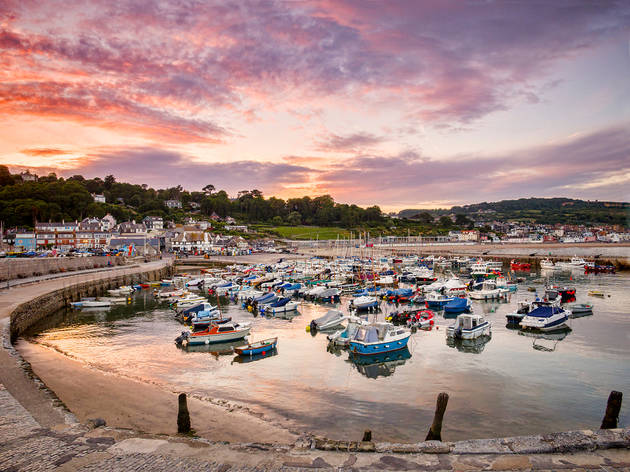 The 17 best and coolest seaside towns in the UK
The UK's seaside towns are having a renaissance right now. Here's our pick of the very best places for a coastal getaway
With our chances of international travel looking iffier each day, many of us across the UK are planning to swerve overseas trips completely this summer. Luckily, if you're ready to blast away those cobwebs with a spot of sun, sand and sea air, the UK's wild, sweeping coastline is dotted with more pretty and enthralling beach towns than you can shake a bucket and spade at.
Forget the clichés of rain, pebbles, chippies and faded towns well past their heyday. Not one does our island nation boast a clutch of the world's most beautiful beaches, but many of the places clustered around them are having a renaissance right now – with cutting-edge arts initiatives and destination bars, pubs and restaurants making British seaside holidays cool again.
So, now that domestic holidays are back on the agenda (overnight stays are allowed from April 12 in self-catered accommodation like Airbnbs and campsites, and stays in hotels, B&Bs and hostels will be possible from May 17), it's time to start planning your next trip to the seaside. From arty hotspots in Cornwall to quaint fishing towns in Wales and secluded coves in Scotland, consider this your seaside guide for the summer ahead.
Heading out from the capital on your jaunt? Check out our guide to the best seaside towns near London.
Please note: Travel from England to Wales and Scotland is currently not allowed. Many facilities and businesses in the towns and villages we mention will be closed at the moment. Government advice is to avoid public transport so don't travel by train or bus. Please be mindful of the people who live locally. If you decide to travel, check whether car parks are open before you set off and adhere to social distancing guidelines on your visit.
The very best UK seaside towns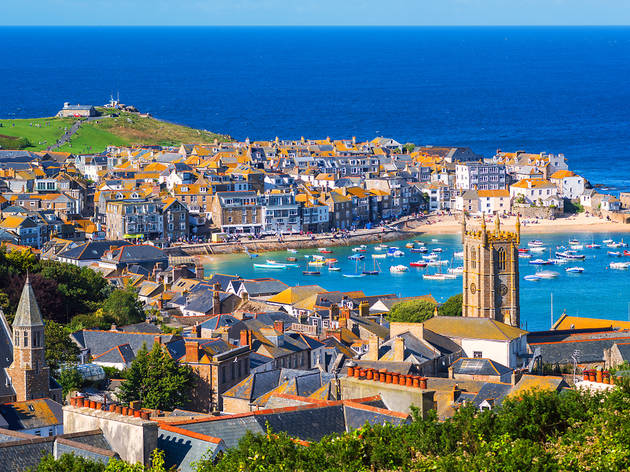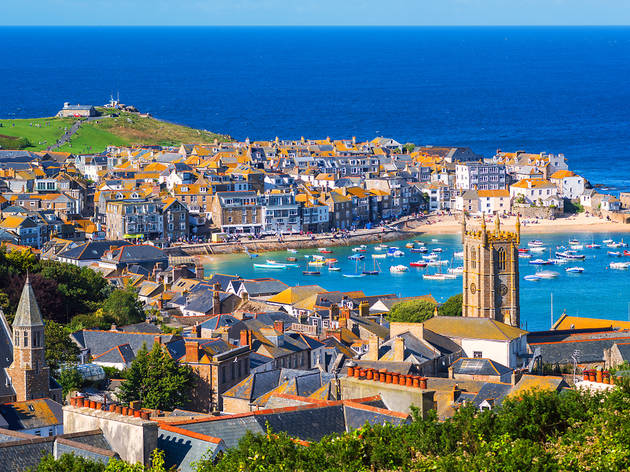 Photograph: Shutterstock
What's the vibe? A fishing town with serious artistic clout.
Why go? Three reasons: seafood, art, and surfing. St Ives was and is a working fishing village, and even though most of its whitewashed cottages are now holiday rentals, the seafood here is still the good stuff – especially when served about as close to the sea as you can get while staying dry, at the swish cafés on Porthminster and Porthmeor beaches. In the '20s and '30s, the fishermen were joined by artists and potters like Barbara Hepworth, Bernard Leach and even colourful-squares guy Piet Mondrian. There are still plenty of artists here, and loads of places to chin-stroke, including Tate St Ives, Hepworth's house and sculpture garden, and tucked-away gallery-shop St Ives Ceramics. And more recently, St Ives has become a surf town, with rad dudes of all genders getting salty all year round in its many piratical-looking coves.
Don't miss The atmospheric fishermen's graveyard on Barnoon Hill, including the tomb of salty sea dog and self-taught artist Alfred Wallis.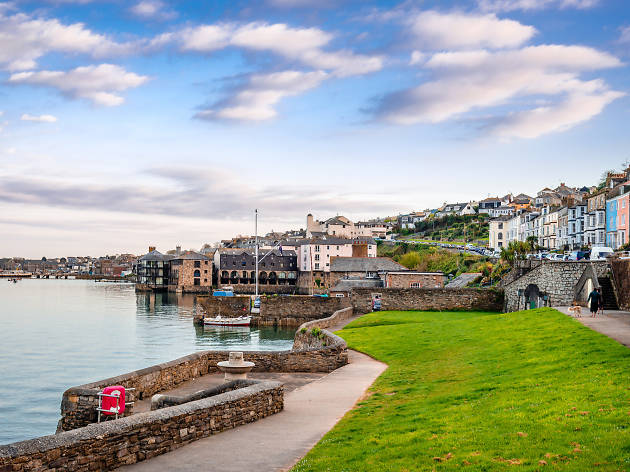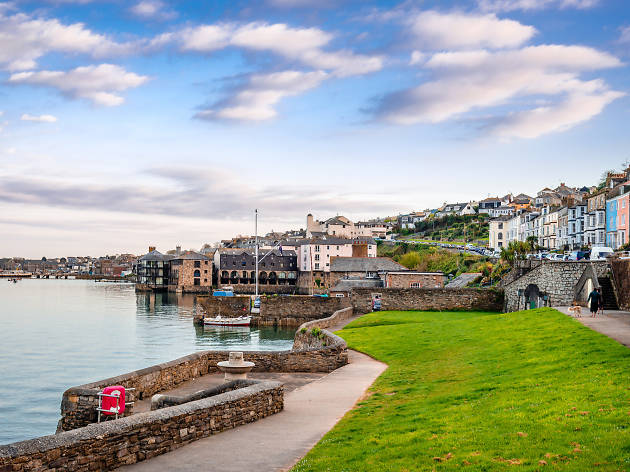 Photograph: Shutterstock
What's the vibe? A cosmopolitan university town with Blue Flag beaches and plenty of Cornish charm.
Why go? While Cornish seaside towns usually tend towards old-fashioned bucket-and-spade charm or cutesy chic, Falmouth has a more youthful, cosmopolitan air, partly thanks to University College Falmouth, which specialises in arts, design and media. The hip bars and cafés, independent shops along the charismatic old High Street, artisan eateries and award-winning Falmouth Art Gallery are dotted around the picture-postcard harbour beside ancient castles and sandy beaches.
Don't miss Get out on the water and take the ferry from Falmouth to Truro. The journey takes in all the best bits of the Fal River, including waterside villages like Malpas and the Tudor castles of Pendennis and St Mawes.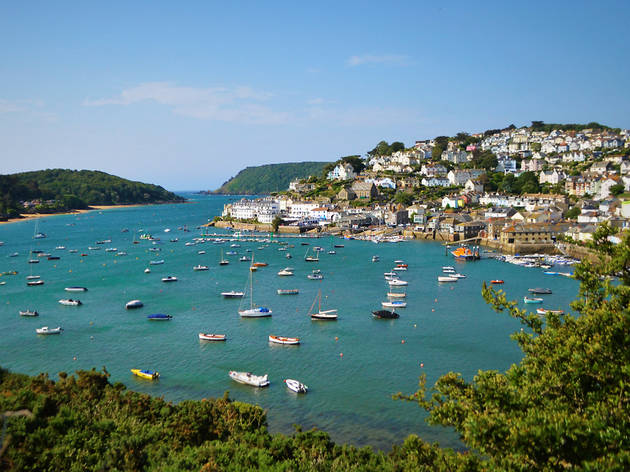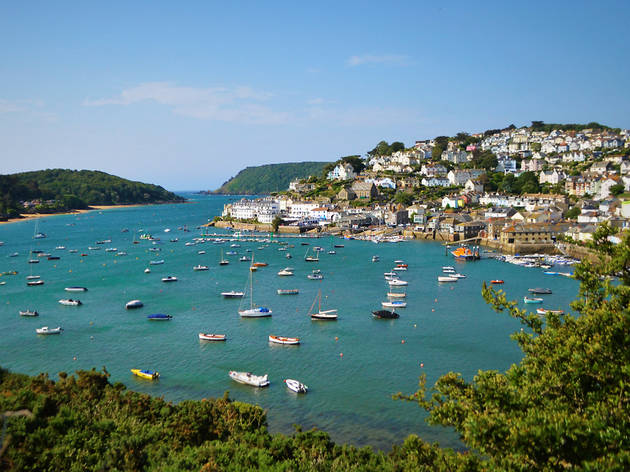 Photograph: Shutterstock
What's the vibe? Secluded Devon splendour meets extreme toffness – think Padstow, but for people who are no good in traffic jams.
Why go? It's legit beautiful, surrounded by majestic hills and quiet tidal beaches. It might be on the glitzier, pricer side – come summer it caters to the upmarket tourism market with its clusters of posh boutiques and chic restaurants – but, you'll also find plenty of natural splendour here too. East Portlemouth Beach's secluded sandy coves are perfect wild-swimming spots and coastal trail the South West Coast Path takes you past hidden beaches, rugged pinnacles and undulating sea views.
Don't miss The stunning National Trust garden (and view) at Overbeck House, followed by a seafood platter at Seafood at beach-side restaurant The Winking Prawn.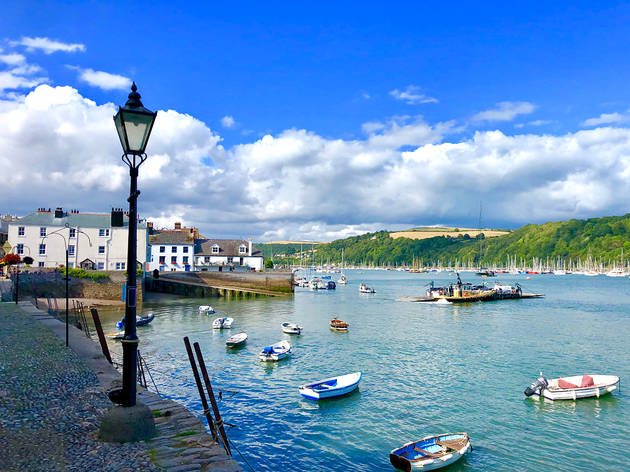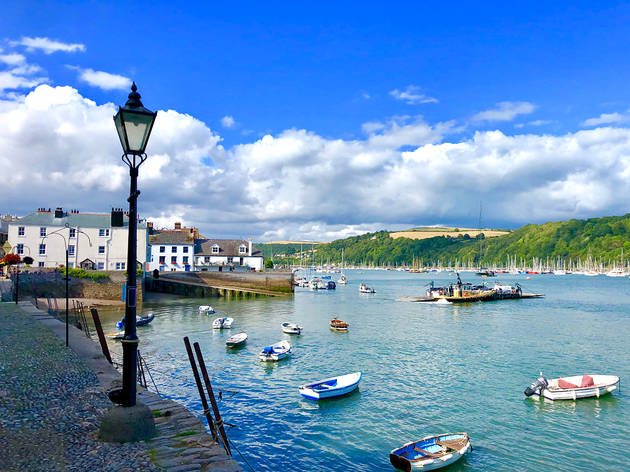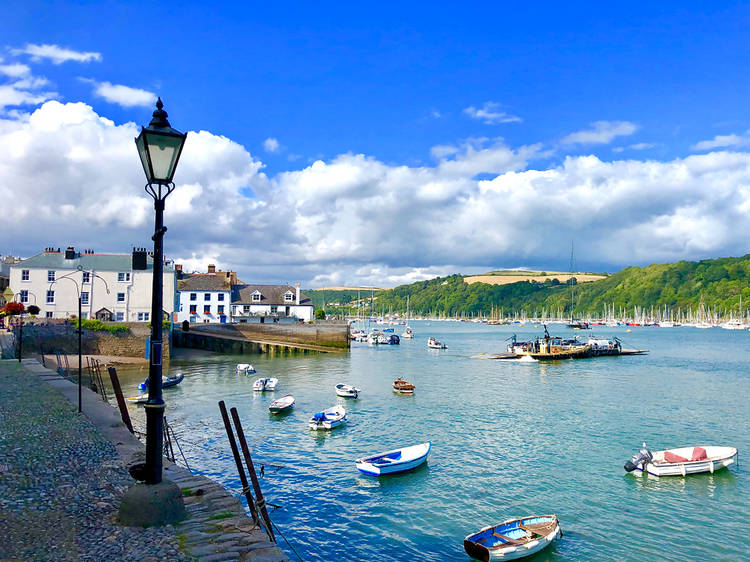 Photograph: Shutterstock
What's the vibe? Exquisite seafood and excellent walking opps.
Why go? Okay, so it's technically not actually a seaside town – rather a town on the banks of the River Dart, a couple of miles from the sea. But Dartmouth comes with everything you could want in a trip to the coast. There are historic pubs, and there are walking trails straight out to the sea. There are boat trips galore, and there are crabbers crabbing away in the harbour daily. In Mitch Tonks, the town also has a veritable super-chef whose restaurants here serve some of the country's finest seafood. It's a taste of the Med, in a thoroughly British setting.

Don't miss The Seahorse, Tonks's snazziest restaurant, right on the waterfront. One day you might get cuttlefish risotto, another fritto misto with aioli. It's all ridiculously delicious.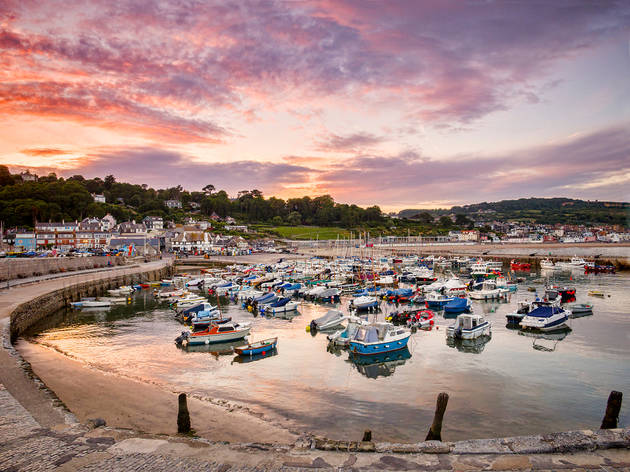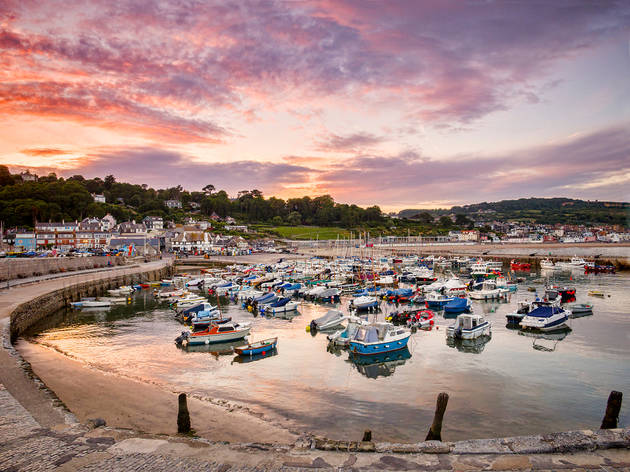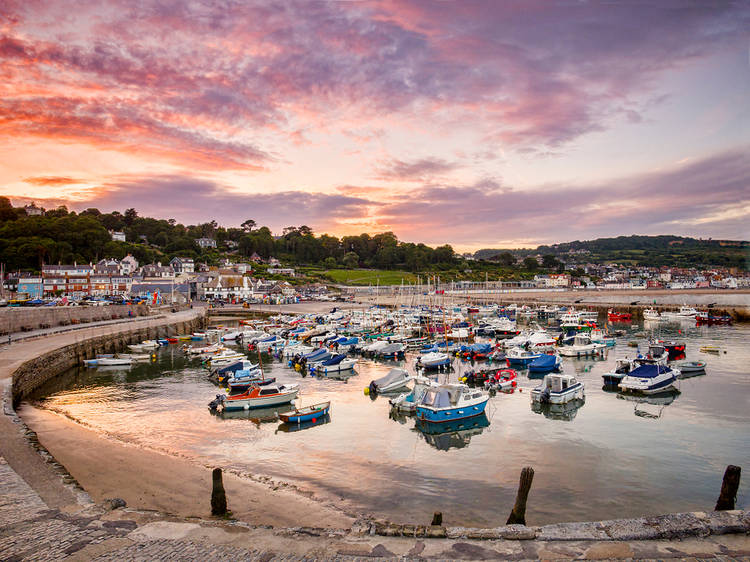 Photograph: Shutterstock
What's the vibe? Old stuff and really old stuff.
Why go? Lyme has all the cute fisherman's cottages, sandy beaches, antiques emporiums and pasty shops that you could want in a West Country seaside escape. But it's also got something a little more unusual: gajillions of years' worth of fossil history. If you've seen the movie 'Ammonite', you'll know that this was once the hunting ground of teenage Regency fossil-finder extraordinaire, Mary Anning. Accordingly, there's not just history but prehistory on display around town, extending from the abundant fossil shops to the nifty ammonite-shaped street lamps along the seafront. Fossils still turn up here on the beaches every day, and although you probably won't find a whole ichthyosaur skeleton while out for a paddle, there's no harm in trying.
Don't miss A stroll along The Cobb, Lyme's historic harbour wall – it had a starring role in novels by Jane Austen and John Fowles, and there's even a little aquarium at the end.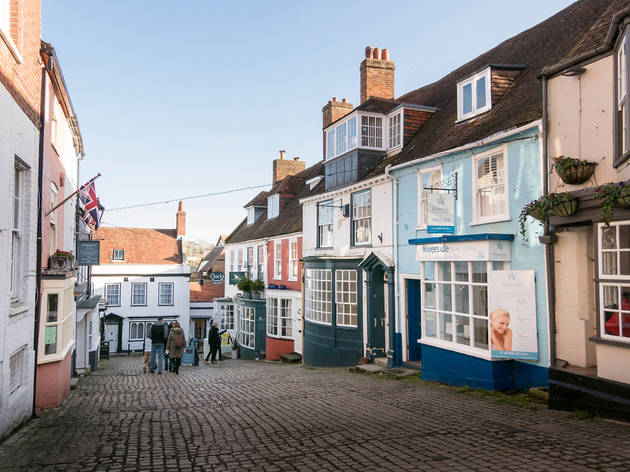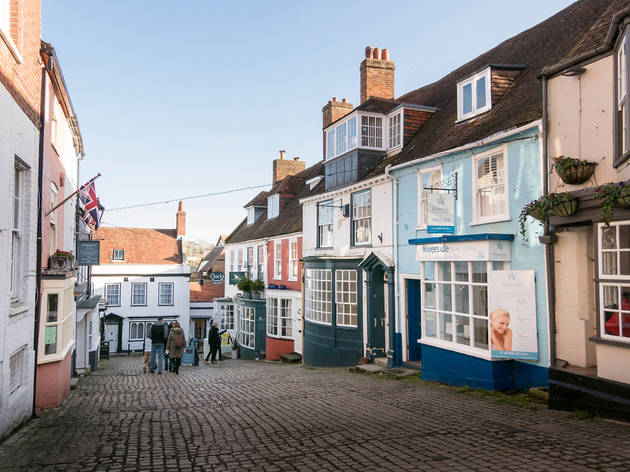 Photograph: Sue Martin/Shutterstock.com
What's the vibe? A Georgian sailing town with proper salty pubs.
Why go? Lymington's a refined seaside town with postcard-perfect high streets – but the boat-filled harbour is the main attraction. Get out on the water with one of the town's sailing experiences, join a chartered fishing excursion or just watch the world go by with a pint from one of the wonky-fronted old pubs. Swing by Apple Court Garden & Nursery for a cup of tea and a slice of cake in the sun and a peek at its exquisite Japanese garden.
Don't miss The annual Lymington Seafood Festival in August, when jazz and blues meet fresh seafood cooked up by top chefs.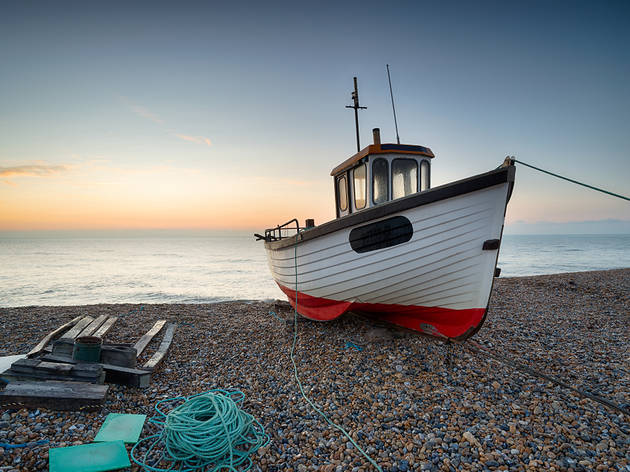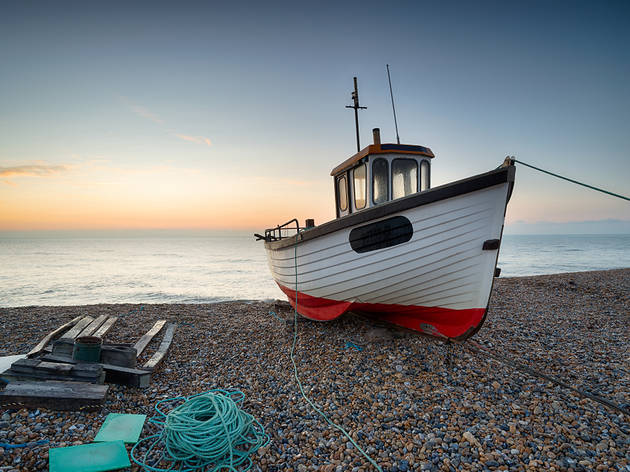 Photograph: Shutterstock
What's the vibe? Shingle strolls, bird-watching and otherworldly desert surroundings.
Why go? There's a vague apocalyptic feel about Dungeness, a little fishing town at the southernmost point of Kent. Its wild landscape of stark, shingle desert headland is overlooked by the imposing Dungeness Nuclear Power Station. But, thanks to this, there is something uniquely beautiful about the place, with its lighthouses, abandoned fishing boats, wooden cabins and thriving wildlife. Follow the two-mile trail around RSPB Dungeness to spot rare seabirds. Refuel at the famous Snack Shack: they'll serve you their catch of the day in a warm bun.
Don't miss Get a look at the iconic coal-black Prospect Cottage, former home to film director Derek Jarman, and its unique shingle garden.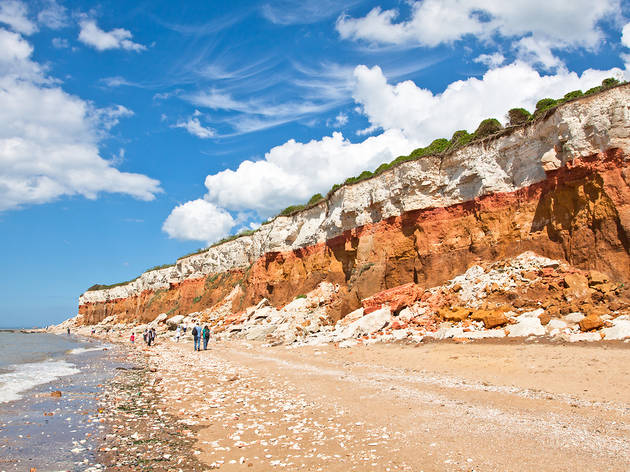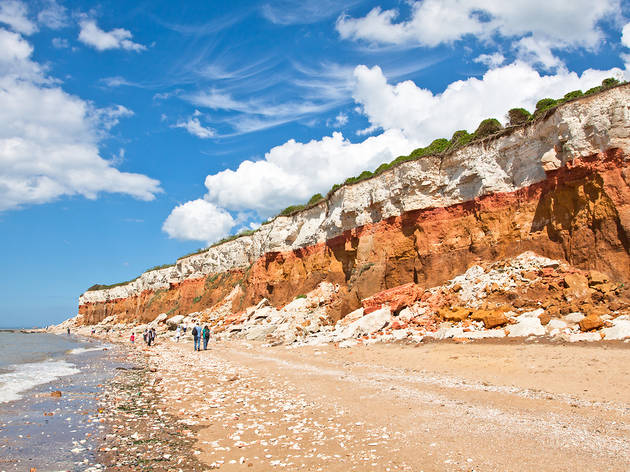 Photograph: Shutterstock
What's the vibe? Striped cliffs and stonking sunsets.
Why go? With the unusual stripy cliffs behind and The Wash in front, visitors to Hunstanton are in the unique position of being in the only spot in east England from where you can see the sun both rise and set. While away the hours in between by admiring Hunstanton's Heritage Gardens – in the summer months you can follow a self-guided Horticultural Trail, look out for markets and events on the green, pick up a souvenir from Britain's largest joke shop, explore Old Hunstanton's stone cottages and refuel at The Neptune, a brilliant local pub.
Don't miss Follow the Norfolk Coast Path, a trail from Hunstanton to Sea Palling that hugs the shoreline, to take in the dramatic beauty of the Norfolk Coast Area of Outstanding Natural Beauty.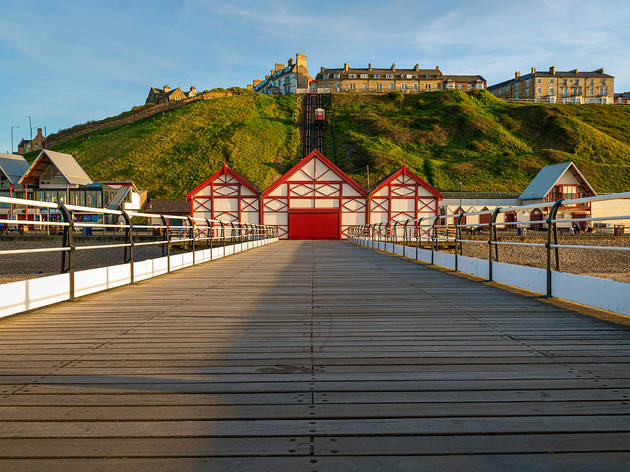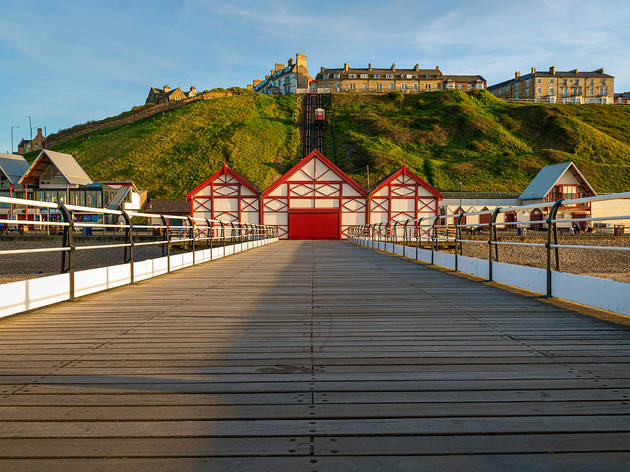 Photograph: Shutterstock
Saltburn-by-the-Sea, Yorkshire
What's the vibe? A Victorian seaside town that remains charmingly untouched.
Why go? The North Yorkshire coast has its fair share of picturesque seaside towns, but Saltburn-by-the-Sea really is a looker. It's all thanks to Henry Pease, a Victorian industrialist who created Saltburn in 1858 after having a celestial vision of a pleasure grounds on a cliff edge. It still has its original funicular, the Saltburn Cliff Lift, that takes visitors down to a huge sandy beach, and its original Victorian pier, which (unlike neighbouring Scarborough) has avoided the usual gaudy amusements. Despite the antiquated surroundings, there's an arty, contemporary undercurrent running through the place. Look out for its vibrant independent businesses, burgeoning surfing scene, crafty farmer markets, and jazz nights.
Don't miss A pint in the Ship Inn, a legit sixteenth-century smugglers' tavern.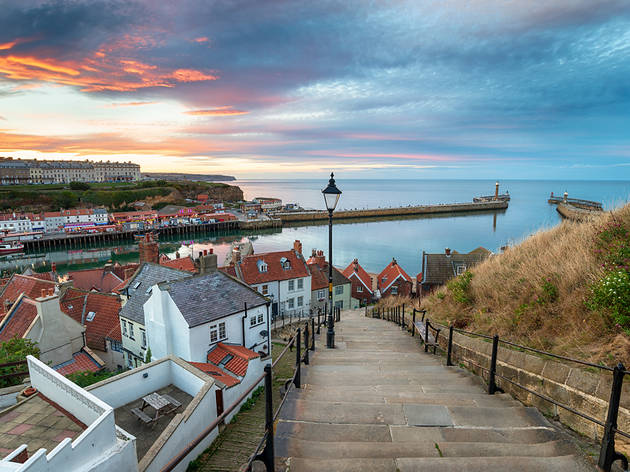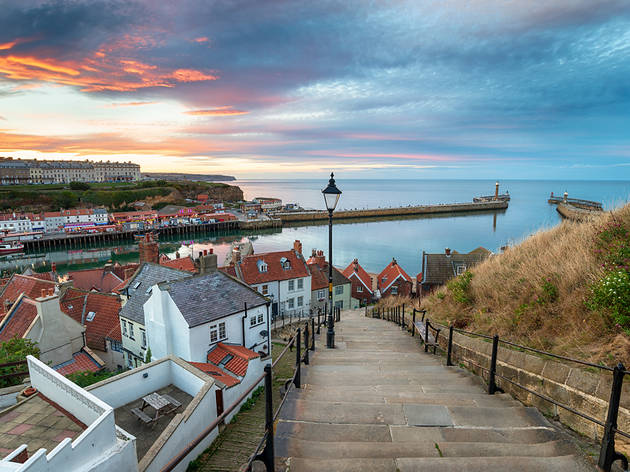 Photograph: Shutterstock
What's the vibe? A trad Yorkshire fishing town that exudes more gothic splendour than David Bowie in 'The Hunger'.
Why go? Whitby is not your average seaside spot. While it has a dramatic coastline, soft stretches of caramel sand, top-notch fish and chips and a quaint harbour, it's all overlooked by a cliff-top graveyard and Whitby Abbey, a 1,360-year-old ruin that inspired Bram Stoker's vampire-filled novel 'Dracula'. It has even more goth credentials as the site of the bi-annual Whitby Goth Weekend festival, when the place is descended on by black-clad music fans, and as the home of Whitby Jet: a gemstone made from fossilised wood known for the intensity of its blackness. If you're after an eccentric day out, there's plenty to sink your teeth into here.

Don't miss Ask any local where you'll find the best fish and chips and they'll say Magpie Café: queues snake down the pavement.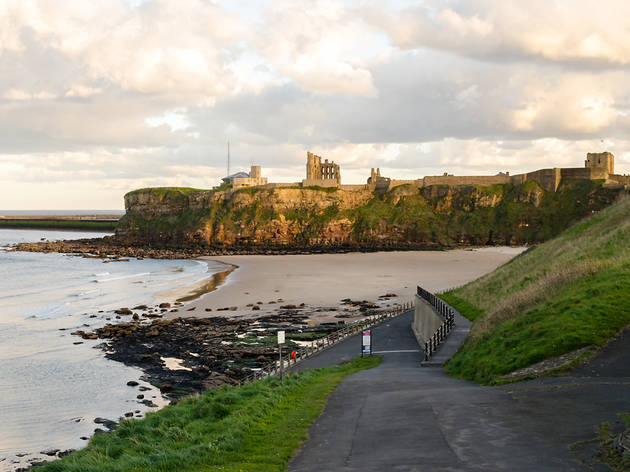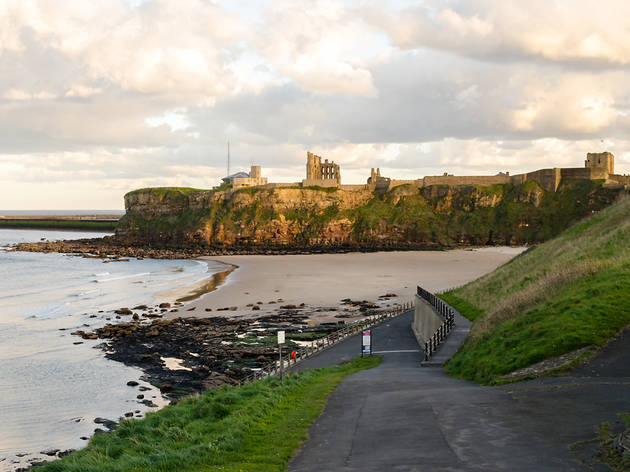 Photograph: Shutterstock
What's the vibe? Britain's coolest seaside town? Could be.
Why go? Eight miles outside of Newcastle, Tynemouth manages to perfectly merge artisan city cool and wholesome coastal pursuits into the perfect salty, seaside package. Its three white sandy beaches are overlooked by a ruined priory and castle; a working lighthouse stands at the tip of its craggy headland; and it has a period high street crammed with traditional pubs and fish and chip shops. Alongside all this, however, you'll find tooth-achingly cool small-batch artisan roasteries like Tynemouth Coffee Company, forward-thinking restaurants, quirky bars and craft beer spots, a thriving surfing community, and designer-maker emporiums like Land of Green Ginger: a converted church full of boutiques and artisan cafes.
Don't miss Riley's Fish Shack: a shipping container restaurant that cooks up Michelin star-worthy seafood right next to the beach.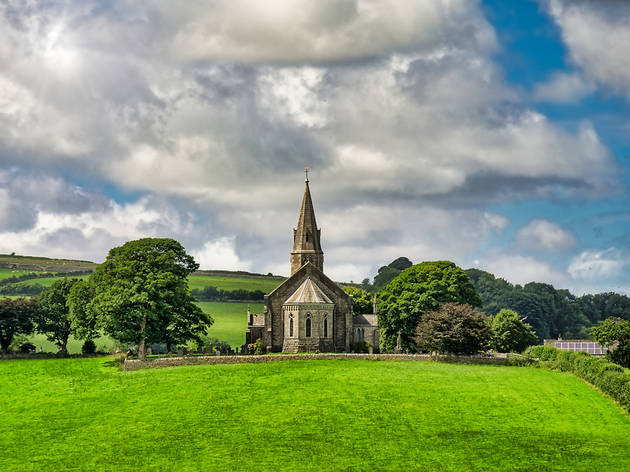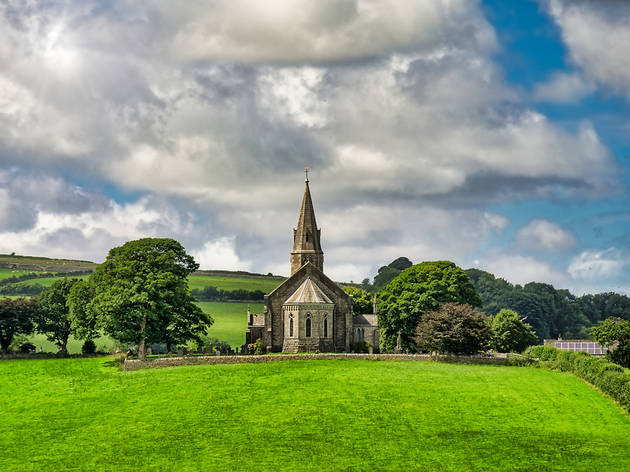 Photograph: Shutterstock
What's the vibe? Quiet, moody and utterly atmospheric.
Why go? While hordes of holidaymakers descend on the nearby Lake District, Bardsea village and its vast expanse of marshy sand remains totally serene. This is retreat country: marshy grasses lead out into Morecambe Bay, which is overlooked by Conishead Priory, a former abbey that's now a Buddhist Centre with eye-popping Tibetan architecture. Refuel in the World Peace Café, a sun-soaked tea room in the centre's pretty conservatory. The centre couldn't have found a more beautiful location: this is the perfect spot for doing a bit of soul-searching.
Don't miss Venture out to Chapel Island, a small outcrop off the coast, which was once the site of an ancient chapel built by the monks of Conishead. You can only visit when the tide is out and you'll need to go with an experienced guide who'll help you avoid the quicksand.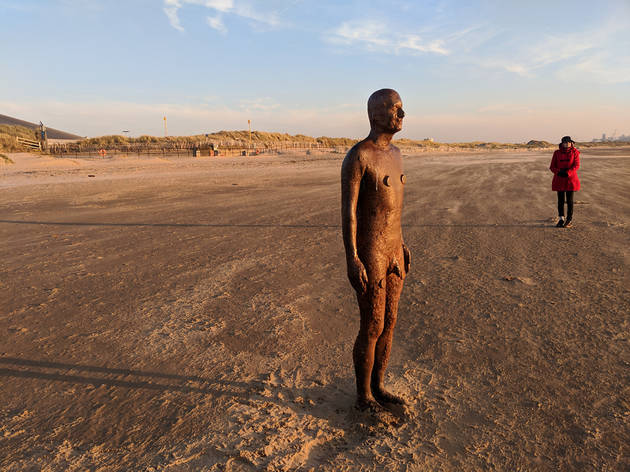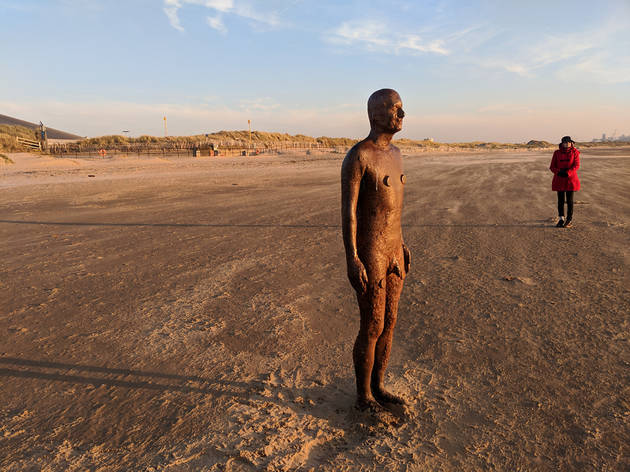 Photograph: Eddie Jordan Photos / Shutterstock.com
What's the vibe? Vast sands and sculptural surprises.
Why go? Near Liverpool in the suburbs of Merseyside, Crosby might look like just another English market town – apart from the fact it's bordered by rolling sand dunes and fast-changing tides that draw out to reveal a boundless stretch of sandy beach. Carry on up the coast to find Hightown and its prehistoric submerged forest, and Formby National Trust coastal reserve, home to red squirrels and preserved neolithic footprints.
Don't miss The main draw here is 'Another Place': artist Antony Gormley's ambitious sculpture project of 100 lifesize cast-iron figures dotted over a two-mile stretch of the beach. Grab a sandwich and watch the figures as they're revealed and submerged by the tides.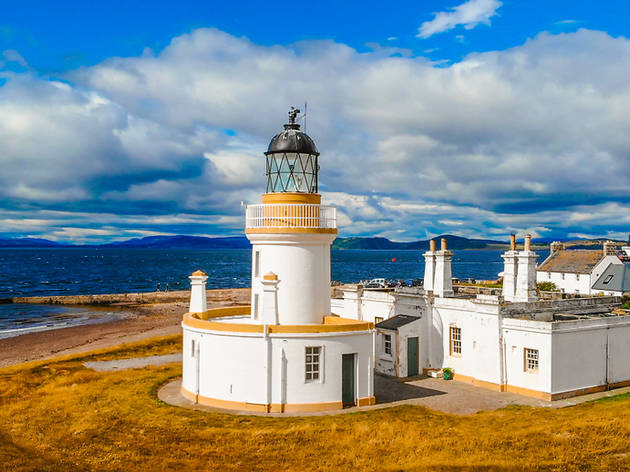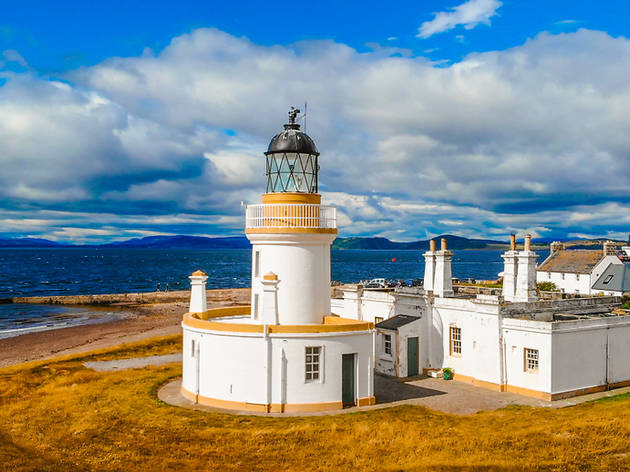 Photograph: Shutterstock
What's the vibe? A Highland fishing village with a fairytale feel.
Why go? Sticking out like a witch's hat into Cromarty Firth, this tiny, old-time fishing town is straight out of a fairy tale. Sat on the tip of the Black Isle – a sea-scuffed Highland peninsula – it's surrounded by pink-tinged beaches, waterfalls with names like Fairy Glen and mysterious Clootie Wells, where people hang up rags as part of an ancient Celtic tradition. Cromarty's section fo the bay is lined with eighteenth-century fisherman's cottages and clusters of historic buildings in the traditional Highland vernacular, all whitewashed walls and black window frames. Look out for East Church, with its elegant clear-glazed windows, and Hugh Miller's Cottage, a quaint thatched museum dedicated to a local geologist. Then pick up a wheel of locally-produced Truckle Cheddar from The Cheese Shop and head to Burnside Place's converted eighteenth-century brewery, where the Cromarty Brewing Company serves up suds and Cromarty Arts Trust holds spoken-word nights.
Don't miss Hop on a boat tour from the harbour to see if you can spot the world's most northerly pod of bottlenose dolphins.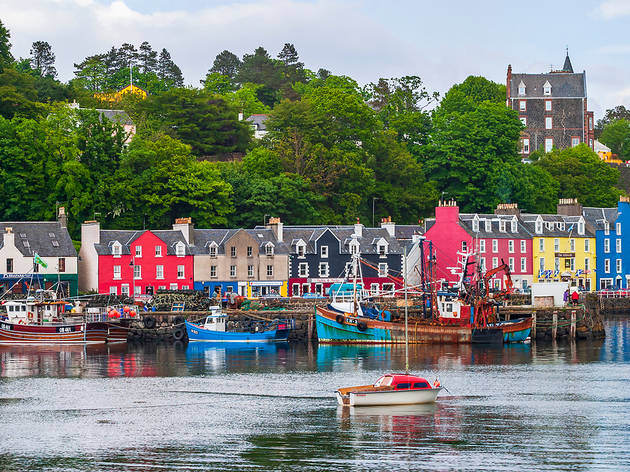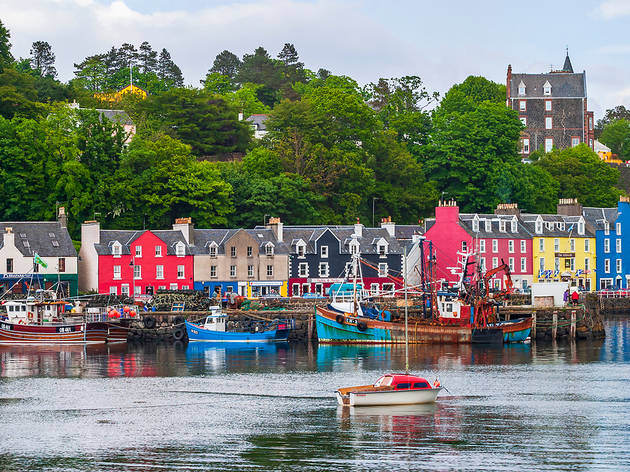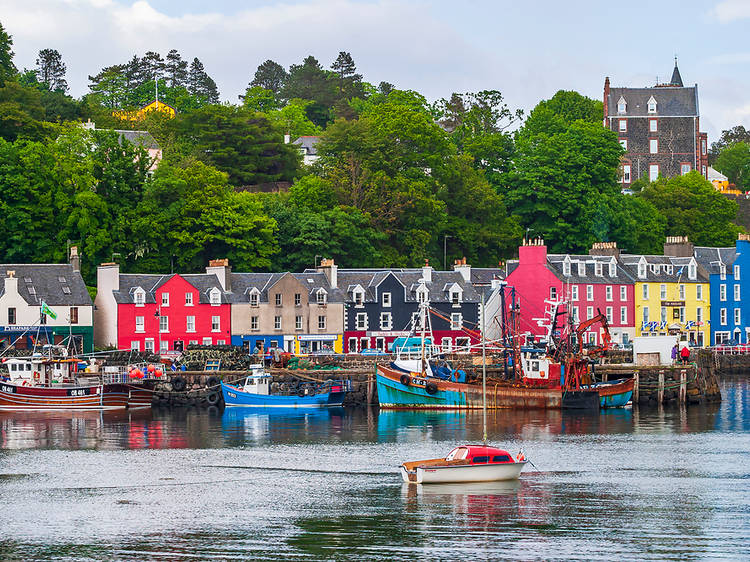 Photograph: Shutterstock
What's the vibe? A Hebridean fishing village in Farrow & Ball colours.

Why go? Anyone who happened to watch a lot of British kids' TV in the early noughties will recognise Tobermory's harbourfront as the setting of CBeebies hit 'Balamory'. Aside from its pre-school legacy, this tiny town has huge charm, a local puffin population and a rich history of producing magical malt whiskies. Once you've got an eyeful of the famous rainbow cottages by the harbour, stroll out to the pretty lighthouse at Rubha nan Gall, the megalithic Standing Stones at Baliscate or head out on a boat trip from the harbour to spot minke whales and basking sharks. When it comes to trad Scottish music, Tobar – Mull's art centre – puts on good knees up. Be sure to pick up a fish supper beforehand from the famous van on the pier.
Don't miss A chance to sip the proper stuff on a tour of the Tobermory Distillery.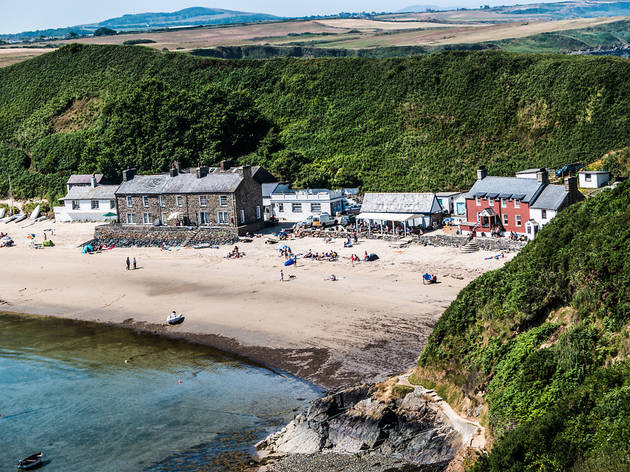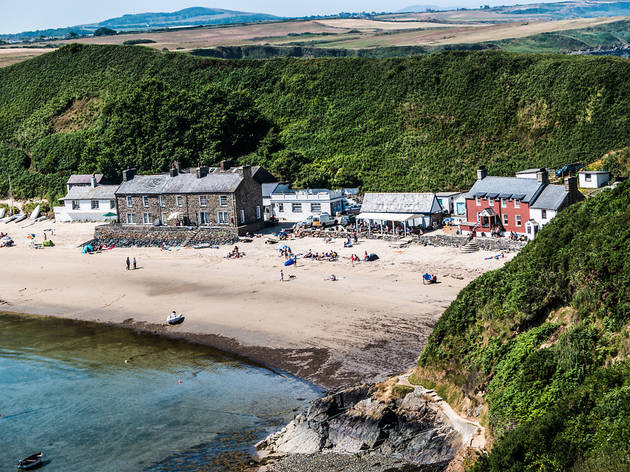 Photograph: Shutterstock
What's the vibe? Extreme isolation. Surprisingly blue waters.
Why go? The Llŷn Peninsula is where you go in Wales if you really want to get away from it all. But if you don't want to do away with human company altogether, we'd suggest staying in Nefyn: a small town and community that stretches out to nearby Edern and Morfa Nefyn. The main draw here is the Morfa beach – a sandy stretch complete with pretty pub and whitewashed cottages. The town itself is a brilliant base for hikers with their sights set on nearby Snowdonia.
Don't miss A trek up to the Tre'r Ceiri hillfort, which looms 450 metres above sea level on the Yr Eifl hills. It's one of the best-preserved Iron Age settlements in the UK.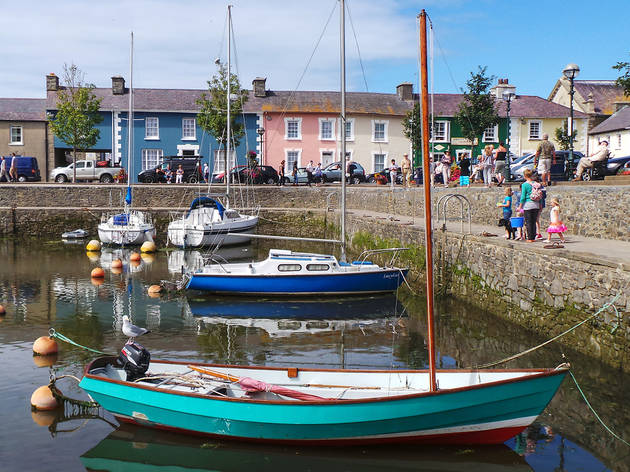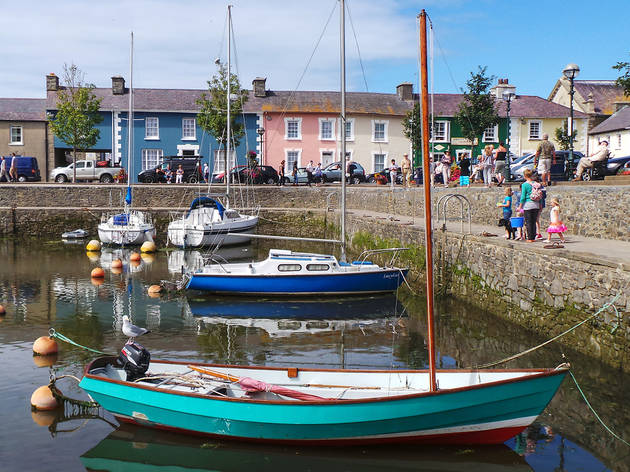 Photograph: Roger Utting / Shutterstock.com
What's the vibe? Foodie central, with a weird thing for honey.
Why go? Three reasons: the buildings, the ice cream and the dolphins. Roughly halfway between Aberystwyth and Cardigan, on Wales's west coast, Aberaeron's harbourside is ringed with beautiful Georgian houses – like especially radiant gems on a fairly everyday necklace. The town is perhaps best known for its honey ice cream, the most delicious of which you'll find at restaurant The Hive, but it's also a prime spot for seafood and afternoon tea and cake – making it the ideal pitstop on your way up the Wales Coast Path.
Don't miss Cardigan Bay is one of the best places in Europe to spot dolphins. Head out on a boat trip from nearby New Quay and look out for the bottlenose pods that like to linger off the coast.
Planning a UK getaway? Here's what you need to know
As the UK lockdown lifts gradually over the coming months, here's what you need to know.