Heads up! We're working hard to be accurate – but these are unusual times, so please always check before heading out.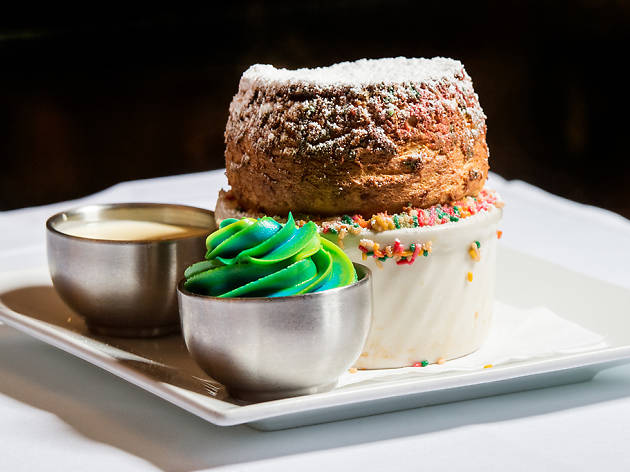 The 20 best desserts in America
These flaky pies, decadent cakes, creamy puddings and sweet cookies are the best desserts in America
For some of us, even the most fantastic meal is just the prelude to what is really the main attraction: sweet, sticky, craveable cakes, cookies, pies and ice creams. We're a nation of dessert lovers, seeking out our favorite treats at the best bakeries in America, the best donut shops in America and the best ice cream shops in America. From ice cream sandwiches to puffy souffles, these are the best desserts in America.
Best desserts in America
Once you've made your way through this LA hotspot's pastas, charcuterie and pizza, don't go home without ordering Bestia's chocolate budino tart. Made with Mast Brothers bittersweet chocolate, salted caramel, cacao crust, olive oil and a sprinkling of sea salt, it's an addictive ending to an already memorable meal.
Enrique Olvera's elegant, high-gear small plates more than fill the Mexican fine-dining gap in New York: they steamroll right over it. Olvera's single-corn tortillas pop up frequently on the menu, but it's his savory-sweet, Instagrammed-to-death husk meringue—with its fine, ash-dusted hull giving way to a velvety, supercharged corn mousse—that cements the chef's status as the corn whisperer of New York dining.
This classic creamery's reputation isn't just hype: every Bi-Rite scoop is handmade in small batches with local ingredients, and all of the toppings and mix-ins—which include cookie crumbles and marshmallow fluff—are concocted in-house. For the ultimate Bi-Rite experience, look no further than the Trifecta. This holy trinity of the creamery's most popular flavors combines sweet-savory salted caramel, brown sugar swirled with ribbons of ginger caramel, and malted vanilla with crunchy bursts of chocolate and peanut brittle. If the line around the block is a deal breaker, we have good news: there's a second scoop shop inside Bi-Rite Divisadero.
James Beard Award-winning pastry chef Mindy Segal is something like the mama of the Chicago dessert scene, and her loft-like Bucktown restaurant/dessert bar is a longstanding favorite among locals and visitors who want to head straight to the dessert course. Segal's decadent sugar pie is like an individual pecan pie without the nuts, topped with a scoop of melty maple ice cream and set in a pool of rich coffee-toffee butterscotch.
A healthy-fare-meets-comfort-food concept informs the menus at this cheerful River North restaurant and, to be sure, many of the dessert offerings—vanilla bean-flecked kulfi, chia pudding, a gluten-free chocolate cake—cleave to this ethos. And then there's the Oh My! Caramel pie, a tall wedge of luxurious burnished caramel—less dense than dulce de leche, but not by much—atop a shortbread crust so buttery it shatters beneath your fork. It's a devil-may-care-for-health kind of dessert, and it's worth it. For a sweet fix to go, check out the coffee counter's selection of enormous and excellent cookies.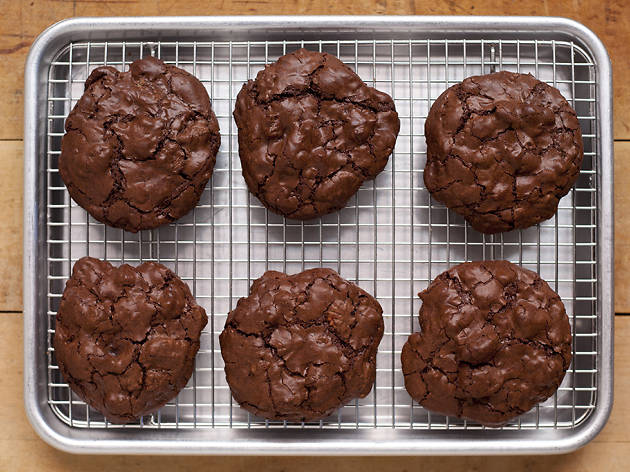 Photograph: Courtesy Standard Baking Co.
6. Chunky chocolate rye cookie at Standard Baking Co. in Portland, ME
Tucked away in beautiful coastal Portland, this charming bakery turns out far-ranging breads and pastries including French baguettes, German vollkornbrot (brown bread), Italian focaccia and more. Absolutely everything is divine, but customers rave, in particular, about the chocolate rye cookies: tangy, decadently moist and studded with huge chunks of dark chocolate.
Local legend has it that Al Capone is alive and well and living in this steakhouse's acclaimed wine cellar. The place itself is a rococo-lover's fantasy: multi-chambered, ornately decorated (and priced) and completely over the top. So it comes as no surprise that the restaurant offers an eponymous dessert that's served warm in all its sweet decadence: the Forge soufflé. Available in chocolate, Grand Marnier, s'mores, birthday cake and marble flavors, this high-domed beauty is more than worth its $20 price tag. So, when your server asks if you want to put in a dessert order while you're still enjoying your entrée, ignore your almost-full belly and answer with a resounding yes.
In the 1950s, you could enjoy a slice of coffee crunch cake (then called koffee krunch kake) at Blum's historic soda fountains around the city. Sock hops may have fallen by the wayside, but you can still find a near perfect replica at Yasukochi's. Tom Yasukochi has operated out of one corner of a Japanese supermarket since 1974; for over forty years, his coffee crunch cake has had devotees calling days in advance to reserve a slice. It's easy to see why: fluffy, lightly sweetened sponge cake is layered with fresh whipped cream and topped with "coffee crunch," a crumbly, caffeinated, highly addictive candy reminiscent of honeycomb.
This beloved bakery is a Boston must-visit for food lovers of any stripe. Flour excels at both sweet and savory: in the former category, look for decadent, pecan-loaded sticky buns that cry out for a pairing with a hot cup of coffee.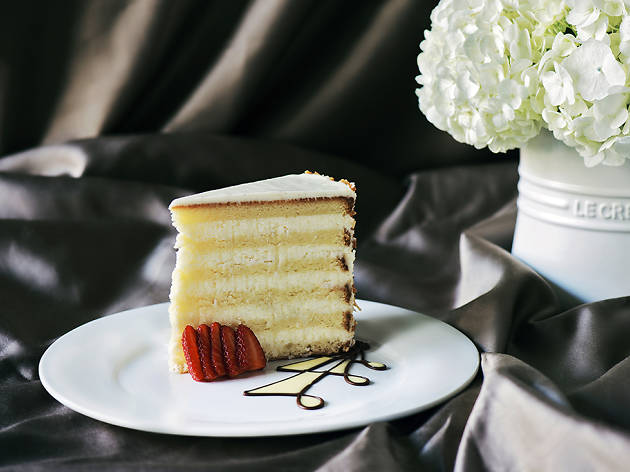 Photograph: Courtesy Peninsula Grill
10. Ultimate coconut cake at Peninsula Grill in Charleston, SC
Located in a resplendent restored 1844 property that's also home to a luxurious inn, Peninsula Grill serves the south's most beloved coconut cake. The towering 12-layer wedge (that's six layers of moist cake and six of thick coconut-cream cheese frosting) is fragrant with its namesake fruit, not overly sweet and an ideal ending to any southern-style meal.
Show more