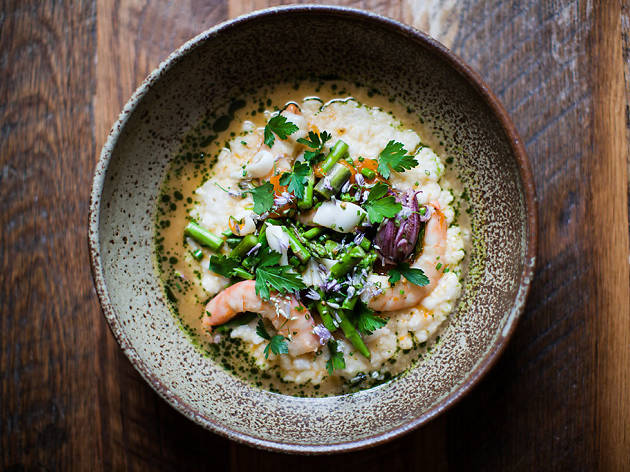 The 50 essential eats in every state: What to eat and drink all across America
From Texan BBQ to New Haven pizza, here are the best things to eat in each one of the 50 United States of America
While foreigners tend to think that American cuisine is made up exclusively of hamburgers, hot dogs and pizza, locals know that our great nation actually offers an overwhelming variety of regional specialties. When you're driving across the country, it's fun to seek out these hyper-local dishes, whether you're in the mood for Cincinnati's famous three-way chili or an oh-so-satisfying Cuban sandwich down in Miami. From the best BBQ in America to the best dumplings in America and the best ice cream sundaes in America, these are the regional foods that make our country so delicious.
The best thing to eat in each state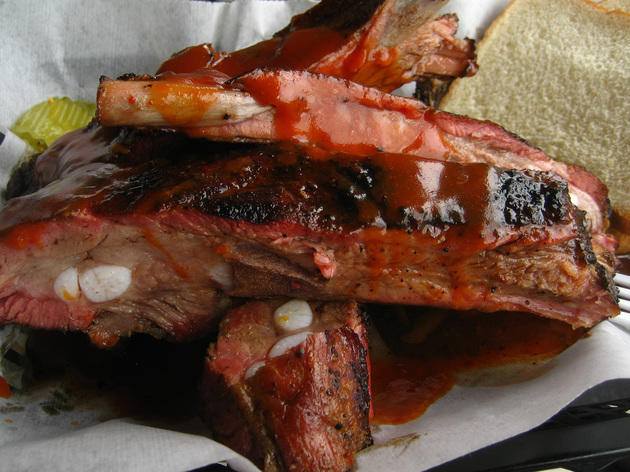 Photograph: Courtesy Creative Commons/Flickr/Daniel Schumacher
1. Alabama: Pulled pork at Saw's BBQ in Birmingham
BBQ is a way of life in the state of Alabama, where cuts of pork are barbecued over hickory, oak and pecan wood until smoky, tender and infused with spice. Pulled pork typically defines the genre but gets a unique spin from a local condiment: white sauce, a tangy whip of mayo, cider vinegar and lemon juice that adds acidity and richness to the soft meat. At Saw's, a Birmingham institution since 2009, this meat-sauce combo is perfection on a bun.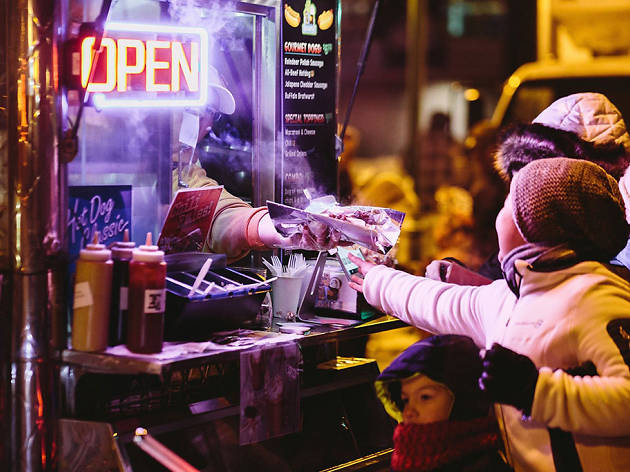 Photograph: Tiki Pete's Alaskan Dogs
2. Alaska: Reindeer sausage at Tiki Pete's Alaskan Dogs in Anchorage
Long a traditional food in the state of Alaska, reindeer meat is prized by the local community, which enjoys it in the form of steaks, burgers and, especially, sausages. At Tiki Pete's, a beloved hot dog cart in downtown Anchorage, the house specialty is a juicy, snappy reindeer sausage heaped with a creamy, cheesy portion of mac 'n' cheese.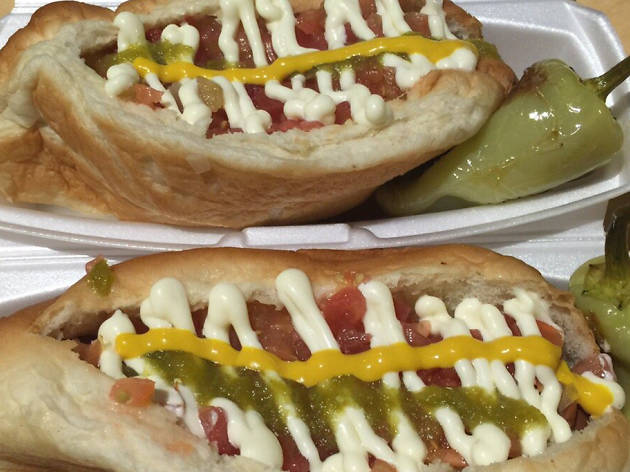 Photograph: Courtesy Yelp/Jeanielle H.
3. Arizona: Sonoran hot dog at BK Carne Asada & Hot Dogs in Tucson
Tucson's famous Sonoran hot dogs—beloved local snacks sold across town by about 200 street vendors and several popular sit-down joints—take their name from the region just south of the border from Arizona. Stuffed into a split-top roll, the perro caliente is wrapped in bacon, griddled until crispy and piled high with creamy pinto beans, chopped tomatoes, grilled and raw onions, mayo, mustard and picante jalapeño salsa. BK Carne Asada's much-loved version is a juicy, crispy, porky marvel. Don't neglect the roasted chile guero on the side: It's a hot and smoky bite that perfectly complements the overloaded dog.
Photograph: Gus's World Famous Fried Chicken
4. Arkansas: Fried pickles at Gus's World Famous Fried Chicken in Little Rock
Like many much-loved (and much-copied) dishes, the origin story of the fried pickle is apocryphal, but many versions trace the salty snack's birth to the small town of Atkins. In 1963 at his Duchess Drive In, Bernell "Fatman" Austin supposedly first thought to dip a pickle spear into batter and deep-fry it. Whatever the truth of the matter is, fried pickles have remained a revered accompaniment to a cold beer all across the state; we like the crisp, greaseless versions fried up by Gus's in Little Rock (don't skip their chicken, either).
One of the long-standing heroes of the old school taco trucks (aka loncheros), Mariscos Jalisco has earned a deservedly loyal and devoted following. The signature tacos dorado de camaron live up to the hype with flavorful and fresh shrimp folded into a corn tortilla that is then fried to a golden brown and topped with thick slices of avocado and a vibrant salsa roja. You'll also want to save room for the legendary tostadas like the Poseidon topped with shrimp ceviche, octopus and a fiery red aguachile of shrimp.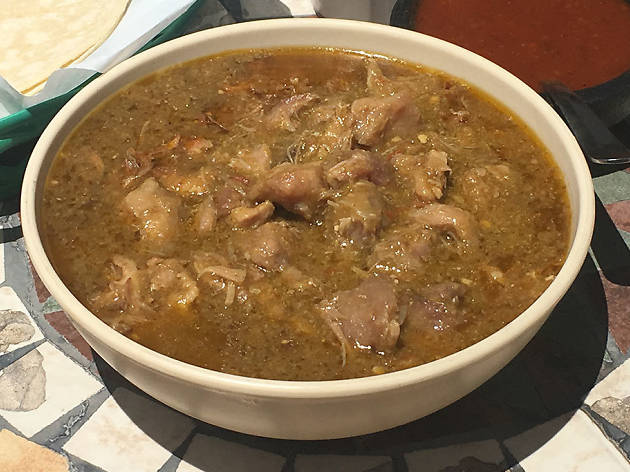 Photograph: El Taco de Mexico
6. Colorado: Green chili at El Taco de Mexico in Denver
Much of Colorado's favorite food is Mexican-inflected, a fact amply evidenced by the state's dish of chile-suffused green chili. A hearty pork stew brightened with the spicy peppers and plenty of cilantro, it's often served with warm tortillas and lots of fresh lime. The subtly spicy version on offer at casual, homey El Taco de Mexico is one of our favorites in the state.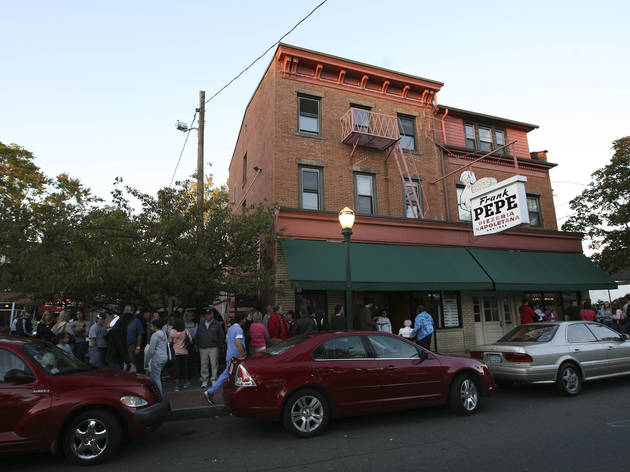 Photograph: Courtesy Creative Commons/Flickr/Ed Schipul
7. Connecticut: White clam pizza at Frank Pepe Pizzeria Napoletana in New Haven
Pizza lovers on a New Haven, Connecticut, pilgrimage should follow the lines of eaters to either 157 Wooster Street, where Pepe's opened in 1937, or to the Spot, just down the block at No. 163 and in business since 1925. Both use a coal-fired oven with a healthy patina of char, and both turn out excellent thin-crust pizzas that are unabashedly blackened and usually too big for whatever table you've managed to score. Pepe's is justifiably famous for its bright-tasting original tomato pie and the white clam pizza with a generous helping of quahog clam meat—either one will haunt your future pizza fantasies.
Photograph: Courtesy Yelp/Anna S.
8. Delaware: Crab cakes at Woody's Dewey Beach in Dewey Beach
Common in all of Delaware's tidal water, sweet, delicate blue crab is the thing to eat when visiting this tiny, oft-overlooked state. Our ideal way to eat crab is bound into delicate cakes, like the exemplary specimens found at this well-loved Dewey Beach dive bar. Softball-sized and jammed with prime lumb crab meat, they're great on their own or served on a sandwich accompanied by crisp house-fried potato chips.
Lovers of Cuban food flock to this Miami standby, serving classics such as ropa vieja, picadillo and mashed green plantains since 1971. Its sweeping dining room hung with twinkling chandeliers is the perfect place to chow down on one of the city's best Cubano sandwiches: sliced ham, roast pork and Swiss cheese pressed inside soft Cuban bread with mustard and tangy pickles.
This down-home spot has been nourishing hungry Atlantans since 1947, when Lucy Jackson, a self-taught cook whose fried chicken was always in demand among family and friends, opened up shop. Today, Jackson's recipe continues to satisfy, producing a sheer, barely-there bronzed crust enveloping juicy, well-seasoned meat. A chicken dinner gets you two pieces, plus two sides (the candied yams and braised collards are perennial favorites) plus two fluffy cornbread muffins.
Show more