Heads up! We're working hard to be accurate – but these are unusual times, so please always check before heading out.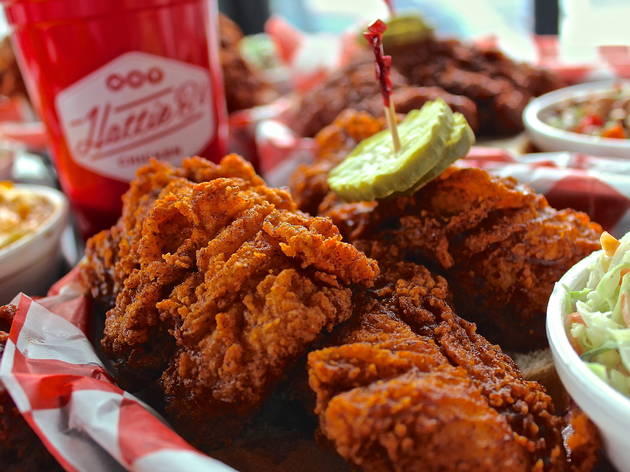 The one thing you have to eat in every state in America
From Alaskan-style hot dogs to New Haven pizza, these dishes make up the best food in America
Dining has changed dramatically in the past year, but despite recent shutdowns and restrictions on the service industry, the best food in America is stronger (and more interesting) than ever before. If you're packing up the car for one of the best U.S. road trips, be sure to pull over often to experience the regional specialties that make our 50 states so special. Cruising through Ohio? Tuck into a messy bowl of three-way chili. Heading south for the winter? Stop off for a traditional Cuban sandwich in Miami. Hungry in Idaho? A scoop of Huckleberry ice cream should do the trick. Consider this guide your road map to tasting your way through the best food in America, one dish at a time—from fresh seafood and decadent desserts to the best BBQ in America.
RECOMMENDED: These U.S. cities will make you feel like you're in Europe

The best thing to eat in each state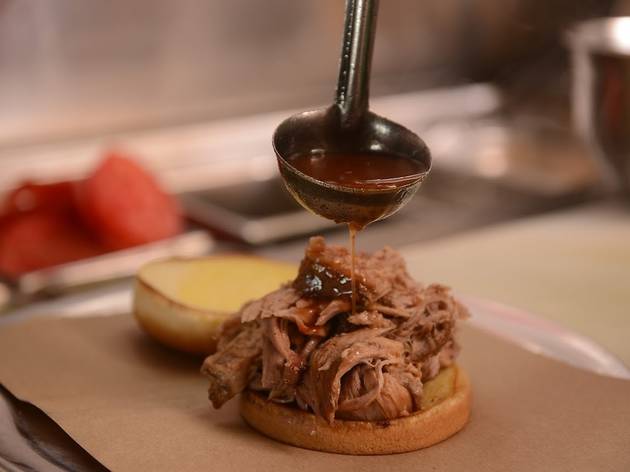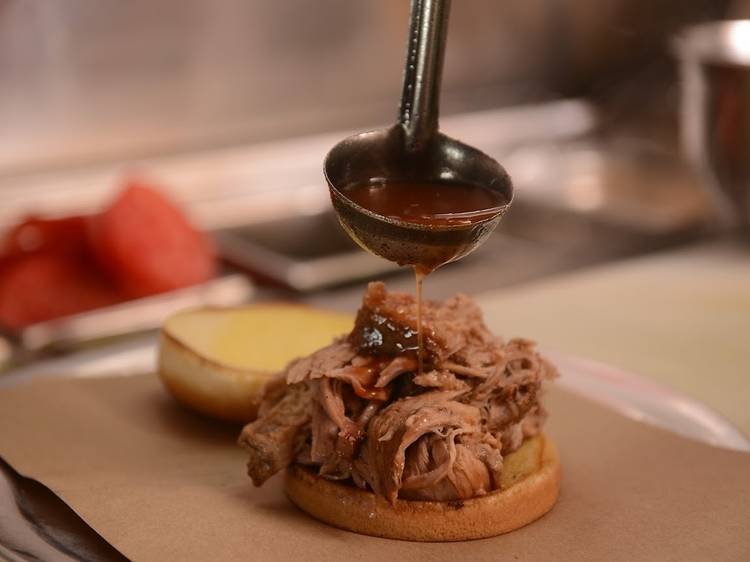 Photograph: Brian Francis
1. Alabama: Pulled pork at Saw's BBQ in Birmingham
BBQ is a way of life in the state of Alabama, where cuts of pork are barbecued over hickory, oak and pecan wood until smoky, tender and infused with spice. Pulled pork typically defines the genre but gets a unique spin from a local condiment: white sauce, a tangy whip of mayo, cider vinegar and lemon juice that adds acidity and richness to the soft meat. At Saw's, a Birmingham institution since 2009, this meat-sauce combo is perfection on a bun.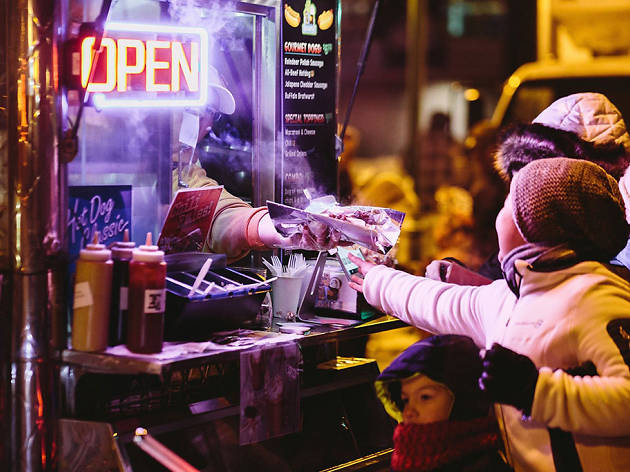 Photograph: Tiki Pete's Alaskan Dogs
2. Alaska: Reindeer sausage at Tiki Pete's Alaskan Dogs in Anchorage
Long a traditional food in the state of Alaska, reindeer meat is prized by the local community, which enjoys it in the form of steaks, burgers and, especially, sausages. At Tiki Pete's, a beloved hot dog cart in downtown Anchorage, the house specialty is a juicy, snappy reindeer sausage heaped with a creamy, cheesy portion of mac 'n' cheese.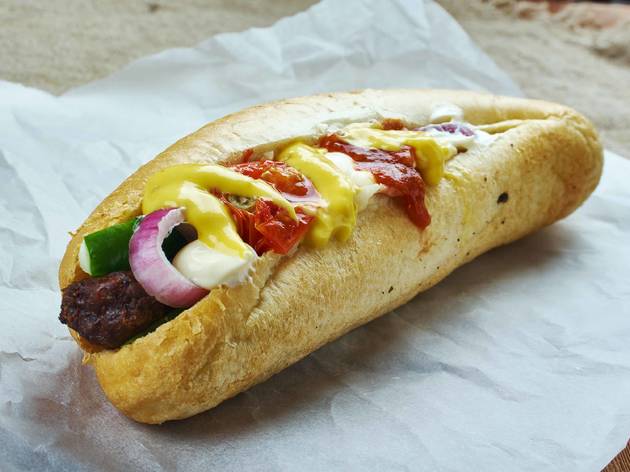 Photograph: Shutterstock
3. Arizona: Sonoran hot dog at BK Carne Asada & Hot Dogs in Tucson
Tucson's famous Sonoran hot dogs—beloved local snacks sold across town by about 200 street vendors and several popular sit-down joints—take their name from the region just south of the border from Arizona. Stuffed into a split-top roll, the perro caliente is wrapped in bacon, griddled until crispy and piled high with creamy pinto beans, chopped tomatoes, grilled and raw onions, mayo, mustard and picante jalapeño salsa. BK Carne Asada's much-loved version is a juicy, crispy, porky marvel. Don't neglect the roasted chile guero on the side: It's a hot and smoky bite that perfectly complements the overloaded dog.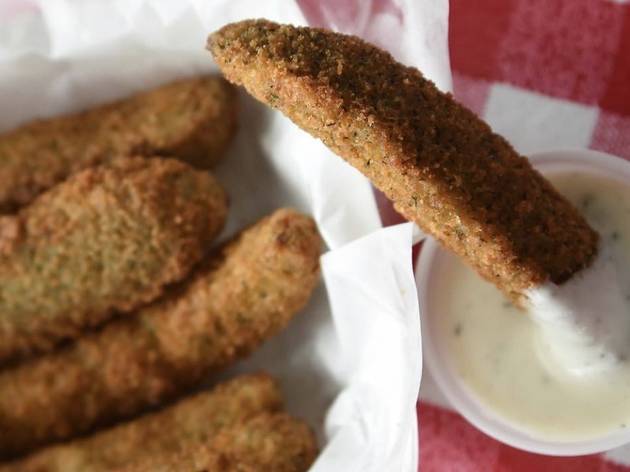 Photograph: Anna Petrow courtesy Gus's World Famous Fried Chicken
4. Arkansas: Fried pickles at Gus's World Famous Fried Chicken in Little Rock
Like many much-loved (and much-copied) dishes, the origin story of the fried pickle is apocryphal, but many versions trace the salty snack's birth to the small town of Atkins. In 1963 at his Duchess Drive In, Bernell "Fatman" Austin supposedly first thought to dip a pickle spear into batter and deep-fry it. Whatever the truth of the matter is, fried pickles have remained a revered accompaniment to a cold beer all across the state; we like the crisp, greaseless versions fried up by Gus's in Little Rock (don't skip their chicken, either).
A long line will surely greet you at this beloved old-school taco truck, but the pros inside keep things moving so that no one waits long. Regulars know the move here, and you should copy their order: the signature tacos dorado de camaron. Shrimp-stuffed corn tortillas are fried to perfection before they're crowned with cooling slices of avocado and tangy salsa roja. After waiting in line, you might as well toss in the Poseidon, too, which finds a tostada piled high with impossibly fresh shrimp ceviche, hunks of octopus and fiery aguachile.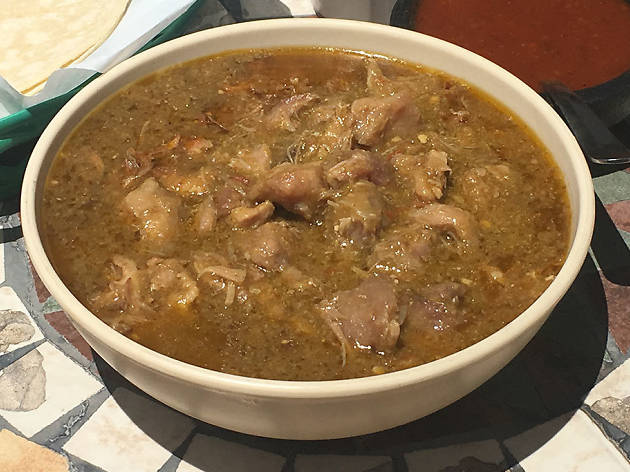 Photograph: El Taco de Mexico
6. Colorado: Green chili at El Taco de Mexico in Denver
Much of Colorado's favorite food is Mexican-inflected, a fact amply evidenced by the state's dish of chile-suffused green chili. A hearty pork stew brightened with the spicy peppers and plenty of cilantro, it's often served with warm tortillas and lots of fresh lime. The subtly spicy version on offer at casual, homey El Taco de Mexico is one of our favorites in the state.
7. Connecticut: White clam pizza at Frank Pepe Pizzeria Napoletana in New Haven
Pizza lovers on a New Haven, Connecticut, pilgrimage should follow the lines of eaters to either 157 Wooster Street, where Pepe's opened in 1937, or to the Spot, just down the block at No. 163 and in business since 1925. Both use a coal-fired oven with a healthy patina of char, and both turn out excellent thin-crust pizzas that are unabashedly blackened and usually too big for whatever table you've managed to score. Pepe's is justifiably famous for its bright-tasting original tomato pie and the white clam pizza with a generous helping of quahog clam meat—either one will haunt your future pizza fantasies.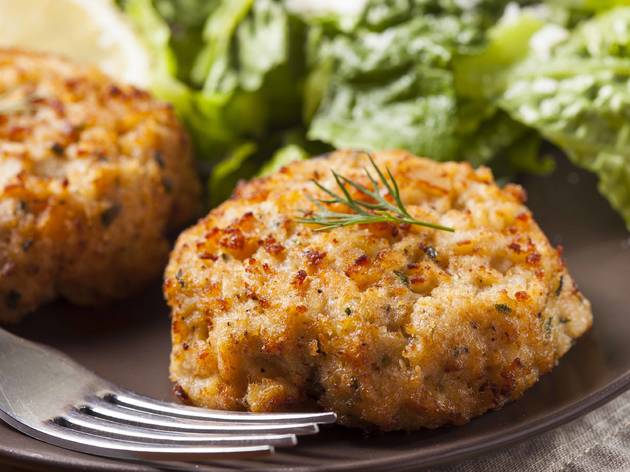 Photograph: Shutterstock
8. Delaware: Crab cakes at Woody's Dewey Beach in Dewey Beach
Common in all of Delaware's tidal water, sweet, delicate blue crab is the thing to eat when visiting this tiny, oft-overlooked state. Our ideal way to eat crab is bound into delicate cakes, like the exemplary specimens found at this well-loved Dewey Beach dive bar. Softball-sized and jammed with prime lumb crab meat, they're great on their own or served on a sandwich accompanied by crisp house-fried potato chips.
In Miami, there's stiff competition for the city's best Cuban sandwich. But we're partial to the version at this old school cafe in Little Havana. The family-owned and operator spot specializes in several versions of sandwiches, each made with ingredients that are cured and prepared in-house. Here, you'll find delight in all its forms, be it the media noche, pan con bistec, the pan con lechón, or the crowd favorite amongst locals, the Cuban.
This down-home spot has been nourishing hungry Atlantans since 1947, when Lucy Jackson, a self-taught cook whose fried chicken was always in demand among family and friends, opened up shop. Today, Jackson's recipe continues to satisfy, producing a sheer, barely-there bronzed crust enveloping juicy, well-seasoned meat. A chicken dinner gets you two pieces, plus two sides (the candied yams and braised collards are perennial favorites) plus two fluffy cornbread muffins.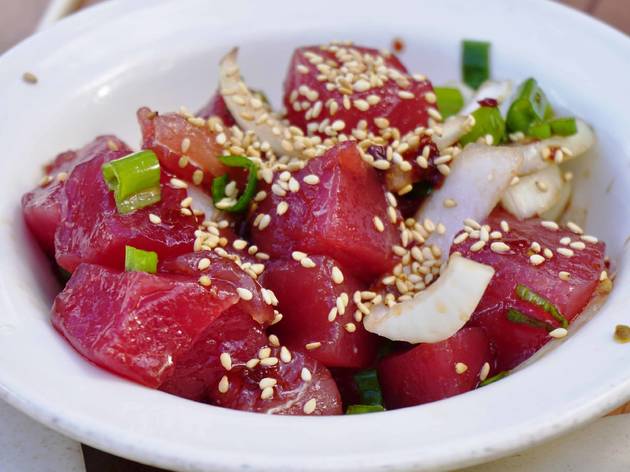 Photograph: Shutterstock
11. Hawaii: Poke at Ono Seafood in Honolulu
Over the past five years, poke has become a fast favorite at restaurants of all stripes. But no other state​'s version​ can replace the experience of eating it in Hawaii—where the dish originated—due to it's abundance of fresh fish and tropical fruits. It's hard to go wrong when seeking out poke in the Hawaiian islands, but our top honors go to the impeccably prepared versions on offer at Honolulu's thronged Ono Seafood. The spicy ahi poke is true to its fiery name and studded with lushly crimson cubes of prime tuna.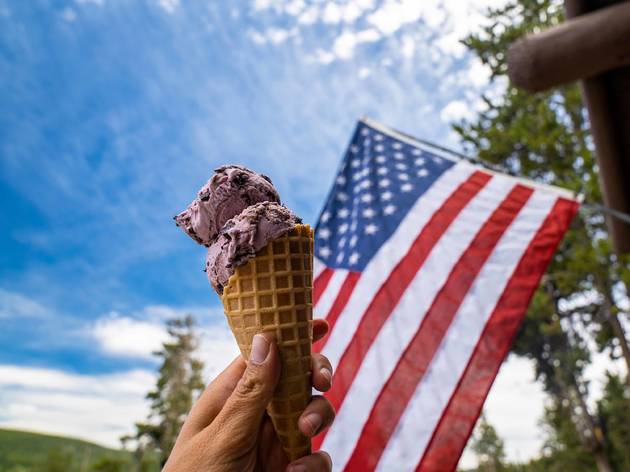 Photograph: Shutterstock
12. Idaho: Huckleberry ice cream at Reed's Dairy in Idaho Falls
Native to northern Idaho and the state's official fruit, huckleberries look like large, dark blueberries but boast an addictive tart acidity. One of Idahoans' favorite ways to eat the fruits is in smooth, purple huckleberry ice cream, a wonderful version of which is scooped at this charming local dairy shop in Idaho Falls. It goes wonderfully with a scoop of vanilla.
Most ice cream shops will allow you to pile two flavors on a cone, which is all well and good. But in Chicago, locals flock to the South Side in the summer months for a frosty staple that combines a whopping five ice cream flavors on one cone. The aptly named Rainbow Cone features scoops of chocolate, strawberry, Palmer House (vanilla with cherries and walnuts), pistachio and orange sherbet for an unbeatable classic you have to see to believe. Open wide!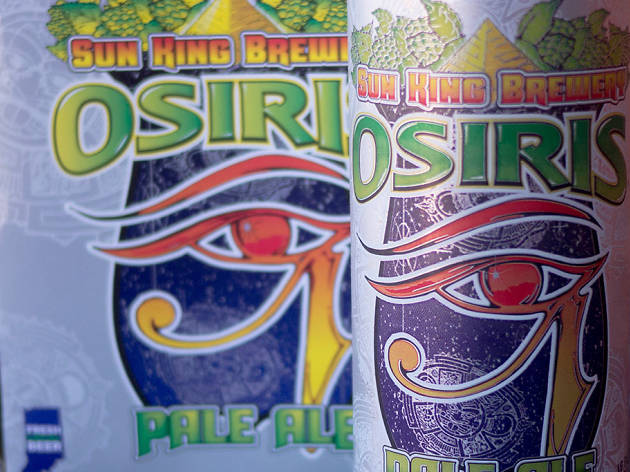 Photograph: Sun King Brewing
14. Indiana: Osiris Pale Ale at Sun King Brewing in Indianapolis
Local craft breweries are a robust tradition in Indiana, and many locals choose to sip the fine examples put out by the folks at Sun King in Indy. A relative newcomer that opened its doors in 2009, the brewery has since garnered praise for its traditionally brewed, specialty pours. Its wet-hopped Osiris pale ale packs citrusy punch that stands on its own but also pairs well with a variety of foods.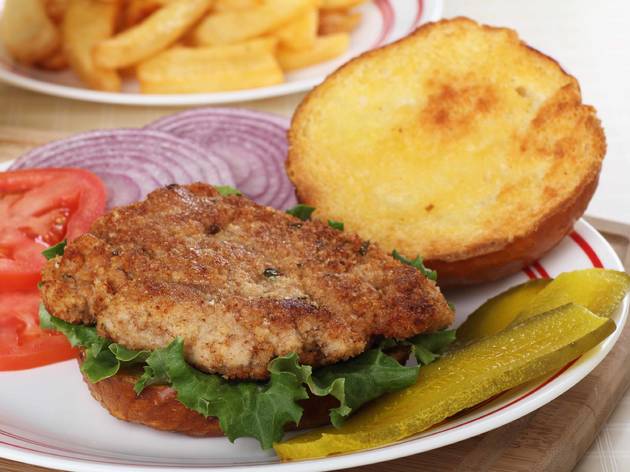 Photograph: Shutterstock
15. Iowa: Breaded pork loin at Goldie's Ice Cream Shoppe in Prairie City
There's no shortage of pork in Iowa, as it remains the nation's largest producer. That goes a long way towards explaining the local predilection for pork tenderloin sandwiches, gargantuan specimens that feature a breaded and fried pork loin cutlet. The sandwiches are available statewide, but Iowans know to head to Goldie's Ice Cream. Though an unlikely spot for one of the state's best sandwiches, you won't be disappointed.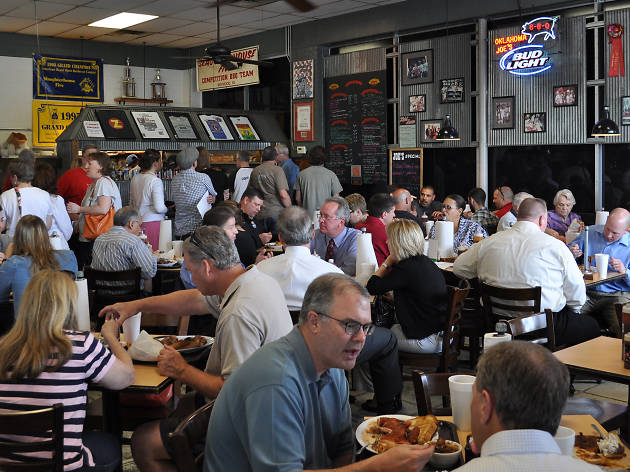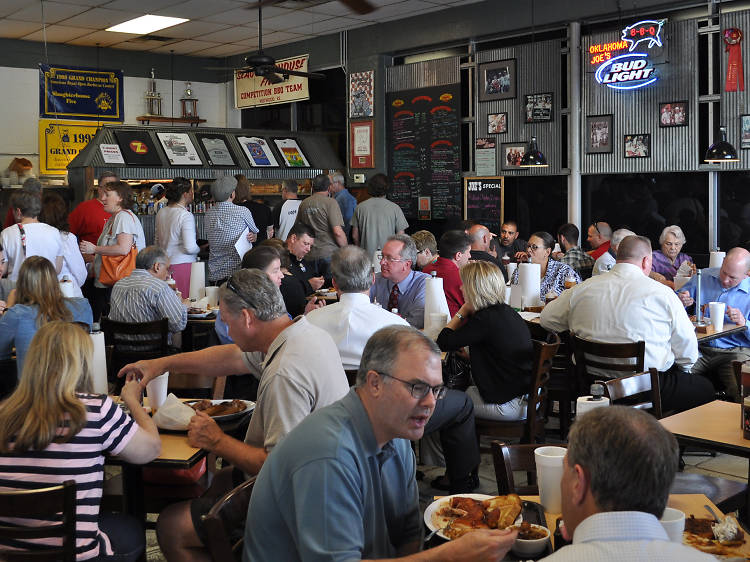 Photograph: Joe's Kansas City Bar-B-Que
16. Kansas: Beef brisket at Joe's Kansas City Bar-B-Que in Kansas City
Consistently ranked among the nation's top BBQ joints, this smokehouse epitomizes the Kansas City style: slow-smoked meats slathered in a thick, sweet, tomato-and-molasses-based sauce. Kansas City—on both its Kansas and Missouri sides—is chockablock with excellent BBQ spots, but Joe's is a (two-) statewide favorite. Don't miss the iconic pulled pork and beef brisket or, if you can't decide between the two, go for the Smoky Joe, which combines both on a soft oversized bun.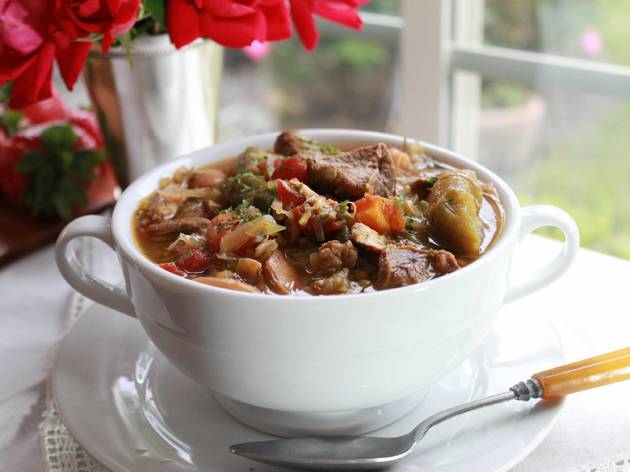 Photograph: Shutterstock
17. Kentucky: Burgoo at Frankfort Avenue Beer Depot Smokehouse in Louisville
Burgoo is a spicy stew that mixes and melds a combination of meat (often some kind of small game protein) and vegetables like okra or corn, made even heartier with a thickening agent. Though this smokehouse specializes in BBQ, you'll want to stop by to try this statewide favorite that's a cozy staple all year-round.
Though po' boy loyalty is fierce in NOLA, many residents and tourists alike agree that one of the very best is found at Parkway, a family-run spot that's been crafting excellent, seafood-piled po' boys since 1911. It's hard to decide between the fried oyster and fried shrimp iterations, but we usually go for the latter, the plump crustaceans outfitted in a crisp golden crust and piled into an airy loaf "fully dressed" with lettuce, tomato, pickles and mayo.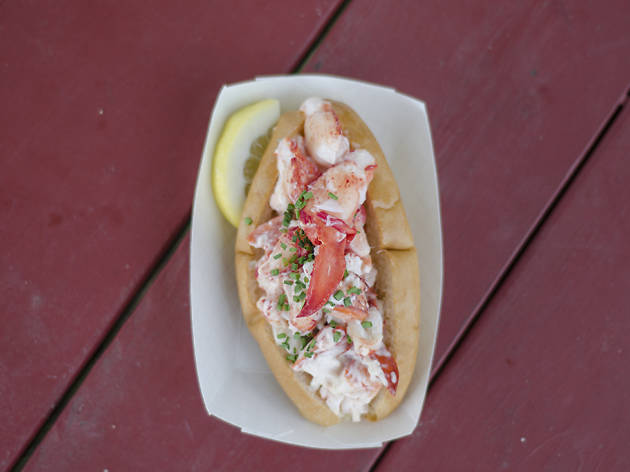 Photograph: Courtesy Bite Into Maine
19. Maine: Lobster roll at Bite into Maine in Portland
This seasonal food truck parks itself in Portland's beautiful coastal Fort Williams Park each spring and summer, serving fresh Maine lobster that's pristine and perfectly cooked. Three types of lobster rolls are available, and they're all unimpeachable: Maine style, with fresh chives and just a bit of mayo; Connecticut style, with hot butter; or picnic style, with hot butter, fresh coleslaw and celery salt.
Photograph: Shutterstock
20. Maryland: Steamed crabs at Cantler's Riverside Inn in Annapolis
When we think about eating in Maryland, one food comes to mind: crab. And while many tourists flock to the state's many excellent eateries that offer the crustacean in the form of cakes, locals know to ask for the creatures whole and steamed to best enjoy all that crabby flavor. Cantler's Riverside Inn is an Annapolis stalwart that has been serving some of the state's best seafood for over 40 years. We love their steamed hardshell crabs, simply seasoned with Old Bay.
Established in 2004, Neptune Oyster is exemplary in its East Coast raw bar perfection. The simple, subway tiled interior gleams with retro charm, making diners feel at ease as they slurp oysters, crack crab claws and fork fried clams. The North End restaurant also serves one of Boston's best-loved versions of iconic New England clam chowder, smooth with butter and heavy cream and chock-full of meaty cherrystone clams.
Ask any native Detroiter what the local diet-buster of choice is, and you'll get a resoundingly unanimous answer: a Coney dog. Named, of course, after the franks available on Brooklyn's boardwalk, Coney dogs are such a thing in Detroit that elsewhere in the country they're called Michigan-style dogs. An all-beef frank loaded with chili, raw onions and a squirt of mustard, Coney dogs are most notably slung downtown on West Lafayette Boulevard, where two neighboring—they're literally next door to each other—rival institutions sell thousands of dogs daily. The call between Lafayette and neighbor American Coney Island is a tough one, but our loyalties lie with the former, whose chili is perfectly balanced and just a little spicy.
Minnesota, the "land of 10,000 lakes," is known for its abundant walleye, a delicate, flaky fish that's enjoyed both at home and in restaurants. Often, the fish is dredged in cornmeal and pan-fried, which is exactly how they do it at FireLake Grill House in Minneapolis. The walleye filets are complemented by roasted veggies and a tangy piquillo pepper sauce.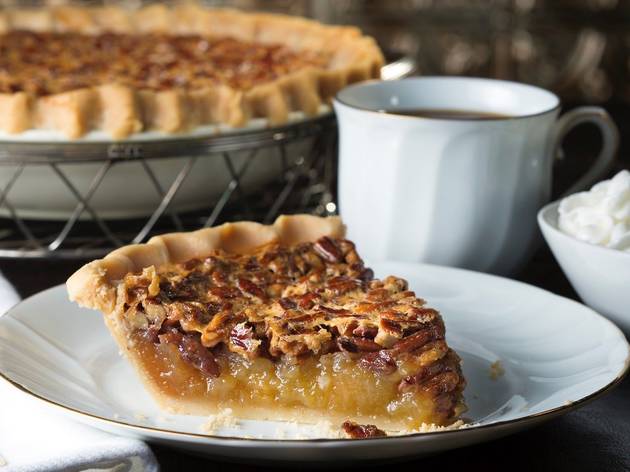 Photograph: Courtesy Buttermilk Sky Pie Shop
24. Mississippi: Pecan pie at Buttermilk Sky Pie Shop in Jackson
Pecan trees thrive in Mississippi's warm, humid climate, and all over the state they're enjoyed in brittles, bars, ice creams and, of course, pies. Mississippi pecan pie is a must-eat when visiting the Magnolia State, and locals and visitors alike know that the specimen on offer at Butterfly Sky Pie Shop is unparalleled.
A St. Louis fixture since 1930, Ted Drewes churns some of the densest, creamiest frozen custard we've ever had the pleasure of tasting. The retro, no-frills stand helps locals weather hot, humid summers with everything from simple vanilla custard, mix-ins such as strawberries and devil's food cake, and the shop's famous concretes, shakes so thick that when they're served upside-down, they stay in the cup.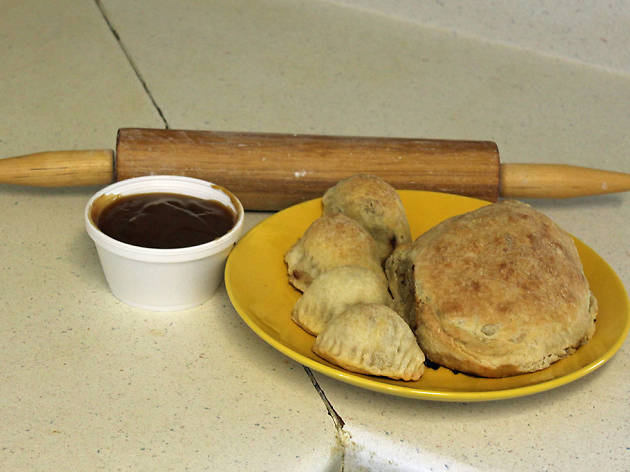 Photograph: Nancy's Pasty Shop
26. Montana: Pasty at Nancy's Pasty Shop in Butte
We love local foods whose history is as interesting as the item is delicious, which is why we're such huge fans of Montana pasties. Enormous flaky turnovers enveloping savory fillings of stewed meats and vegetables, pasties arrived in Butte in the late 1800s, the tradition brought over by tin and copper miners who immigrated from Cornwall, England. While the area's mining industry has faded away, excellent pasties are still going strong at Nancy's, a no-frills shop whose offerings are large, stuffed to brimming with tender meat and starchy potatoes, and served soaked in a rich brown gravy.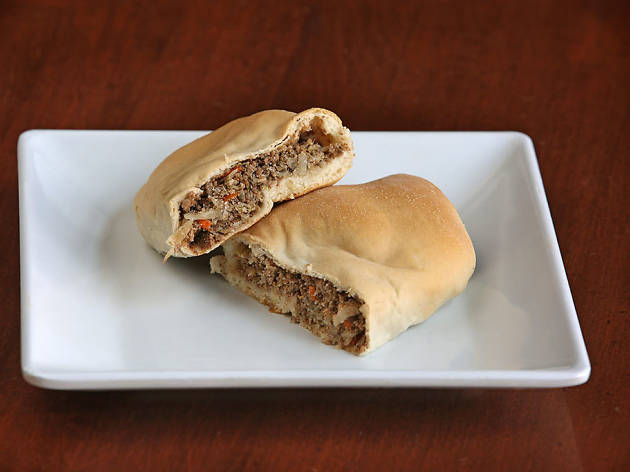 Photograph: Sehnert's Bakery & Bieroc Cafe
27. Nebraska: Bieroc at Sehnert's Bakery & Bieroc Cafe in McCook
Like many of the American West's most beloved local foods, Nebraska's bierocks (also known as runzas) were brought over by immigrants to the New World in the late 18th/early 19th centuries. A yeasted bread pocket stuffed with peppery beef, wilted cabbage and caramelized onions, bierocks landed in Nebraska along with German newcomers and have remained a popular local treat. At this low-key McCook bakery, the bierocs are exemplary, stuffed with tender beef and tangy sauerkraut.
In Vegas, you don't have to pick just one food: you can have your cake (and prime rib and lobster tails and Wagyu beef sliders) and eat it, too. True to its name, this storied Vegas buffet inside Caesars Palace Casino is over-the-top in every sense. After a $100 million renovation in 2012, Bacchanal is better than ever, with more than 500 daily offerings, about 15 daily specials and its famous warm, baked-to-order souffles for dessert. From dim sum to tacos to tuna poke, any craving you could possibly have will be satisfied here.
29. New Hampshire: Maple walnut ice cream at Annabelle's Natural Ice Cream in Portsmouth
Throughout New England, maple trees give up their sweet sap to be spun into confections ranging from granola to toffee. In New Hampshire, the maple dessert to look for is ice cream, studded with walnut and scooped into a cone or cup. At this charming Portsmouth shop, the maple walnut ice cream is flawless: smooth, creamy and not too sweet.
30. New Jersey: Pork roll sandwich at Allenwood General Store in Allenwood
With a kitschy country-store interior decorated with out-of-state license plates, this Allenwood classic serves ultra-stuffed sandwiches such as chicken clubs, cheesesteaks and BLTs. For aficionados of pork roll—New Jersey's favorite sandwich meat that's made from cured, smoked and minced pork stuffed inside a bag then cut into thick slices—there's a whole section of the menu: Try it on a daringly overloaded P&L Custom, with sausage, bacon and pork roll (yes, all three) along with home fries, eggs and cheese all on a roll, or on a Happy Jeff, which piles pork roll, home fries and a fried egg on top of a burger.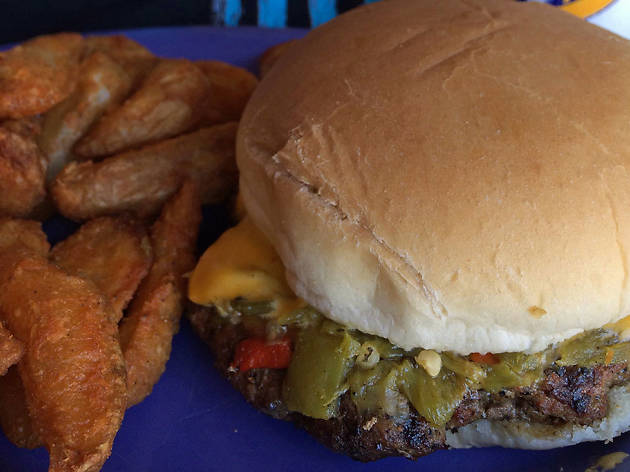 Photograph: Sparky's
31. New Mexico: Green chile cheeseburger at Sparky's in Hatch
In New Mexican cuisine, Hatch chiles are king: the fleshy, spicy peppers grown in the southwest part of the state find their way into everything from morning eggs to dessert-hour ice cream. Of all the Hatch-infused and -topped state specialties, perhaps none is more revered than the green chile cheeseburger: there's something about the trifecta of juicy meat, melty cheese and piquant pepper that's perfection. We love the loaded version served right at the source, at this kitschy diner.
Don't we all feel like Meg Ryan in When Harry Met Sally when eating one of these babies? Perhaps the most classic sandwich in America, Katz's juicy, sliced-to-order pastrami has been perfected over more than a century, since back in 1888 when the classic Lower East Side deli was founded. Slathered with mustard, perched on chewy rye and accompanied by sour pickles, this is a NYC must-eat.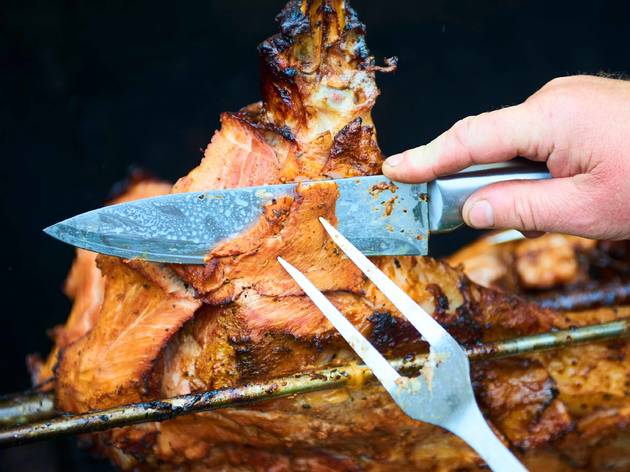 Photograph: Shutterstock
33. North Carolina: Whole hog barbecue at Skylight Inn in Ayden
In Eastern Carolina, barbecue means one thing: whole hog. In this part of the state, pitmasters have perfected the ancient and delicate art of smoking a whole animal over indirect oakwood heat for hours and hours—often overnight—until all the cuts yield a smoky, falling-apart mess o' meat. Skylight Inn, owned and operated by the Jones family since 1947, is a pillar of the form: recognized by everyone from the James Beard Foundation to Southern Living to the Travel Channel, the smokehouse keeps things simple, serving top-notch plates and platters of whole hog BBQ with slaw and bread and not much else. And once you dip your fork into a pile of their expertly barbecued pork, you won't want for much else, anyway.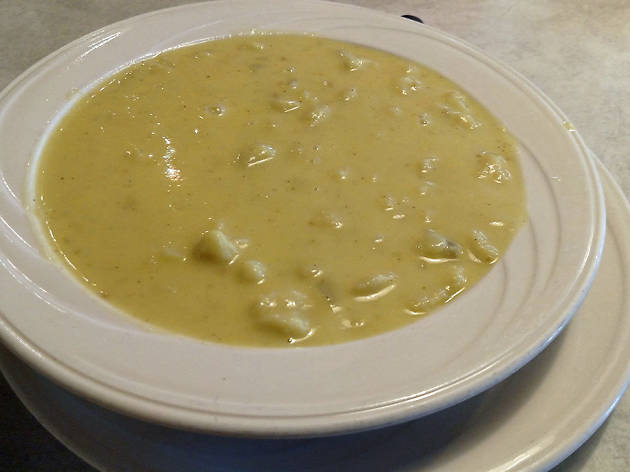 Photograph: Little Cottage Cafe
34. North Dakota: Knoephla soup at Little Cottage Cafe in Bismarck
A type of rich chicken-and-dumpling soup that is yet another hallmark of the German immigrant presence in the West, knoephla is a hyper-local North Dakota treat that often simmers away on the stove come wintertime. In Bismarck, the Little Cottage Cafe ladles a fine version, the soup base creamy and well-seasoned, the dumplings hand-made and fluffy.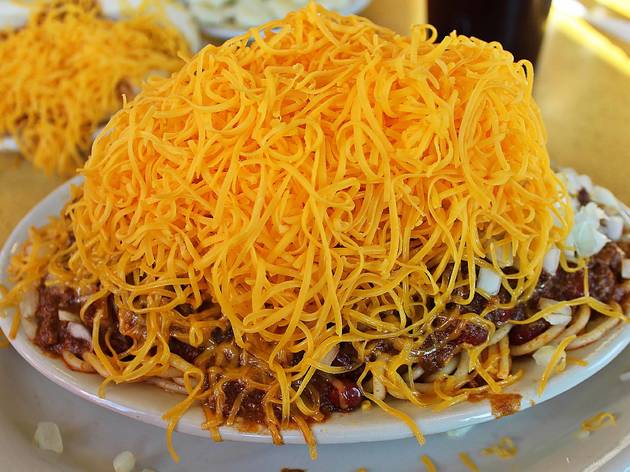 Photograph: Shutterstock
35. Ohio: Three-way chili at Skyline Chili in Cincinnati
Three-way chili, that unlikely but oh-so-delicious amalgamation of spaghetti, spiced meat sauce and grated cheddar cheese, is a way of life in Cincinnati. Brought to the city by Macedonian immigrants in the early 1900s, Skyline is one of the original restaurants to serve the dish; its original location opened in 1949 and, today, the mini-chain counts four more Cincy restaurants.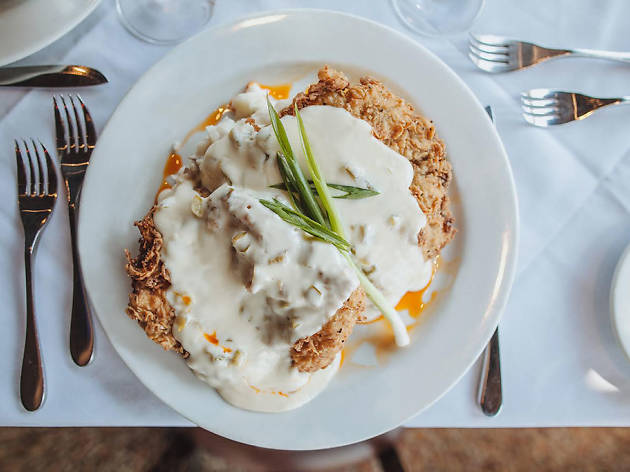 Photograph: Cheever's Cafe
36. Oklahoma: Chicken fried steak at Cheever's Cafe in Oklahoma City
Oklahoma's state meal is a rather expansive affair, counting among its elements fried okra, cornbread, BBQ pork, biscuits, grits and more, but the centerpiece of this groaning table is chicken-fried steak. A cutlet of tenderized cube steak pounded out, dredged in seasoned flour and pan-fried in plenty of sizzling fat, this hearty heartland dish is then ladled with white country gravy. OKC residents rave about the top-notch version plated at Cheever's: golden-brown on the outside, fork-tender on the inside and finished with an addictive jalapeno cream gravy, it's a must-eat on any visit to the Sooner State.
Portland loves its food carts, and Nong's Khao Man Gai is one of the city's very favorites. The cart's eponymous dish is a seemingly simple plate: a scoop of white rice crowned with sliced poached chicken and accompanied by green onion-garnished broth and a small bowl of pungently garlicky dipping sauce. But Nong Poonsukwattana, a Bangkok native and Chopped champion, elevates the dish to transcendence, rendering each component perfectly and adding super-flavorful touches including nuggets of crispy fried chicken skin and a bowl of creamy chicken livers. Her sauce—so addictive that Poonsukwattana bottles it for retail sale—is an exceptionally balanced mix featuring fermented soybeans, Thai chilis, and mountains of ginger and garlic.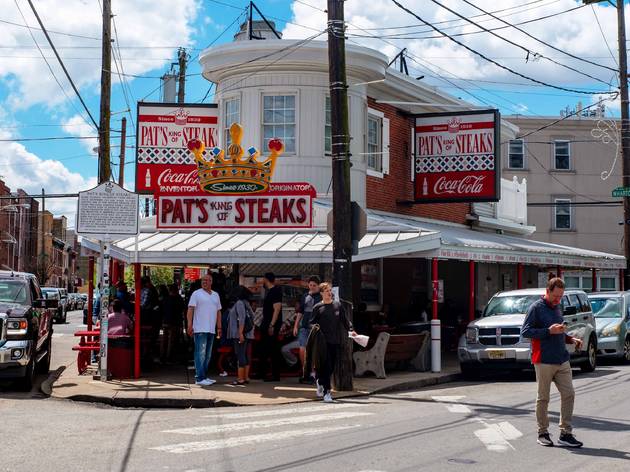 Photograph: Shutterstock
38. Pennsylvania: Philly Cheesesteak at The Original Pat's King of Steaks in Philadelphia
The history of the Philly cheesesteak dates back to the 1930s. Legend has it that a South Philadelphia hot dog vendor by the name Pat Olivieri can be thanked for the creation. These days, Philadelphia is brimming with options for the gooey namesake but we head to the Original Pat's King of Steaks, owned and operated by the Olivieri family, for a dose of history. As it's a rare 24/7 operation, where you can get your fix for lunch, dinner, or the late night munchies.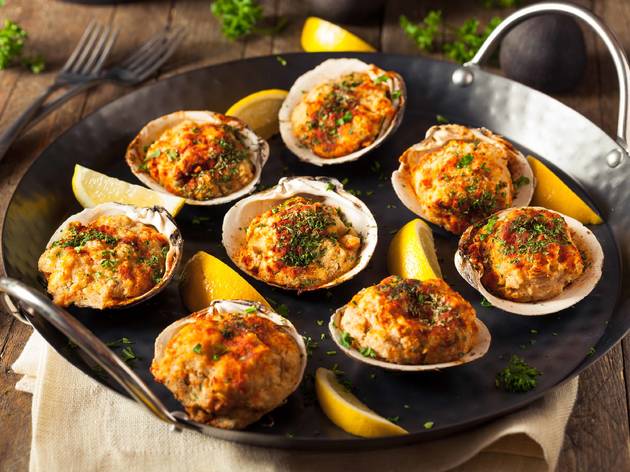 Photograph: Shutterstock
39. Rhode Island: Stuffies at Red Bridge Tavern in Providence
The waters off of Rhode Island are known for their meaty Quahog clams, large hard-shells most often used in chowders and clam cakes. Many areas of New England enjoy stuffed clams, commonly referred to as "stuffies." We love the stuffies on offer at Providence's Red Bridge Tavern, a deluxe version stuffed with crab and shrimp meat in addition to the clams.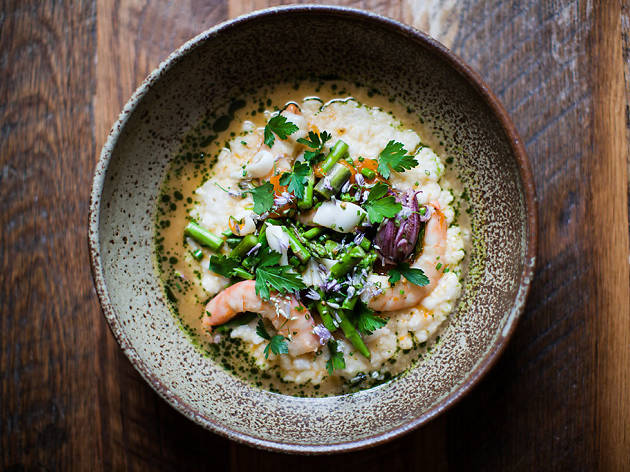 Photograph: Husk
40. South Carolina: Shrimp and grits at Husk in Charleston
Restaurants in the south tend to know their way around brunch-time classics like biscuits and country ham, and the shining example of this very traditional type of soul food is the team behind Husk, chef Travis Grimes's loving ode to time-tested southern ingredients and techniques. The restaurant's menu changes daily, but the beloved shrimp and grits are usually on offer: a pinnacle of the form, it relies on locally milled grits, locally fished shrimp and an array of bright, seasonal vegetables.
41. South Dakota: Chislic at W. 12th Pourhouse in Sioux Falls
This casual, family-friendly tavern pours cold, tall beers and plates suds-friendly fare such as nachos, wings and flatbreads. The chislic, a hyper-regional South Dakota specialty, is a must-order: dry-rubbed cubes of sirloin steak that are deep-fried to a tender medium-rare, then served over hearty Texas toast with your choice of BBQ or ranch for dipping.
It's no easy feat to deliver the city's best rendition of hot chicken, the spicy-crusted fried bird that's perhaps Nashville's defining dish. But the ever-present line snaking out the door of this Midtown spot is the first clue that the fryers here produce a damn qualified contender. The proof is in the pudding, so to speak: With five levels of heat ranging from "Southern" (mild) to "Shut the Cluck Up!!!" (very, very hot), Hattie B's moist bird boasts a well-seasoned and super-crisp exterior. To cool your mouth down, dig into the mayo-laced red-skinned potato salad and crunch on the complimentary icebox pickles.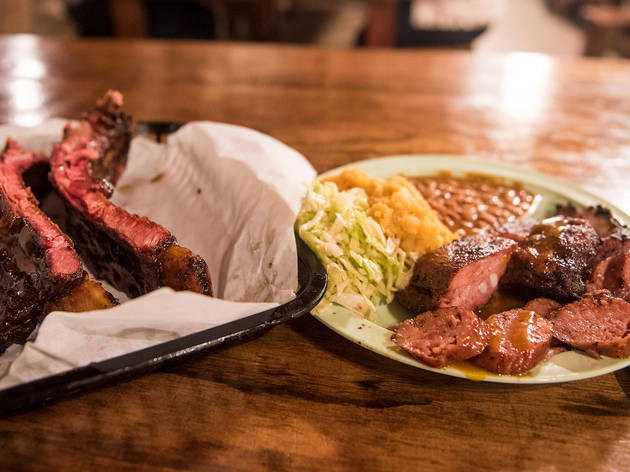 Photograph: David Brendan Hall
43. Texas: Beef brisket at The Salt Lick in Driftwood
Perhaps the first state that comes to mind when talking about barbecue, Texas is swathed in excellent BBQ joints whose styles vary slightly east, west, central and south. The Salt Lick, a consistent favorite among smokeheads, serves the Central style, spice-rubbed meats slow-cooked under indirect heat from pecan and oak wood. Our favorite option is the moist, juicy beef brisket, but you can't go wrong with the pork ribs, sausage or surprisingly tender turkey, either. Plus, it's BYOB—need we say more?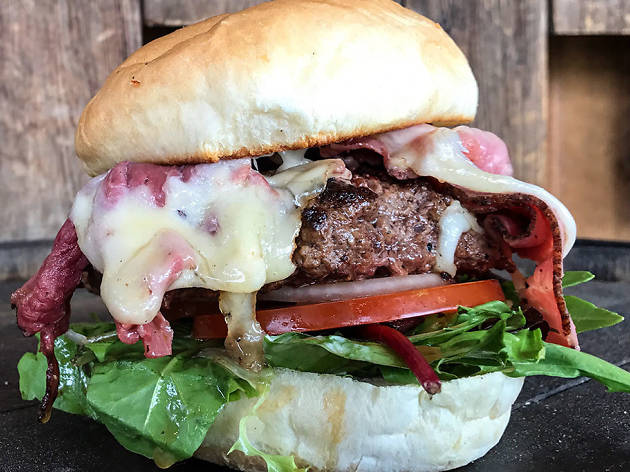 Photograph: Lucky 13
44. Utah: Pastrami burger at Lucky 13 in Salt Lake City
While its origins likely lie in Southern California, the pastrami burger—an over-the-top union of beef patty, sliced marbled pastrami, melty cheese and Thousand Island dressing perched on a sesame-seed bun—reached its apex in Utah, where the behemoth of a sandwich is found statewide. Plenty of SLC-area restaurants vie for the title of the best, but we're keen on the version served at New American tavern Lucky 13: draped with tender, rosy pastrami and gooey Swiss cheese, it's worth every calorie.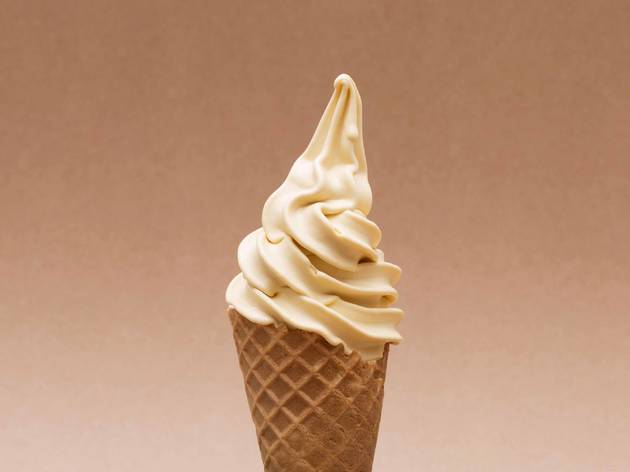 Photograph: Shutterstock
45. Vermont: Maple creemee at Morse Farm Maple Sugarworks in Montpelier
The little northeastern state of Vermont produces the most maple syrup of any state in the country, about a half million gallons of the sweet, sticky stuff per year. It goes without saying that many of Vermonters' favorite foods are maple-inflected, from glazed bacon to baked beans. A beloved treat throughout the state that falls into the dessert category is the maple creemee, ultra-rich soft serve sweetened with maple syrup. The cone on offer at Montpelier's Morse Farm Maple Sugarworks, which taps its own trees, is the stuff of dreams: smooth and heavy on that irresistible maple flavor.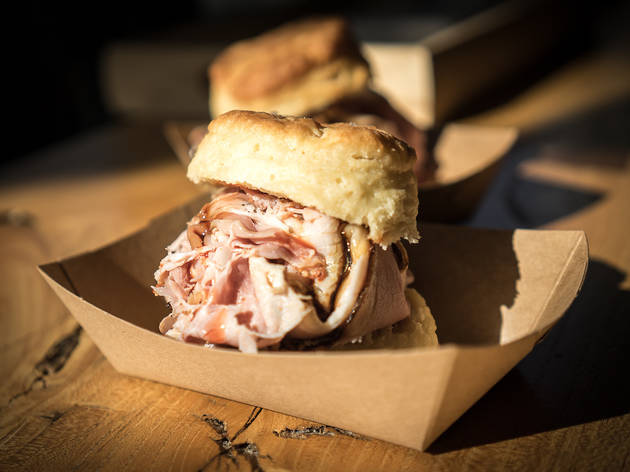 Photograph: Jason Lappa courtesy JM Stock Provisions
46. Virginia: VA ham biscuit from JM Stock Provisions in Charlottesville
​At JM Stock Provisions it's all about double trouble: stocking up on pantry items—like pimento or delic slice—for the week while grabbing one delectable ham sandwich on your way out. JM focuses on being a whole animal butcher shop, so not only are we ecstatic about the taste of their biscuit and meat situation, but they also use the best sustainably raised ham Virginia has to offer.
Washington State is famed for its local wild salmon, pink and juicy whether it's Chinook or Coho. All over the state, home cooks and restaurant chefs alike love to take advantage of their piscine bounty by trimming the fish into neat filets and grilling them over little planks of cedar wood: as the fish cooks, it's gently imbued with the woodsy flavor of the cedar. We love the version on offer at Elliott's Oyster House in Seattle: seasoned with a flavorful house rub, it's accompanied by grilled seasonal vegetables.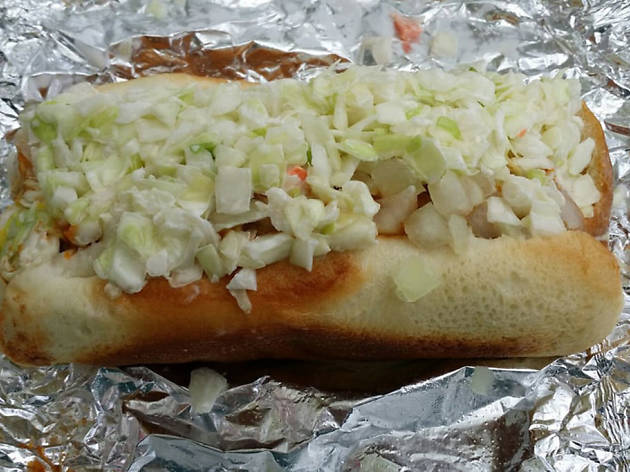 Photograph: Courtesy Yelp/Betty S.
48. West Virginia: Slaw dog at Hillbilly Hot Dogs in Lesage
A favorite snack across West Virginia, slaw dogs—chili-topped hot dogs crowned with a creamy, tangy coleslaw—are said to have been born in the 1920s at the Stopette Drive-In just outside Charleston. Whatever their origins, these meaty, crunchy, hearty dogs are a thing of beauty, particularly the version served at this low-key Lesage stand. A snappy frank smothered in smoky chili and capped with always-fresh slaw, it's all too easy to down two or three in rapid succession.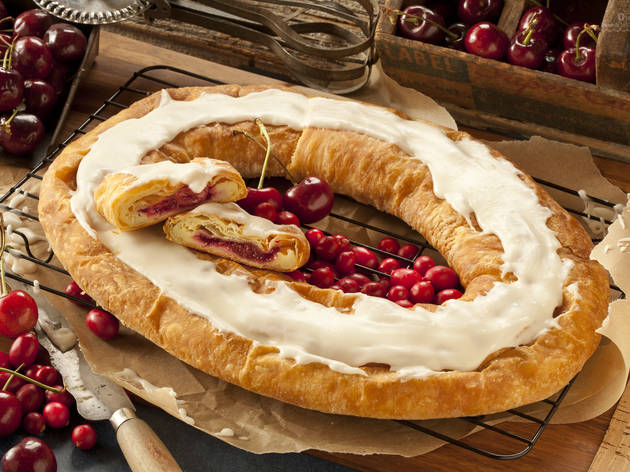 Photograph: Grace Natoli Sheldon
49. Wisconsin: Wisconsin kringle at O&H Danish Bakery in Racine
If you spend the night at a real Sconnie's home, chances are they'll pull a kringle out of the freezer for breakfast. The Scandinavian-rooted, O-shaped pastry boasts super flaky dough that's usually stuffed with fruit preserves or cream cheese before it's closed up, baked to golden perfection and iced. Fourth-generation family bakery O&H has been making the delicacy for more than 70 years, and the hands-down best flavor they've got is Wisconsin, which is layered with cream cheese, Door County cherries and cranberries—all sourced locally. If the state of Wisconsin had a taste, this would be it.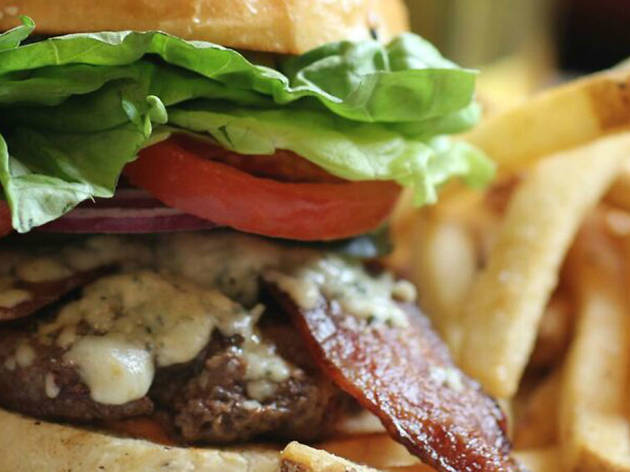 Photograph: Snake River Brewing
50. Wyoming: Bison burger at Snake River Brewing in Jackson
Bison has always been a traditional food in the West and remains a popular choice today, whether it's served in the form of steaks, sausages or, as is popular all over Wyoming, juicy burgers. At this elevated brewpub in Jackson, they plate an excellent burger: thick, moist and topped with bacon, smoked gouda and chipotle BBQ sauce. Don't forget to chase it down with an excellent draft beer.