The best road trips in America
In the mood for a scenic escape? Get your motor running for the most awe-inspiring road trips from coast to coast.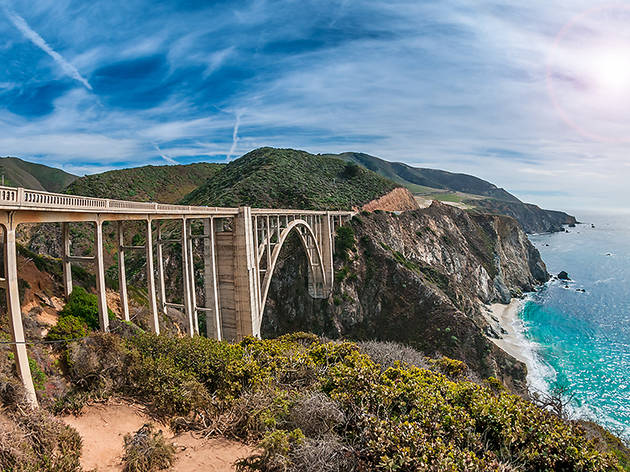 Itching to run off on a grand adventure? Our roundup of top road trips includes 11 routes that combine history, dynamic scenery and a wide range of geography. Before you head out on the highways or byways, do a little research to map your path, load up the best road-trip tunes and just drive…
Best road trips in America
1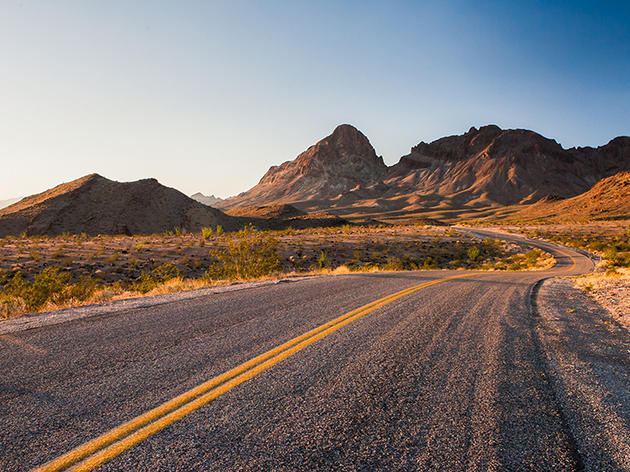 Photograph: Shutterstock
The ultimate road trip, which traces a route from Chicago to L.A., is equal parts driving tour and time travel through an America that no longer exists: The path itself has been replaced by larger multilane highways and freeways. You can traverse large sections of the original two-lane "Mother Road" through the main streets of small towns that progress passed by on your pilgrimage through eight states across the U.S. It's a trip full of kitsch, hucksterism and manifest destiny.

Necessary pit stop: Meramec Caverns in Missouri, a nearly five-mile-long, 400-million-year-old system of caves, gave rise to the first bumper sticker (used to promote the tourist attraction on fenders of previous visitors).
2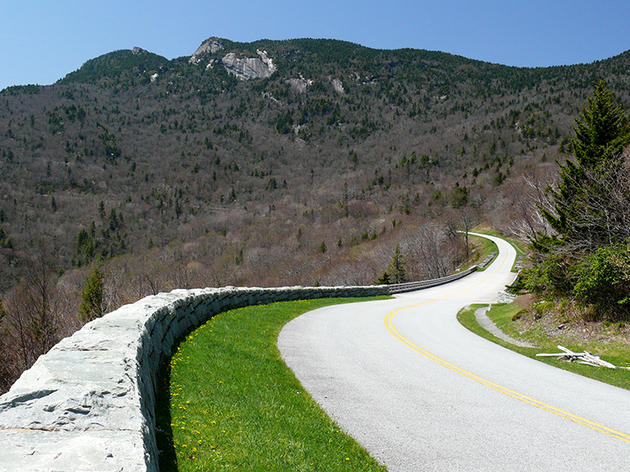 Photograph: Courtesy Wikimedia Commons
A road trip designed specifically for leisure riders (the speed limit is only 45mph after all), the Blue Ridge Parkway meanders through the Appalachian Mountains in Virginia and North Carolina, connecting Shenandoah and the Great Smoky Mountains national parks. At just over 6,000 feet at its highest point, it offers natural vistas that are most spectacular in the fall, when oak, buckeye and ash trees burst into color. Of special note: Commercial vehicles are prohibited from the thoroughfare, so no need to dread 18-wheelers barreling down on you.
Necessary pit stop: The largest house in America, George Vanderbilt's Biltmore Estate, is just outside Asheville, North Carolina.
3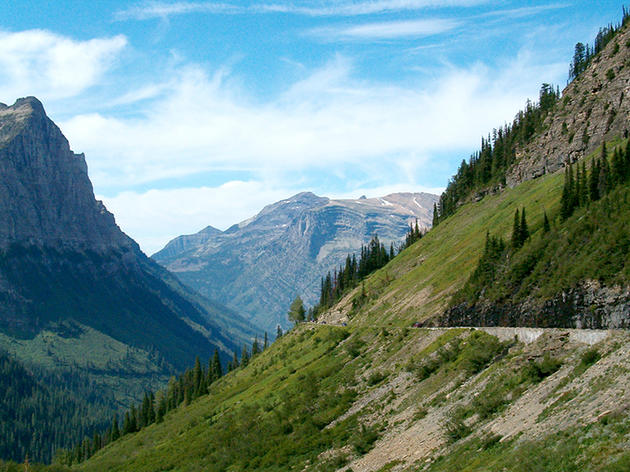 Photograph: Courtesy Wikimedia Commons
If you want to drive through Glacier National Park in Montana, your only option is the Going-to-the-Sun Road, a 50-mile-long tour through the Rockies up and over the Continental Divide at Logan Pass. The trip is all mountains majesty, but don't get too distracted: There's nothing more than a guard between you and a 1,000-foot drop.
Necessary pit stop: Heading west, pull over at the Golden Staircase for a bird's eye view of pristine Saint Mary Lake.
4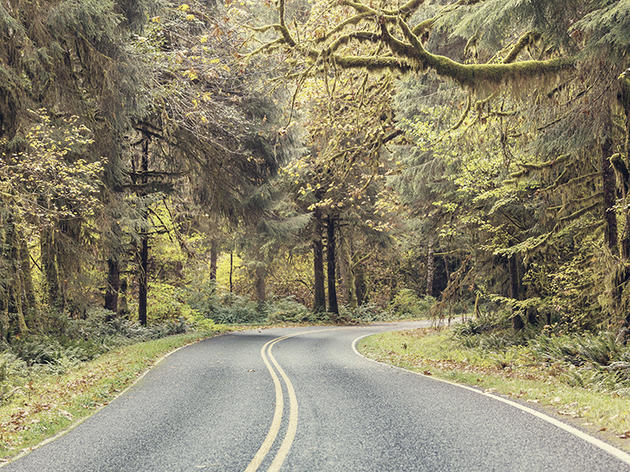 Photograph: Shutterstock
This 330-mile drive encircles and dips into Olympic National Park in Washington State. The appeal lies in how quickly and dramatically the terrain changes, from Pacific beaches dotted with massive boulders to temperate rain forests to the snowcapped Cascades. Be sure to take advantage of another of the region's natural resources: fresh clams and oysters.
Necessary pit stop: Drop in to Sol Duc Hot Springs Resort outside Port Angeles for a soak in the natural mineral springs. Fair warning: You might encounter nude bathers.
5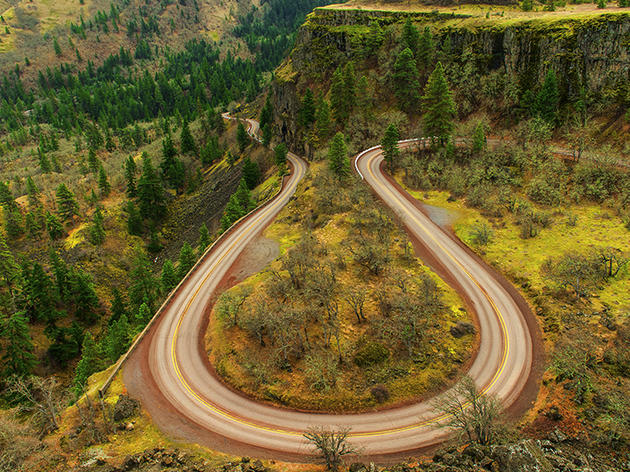 Photograph: Shutterstock
Lewis and Clark set up camp here, and there are markers denoting their activities all along the route. Starting out of Portland, Oregon, this scenic byway is a leisurely 70-mile drive through the Columbia Gorge. It's also the first of its kind in the U.S.—a road designed not to get you from point A to point B, but to simply allow the traveler to take in the full beauty the gorge has to offer. There are history museums (dedicated to Native Americans and to settlers), hiking trails and scads of waterfalls to gawk at.
Necessary pit stop: Prepare for a hike up to Benson Bridge, where you can see and feel the icy waters of Multnomah Falls.
6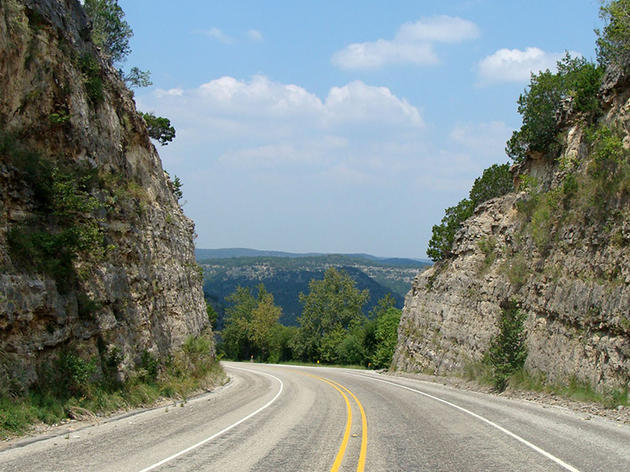 Photograph: Courtesy Wikimedia Commons
The swath of land between San Antonio and Austin might surprise anyone who thinks they know Texas. The rolling and scrappy hills are dotted with small towns (Boerne, New Braunfels and Bergheim; mostly founded by German settlers) that offer something other than the stereotypical oil and cattle. The area is crisscrossed with highways and farm roads—take Scenic Highway 16 for some of the best views. Tuck into local peaches in the summer and take in seas of bluebonnets in the spring. Don't worry, barbecue is everywhere.
Necessary pit stop: Climbers will want to stop at Enchanted Rock outside Fredericksburg. The pink granite batholith jutting out of the earth shows signs of human settlement dating back more than 10,000 years.
7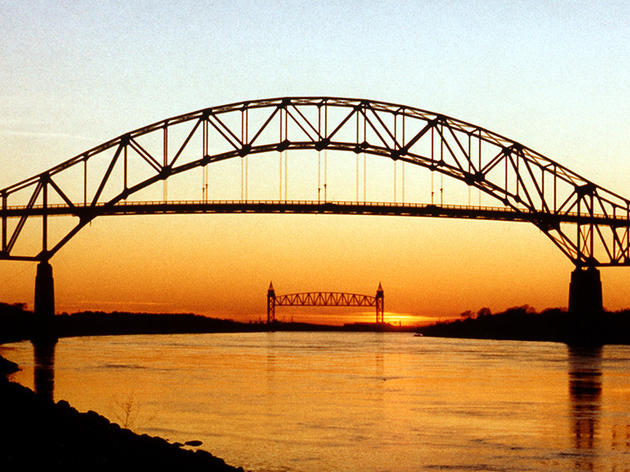 Photograph: Courtesy Wikimedia Commons
Starting from Sagamore, Massachusetts, drivers can choose Highway 6 (coursing through the middle of the Cape), 6A (skirting closer to the north along the bay) or 28 (a longer route along the southern shore). All routes will take you through picture-postcard New England towns rife with charm before merging together again at Orleans. From there, you'll head up along the the Cape Cod National Seashore before ending the trek in Provincetown.
Necessary pit stop: The Edward Gorey House in Yarmouth (off 6A) celebrates the life and work of the noted American author and illustrator, creator of such creepy classics as The Gashlycrumb Tinies and The Addams Family.
8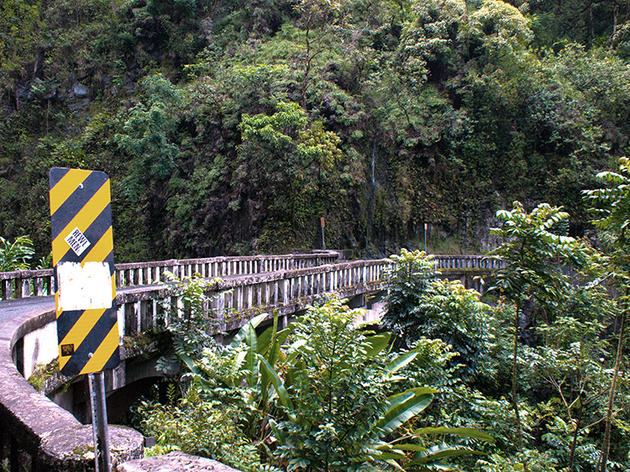 Photograph: Courtesy Wikimedia Commons
It's only a short drive to paradise—a short, sometimes treacherous and slow drive, but one that's worth it. Starting out from Paia on Maui on the Hana Highway (State Road 36), head up and east along the North Shore of the island some 42 miles to your destination, the tiny village of Hana. Along the way, you can expect nearly 600 hairpin turns, some 50 bridges and, if you time it poorly, bumper-to-bumper traffic (leave early in the morning and plan to spend the night in Hana). Expect to pass rain forests, taro fields, black sand beaches and plenty of roadside fruit stands.
Necessary pit stop: Turn off between mile markers 16 and 17, taking the road to its end. Park by a white picket fence. From there, it's a short hike over lava rock to reach Pinaau, where you can picnic and swim in the freshwater stream, away from the rest of the world.
9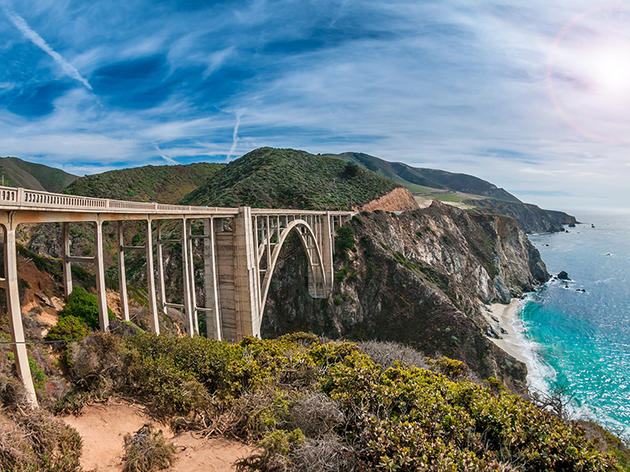 Photograph: Shutterstock
Highway 1 to Big Sur and Beyond
This California coastal classic begins in Monterey and heads south as far as San Diego. Plan for several stomach drops as you cruise around blind curves high above the Pacific Ocean on iconic Highway 1. Thirteen miles south of Carmel lies the Bixby Bridge, seen in innumerable car commercials. Dine at Nepenthe Restaurant for the very best views, plan a half-day at Esalen for a soak and take in the grandeur (and hubris) that is Hearst Castle in San Simeon.
Necessary pit stop: Pfeiffer State Beach, just south of Big Sur proper, is a perfect spot to stretch your legs mid-trip. Roll up your pants, kick off your shoes and wade through the surf.
10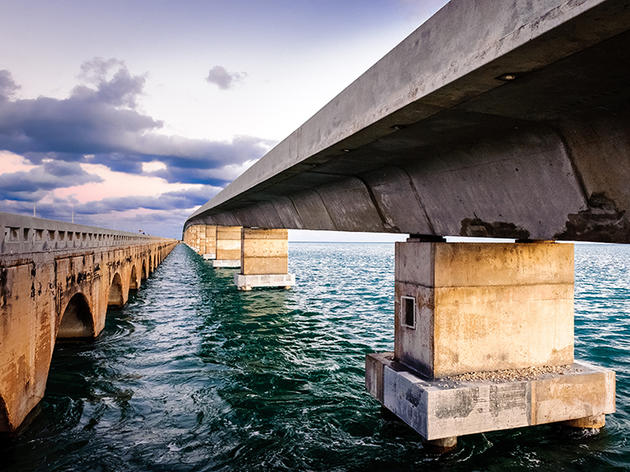 Photograph: Courtesy Wikimedia Commons/Shanbin Zhao
Unlike the other road trips listed here, this one is almost entirely surrounded by water. There's no coast or cliff to hug as you shoot your way southeast out of Miami, down to Islamorada, across the Seven Mile Bridge to Marathon and over into quirky Key West. (You might remember the chase scene on said bridge from Arnold Schwarzenegger/Jamie Lee Curtis vehicle True Lies.) If you have the top down, be sure to bring sunscreen and sunglasses: The reflection off the surrounding cerulean waters can be quite intense.
Necessary pit stop: Reward yourself with a Papa Doble at Sloppy Joe's Bar in Key West. Legend has it the Ernest Hemingway invented this take on a daiquiri.
11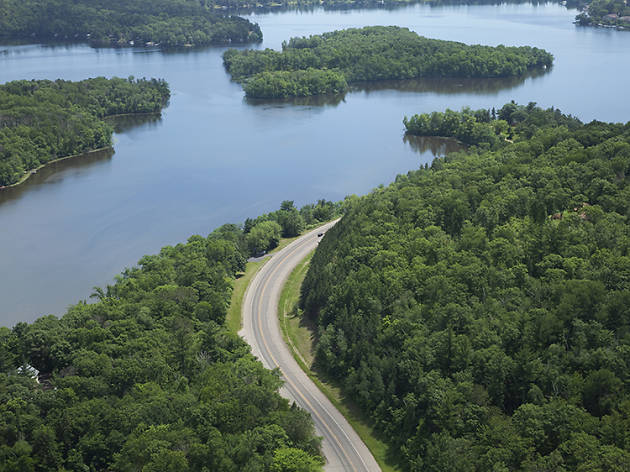 Photograph: Shutterstock
Trace the path of the mighty Mississippi River, heading south from Minnesota all the way to New Orleans. If you complete the entire route, you'll encounter a swath of 10 states in the Midwest and South whose histories have been thoroughly impacted by Ol' Man River. Think Mark Twain, the blues and the antebellum South.
Necessary pit stop: Of the many highlights on this 2000-mile-plus journey, Memphis, Tennessee, is a standout. There's the music on Beale Street, and, maybe more importantly, the Elvis-centric spots of Sun Studios and Graceland. If you haven't been to Graceland, you really haven't experienced America.