Top 10 things to do this May bank holiday
As tempting as three days on the sofa may be, a sunny forecast and a killer line-up of events mean it's surely time to get out and about
Forget about work, shift yourself from the sofa and make the most of the long weekend. Plan your bank holiday to the minute with our round-up of the very best events taking place in the capital from Friday May 24 to Monday May 27.
This new permanent display examines six key moments from the history of the Royal Mint, including Isaac Newton's efforts to rid London of counterfeiters when he was Warden of the Mint. Other stories told include Edward I's harsh punishments for people who tampered with his coins, Elizabeth I's restoration of the coinage and Charles II's rejection of Commonwealth money.
This marvellous show charts our changing affair with the nether regions of London quite brilliantly, first in posters encouraging passengers to use London Underground to escape the bad weather and, more recently, in messages designed to convince us that the whole network is not falling apart at the seams.
---
Write your own review
Looking for your fix of culture but haven't a clue where to start? Here's ten museums you must visit straight away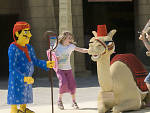 Discover fantastic days out for all of the family just outside the capital
From Hyde Park to Hampstead Heath, we've got London's greatest green spaces covered
Get more great bank holiday ideas