Major parks in London
Our guide to the best of London's gloriously green big-hitting parks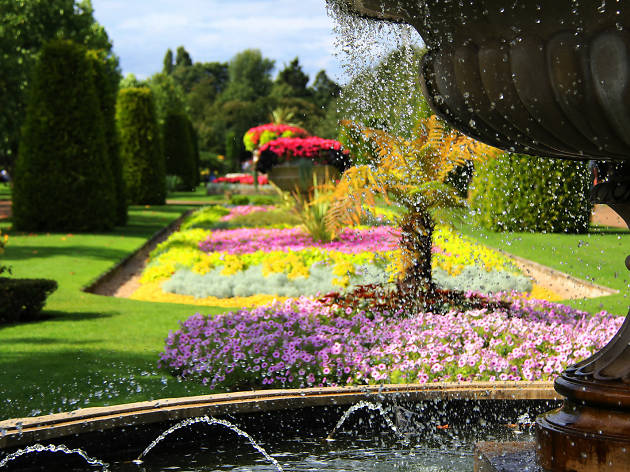 When it comes to parks, Londoners really are spoilt for choice. Whatever bit of the capital you're in, it's likely you won't be too far from one of the city's many amazing major green spaces. Best of all, exploring them won't cost you a penny, meaning that London's parks are one of the highlights of the city's many cheap and free options.
Whether you're after the perfect picnic spot, searching for a scenic running route or just hunting for a grassy spot to relax in, London's parks have it all. So take your pick from the list below, kick back and wind down.
RECOMMENDED: Soak up more nature with our guide to outdoor London.
Parks in north London
Wild and undulating, the grassy sprawl of Hampstead Heath makes a wonderfully untamed contrast to the manicured lawns and flowerbeds found elsewhere in the capital – and it will feel even more delightfully rural if the City of London Corporation's 'aspiration' to graze sheep on the heath as a flock of organic lawnmowers comes to fruition. The heath stretches across 791 acres of woodland, playing fields, swimming ponds and meadows of tall grass in north London from Hampstead to Highgate, and has provided the inspiration for countless films, books and poems.
Book now
Read more
Regent's Park is one of London's most popular open spaces, covering 410 acres in north-west London. Attractions run from the animal odours and noises of London Zoo to the enchanting Open Air Theatre. Various food and music festivals pitch up here over the summer and rowing boat hire, bandstands, beautiful rose gardens, tennis courts, ice-cream stands and eateries complete the picture. Regent's Park has several playgrounds, but the most interesting is at Hanover Gate where, in 2010, a timber treehouse area for older kids was built within a large sandpit next to the boating lake and existing playground.
Book now
Read more
Discover parks in south London
Parks in east London
Victoria Park sprang to life as a Royal Park but became municipal in 1887; it's rougher around the edges than its western counterparts and thus a great expanse to kick back and let nature revitalise you. Vicky Park is wonderful for youngsters too: the V&A Playground is equipped with swings etc, and the fantastically designed Pools Playground encourages creative play. Wildlife includes a deer enclosure, moorhens, grey and Canada geese and squirrels, while, by the lake, you'll find The Pavilion Café serves tasty, locally sourced food from breakfast to tea-time. In recent years the park has hosted Winterville and Field Day, and every November park-goers in their thousands are treated to a wildly ambitious theatrical fireworks display which is laid on by Tower Hamlets Council.
Read more
Discover parks in west London
Explore London's hidden parks
We've foraged far and wide to uncover some of the city's prettiest and most enticing tucked-away green spaces.

Read more
Sponsored listing
Lady Chastity's Reserve, Hackney
This marvellously silly immersive team puzzle (a sort of cross between an escape game and the 'Mumsy' challenge in 'The Crystal Maze') has already spooked and amused many a team at its original venue in Battersea, but will now be challenging the people of Hackney from a dark corner of the People's Park Tavern.  It's from the Handmade Mysteries team that does this kind of thing at venues across London. They know what they're doing. Expect plenty of surreal slants to challenges that can be pretty, well, challenging, and don't be surprised to be surprised either - we're told the immersive elements can be pretty interesting.  They promise to let you out - or help you out - if you get really stuck but still, it might be best to bring some brains and leave your dumbass friends out of it. 
Venue says: "Venture through an hour of hilarious clue-solving as you and your team attempt to win Chastity's fabled aphrodisiac wine."