Places to eat: The food court gets a boost in New York City
Food courts break out of their shopping-mall confines thanks to a quartet of high-profile gastro emporiums
By Christina Izzo Tue Apr 29 2014
The food court—the mere words conjure up images of suburban megamalls and the fanny-packed folk that shop them, bloated cinnamon buns and Bloomberg-horrifying fountain sodas in hand. Once relegated to shopping plazas, baseball stadiums and transit lobbies, food halls are undergoing a reboot in Gotham, reborn as ambitious epicurean havens armed with foodstuffs leagues more sophisticated than soggy soft pretzels or fast-food Chinese. Check out four new places to eat, serving big-deal ramen, old-line bagels and tricked-out tacos.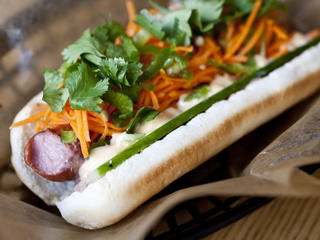 Photograph: Beth Levendis
Berg'n
The scoop: A temple to craft beer and comfort food, from Brooklyn Flea and Smorgasburg creators Jonathan Butler and Eric Demby
The setup: Along with subway-tiled food stalls from Smorgasburg regulars Ramen Burger, Mighty Quinn's, Asia Dog and Pizza Moto, the skylighted complex—set to open in early June—features a 40-foot-long bar, with a beer lineup guided by Brooklyn Brewery suds guru Garrett Oliver. A coffee station, serving Parlor java and Dough doughnuts, overlooks a 74-seat courtyard primed for alfresco boozin'.
The standouts: The grub vendors produce spanking-new plates for the project—grandma pies ($18) at Pizza Moto, Asia Dog's banana spring rolls ($6)—but the food-hall starlet is Keizo Shimamoto's blogosphere-busting Ramen Burger. Hot on the heels of his new FiDi flagship Ramen Co., the noodle transformer unveils fresh takes on his ramen-bunned creation (tofu-and-veggie, $10; bacon-and-cheese, $7), as well as fries ($5) and churros ($4) made from the eponymous noodle. 899 Bergen St between Classon and Franklin Aves, Crown Heights, Brooklyn (718-857-2337)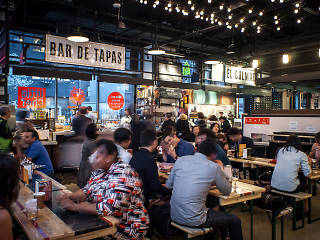 Gotham West Market Photograph: Paul Wagtouicz
Gotham West Market
The scoop: A high-class cafeteria and grocery, set on the ground floor of a block-long Hell's Kitchen development
The set-up: The sprawling, glassed-in bazaar houses seven food purveyors, including the Cannibal, Court Street Grocers and Blue Bottle Coffee. Sleek counters run throughout the industrial space, but the real fun happens in the hall's buzzing, democratic center, where guests can feast on everything from donburi to diner food at elbow-to-elbow communal tables.
The standouts: Ivan Orkin's supercharged noodles ($13) at his Slurp Shop warrant the hype, but don't let that star power blind you to the hall's other, equally enticing bites. Seamus Mullen (Tertulia) rolls out next-level lamb meatballs ($11) at tapas outlet El Colmado, dressed with peppery mojo picón. Meanwhile, the carne lovers at the Cannibal put forth pork-kimchi rillettes ($11) and rock-shrimp sausages ($14), matched by a masterful beer fridge, gleefully crammed with hoppy oddities. 600 Eleventh Ave between 44th and 45th Sts (212-582-7940)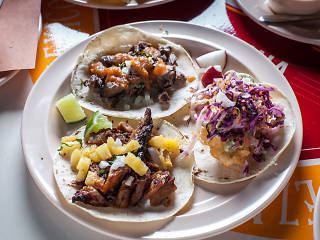 Photograph: Paul Wagtouicz
Cafe El Presidente
The scoop: Imagine Eataly by way of Mexico, courtesy of the Tacombi team
The setup: The split-level space—poppy with citrus-hued tables and bright wall murals—is diced up like good pico de gallo: an open-kitchen taqueria, a humming in-house tortilleria, a coffee-and-cocktail bar, and a juice station offering jugs of watermelon and pineapple refreshers. A retail mart in front sells house-made salsas and imported Yucatán honey, while a seafood restaurant, Mariscos Madison, dominates the basement.
The standouts: Chef Jason DeBriere (Peels) swaddles 12 tacos in the house corn and flour tortillas, including usual suspects like the al pastor and carne asada, but it's the fish tacos that warrant the most praise: Alaskan cod ($4), deep-fried to a shatter, topped with house-made poblano mayo and pickled vegetable escabeche; and plancha-seared Long Island porgy ($4), rendered supple and spicy in red-chili mojo de ajo. 30 W 24th St between Fifth and Sixth Aves (646-429-8284)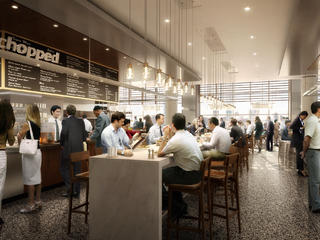 Hudson Eats
The scoop: A behemoth suits-baiting nosh zone inside the former World Financial Center, now dubbed Brookfield Place
The setup: Carved out from the second floor of the monster retail complex, the glossy, 600-seat dining terrace upgrades food-court schlock with white-marble counters, 17-foot-high windows offering gobsmacking waterfront views and 14 chef-driven kiosks, including branches of grilled-cheesery Little Muenster and crowd-pleasing patty joint Umami Burger.
The standouts: When the hall debuts in late May, Mighty Quinn's Hugh Mangum will serve the Texas-meets-Carolina 'cue that won him a 2013 Food & Drink Award, while Blue Ribbon Sushi will dole out its famed sansho-peppered fried chicken ($26) via takeout for the first time. And it's safe to say that lox-and-schmear outfit Black Seed, from Matt Kliegman (the Smile) and Noah Bernamoff (Mile End), will garner serious a.m. lines with its hand-rolled, wood-fired bagels ($1.50). 225 Liberty St between South End Ave and West St (212-417-7000)
---
You might also like
---
More popular Food & Drink features
@TimeOutNewYork
Subscribe to Time Out New York on Spotify for playlists and recommendations from our Music team.


Check out New York's best restaurants, hottest street style, cool apartments and more.