The best pizza in Accra
It's official: these are the best places to get pizza in Accra, as voted for by Time Out readers.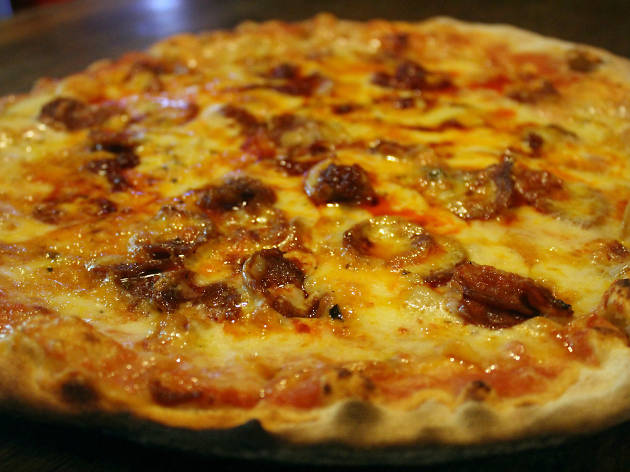 Thousands of people cast their votes in the Time Out Accra Rate Your City campaign. We wanted to get a snapshot of the hottest places in Ghana from you, our discerning reader. And this was the result. The competition was stiff – it seems everyone in Accra has a different, and strong, opinion about the best pizza...
Set around an agreeably rustic courtyard some five minutes' walk from Oxford Street, Mamma Mia, now well into its second decade, combines quality thin-crust, wood-fired pizzas with an attractive setting, easily making it easily one of Accra's best options for Italian food.
The pizza oven is dressed up as an old Italian truck and a sight to behold. Incredible space for sure, so what about the food? The tight menu of mains includes sandwiches, burgers and fish and chips. Plus there's a wide range of salad dishes, rice bowls and that wood-fired pizza. Oh, and don't forget the home-made ice cream and cakes. The focus on detail continues through to the food – renowned New York chef Andrew DiCataldo has designed the menu as well as that of the flagship Urban Grill. Our burger was on a brioche (thank heavens), and the quinoa salad was loaded with dried fruit and nuts – an inviting sight. The dickie-bowed wait staff were attentive and kind. The cocktail list is also impressive. Meko Martini anyone? It's Ketel One Vodka with Ghanaian chili. Pow!
This pleasant complex in Osu encompasses Pinocchio, a colourful café and ice cream parlour, and La Piazza, an outdoor seating area for pizzas, pastas, salads and chicken dishes. As we went to press, the owners had just launched The Grill, a roof-top terrace restaurant with a focus on steaks and burgers. The wine list is particularly good, and the upstairs area is a lovely little spot. The parlour has plenty of different ice cream flavours – we can vouch for the double chocolate – but it's also a nice place to sit with a coffee and check your emails. The outdoor courtyard is a comfortable space too, with a full view of the wood-fired oven that produces a range of topping-laden pizzas – request a thin crust. There's also a selection of pastas, meat and fish dishes. If it's a bit too warm, head inside to the air-conditioned restaurant, which has a separate menu.
Hidden in the back roads of Osu, near Koala, is the always happening Shisha Lounge. Consisting of an elegant outdoor eating area, an indoor bar (almost always witha DJ spinning some discs), and a delightfully rustic 'tree house', it has carved a niche for itself in Ghanaian nightlife. Munch on brick-oven pizza and watch Osu at night from the second floor in the tree house, while smoking a shisha. There's no better way to end a long week and begin an even longer weekend!
More great restaurants in Accra