Heads up! We're working hard to be accurate – but these are unusual times, so please always check before heading out.
What to do in Jamestown, Accra's coolest neighbourhood
The bustling Jamestown area is filled with some of the best restaurants, bars and things to do in Accra. Here's our insider's guide
What's the deal with Jamestown?
One of the oldest and most historic districts in Accra, Jamestown is filled with visceral sensory experiences that can shock, delight, perplex and confront its visitors. Sitting right on the Gulf of Guinea coast, this densely populated traditional Ga fishing community is a labyrinth of streets and alleyways, constantly filled with the sounds of children playing, the smell of smoking fish mixed with thick ocean salt, and the ongoing activity and entrepreneurialism of a community that hustles hard.
New hangouts are attracting creatives from Ghana and abroad, bringing art, live music, food and cocktails to Jamestown. It's a bold, modern counterpoint to the colonial history that still speaks through the whitewashed and peeling walls of the forts that line the High Street, the large central lighthouse, and through the decaying yet beautiful colonial timber houses erected on stilts with shutters for walls.
RECOMMENDED: Full guide to the 50 coolest neighbourhoods in the world
If you only do one thing…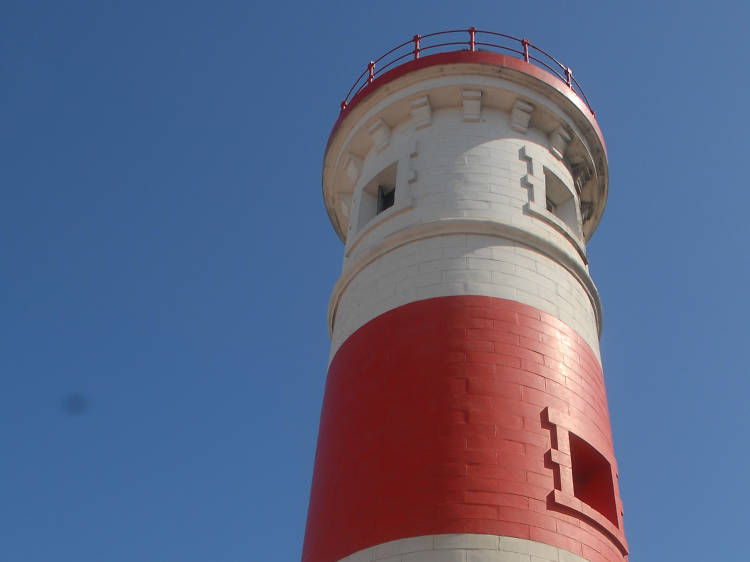 Jamestown Lighthouse. Photograph: Daniel Neilson
Check out the Jamestown walking tour is definitely worth checking out, which will take you to all the historic sites including Usher Fort and Fort James, former colonial administrative centres and slave holding forts, as well as Jamestown Lighthouse – be careful of your head on the way out the door.
Go off the beaten track
Jamestown and the surrounding area of Bukom produce more boxers per capita than anywhere else in the world, including some of the world's finest – so don't miss watching a boxing match at any of the local outdoor boxing gyms, or (better yet) put some gloves on and give it a go. Try OutShock Gym, where the walls are lined with photos and hand-painted murals of Ghana's top boxers.
Get cultured
Check out Brazil House art space, a local culture hub which is also the ancestral home of the Tabom people: a group of Afro-Brazilian returnees who settled in Ghana. Or hear some awesome local highlife music at the Abajo art café, a short walk towards central Accra.
Eat here
Osikan is a favourite spot: a sprawling, character-filled open-air bar that sit right at the tip of the shoreline, so close that the ocean spray is hard to avoid. Sit here at sundown for the best view all the way from Osu's Christiansborg Castle down to the Jamestown lighthouse, best enjoyed with a cold Club beer and a big plate of jollof with red fish.
The Ga people of Jamestown are known for dishes based on corn dough like banku and kenkey, eaten with fresh-ground (and hot as hell) pepper or okra soup. Pop into a local chop bar (most don't really have a name, so be adventurous!) and you'll be offered whatever's available on the day. There's also plenty of fresh seafood lining the street stalls, including fried fish, shrimps and octopus.
Drink here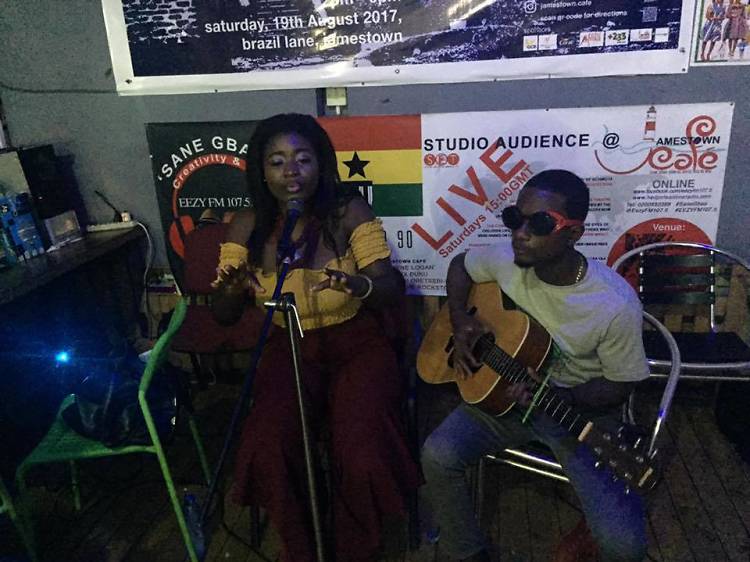 Jamestown Cafe. Photograph: Jamestown Cafe
Built and owned by architect Joe Addo, Jamestown Café is a newish addition to the neighbourhood and a magical little sanctuary in this bustling part of the city. Its recent restoration has given way to art exhibitions and space for live music and concerts, as well as an outdoor space for food and cocktails.
What else is nearby?
Around 15 minutes away you'll find Makola Markets, home to the best vegetarian restaurant in the vicinity: Health Valley Ghana. It serves all your traditional Ghanaian fare but with no meat, no fish and a heap of extra veggies and salads. Opt for the veggo waakye and you won't be disappointed.
Discover the best things to do in Accra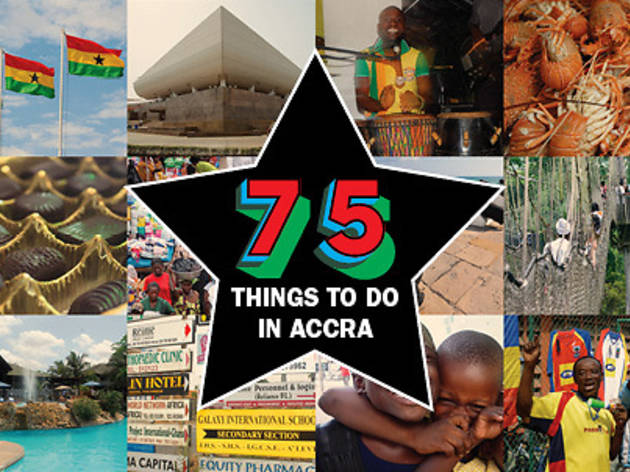 Ghana has become known as the Black Star of Africa and nowhere is this more evident than in its vibrant capital. So here are 75 of the best things to do in Accra and beyond...