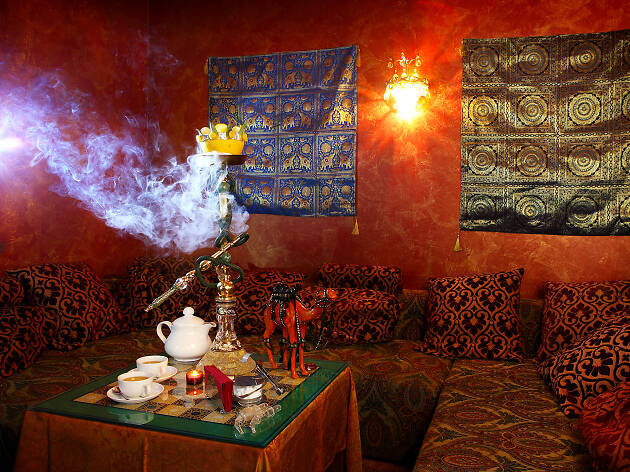 The 10 best hookah bars in Atlanta
Gifts by the big Arab population that calls the city home, the best hookah bars in Atlanta are multisensory experiences
In the capital of Georgia, we like to have things readily available, which means that the best hookah bars in Atlanta offer more than shisha: expect surprisingly delicious food and dance floors to turn these dens of exotic tobacco smoking into multisensory experiences.
Home to a large Arab population, it is no surprise that these displays of culture have taken root in Atlanta, a city that's also a bedrock of Southern lifestyle across the U.S, anchored by BBQ eateries and Southern-style restaurants that offer out-of-this-world delicious fare.
Which is all to say: Atlanta is a multicultural destination, offering visitors and locals alike plenty of things to do that cross thematic boundaries—including these hookah bars.
RECOMMENDED: Full guide to the best bars in Atlanta
Best hookah bars in Atlanta
1
Photograph: Courtesy Yelp/Food and Drink A.
Anyone who doesn't realize that this Persian restaurant has been sitting right off Piedmont Avenue for over a dozen years is probably intentionally avoiding hookah smoke, because those who know abide by Divan. With a serious menu featuring appetizers like duck leg confit and an immensely tasty spiced shrimp starter—not to mention kabobs, double-cut spice-roasted lamb chops and amazing seafood (the blackened salmon and roasted sea bass are both great choices)—you'd be forgiven for thinking this is no place for a hookah. Then you remember smoking after dinner has been a tradition for many cultures for centuries, so ask for upstairs seating, enjoy the comfortable pillows and ornate decor, and blow a little white peach smoke into the air with friends new or old.
2
Photograph: Courtesy Yelp/Sivas
This isn't the place for craft cocktails or high-end beer. Sivas, located in one of Midtown's renovated houses-turned-lounges, has plenty of areas and is always bustling with people. Come here for the hookah fruit bowl, which offers pineapple and orange options, and can be equipped with milk, fruit juice or a shot of well liquor as the cooling liquid, and even coconut-flavored charcoal. For less-ornate inhalation, go with the $24 regular (for two) or $35 large hookah, and pick your tobacco from a list of flavors that includes blue vanilla ice cream, watermelon-kiwi-blue-mist and the orange-lemon-mint "vitamin."
3
Photograph: Courtesy/Audrica B.
It's always a good sign when Mediterranean people are frequent patrons of a hookah lounge. That's the case with Cafe Instanbul, which has locations in Kennesaw, Athens and elsewhere in and outside the perimeter, but is best-known for the Lawrenceville Highway mothership, where you humbly find a large, cozy floor pillow to lean on, puff your double-apple, wild mint or "Queen of Sex" hookah flavor, and enjoy some of the best belly dancing in the metro Atlanta area.
4
Photograph: Courtesy Yelp/Match Bamboo Lounge
Located within walking distance of Mercedes-Benz Stadium and with a beautiful nighttime view of The Benz and downtown from the covered-and-draped rooftop patio, Match is inconspicuous enough to feel like a private club, which is a great setting for unbothered relaxation with a hookah nearby. You can smoke and eat on both floors, and they've got great food (you can't go wrong with the jerk lamb lollipops and the flash-fried balsamic Brussels). In addition to the personal-sized hookahs, you might want to indulge in the tiki bar offerings: flaming margaritas and mojitos share space with rum cocktails served in coconuts and boozy fruit punches served in skull-shaped glass mugs.
5
Photograph: Courtesy Yelp/Sammy T.
Both the martinis and hookahs at this East Atlanta Village ultralounge are fruit-forward, even the gin-based Port More cocktail has St. Germain, cucumber simple syrup and mango purée. When it comes to smoke (two can puff for $25 and larger groups pay $30), those reluctant to try something sour should opt for the white gummy bear tobacco (yes, that's a thing). Other choices include blue mist cinnamint and ginger ale. Enjoy it all in a brick-walled shotgun space with cylindrical white tables and wall-length leather banquettes.
6
Photograph: Courtesy Yelp/Bill W.
Whether you hang out on one of the circular red velvet bench seats or one of the ceiling-hung black swings functioning as barstools, you'll feel like you're not only blowing but sitting on clouds at this Ponce de Leon evening establishment. From Tuesday to Friday, they've got great happy hour drink specials like $3 cocktails, a late-night menu that goes until midnight on weekdays and 2am on weekends, and candy-like hookah flavors. Sure, the venue is adults-only, but cocktails and Skittles-flavored hookah while sitting on a swing? Kids never had it this good.
7
Photograph: Courtesy Yelp/Cloud 9 Hookah Lounge & Cafe
Cloud 9 Hookah Lounge & Cafe
Yes, they smoke hookah in Alpharetta too, and they have a great time doing it. This north-ITP lounge has all the food, bottle service, deejayed music and dance floor action you probably wouldn't expect in the area, as well as upgradable hookah for folks who like their bases juiced with cranberry, apple or OJ. It's $20 for two, and flavors run the gamut from purple haze to Jolly Rancher and "Cumcumberita." It's worth the drive, and any traffic you suffer through can be easily remedied with a cocktail and a tasty shisha refill.
8
Photograph: Courtesy Yelp/Escobar Restaurant and Tapas
Escobar Restaurant and Tapas
Castleberry Hill has greatly benefited from this 2-Chainz-owned bar and restaurant, where the man who gave us Most Expensivest actually cuts deals on hookah. Spend $15 on your hookah before 5pm from Monday to Thursday and sample shisha flavors like grapefruit, safari melon, tangerine dream and honey love. Top it off with a small or large fishbowl cocktail and you might see two of everything before the night ends.
9
Photograph: Courtesy Yelp/MD W.
Tucked into Atlanta's southside near College Park, Burn Lounge attracts a sexier-than-thou crowd of revelers who like affordable drinks (all night $5 specials for Crown Royal, Grey Goose and Hennessy), vivid purple lighting and plush white couches creating a vibed-out atmosphere, and daily event programming like Comedy Tuesdays and Black Bottle Sundays. However long your hookah lasts, you'll never get bored people-watching while you indulge, especially considering the lovely "Burn Beauties" wait staff.
10
Photograph: Courtesy Yelp/Dianna N.
This Brooklyn-Queens-Expressway-inspired hangout is not a place for those looking to go unnoticed. The appeal of hookah-ing here is that there's always a scene to accompany the smoke, whether that's "Retox" Thursdays (with its crab legs happy hour starting at 5pm, then hip-hop/R&B karaoke at 9pm) or dining on chicken and red velvet waffles while enjoying a live band. Definitely reserve a sofa or VIP section as it gets crowded and nobody wants to stand in the middle of hundreds of people holding and smoking a hookah while waiting for an available bar seat.
Want to explore the cultural part of the city?
By showcasing the city's unique identity as a majority-African-American town and international city, these cultural destinations have helped define the Southern metropolis while defying the stereotypical boredom some might associate with excursions to museums. Celebrate art, culture and the very essence of Georgia's capital at these dazzlingly entertaining institutions.