Where to eat a delicious brunch in Atlanta
Southern comfort food, both traditional and modern, can be found at these spots serving the best brunch in Atlanta
After drinks at one of the city's rooftop bars and an evening experiencing the best nightlife in Atlanta, there is only one thing to do: eat a whole lot of food and drink a ton of coffee while indulging in a decadently delicious brunch. These local eateries—some of them the very best restaurants in town—feature both traditional Southern breakfasts and creative spins on classic meals from around the world. This list also includes some favorite bakeries for those days when a pastry and a good cup of coffee is just what the doctor ordered.
Best brunch in Atlanta
1
Photograph: Courtesy Yelp/Lecretia F.
What is it: Atlanta's ultimate brunch destination. Those who are ambivalent about brunch complain about the huge crowds that queue up every weekend but, for Brunch Believers, just the thought of a West Egg brunch is pure heaven.
Why go: The pimento cheese grits may be the best thing that has ever happened to grits and the challah French toast almost makes you forget that a workday is likely less than 12 hours away.
Price: Average
2
Photograph: Courtesy Yelp/Paul K.
What is it: Named after the boat that brought the spot's owner's grandparents to the U.S., The General Muir specializes in classic New York deli dishes with a modern twist. Hungry diners drink coffee and wait their turn for a taste of the Old Country—New York, that is. Brunch includes bagels, lox, potato pancakes and other delights like pastrami poutine and matzo ball soup. The house-made bagels are available to-go from TGM's bakery next door.
Why go: The New York deli experience Atlanta desperately needed meets and exceeds even the most jaded New Yorker's expectations—and is appreciated by diners from all over the world.
Price: Average
3
Photograph: Courtesy Yelp/Daniel B.
What is it: Overlooking the Beltline, it's not uncommon to see horseback riders, small parades and even marathoners all occasionally trotting past. Inside the light and airy space, chef Scott Serpas serves Nola-inspired dishes with a Southern accent.
Why go: Make no mistake: you are here for the beignets, the biscuits, the shrimp and grits and the fried oyster eggs Benedict.
Price: Average
4
Photograph: Courtesy Yelp/Whiskey Bird
What it is: One of the hottest, relatively new brunch spots in town boasts a menu like no other. How can anyone pick between the grain bowls, avocado toasts, bao Benedict, chicken and waffles and gyoza tacos? The Nola Cold Brew with bourbon, chicory and Stumptown coffee will definitely wake you up. And there's parking. And a patio.
Why go: Hip brunch items for hip brunch eaters make this the go-to spot of the moment.
Price: Average
5
Photograph: Courtesy Yelp/Ravi B.
What is it: A tranquil dining spot on the banks of the Chattahoochee River with beautiful food served in lovely leafy surroundings. Reservations are required well in advance but well worth it for the sticky buns, smoked salmon entrées and popcorn ice cream sundaes.
Why go: It's your birthday. It's your mom's birthday. It's your anniversary. You got a raise. You need to see some green spaces. It's Sunday. Just go.
Price: Pricey
6
Photograph: Courtesy Yelp/Wendi D.
What is it: A real French bistro in the heart of downtown Decatur. The decor is charming and the menu is filled with French classics from the chef's native Alsace-Lorraine region. Brunch choices include house-made pâté, delicious omelettes, croque monsieur and salad niçoise. The homemade lavender honey ice cream comes sprinkled with confectioners sugar.
Why go: This could be Atlanta's best kept brunch secret. Walking through the door is like being whisked away to a quaint French village.
Price: Average
7
Photograph: Courtesy Yelp/Chloe W.
What is it: Overlooking the scenic Oakland Cemetery, Ria's has been one of the most popular brunch spots in town for years. Diners line up early for pancakes, brisket bowls, country fried tempeh, biscuits and gravy or shrimp and grits. If the weather's nice, there are worse ways to pass the time than sitting outside waiting for a table.
Why go: This is pancake heaven. Ria's will ruin you for all other pancakes.
Price: Average
8
Photograph: Courtesy Yelp/Levinia T.
What is it: Silver Skillet is what you think of when you think of breakfast. Eggs, creamy grits, fluffy biscuits and crispy bacon served in a bustling, friendly atmosphere.
Why go: This is the place for an old school Southern breakfast for people who don't like trends or fuss. The booths are comfy and there's always someone nearby to top off your coffee. Your dad will love it here. Your grandad will love it here. You will love it here.
Price: Average
9
Photograph: Courtesy Yelp/Wendi D.
What is it: This fun cafe boasts a retro California kick that is sure to be appreciated by all diners. The decor is authentic '70s orange and brown but the food is colorful: trendy breakfast tacos, grain bowls, poke and toasts with creative toppings. There's plenty of outdoor space with vintage furniture and umbrellas. All that's missing is the ocean view.
Why go: This '70s-themed surf shack serves hip and healthy breakfasts, pastries and coffee in more ways than you can imagine.
Price: Average
10
Photograph: Courtesy Yelp/DaQuilla H.
What is it: What started out as a small Asian bakery in a strip mall on Buford Highway has become a mini-empire with branches all over the Metro area. Thankfully, that hasn't hurt the flavors and varieties of sweet and savory Asian treats on offer. The lines are always long but grab a self-serve tray and pick out your pastries before hopping on line. Pair your choices with bubble tea, thai iced tea or coffee.
Why go: Far and away the best selection of Asian pastries and bubble teas in the city.
Price: Bargain
11
Photograph: Courtesy Yelp/Nicole G.
What is it: This is dim sum as it should be: a loud, noisy dining room filled with friends and families and kids and grandparents. An endless number of carts carrying delicious Chinese small plates circles the dining room while servers bring you all the pots of hot tea you could ever crave. Try the sesame balls, pork buns and any of the seafood choices.
Why go: Sometimes, dim sum is the perfect answer to the whole "where should we brunch?" conundrum. Rumor has it more than 30 tiny plates are available for first, second and third helpings. There's plenty of parking and the wait, if any, is short.
Price: Average
12
Photograph: Courtesy Yelp/Sublime Donuts
What is it: Sublime really does describe this funky doughnut shop near the Georgia Tech campus with a national reputation. Order by number from a menu listing all the flavors and the array of unusual fillings including fresh fruits, bacon, marshmallows and more traditional options for purists.
Why go: Mmmmm, doughnuts. The fresh strawberry and cream doughnut is unforgettable.
Price: Bargain
13
Photograph: Courtesy Yelp/Justin K.
What is it: This tiny bagel shop in East Atlanta started out as a roadside pop-up in Poncey Highlands that routinely sold out of its offerings before the sun even came up. Now, the mother and daughter bagel makers have their own shop with plenty of New York-style bagels to last through breakfast and lunch. Get them with eggs or lox or just grab a dozen to get you through the week.
Why go: The best bagels in Atlanta, full stop. They even have a jalapeno flavor option.
Price: Bargain
14
Photograph: Courtesy Yelp/Claudette T.
What is it: The most reliable go-to brunch spot in town according to your boss, your college roommate and your next-door neighbor, who've all been going there for years. From bagels to French toast, shrimp and grits to frittatas, there's something for everyone. The only downside is trying to find parking in the popular Virginia Highlands neighborhood on the weekends. Best to bring some singles and let Murphy's valet worry about finding a spot.
Why go: Lots of restaurants say they are good for brunch, but Murphy's really is great for brunch—especially if you're dining with a group.
Price: Average
15
Photograph: Courtesy Yelp/Inka W.
What is it: Amelie's fun interior and delicious pastries and beverage selections inspire diners to sit down and relax. Students, families, friends and laptop tapping entrepreneurs all make up the scene on weekends.Grab a baguette and some chocolate eclairs to take home for later.
Why go: Hip bohemian bakery and café with shabby chic style, mouth watering pastries, soups and sandwiches made with French flair. Bring a hard copy of the paper, settle in and stay a while.
Price: Bargain
Hungry for the best restaurants in Atlanta?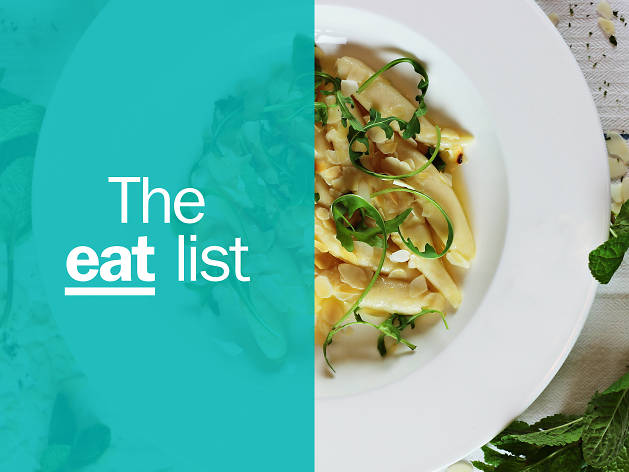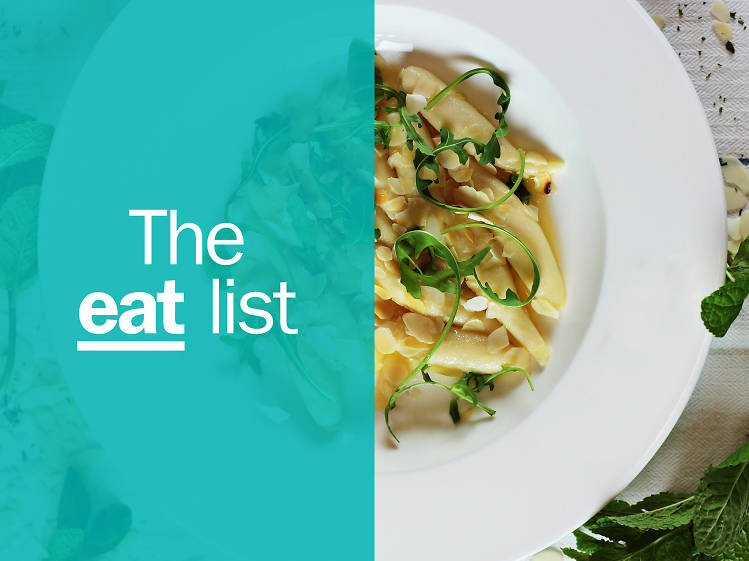 In beautifully designed eateries, suburban strip malls and tiny shacks by the side of the road, some of America's best chefs are making delicious meals for discerning diners right here in town.