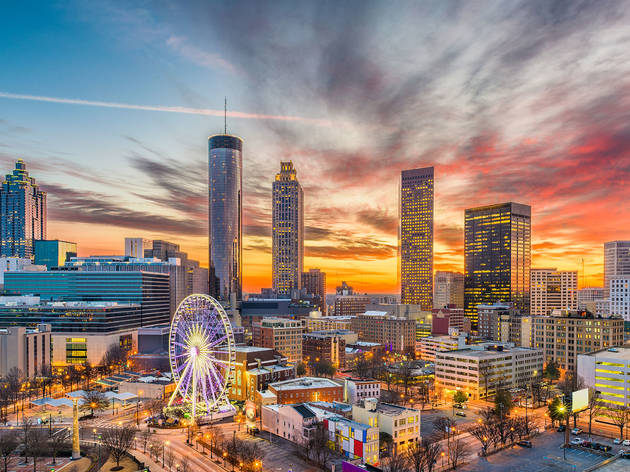 The 10 best markets in Atlanta
These are the best food markets' and farmers markets around Atlanta where you can find fresh produce and prepared foods
Atlanta has an exciting selection of weekly farmers markets and gourmet food halls, and both are popular things to do with friends and family. Farmers markets highlight the best of Georgia's abundant produce, from peaches to peanuts, while food halls offer an easy way to try some of Atlanta's hottest local restaurants as well as the city's culinary up-and-comers. Plus, if you're looking for fun things to do with kids, many of these offer family-friendly activities and plenty of kid-approved treats. Check out these top markets for a taste of Atlanta's finest foods and produce.
RECOMMENDED: Full guide to the best things to do in Atlanta
Best markets in Atlanta
Photograph: Courtesy Yelp/Daniel B.
What is it: Massive, historic building redeveloped to include shopping, entertainment, and a vibrant food hall.
Why go: PCM's Central Food Hall features snacks, prepared foods, fresh seafood, juices, sweets, and James Beard Award-winning chefs. Eat your way through Atlanta's finest and buzziest, all in one spot. That burger that makes it hard to get a table at Holeman & Finch? It's here any time at H&F Burger. Craving chicken & biscuits? Hop's Chicken. Hand pies and biltong jerky? Biltong Bar has it. Find all this plus fresh breads, Indian street food, gourmet hot dogs, doughnuts, fine wines, and more. Take a tour to get the most out of your visit.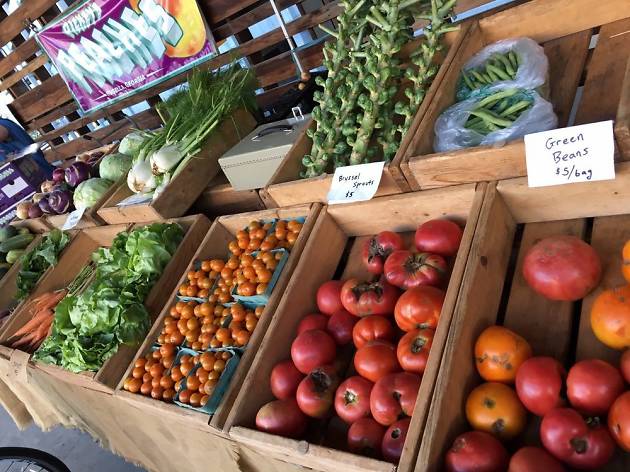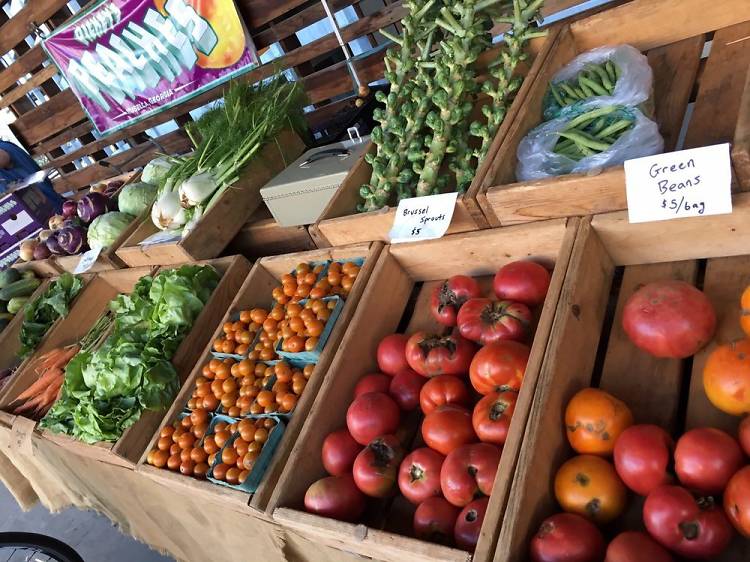 Photograph: Courtesy Yelp/Diana C.
2. Ponce City Farmers Market
What is it: Weekly farmers market located outside Ponce City Market.
Why go: From April-November, Ponce City Market hosts a producer-only farmers market that gathers local urban farmers selling their home-grown products. All farmers use organic farming methods. You'll find fresh fruits, veggies, meats, artisanal prepared foods, and natural beauty products. It's held on Tuesday evenings, perfect for a healthy pick-me-up after work.
Photograph: Courtesy Yelp/Terri E.
What is it: Mixed-use development on the BeltLine featuring shops, restaurants, and gourmet food purveyors.
Why go: Head to Inman Park to check out this nationally-renowned food hall, housed in a rehabbed warehouse. Market stalls hawk seasonal produce, baked goods, and cheeses alongside quick-order versions of beloved Atlanta restaurants. Gu's Dumplings and Richards' Southern Fried hot chicken are highlights. Other options include tacos, bao, charcuterie, barbecue, and more. Grab a local craft beer from Hop City and pick a spot at a communal table for a friendly dining experience. Tours of the market are also available.
Photograph: Courtesy Yelp/Jennifer L.
4. Your DeKalb Farmers Market
What is it: Expansive market stocked with goods from all corners of the globe.
Why go: From a small produce stand that opened in 1977 to today's sprawling facility, Your DeKalb has become the metro area's go-to market for international produce and goods. Hundreds of varieties of fruits and veggies are available, many you may have never heard of. There's an unbelievably vast selection of meat, seafood, and cheeses, plus breads and pastries baked daily, and prepared foods. 184 flags are displayed within the market, representing the sources of their products. Employees wear name tags identifying their home countries - from the U.S. to Mauritania to Ethiopia to Samoa. A trip to Your DeKalb Farmers Market doubles as a foodie trip around the world.
Photograph: Courtesy Yelp/Sandra F.
5. Buford Highway Farmers Market
What is it: Spacious indoor market with produce and international goods on the famed Buford Highway.
Why go: Buford Highway is known for its international dining scene, with restaurants from all over the world. If you need something from another country, you'll probably find it here. Get lost strolling the aisles, stopping to wonder at products you never knew existed. There's a heavy focus on products from Asia and Latin America, and the numerous prepared foods provide a quick option for cheap eats. The market also hosts tastings from local Georgia producers.
Photograph: Courtesy Yelp/Robert B.
What is it: Creative gourmet food hall in Midtown near Georgia Tech.
Why go: Launched by Puerto Rican chef, author, and personality Harry Pagancoss, this European-style market offers a trip around the world through its vendors and Provisions Market. Find sandwiches, ceviche, cassoulet and more, plus internationally-focused cocktails, wine, and coffee. The Provisions Market features prepared foods as well as gourmet goods such as French preserves and Spanish rice, plus many of the ingredients used in dishes throughout the food hall. Communal tables create a lively atmosphere, especially on weekends when there's live music.
Photograph: Courtesy Yelp/Wendy D.
7. Grant Park Farmers Market
What is it: Sunday market in Atlanta's oldest park.
Why go: Grant Park is a beautiful place to stroll and enjoy nature any day, but it's the place to be on Sunday mornings from April to December. Find some of the best locally-grown produce, breads, meats, coffee, sweets, and artisanal products. Stock up on fresh pasta, local honey, handmade butter, and more. Free demos feature well-known local chefs. Make a day of it and walk, shop, and picnic in Grant Park.
Photograph: Courtesy Facebook/East Point Farmers Market
8. East Point Farmers Market
What is it: Community-based market held on Wednesdays in East Point.
Why go: The historic neighborhood of East Point is only 10 minutes from downtown, but it feels charmingly small. The indoor/outdoor market is held year-round and features, in the words of the volunteers who run it, "artisan edibles and other curiosities." You'll find local produce, baked goods, eggs, meats, honey, coffee, chef demos, a food truck court, children's activities and more. Vendors are friendly and welcoming, making it a real community event for neighbors and beyond.
Photograph: Courtesy Yelp/Gabrielle S.
9. Peachtree Road Farmers Market
What is it: Saturday market started by James Beard Award-winning chef Linton Hopkins.
Why go: This market is the largest producer-only farmers market in Georgia. More than 50 vendors sell fresh fruits, veggies, meats, cheeses, seafood, jams, sauces, coffee, and more. The market features artist vendors too. Popular restaurant chefs demonstrate how to prepare what's available at the market every week. Live music, baby animals, and other special events enhance the market. Each August, the market hosts the popular Ice Cream Social - featuring locally-made ice creams with unique local flavors - in collaboration with Slow Food Atlanta.
Photograph: Courtesy Yelp/Municipal Market
What is it: Indoor market with artisanal produce and prepared food stalls.
Why go: Referred to by locals as the "Curb Market," due to its humble beginnings as a large, open-air tent called the Sweet Auburn Curb Market, the Municipal Market celebrated 100 years in 2018. Shop for high-quality produce, meats, seafood, breads, and sweets, or pick up something from one of the diverse eateries, from soul food to poke, to eat at a communal table. The Learning Kitchen offers a wide range of hands-on classes for home cooks, from basic kitchen skills to fermenting, canning, and cheese-making.
Check out the local scene
There is a festival for everyone: from craft beer enthusiasts to art fiends, lovers of comedy to book nerds, all personalities will find something delightful in town.