The 11 best restaurants in Buckhead
Here are the best places to dine in this affluent neighborhood in Northeast Atlanta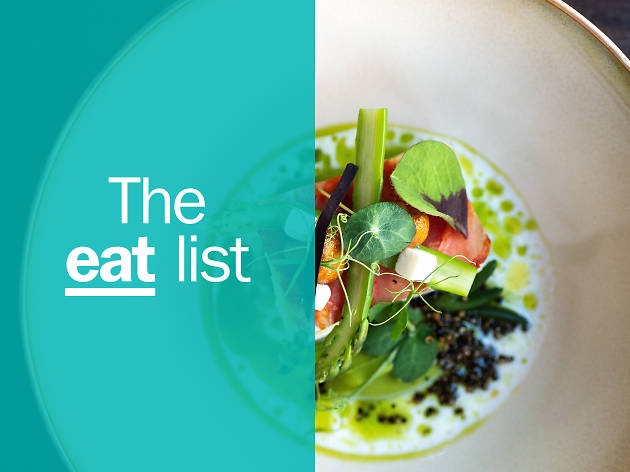 Buckhead is one of the main commercial and financial districts of Atlanta. Formerly a destination for late-night hijinks at rooftop bars, the area is now anchored by high-rises, luxury shopping, and high-end hotels. Buckhead has a wealth of posh restaurants whose quality doesn't always match the price, but several are worth the splurge. Fortunately, there are mid-range and less expensive options in as well. Buckhead is a good choice for a posh night out to see-and-be-seen, but you can also find highly-regarded, innovative restaurants that put more focus on the cuisine than the scene. Here are some of the best options for a memorable meal in Buckhead.
RECOMMENDED: Full guide to the best restaurants in Atlanta
Best restaurants in Buckhead
1
Photograph: Courtesy Yelp/Daniel B.
What is it: Long-running steakhouse consistently praised for top-notch food and service.
Why go: Bones has been serving prime beef, fresh seafood, and regional specialties since 1979. The old-school vibe, exceptional service, and clubby dining rooms make it a top choice for special occasion parties and corporate gatherings. From the seafood tower to the beef tartare or any steak on the menu, the food is of the finest quality, and the acclaimed wine cellar has just the right pairing to take a meal to the next level.
Price: Blowout
2
Photograph: Courtesy Yelp/Gerry S.
Holeman & Finch Public House
What is it: Approachable Southern fare with a sophisticated edge.
Why go: Holeman & Finch serves one of Atlanta's most famous cheeseburgers. Now served all day, it used to be available in limited quantities at 10pm only. Beyond the vaunted burger, there's a menu of creative, seasonal dishes. Find modern takes on southern classics like deviled eggs and pimento cheese as well as an inventive cocktail list. The dining area is both convivial and romantic, with a friendly and accommodating staff.
Price: Pricey
3
Photograph: Courtesy Yelp/Southern Art
Southern Art and Bourbon Bar
What is it: Acclaimed bourbon bar and modern southern fare from award-winning chef and restaurateur Art Smith.
Why go: Experience classic Southern charm in a sophisticated yet welcoming environment. Start off at the Bourbon Bar with one of 70 varieties of bourbon, or maybe an exceptional cocktail. Then indulge in the regionally-sourced, farm-to-table menu that celebrates and updates Southern classics like chicken and dumplings or shrimp and grits. For dessert, peruse the pie table for sweet pies and cakes, and stop by the Ham Bar on your way out for house-made charcuterie to take home.
Price: Average
4
Photograph: Courtesy Yelp/Moo R.
What is it: Elegant, modern Japanese restaurant with a focus on premium quality and freshness.
Why go: This intimate, contemporary restaurant showcases fresh sushi that's exquisite in its simplicity. Pick a seat at the chef's counter to watch the the art unfold. The sophisticated Japanese menu is also worth exploring, especially the hot items such as lobster toban-yaki in a soy butter sauce, which is finished at the table on a tiny grill. Ask the knowledgeable staff to help you choose from the extensive sake list, or opt for a hand-crafted cocktail. Delectable desserts, such as the green tea souffle, are made in-house.
Price: Pricey
5
Photograph: Courtesy Facebook/Chops
What is it: Classic, high-end steakhouse known for exceptional food and service.
Why go: Chops is the place for celebrating or making big business deals. Dress to impress and be prepared to pay. But the price is worth it for some of the best USDA prime aged beef around. The stylish, dark wood dining room provides the perfect ambiance for enjoying signature cuts and preparations. Downstairs, Lobster Bar serves exquisite seafood flown in fresh daily. Consistently named among the best steakhouses in the country, you know you'll have a worthy meal here.
Price: Blowout
6
Photograph: Courtesy Yelp/Carol A.
What is it: Enchanting spot with skyline views serving elevated Thai street food with authentic flavors.
Why go: Dishes at this somewhat hidden Thai spot recall recipes used by the chef's grandmother, a Bangkok street food vendor. The authenticity is the draw, with unique flavors and spices in every dish. Sample a variety of offerings from the menu of small plates - thai beef jerky, street noodles, mussel omelette - or choose larger dishes (whole fried chili-lime snapper) for a gourmet take on street food standards. The patio views are some of the best around.
Price: Average
7
Photograph: Courtesy Yelp/Athena C.
What is it: Upscale, white-tablecloth French bistro in the center of The Shops at Buckhead Atlanta.
Why go: Le Bilboquet is the place for a true Parisian experience. The light-filled, romantic bistro - sister to the original location in NYC - has a vibrant atmosphere reminiscent of European cafe culture. Indulge in classic French dishes like duck foie gras terrine, or the signature beurre blanc Cajun chicken. Enjoy the terazzo floors, pewter bar, and blue velvet banquettes while sipping a chilled glass of rosé.
Price: Pricey
8
Photograph: Courtesy Facebook/Yebo Beach Haus
What is it: A fusion of South African and American cuisines with a casual vibe.
Why go: Probably one of the most unique spots in Atlanta, Yebo's decor and menu transition from beach house-inspired in the summer (light fare, small plates) to ski lodge chic in the winter (comfort food, outdoor fire pits, blankets). The bright, airy house provides an inviting atmosphere in which to sample creative cocktails and coastal eclectic items such as peri peri chicken and ostrich sliders.
Price: Average
9
Photograph: Courtesy Yelp/Al M.
What is it: Glamorous Mediterranean/Italian spot focusing fresh, local and artisanal ingredients.
Why go: Soaring ceilings, white-tiled columns, and a huge marble bar highlight this impressive space. The menu is equally notable, featuring handmade pasta, local produce, wood-roasted fish, and other dishes influenced by the European coast. Everything is made in-house, including cheeses and sauces, and the seafood options are the star of the show. St. Cecilia has become a go-to spot for fine dining, especially to impress a date.
Price: Pricey
10
Photograph: Courtesy Yelp/Brian K.
What is it: Bustling seafood restaurant and market with the largest and freshest selection of fish in Atlanta.
Why go: With more than 100 different kinds of fish flown in fresh every day, there's something for every seafood-lover. The menu changes based on the catch, but you'll find entrees like cedar plank salmon, pecan crusted trout, Hong Kong-style sea bass, and skate wing meuniere. The atmosphere is relaxed but vibrant. Wait for a table in a rocking chair on the veranda. Or have a cocktail in the lounge, which has multiple TVs for watching games. If you like to cook seafood at home, the on-site Pano's Market sells some of the fresh catch offered in the restaurant.
Price: Pricey
11
Photograph: Courtesy Yelp/Landmark Diner
What is it: Classic 24-hour diner with a huge menu and a comedy club.
Why go: Landmark Diner has been a popular late-night staple for years, but it's usually buzzing at all hours. While it's nothing fancy, you can get pancakes at 8pm or a filet mignon at 3am; in other words, you can count on reliable comfort food any time of day. There's also a full bar and a bakery featuring house-made challah. Plus, there's a side-lounge with comedy shows Wednesdays through Saturdays.
Price: Bargain
Discover Time Out Market: the best of the city under one roof