Heads up! We're working hard to be accurate – but these are unusual times, so please always check before heading out.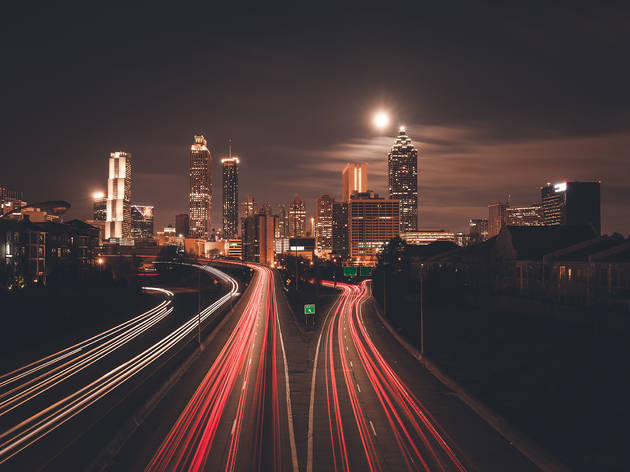 A guide to the 13 best nightlife spots in Atlanta
If you want to experience nightlife in Atlanta, follow our guide to the best supper clubs, bars and dancing dens
Nightlife in Atlanta means many different things to many different people. It could mean cocktails handcrafted by the city's top mixologists, mulling herbs and mixing spirits to create next-level concoctions. It could mean long nights spent laughing and drinking at the top local rooftop bars and restaurants with new and old friends. To some, things to do at night might involve a whole lot of dancing and singing or simpler hangouts demanding comfortable clothes and board games. No matter what, the city's nightlife is bound to throw up something you'll love.
RECOMMENDED: Full guide to the best things to do in Atlanta
Best nightlife in Atlanta
Photograph: Courtesy Yelp/Daniel B.
What is it: Serving cocktails and oysters in a renovated train depot outside downtown Decatur, Kimball House is well known. Partner and bar director Miles Macquarrie isn't just a mixologist, he's an artist that combines his own house-made bitters and the produce grown in the restaurant's own garden.
Why go: The bar program has been recognized by the James Beard awards multiple times. Couple that with twenty varieties of oysters and you've got yourself a success story.
Photograph: Courtesy Yelp/Bobby K.
What is it: This Atlanta institution is the primary venue sought by singer/songwriters looking to make a local, and international, mark.
Why go: Eddie's Attic's bookers are legendary for finding and showcasing the very best and brightest songwriting talent from all over the world. The likes of Sheryl Crow, the Indigo Girls, Shawn Mullins and The Civil Wars have all appeared on this stage. Who knows? The next big act might be performing during open mic night next week!
Photograph: Courtesy Yelp/Joseph P.
What is it: About nine years ago, Bob and Kristine Sandage bought an abandoned mansion on Moreland Avenue and gradually built it into one of the most popular brewpubs in the country. Bob then recruited brewmaster Neal Engleman and chef Terry Koval to make award-winning beer and memorable food.
Why go: Beer lovers will obviously adore this place, but so will the book nerds that will surely appreciate the monthly "writers at the Wrecking Bar" series, featuring local and internationally acclaimed authors.
Photograph: Courtesy Yelp/Dave N.
What is it: The city's unofficial clubhouse and rec hall is the only place in town to watch political debates, election returns and the World Series all at once.
Why go: On any given night, the venue will be packed solid with all sorts of people—from politicians to journalists, authors, students, policemen and even sports fans. Head in and meet the cast of characters that make Atlanta what it is. Oh, the food and the drinks are pretty solid as well!
Photograph: Courtesy Yelp/Ravi B.
What is it: Nestled in the Four Seasons Hotel, this (very fancy) drinking hole is named after Gwyneth Paltrow's character in The Royal Tenenbaums.
Why go: Bar Margot just begs you to saunter up to the bar and order a gin Margot with a crab toast. Master mixologist Greg Best—a local legend among the cocktail savvy—devised the drink menu.
Photograph: Courtesy Yelp/Venkman's
What is it: Two members of Atlanta's best-known cover band, Yacht Rock Review, own and operate this club and serve as the house band.
Why go: The '70s and '80s tributes to the likes of Fleetwood Mac and Prince will keep you coming back for more. Not into oldies? Test your trivia prowess every Wednesday night—with a beer in hand, of course.
Photograph: Courtesy Yelp/Carlos M.
What is it: Do you like beer? Do you like craft beer? Do you like to taste beers you've only vaguely heard about? Well, Brick Store Pub's owners claim to have around one thousand beers in the cellar at any given moment. So… this is your heaven?
Why go: The one thousand beer options, for starters. Also: there are no televisions, no loud music and no flashy signs on premise. The spot's owners actually vowed to open a bar with good food and good drinks and the chance for everyone to delight in nice conversation. Mission accomplished.
Photograph: Courtesy Yelp/Dave N.
What is it: Deep in the heart of Virginia Highland's hipster wonderland is Blind Willie's, one of the best places to listen to live blues in town.
Why go: It is all about the music, man. Dark and divey, it's a slice of heaven for blues aficionados. If you happen to catch Ms. Sandra Hall and her band trying to burn down the house on a Saturday night, you will not be sorry.
Photograph: Courtesy Yelp/Jody G.
9. Sister Louisa's Church of the Living Room and Ping Pong Emporium
What is it: Loud, kitchy and slightly sacrilegious, Sister Louisa's Church of the Living Room and Ping Pong Emporium is a church-themed bar that hosts weekly ping pong tournaments and much more.
Why go: Was the description not enough? In case you need more: patrons are asked to slip on one of the choir robes hanging on pegs on Wednesdays, when church-organ karaoke sessions take place. The space also happens to be an ideal Instagram shot.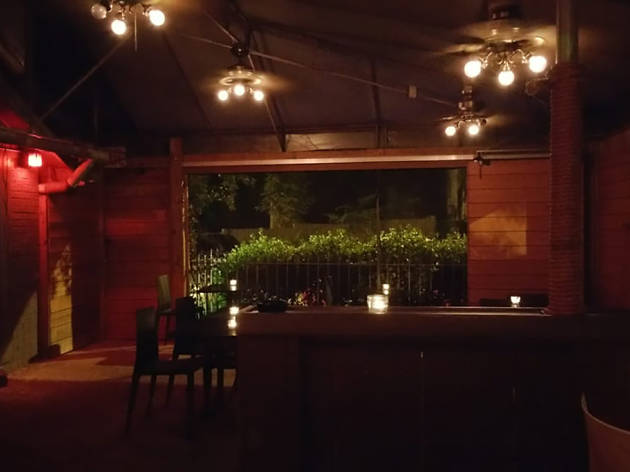 Photograph: Courtesy Yelp/D K.
What is it: This hip bar was late Anthony Bourdain's first stop when he visited Atlanta back in 2012. Hard to find and closed until 10:30pm, it's a dark, amazing venue serving great food. You can't help but feel like you're in on a very special secret when stopping by.
Why go: The lobster rolls are legendary. Pair them with the venue's punk rock vibe and you've got yourself a night to remember.
Photograph: Courtesy Yelp/Nine Mile Station
What is it: What was once a broken down old City Hall building has been revitalized into Ponce City Market, one of the most vibrant places to eat, drink and shop in the city. Sitting on top of the whole complex is 9 Mile Station, a rooftop bar with indoor/outdoor access and so much beer on draught.
Why go: The view, which is inspiring… to say the least. But, a warning: as all great things in life, this one comes at a price. If you want to stop by for dinner, you'll have to make a reservation through the venue's system and leave a $20 deposit that will be refunded to you at the end of your meal. If you're only here for drinks, you'll get to walk in from the Skyline Park amusement area, which has its own entrance fee.
Photograph: Courtesy Yelp/Dominic M.
What is it: A popular destination on Edgewood Ave. for great music, creative cocktails and a solid menu of burgers, fries and small plates.
Why go: To dance. The crowd is mostly made up of thirtysomethings, who boogie to funk, soul and techno beats all night long.
Photograph: Courtesy Yelp/Lashawn T.
What is it: Filled with pinball machines, overstuffed recliners and table lamps, the bar resembles the set of Stranger Things—and it is oddly comforting.
Why go: If you are craving a relaxed night out with friends, tacos, grilled cheese, boozy slushies and an endless array of old-school video games, you've found your destination.
Looking for the perfect drinking spot?
Whenever the forecast offers a break from Atlanta's notoriously steamy conditions, one of the most popular things to do in the city becomes drinking outdoors. While there are dozens of patios and sidewalk spots to choose from, you can take your fun up a notch by checking out a rooftop bar.