What's the deal with... Twopee
Rapper-of-the-moment Twopee shares how he got into hip hop, his thoughts on Thailand's music scene, and what we can expect of him in the near future.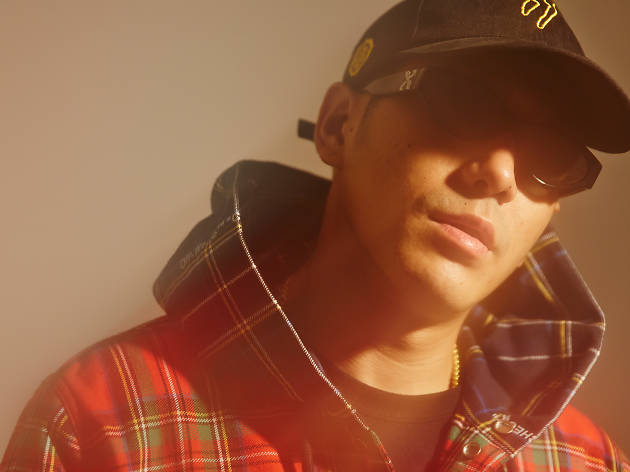 Thai hip hop is experiencing a new high. It was part of the mainstream music scene 20 years before going underground to give way to the electronic genre, but now Thai hip hop, which has an affinity with rap music, has resurfaced following the trend in the global music scene. Like how it usually is in the world of entertainment, people come and go and then return. And this is where you see the real-deal artists, those who are capable of surviving change and the test of time.
Twopee is one of those survivors. Starting out as one-half of Phuket-hailing rap duo Southside (formed with Freddy V who is now pursuing his studies), Twopee, or Pitawat Pruksakit outside of the music scene, has spent many years surfing the ups and downs of the Thai hip hop scene.
One of his claims to fame include winning a respected rapping contest for two consecutive years, which led Twopee to becoming part of the Thaitanium family of hip hop artists. But it wasn't until he become a coach on competition TV series The Rapper, that the talented musician became a national sensation. He was also one of the headliners at W Hotels' global music event, Future Rising.
After ten years in the music industry, Twopee is finally enjoying the height of his career and having the time of his life. He sits down with Time Out to look back and look forward.
How did you become a rapper?
It started when I was about 13 or 14. Hip hop hit me so hard—Eminem's music, especially—that I fell in love with it. So I listened to it a lot to the point where I tried writing songs and lyrics—and that's how it all started.
It's awesome that you get to do what you love, but what would you have ended up doing if you didn't become a rapper?
I might have ended up working on things related to moving pictures because I studied communications art.
That sounds useful.
Yes, it is. I also apply [what I learned from school] when creating my own music videos, including scripts and style.
Do you produce all your songs by yourself?
I write the lyrics and melody, and then I work with producers to create the songs.
How would you define your signature style?
I would say it's tough and powerful with some playful elements. It's rapping with a bit of melody.
Tell us more about the upcoming projects you have lined up.
I'm releasing the first single from my first solo album. It's called "Aow La Woii," and was produced by Khan Thaitanium and Keezy Bang Bang Bang. The album will drop by the end of the year, and it includes 13 songs that I've worked on with both local and international artists and producers. Khan [Thaitanium] is the main producer and takes care of the overall image. It's going to be good and I hope everyone will enjoy it.
How is your solo album different from the projects you've produced with Southside?
It's more meaningful as I've injected so many thoughts of mine into the songs. I talk about my thoughts on the [local] hip hop scene. It's rough and fun in my style—basically I think it's quite personal.
What about Southside? Anything you want us to look forward to?
We are also releasing a new album, so there are going to be many different projects.
What do think about the hip hop scene in Thailand?
I think the time has come. Hip hop has returned and is being raved about again. I'm so glad, and I hope it's going to stay like this for a long time.
You are one of the coaches in The Rapper. Tell me about your experience.
It was very nice seeing new faces enjoying hip hop. They are so talented and unique in their own ways. I'm going to come back as a coach for the next season, which will be aired early next year. So please stay tuned.
You seem very busy. What else are you working on?
Apart from doing shows and going to the studio everyday, I have Southside-branded merchandise brand called Southside Wear. It will not follow the trend, but more likely for my fans to wear to our gigs as well as for everyday use. Also happening very soon, I'm opening a bar in Thonglor, which is going to focus on hip hop tunes. It doesn't have a name yet and it will be unlike my previous club project Blaq Lyte, which has closed down. Managing a club was exhausting, and I can't dance anymore. The name Blaq Lyte remains, but it's transformed into a party project—like we collaborated with W Hotel's Future Rising platform last month. Also, I'm going to perform in The Rapper concert in September, so I hope my fans and people who like hip hop will join us for the show.
Read more music interviews
More to explore