Late night restaurants in Bangkok
Don't want to go home? Where to eat in late nights in Bangkok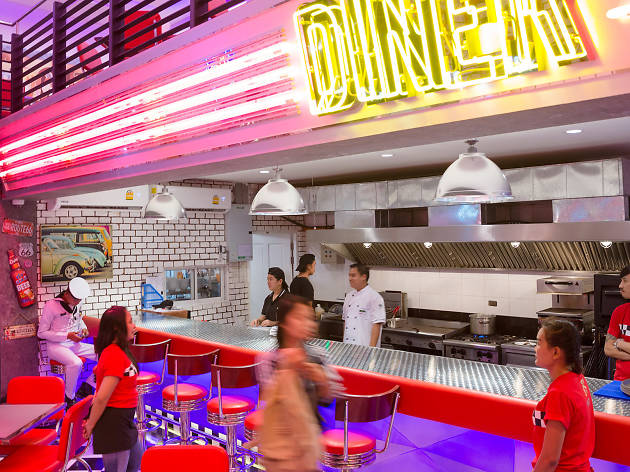 You just get out of the club (or, sadly, office) at late night and you are too hungry to go home and cook for yourself? Why don't drop by at these restaurants that open in odd hours and fill up your stomach with these delicious hot meals.
You can read more about other 24-hour restaurants and khao tom parlors in Bangkok.
Song Ped Palo is simply Ladprao's answer to Saengchai and Malaysia Hotel combined. This giant late-night food institution serves up everything you could imagine from a khao tom parlor. Don't miss out on the stewed duck, which is the place's claim to fame, the khai yuuyee (half-cooked fried egg) and their selection of stir-fried dishes.
Sukhumvit's favorite Chinese-style diner has been a favorite khao tom destination for odd-hour eating for years, thanks to its marvelous Thai-Chinese comfort dishes that go perfectly with plain rice congee.
This old-school, pocket-friendly khao tom parlor is popular among Thonglor's bar crawlers looking to sober up with a nice, comforting meal. Famous dishes include khung chae num pla (raw shrimp doused in fish sauce with spicy condiments) and fried cowslip with eggs.
This spot is a go-to for delicious Hainanese chicken rice that features aromatic rice cooked with chicken fat, tender and lean chicken pieces, and a spicy brown sauce.