Restaurants and cafés near Sanam Luang
Time Out Bangkok gathers you the best places to eat neat the royal funeral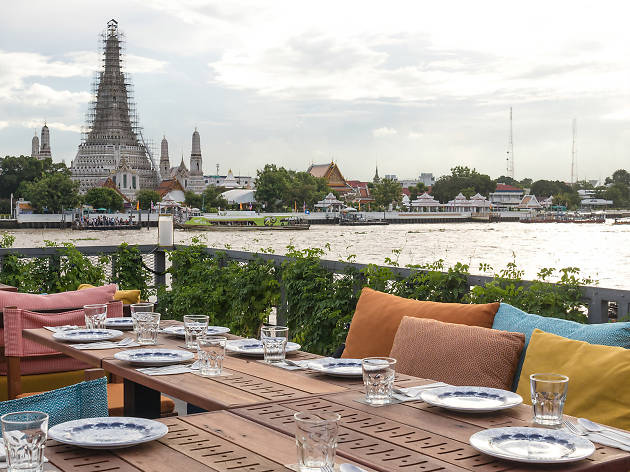 Check out these cafés and restaurants if you're heading to the old town to witness once-in-a-lifetime funeral ceremonies and the crematorium of His Majesty King Bhumibol later this month and in November.
This riverside outlet of the beloved Thai eatery is a collaboration with famed Thonglor coffeehouse Roots Coffee. Feast on a spectacular view of the recently-renovated Temple of Dawn, while enticing your palate with mouth-watering Thai delicacies from the Eastern region of the country such as heavenly pork stew with chamuang leaves and spicy crab roe relish and crab meat. Don't forget to try the innovative, Thai-inspired coffee creations.
Read more
The rooftop restaurant and bar of the boutique hotel Riva Arun serves up Thai cuisine with Western twists like grilled lobster with crab-speckled pasta in yellow curry sauce and wagyu beef glazed with spicy kee-mao sauce and served with truffle-infused mashed potato. Unmatched views of the bustling Chao Phraya River and the glistening Wat Pho added bonuses.
Read more
Serving a more casual take on Thai cuisine by one of Thailand's most revered chefs Bo Songvisava and Dylan Jones of Bo.lan, Err's mouth-watering local fare reflects Thailand's vibrant street culture like Isaan sausage, spicy green mango salad and crispy chicken skin with Sri Racha sauce.
Read more
Apart from offering a postcard-perfect view of Wat Arun, which has been featured in multiple Hollywood blockbusters, Sala Rattanakosin boutique hotel is known among locals and visitors for its delectable Thai and Western cuisine. Specialities include green mango salad with soft-shell crab, chicken in green curry and roasted whole baby chicken with chermoula. Climb up to the rooftop after your meal to take in the hustle and bustle of the Chao Phraya River.
Read more
One small alley in Ta Tien hides one of the best Vietnamese restaurants you could find in Bangkok. This shophouse restaurant with the minimal contemporary interiors is specialized in Northern and Central Vietnamese delicacies like nem nuong (meaty pork sausage wrapped in the crispy rice paper), cha tom (savoury sweet shrimpgrilled on a sugarcane stick) and banh beo (gooey steamed rice cake with grilled pork and shrimp). Try the Vietnamese coffee with egg yolk—simply delicious!
Read more
Across from Phra Sumen fort stands Escapade Burger & Shakes. Thai youngsters love that it serves great burgers, as well as cool cocktails specially prepared by a discerning mixologist. Try the black bun burgers to see why everyone keeps coming back to this place.
Read more
This always-packed Muslim establishment has been turning out amazing murtabak (flat and folded pancake stuffed with filling) for as long as we can remember. Grab one of the very limited seats and go for the spicy mutabark stuffed with a curry of your choice offset by sweet and sour cucumber relish. The restaurant also serves a selection of rice dishes like biryani rice laden with beef tongue stew and gai kor lae (grilled chicken doused in sweet and spicy red sauce).
Read more
This old-school khao tom restaurant, which is famous amongst night owls, has been churning out a selection of savory delicacies to go with gooey rice porridge. The crowd pleaser is a divine soup of braised chicken feet, as well as other Chinese-inspired delicacies like stir-fried morning glory and stir-fried minced pork with Chinese black olives.
Read more
Known for its Instagram-worthy interiors in different shades of blue, Blue Whale has been a go-to spot for casual eats and drinks in the old neighborhood. The most popular of all is the Smurf-blue latte that blends butterfly pea extract with milk, as well as other espresso variations.
Read more
Join the mixed crowd of office workers and travelers queuing up for a bowl of pho-inspired noodles during peak lunch hours. The house specialty is rice noodles (both gooey and firm) swimming in an intense pork broth topped with mouth-watering ingredients like Vietnamese pork sausage, pork ribs, quail eggs, Chinese mushroom and crispy fried shallots.
Read more
This branch of Kopi Hia-Tai-Gi near the Giant Swing has been serving grandpa's favorite style of coffee for more than 60 years. Enjoy old-school breakfast treats all-day in a space festooned with Chinese memorabilia fused with a contemporary touch. Choices include old-school fried egg in a skillet, soft-boiled eggs and toast, as well as other Thai delicacies such as kopi ("coffee" in Malay) which mixed coffee with condensed milk.
Read more
One of the most popular snack joints in the Old Town, this original branch of Mon Nom Sod—Bangkok's most famous milk institution—has been serving up fresh milk and milk tea for decades as you expect to queue up for seating. Apart from multiflavored milk, which you can buy in takeaway bottles, the café is also known for its indulgent grilled toast with toppings like chocolate, butter with condensed milk and strawberry jam.
Read more
This second branch of a familyfriendly streetside dining spot has been doing justice to its reputation for decades. You can follow the crowd and go for do-no-wrong dishes like kai foo poo, a fluffy omelet packed with crab meat, stir-fried mussels, basil and chili and served with big, succulent shellfish, and gaeng leung lai bua, a spice-heavy yellow curry with shrimp and lotus stems. Call to reserve in advance to avoid disappointment.
Take note, the establishment will be closed from 25 to 27 October.
Read more