The best khao chae restaurants in Bangkok
We list down our favorite restaurants offering the best khao chae, a traditional Thai dish serving in the hot summer months
The Thai Meteorological Department has just announced that Thailand was moving into the summer season. Cringe. A moment while we whack our heads against the wall and start putting aside money to pay for our soon-to-become-exorbitant electricity bills. Foodies, however, see this season as the chance to feast on their favorite Thai summer dish, khao chae.
Khao chae is a traditional Thai dish usually served during the hot summer months. Refashioned from a Mon dish a few hundred years ago, khao chae is steamed rice soaked in jasmine-scented water and served with mix-ins such as luk krapi (deep-fried shrimp paste balls), hom daeng yud sai (deep-fried shallots and shredded pork), prik yuak sod sai (egg-wrapped steamed green chili stuffed with minced pork) and moo foi (sweet shredded pork). The more toppings added, the merrier. Khao chae was, in the past, eaten only in the royal court and at the homes of the affluent because it required fine ingredients, culinary craft and a lot of time. Today, however, khao chae has become more common and is offered at many restaurants around town.
Why go? One of the best khao chae in the city served in an elegant dining room.
B490++/set. Until-31 May, 9.00-23.00. 6 Soi Kasemsan 2, Rama 1 Road, 02 612 3601. BTS National Stadium.
www.jimthompson.com
Why go? Because you never thought you'd see this Thai summer dish at The Okura Prestige Bangkok.
B525/set. 1-30 Apr, 12:00-22:30. The Okura Prestige Bangkok, 57 Witthayu Road, Lumphini, Pathum Wan, 02 687 9000. www.okurabangkok.com
Why go? For almost 40 years, Sa-nguan Sri has been serving delicious Thai fare, and is particularly known for their khao chae during the summer season. The rice treat here is good and cheap. The best deal, we would say.
B240/set. Ongoing until June, 10.00-15.00. 59/1 Wittayu Road, 02 251 9378.
Phavitch Theeraphong
Celadon, The Sukhothai Bangkok
Why go? Chef Rossarin at Celadon, the Thai restaurant in The Sukhothai Bangkok crafts one of the best khao chae and its savory ornaments. We particularly love the plungo doused in syrup served as a dessert.
B990/set. Ongoing until April, 11.30-15.00. Celadon at The Sukhothai Bangkok, South Sathorn Road.
Why go? This beautiful colonial-style boutique hotel is an Instagram-worthy spot for feasting on the summer treat.
B390/set. Until the end of summer, 11.00-22.00. 102/13 Kampaengphet 5 Road, 02 619 7430. www.baannaihotel.com
Photo credit: https://www.instagram.com/p/BRzvjXRBAXw/?
taken-at=241241912

Why go? This royal Thai restaurant offers authentic recipes inherited from the kitchens of Sukhothai Palace. The chef also makes the most beautiful prik yuak sod sai you'll ever see. Advance reservation is needed as they need time to create a menu.
B354/set. Ongoing, 11:30-15:00.Silom Rd, Silom, Bang Rak, 02 236 4361.
Why go? Savor luxurious khao chae set served amid luxurious setting of the hotel's restaurants, and with awesome river views.
B520/set. 1-15 April, 12:00-22.30 at The Lobby and 18:00-22:30 at Thiptara Restaurant. Charoen Nakhon Road, 0 2020 2888
Why go? Legendary hotel Dusit Thani serves up khao chae as part of its lunch buffet and weekend brunch, so it means you get to eat something else, too.
B1,250/person for a weekday lunch buffet and B2,900 for a weekend brunch. 9-20 April. 946 Rama IV Road, Silom, 0 2200 9000.
Why go? The St. Regis Bangkok's VIU Restaurant offers a traditional Thai summer dish for three days only. Savor soaked rice with old-school condiments with stunning greenery views of Bangkok Polo Club. There will be a jasmine garland-making workshop on 13 Apr.
B650/set. 13-15 Apr, 12:00-15.00. Ratchadamri Road, 0 2207 7777.
Why go? Chef Montri Jiratitikankit, the chef at the hotel's Smooth Curry Thai restaurant churns out a khao chae set that combines rice soaked in flower-scented cool water served with: shrimp paste ball, stuffed shallots, stuffed sweet peppers, shredded sweetened beef or pork, pickled turnips with egg, sweetened sun-dried fried fish, fried minced pork with salted fish, salted egg yolk with minced pork.
Until 30 Apr, 11:30-14:30 (Mon-Fri), 18:00-22:30 (daily). Witthayu Road, 0 2650 8800.
Why Go? Besides khao chae, Erawan Tea Room's chef Achara also whips up the summer specialties Mieng Platu (deep-fried mackerel with fresh vegetables, B290), Poo Lhon (crabmeat, coconut cream chili shallot and fresh vegetables, B320), geang kiew warn pla kray sod sai kai keam (green curry pla gray fish staff with salted egg yolk, B350), Goong Mea Nam Nueng Manao (steamed river prawn with chili lime sauce, B1,500)
B650/set. 2-22 April. Grand Hyatt Erawan Bangkok, 494 Rajdamri Road, 0 2254 1234. https://bangkok.grand.hyatt.com
Why go? Any khao chae lover wouldn't want to miss the offering at this dining institution. The summer delicacy is served in the restaurant's all-you-can-eat Thai buffet.
Take away B455/small set for two, B695/large set for four. 1-30 Apr, 12.00-14.30. Mandarin Oriental Bangkok, 48 Oriental Avenue, Soi Charoenkrung 40, 02 659 9000. www.mandarinoriental.com/bangkok
Why go? The khao chae here follows a traditional recipe. The luk krapi is worth looking into. Instead of only using shrimp paste as in other places, Kalpapruek reinvents the dish with a mix of snakehead fish, palm sugar and shrimp paste.
B320/set. Until-30 Apr. Mon-Sat 09:00-18:00 Sun 09:00-15:00. 27 Phramuan Road, Silom, Bangrak, 02 238 4002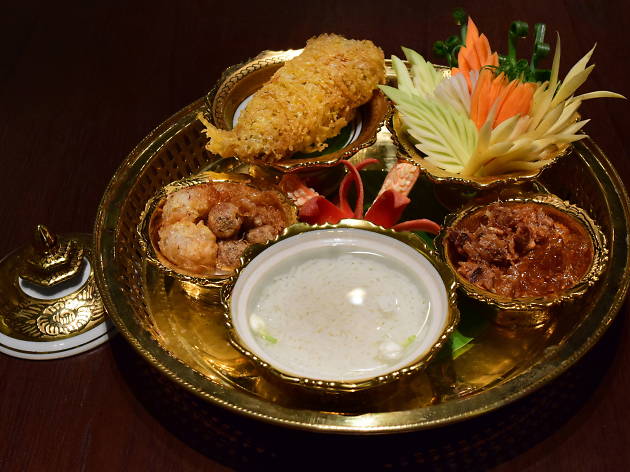 Why go? Khao chae from the old recipe since the reign of King Rama V is coming with the full course condiments serving in a fine dining restaurant.
B690++/set 1 April - 31 May, 12:00-22:30. Saneh Jaan, Glasshouse at Sindhorn, Wireless Road. 02-650-9880, www.sanehjaan.com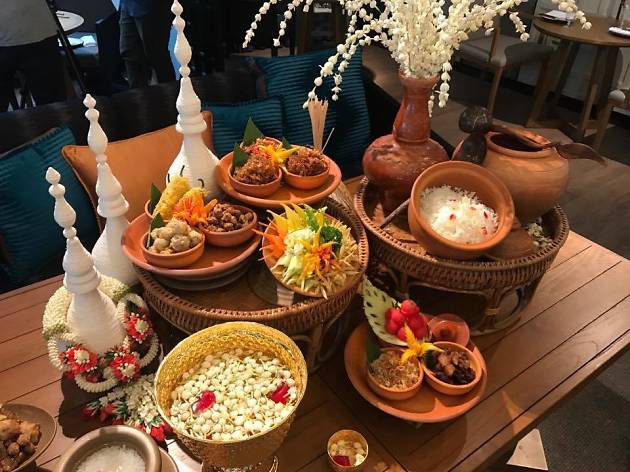 Why go?: Savor traditional Mon khao chae (B480/set) or khao chae buffet (B1,200).
1 April - 31 May, Siam Tea Room, Bangkok Marriott Marquis Queen's Park, Sukhumvit 22, 0 2059 5555, http://www.marriott.com
More to explore