Best places to Instagram in Bangkok [UPDATED]
Step up your Instagram game with this ultimate guide to best spots to take pictures in Bangkok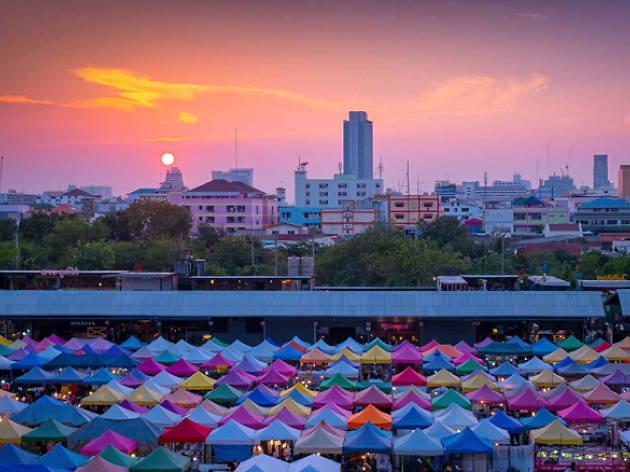 Food isn't the only thing Bangkok is best known for. The Thai capital is also praised for its diverse beauty in many forms. Amazing attractions? Checked. Colorful outdoor markets? Checked. Uber-cool shopping centers? Checked. Insta-worthy food at lovely cafes? Hell yeah. Most of which are photogenic, and that's the reason why Bangkok is always a haven for Instagrammers.
Get your phone at the ready, go out, and explore the city to step up your Insta-game. Don't know where to start? We've rounded up a list of the best places to Instagram in Bangkok for you.
In the city
Attractions, Religious buildings and sites
Seen on the TAT logo and 10-baht coin, this five-spired landmark has been known as the 'Temple of Dawn' ever since the soon-to-be King Taksin landed by the then Wat Magog at sunrise in October 1767. Briefly home to the Emerald Buddha, Wat Arun features a pair of yaksa (giant) statues, ceramic gables and 120 Buddha images. Don't rush a visit on a canal tour. Instead, access the temple via the public ferry from Tha Tien, and wander the temple grounds for as long as you wish.
Attractions, Religious buildings and sites
Sri Maha Mariamman Temple, better-known as Wat Khaek, is perhaps Bangkok's most recognizable—and most sacred—Hindu temple. Standing right on the corner of Pan and Silom roads, this boldly decorated house of worship, which was built almost 100 yearsago, enshrines statues of Hindu gods such as Uma Devi, Ganesha, Krisna, Vishnu and Rasmi.
Attractions, Religious buildings and sites
This vast temple houses the magnificent Reclining Buddha. Made from brick and gilded plaster, it measures 46 meters by 15 meters and depicts the posture of the Buddha while entering nirvana. The temple remains a repository of traditional medicine and nuad paen boran (ancient massage), and, until now, accommodates a massage school in its premises.
Attractions, Religious buildings and sites
The Grand Palace Bangkok's paramount must-see sight is this architectural and spiritual treasure, which is twice as dazzling if you see it on a sunny day. Ignore the gem touts claiming 'it's shut', and immerse yourself in the palace's palpable dignity (while observing the ban on sandals, shorts and bare shoulders).
Attractions, Parks and gardens
The Bangkok's answer to Central Park. Shaded running trails and lawn space here provide various excercising, a leisure activity, and relaxing afternoon picnics. And if you can come here on Sunday, from now until the last Sunday of February, Bangkok Symphony Orchestra is serenading the park-goers with legendary songs composed by King Rama IX for free.
Khlong Saen Saep is a canal in Bangkok, routing along Sukhumvit Road and connecting to Chao Phraya River. It is used for public transport by an express boat service that is super cheap and effective.
We have to warn you that it is so dirty and smelly, but it is useful and actually one of the fastest ways to commune from Siam to Thonglor.
Attractions, Parks and gardens
Converted from parts of The Tobacco Monopoly property, this 130-rai public greenery makes an excellent bike and jogging spot in downtown Bangkok. The skyscraper backdrop behind the artificial lake also makes a spectacular photo op.
Airplane Graveyard is probably one of the most underreated attrations, but it is definitly one of the most unique ones. Situated on Ramkamhang Road, the huge wasteland is home to decaying jets and their parts. Wander around the space and it's best to try not to touch anything. Some area are took over by local tenants making it place to live, so please respect their privacy.
Hua Lamphong Railway Station
Hua Lamphong Railway Station or Bangkok railway station is situated not too far from Siam. From here you can walk to Soi Nana Chinatown.
Known as one of the city's coolest streets at the moment, Soi Nana Chinatown offers a wide range of amazing cuisine, cool drinks, interesting art galleries and many more. Just a short distance from Charoen Krung Road, this charming street, once only known as home to a smattering of Chinese herbal shops, has been transformed into one of the most popular nightlife spots in Bangkok.
Yaowarat or China Town has long been the tourist's go-to for street eats, and a famous spot for pictures with dazzling neon lit signs.
The revival and global fame of Thai silk owes much to Jim Thompson, a US architect who came in Thailand at the end of World War II with the OSS (now the CIA) and settled. Thompson spotted the marketing potential of the declining silk weaving industry, then still practised by the Muslims of Baan Khrua, and used it to create a lucrative company selling luxurious fabrics and home decor. In 1959, he adapted six reassembled teak houses into a modern living compound. Now a museum in lush grounds, it exhibits Thompson's Asian artefacts and looks much like it did when he disappeared in Malaysia's Cameron Highlands in 1967.
This notorios Soi Cowboy is situated at the Asoke intersection, with more than 40 bars and go-go bars lined up along the short strip. it's a good eye-opening experience for those who visit Bangkok for the first time, and a good spot for pictures with colorful neon signs.
Situated in front of Esplanade Ratchada, the Train Market is a destination for foodies and shopaholics. Find the good angle and shoot your pictures before hunting down munchies and items you are looking for.
Khao San Road is definity on the list of places to visit in Bangkok. With tons of bars lined up along the road, loud music and cheap bucket drinks, Khao San Road is known for a place where you get to party like crazy. This place can be a good spot for pictures also, as neon signs will be lit up at night creating the fun party vibe and you get to go drink after uploading that perfect Instagram feed.
Out of town
Things to do, Walks and tours
This protected wooded peninsula formed by an oxbow in the river lies in the Samut Prakarn province. It feels like the countryside, yet lies just 15 mins by road and ferry from the Khlong Toei MRT. One of the best ways to explore Bang Kra Jao, also called Bangkok's "green lung" is by bicycle.
The park situated on the other side of the bank offers long jogging tracks and magnificent view of the Bhumibol Bridge.
Maeklong Railway Market (Talad Rom Hub)
Located just one hour from Bangkok, this local market stands out from the rest because of its unique feature. It actually sits by the railway near Maeklong Railway Station, so trains will run through the market while you shop, and that makes it exciting and interesting for your Instagram pictures.
Things to do, Markets and fairs
This 50-kilometer long market is one of Thailand's most famous floating markets, apart from Damnoen Saduak. Here, you'll get to try autentic Thai food made by local vendors, and hop on one of the longtail boats to explore nearby area.
Things to do, Markets and fairs
Khlong Lat Mayom is located not too far from Bangkok. It's just 15 minutes away from Bang Wa BTS station. The market is not as crowded as the famous
Amphawa and
Damnoen Saduak floating markets, but it's equally charming.
Attractions, Historic buildings and sites
The sculpture of Chang Erawan and elegant architecture of Erawan Museum in Samut Prakan, where you can just take the BTS ride and jump off at Chang Erawan station.