Discover different sides of Bangkok on these five bus routes.
Get on the classic ride and discover different sides of Bangkok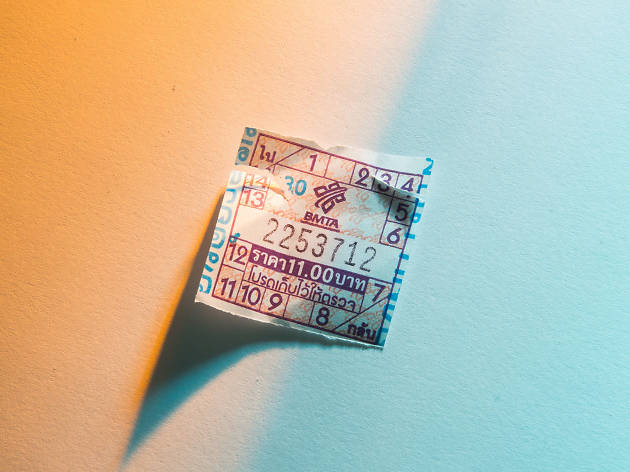 With the hellish traffic and the BMTA constantly messing up the city's public transportation system (read our last issue as a reminder), Bangkok buses are not really ideal for daily commuting. But when it comes to leisurely purposes, these massive street patrollers ain't that bad. The fares are quite cheap (especially when compared to skyrocketing BTS fares), and buses can take you to places that are inaccessible by trains, where taxis won't go, and parking is non-existent. To show you how to make the most out of the city's existing public bus routes (with hopes someone up there would be wise enough to make the service better), our writers roamed the streets of the city on these giant vehicles—and discovered five routes worth exploring. Let's get on the bus!
Route: Discover Bangkok off the beaten track
Route: A foodie's journey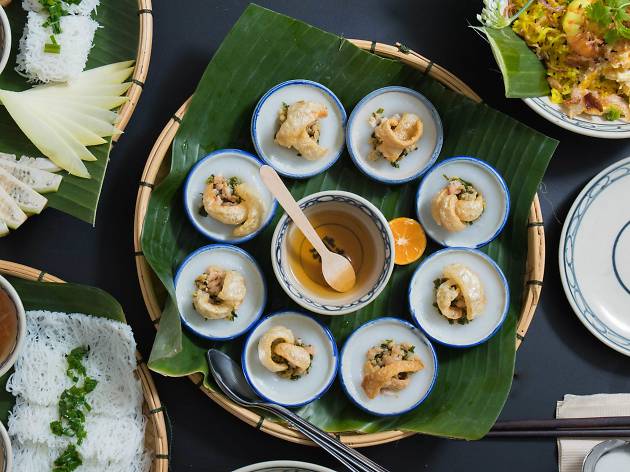 Start: Siam End: Tha Thien Pier
Bangkok is known for its selection of delectable cuisine, from lip-smacking, street-vendor chow to enticing restaurant fare. Hop on a local bus and indulge in the dishes each of the city's most vibrant neighborhoods are known for. By Sopida Rodsom
Grassroom Bangkok
Bangkok's major shopping area is also home to some of the city's most notable restaurants as well as local street food. Some of the newest openings worth checking out include Jeib Rod-Dee-Det, an uber-modern outpost of a famous old-school noodle shop that has been serving comfort Thai-Chinese dishes since 1969. Don't miss to check out Grassroom, Siam's latest trendy eatery that whips up Asian-inspired food amidst a relaxed setting reminiscent of the backyard of a suburban New York home.
Jeib Rod-Dee-Det: Siam Square Soi 2. 09 2654 4654. Open daily 9:00 - 21:00
Grassroom: Siam Square 2. 06 2176 7899. Open Mon-Thu 11:30-21:30, Fri-Sun 11:00-22:00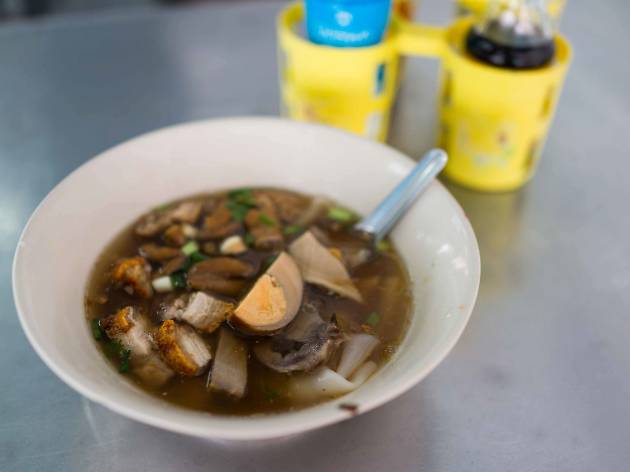 Take bus no. 25 and get off at Samyan, a nearby community that's another food lover's haven. The area is open (almost) around the clock and has everything for everyone (at very friendly prices at that), from a filling rice congee for students about to go to class to a nice seafood buffet employees can enjoy after work. Our top picks are Guay Chub Sam Yan (Chula Soi 50. Open daily 6:00-13:00), a long-standing eatery that has long catered to Chulalongkorn students who come for the tasty guay chub (Chinese-style assorted pork soup), and Joke Sam Yan, a 60-year-old congee parlor serving the glutinous rice dish with various types of condiments including minced pork and preserved eggs.
Guay Chub Sam Yan: Chula Soi 50. Open daily 6:00-13:00
Joke Sam Yan: Chula Soi 11. Open 5:00-9:00, 15:30-20:00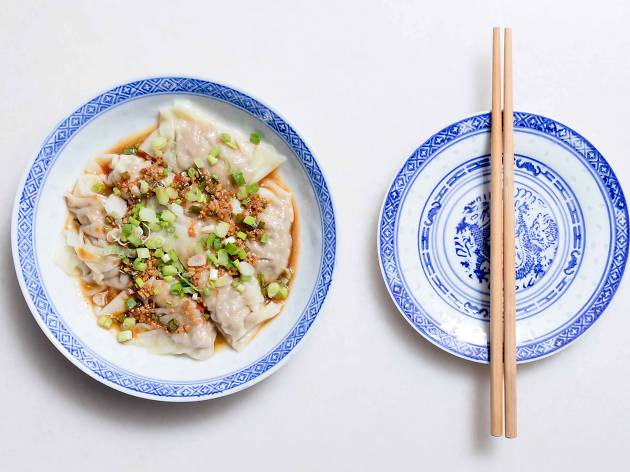 Bus no. 25 also takes you to Chinatown, long known as Bangkok's food paradise. Start your Yaowarat adventure at Guay Chub Auan Phochana or Guay Chub Nai X, two tourist-friendly eateries that dole out chewy rolled noodles in a fragrant peppery broth. Seafood is also a thing in Yaowarat. The two most famous rival restaurants are T&K Seafood (their employees wear a green apron) and Lek&Rut Seafood (red apron). Their menus are quite similar, both offering fresh seafood grilled or cooked to your liking. Walk a little further to Soi Nana (not the one in Sukhumvit), the now-hip nightlife district, to check out some of Bangkok's hippest bars such as Chinese-themed watering hole Ba Hao, Asian-inspired beer bar Pijiu and Tep Bar, where Thai-influenced cocktails, food, and music are brought to the fore.
Guay Chub Auan Phochana: China Town Rama Theatre. Open Tue-Sat 18:00-3:00, Sun 18:00-24:00
Guay Chub Nai X: Yaowarat Soi 9. Open daily 8:00-1:00
T&K Seafood: Phadung Dao Road. Open 16:30-2:00
Lek&Rut Seafood: Phadung Dao Road. Open Mon-Sat 17:30-2:00
Ba Hao: 8 Soi Nana. 09 1846 9659. Open Tue-Sun 18:30-24:00
Pijiu: 16 Soi Nana.08 1839 2832. Open Tue-Sun 18:00-24:00
Tep Bar: 69-71 Soi Nana, 09 8467 2944. Open daily 17:00-1:00
Alternatively, foodies with a sweet tooth can go on bus no. 4 from here. This bus takes you to Talad Plu Market, one of Bangkok's oldest markets where many rare Thai sweets can be sampled. Here, the 65-year-old Kanom Whan Talad Plu sells banana leaf-wrapped traditional desserts, from foy thong (golden threads) to sang kaya (egg custard). If you're looking for something refreshing, Ni-Ang is famous for its ice cream mixed with raw egg yolk.
Kanom Whan Talad Plu: Toed Thai 25. Open daily 9:30- 18:00
Ni-Ang: Teod Thai 29. Open daily 17:00-2:00
From Yaowarat, bus no. 25 can take you to Tha Thien Pier. The neighborhood that was once famous for housing some of the city's best cultural attractions is now mushrooming with chic cafes and restaurants. Boutique hotel Riva Arun has recently introduced a new rooftop eatery called Above Riva. Other notable eateries include Tonkin-Annam, where you can feast on authentic Vietnamese fare, and hipster haven Blue Whale Maharaj, which offers cool drinks and cooler interiors. The newest kid joining the block is Supanniga Eating Room x Roots Coffee, a riverside collaboration between popular Thai restaurant Supanniga and Roots Coffee, offering some of the best Thai
treats along with the finest coffee brews, plus gorgeous views of Wat Arun. If you haven't had enough for the day, get on the same bus which runs you back to Thonglor and Ekkamai, ground zero for some of the city's best cocktail bars.
Above Riva: 392/25-26 Maharaj Road. 0 2221 1188. Open daily 18:00-23:30
Tonkin-Annam: 69 Soi Tha Thien. 09 3469 2969. Open Wed-Mon 10:00-20:00
Blue Whale Maharaj: 397/37 Maharaj Road. 08 1926 4146. Open Fri-Wed 10:00-20:00
Supanniga Eating Room x Roots Coffee: 392/25-26 Soi Penpat 1. 0 2015 4224. Open daily 11:30-22:30
Route: Bangkok for first-timers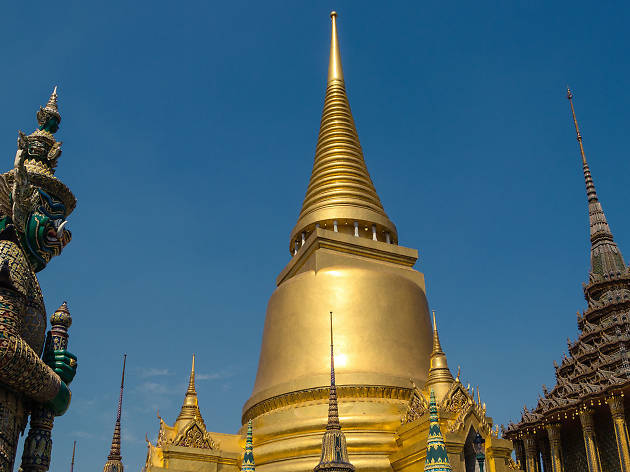 Sereechai Puttes
Start: Deves (circle line)
The bus can also be one the easiest and most adventurous, way to see the city for those visiting Bangkok for the first time. Hop on bus no. 53, which runs a circle line from Rattanakosin Island (aka Bangkok old town) and passes through famous cultural sites such as Wat Phra Kaew as well as Wat Pho. By Natnaree Rawatchai and Rattanakon Klayvimut
Shopping, Shopping centers
The new community mall is an ideal spot for grabbing refreshing drinks and comfort bites before you start a day tour around the old quarter.
Tha Maharaj: 1/11 Trok Maharaj. 0 2024 1393. Open 11:15-22:00
Attractions, Religious buildings and sites
Bangkok's paramount must-see sight is this architectural and spiritual treasure, which is twice as dazzling if you see it on a sunny day. Built in 1782 and modified by each king in Chakri Dynasty, the Grand Palace is a massive complex of grandiose structures and remains the kingdom's holiest landmark. Located inside the compound is Wat Phra Kaew or the temple of the Emerald Buddha. The highly-revered temple hosts mostly ceremonial rituals as there are no resident monks.
Grand Palace: Na Phra Lan Road. Open daily 8:30-16:00
Attractions, Religious buildings and sites
This vast temple houses the magnificent Reclining Buddha, a golden structure that measures 46 by 15 meters. It depicts the posture of the Buddha while entering nirvana. Wat Pho is said to have been Thailand's "first university," as evidenced by ancient inscriptions on temple walls that give lessons on astrology, history, literature and, famously, massage pressure points. The temple remains a repository of traditional medicine and ancient massage, and, until now, accommodates a massage school in its premises.
Wat Pho: Sanamchai Road. Open 8:30-18:30
Things to do, Markets and fairs
Continue your journey on bus no. 47, which takes you to Thailand's largest and most vibrant flower market. Marvel at how flower vendors buy and sell their wares as if everything is being orchestrated by an invisible conductor. We suggest going before dawn when flowers from every corner of the world arrive. Right behind the flower market is Yodpiman River Walk, a new vintage-style community mall offering dining and drinking spots with amazing water views.
Pak Klong Talad Flower Market: Wang Burapha Phirom. Open 24 hours
Yodpiman River Walk: Pak Klong Talad. 0 2623 6851. Open 11:30-23:00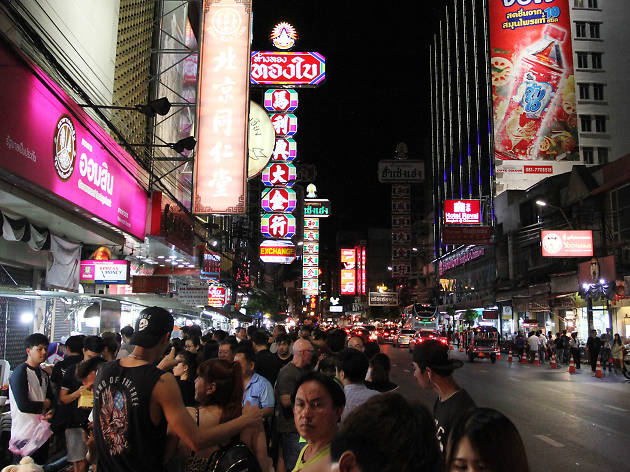 Your first trip to Bangkok wouldn't be complete without a visit to the street food paradise of Chinatown. Open around the clock, Yaowarat peddles food options aplenty, from local Thai grub to authentic Chinese cuisine to old-school sweet treats.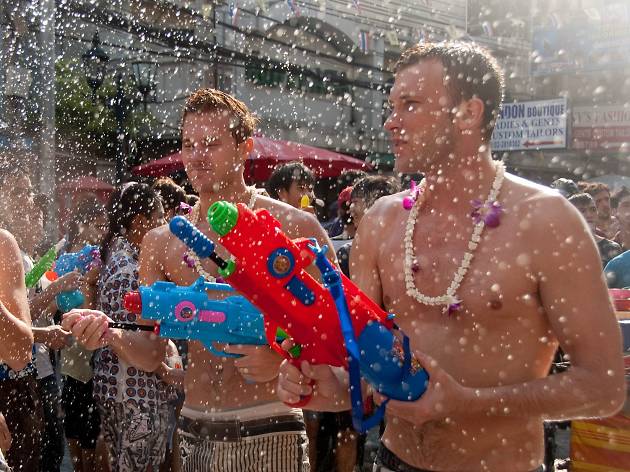 Tourism Authority of Thailand
While traveling on bus no. 53, you can switch to bus no. 15, which makes a stop at some of the city's most recognized attractions, including The National Theater, Tha Phra Atit Pier and Pom Phra Sumen Fort. Bus no. 15 also takes you to Khao San Road, Bangkok's infamous backpacker haunt.
Bus no.15 also takes you across town to Asiatique The Riverfront, the massive shopping arcade on the banks of Chaophraya River. Get your shopping fix at more 1,500 boutiques, dine at 40 restaurants and enjoy world-class entertainment shows including Thai boxing, a cabaret act and a Thai puppet show.
Asiatique The Riverfront: Charoen Krung Soi 72-76. 0 2108 4488. Open 16:00-24:00
Route: Down-to-earth shopping adventure