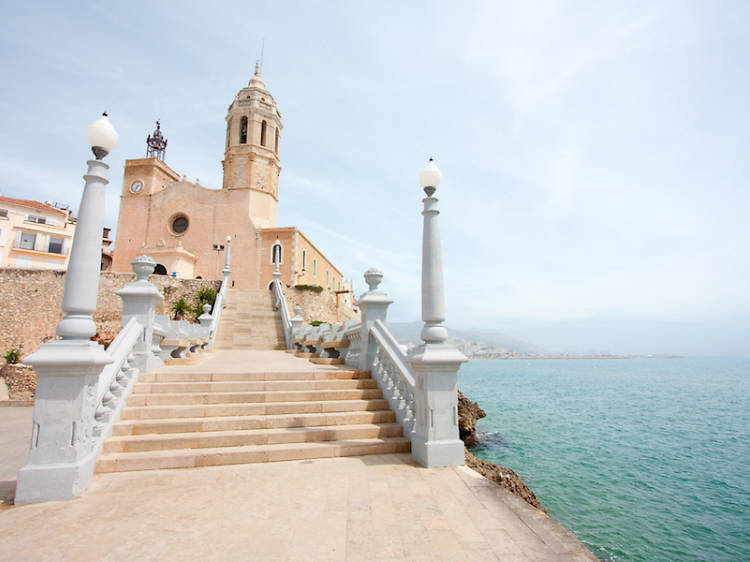 Photo: Carlos A. Oliveras
Sitges
This coastal town is adored by Barcelona residents looking for an easy escape from the city (it's about half an hour away by train) where they're guaranteed a slower pace of life, a gorgeous seafront and excellent eating. The heart of Sitges is pedestrianised and home to numerous bars, restaurants and shops, but most visitors spend at least some time in the town at the beach – if not actually on the sand or in the sea, then strolling along the lengthy palm tree–lined promenade that extends on both sides of the town's emblematic Sant Bartomeu i Santa Tecla church (pictured here). Enjoy a drink in a bar overlooking the water, watch the boats bob along, and feast your eyes on the stunning houses built by local businessmen who made their fortune in the Caribbean in the late 19th and early 20th centuries. Sitges also has a long cultural heritage, with its special light and inherent beauty attracting numerous artists of the Luminista school, such as Santiago Rusiñol, from the end of the 19th century.
EAT: Owned by the president of the local Slow Food Association, La Salseta specialises in fresh, seasonal dishes made using regional ingredients. Discover traditional recipes and contemporary innovations in this restaurant that's located in a side street just a few steps from the beach.
DRINK: Thanks in no small part to its popularity with the LGBTI community, Sitges has a really buzzing nightlife, and you'll have no trouble finding a place for a drink there. The renowned 'Street of Sin' (real name, Carrer Primer de Maig) has various spots ideal for people-watching while enjoying a cocktail or glass of wine.
DO: Get a dose of the artistic side of Sitges at Palau Maricel and the adjoining museum of the same name. Constructed between 1910 and 1918 at the behest of US magnate Charles Deering (who wanted a home for himself and his artworks), its modernista style is elaborate and colourful, while the upstairs cloister provides a spectacular vista of the Mediterranean.
STAY: With a fabulous location overlooking the sea, the three-star Hotel Platjador is a great choice if you decide to extend your trip to Sitges. Free WiFi, an outdoor pool and DVD players in all the rooms are among the services on offer. And if you find it full, the owners have two other hotels in town.
If you just do one thing... Eat a rice dish in a beachfront restaurant such as El Mascaron. It's wise to book ahead, especially at the weekend, and well worth doing so you can enjoy a delicious meal while appreciating the meditative, relaxing effects of that sparkling blue sea.