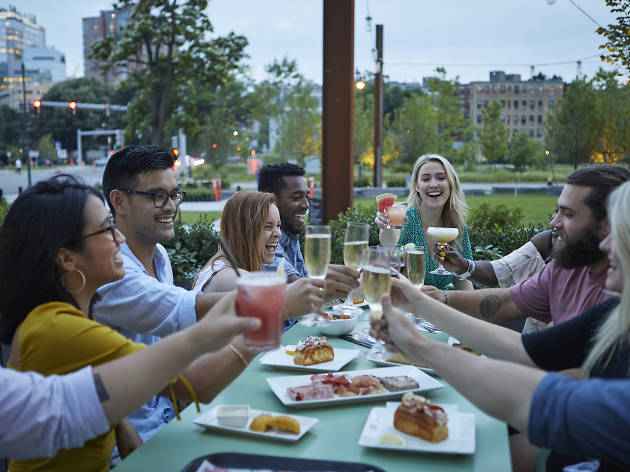 Set your feed on fire: What to post from Time Out Market Boston
Here's a look at the top dishes and Market locales you'll want to add to your social feed.
Posted: Wednesday September 16 2020, 2:06pm
Give your feed a boost with some seriously 'Gram-worthy bites at Time Out Market Boston, the best-looking spot for fine food and drink in all of the Hub. The stunning space, which anchors the revitalized 401 Park complex in the Fenway, houses a tasty collection of eateries run by some of the city's most lauded chefs and restaurants. With lots of open space, strong lighting and a buzzy atmosphere, the huge interior provides a perfect backdrop for taking pics of artfully composed dishes and gourmet bites that are guaranteed to inspire food envy. Not sure what to post from your visit? Here's a look at the best options that are sure to thrill your followers and bring in the likes:
At more than 6,000 sq ft, Time Out Market Boston's wrap-around outdoor space is one of the city's biggest, and coolest, spots for alfresco dining. Post proof of an outdoor foodie feast with your crew and you're bound to make everyone jealous:
Remember to post a pic of the Market's enhanced safety protocols to let everyone know you're dining out in a safe and responsible fashion:
Libation lovers are well served at Time Out Market. There are two slick bars and lots of enticing drink options, from some of the region's most sought-after beers to craft cocktails:
But at the end of the day, the undisputed star of the show at Time Out Market Boston is the amazing food on offer. We're talking colorful, healthful fare from anoush'ella:
Take it from us, if you're unsure which cuisine type to go with and your goal is to rack up some likes, going with Italian is always a wise choice. When it comes to enticing pasta dishes at Time Out Market, Michael Schlow's has you covered:
Anytime you get to be among the first wave to post proof of a visit to a new concept from a culinary trailblazer like Jody Adams, you have to do it. Give your feed a burst of Mediterranean flair with a pic of Greek Street's gorgeous Greek fare:
Timing's always a crucial part of knowing when to post. If you want to impress your audience and let them know you're starting your weekend the right way, post one of Mamaleh's picture-perfect deli treats:
Posting pizza pics is always a smart move, especially when the pies in question come from the mind of culinary maestro Michael Schlow via his Monti Roman Pizzeria:
Post some pics from Revolution Health Kitchen and your feed will scream: "Look at my nutritious, calorie-conscious dining choice!"
Lots of culinary enthusiasts post proof of their triumphant sandwich finds. BISq serves up gourmet fried chicken and some of the Fenway's most photogenic sandwiches:
Don't leave without ordering from the city's hottest new burger purveyors, Nu Burger:
Or maybe you won't be able to resist sinking your teeth into one of these edible masterpieces from the Market's newest culinary attraction, Cusser's Roast Beef & Seafood:
Finally, remember to leave them with something sweet by posting a pic of a colorful cup of creamy gelato from Gelato & Chill:
Or, if circular treats are your thing, opt for Union Square Donuts' edible masterpieces:
Just remember: If you don't post it, it didn't happen!
(Photo: Courtesy stillcutedough)
Stay tuned to Time Out Boston for the latest news and updates on the Market!
Share the story