The best winter activities in Boston
Enjoy the coziest time of the year with these brisk things to do in Boston in the winter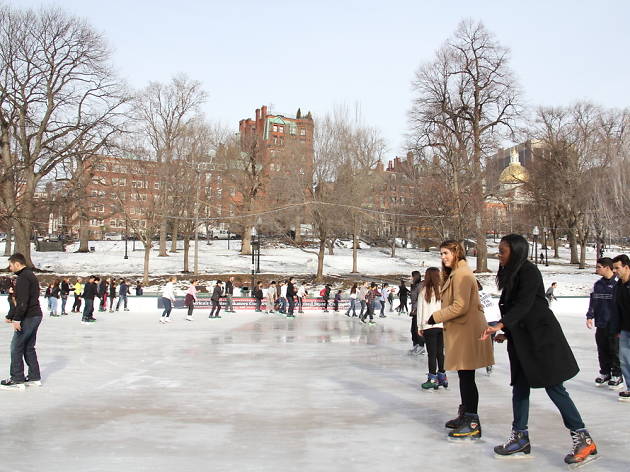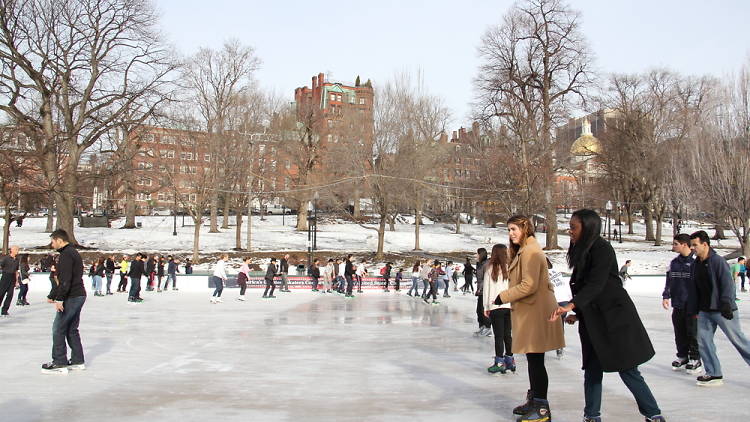 Best winter activities in Boston
Boston has plenty of ice skating rinks, from outdoor options like the Frog Pond to cutting edge indoor rinks like the Warrior Ice Arena. Whether you can triple salchow or are a bit wobbly, lacing up a pair of skates and hitting the ice is a winter must. Find your rink on our list of the best ice skating rinks in Boston.
Attractions, Parks and gardens
For a taste of winter sports without the extreme speeds, hit the gentle slopes of Boston Common, once a few inches of snow have accumulated. It's BYO sled, of course, but any old sled will do. Otherwise, just take a good roll down a hill and then make snow angels. Tip: It's also a good place for friendly snowball fights.
Attractions, Parks and gardens
The Arnold Arboretum is open year round, and after a good snowfall it's a peaceful winter wonderland. Listen to the snow crunch beneath your feet and breathe in the cold air. Even trees without leaves can be beautiful!
Things to do, Sport events
When the Sox are away, some of the toughest skaters in the world will come out to play. Red Bull brings this extreme ice skating competition to Fenway Park in February. Watch as skaters reach speeds of up to 50 mph as they race down a steep downhill track.
Feb 8-9
Attractions, Parks and gardens
Just outside of the city is the 7,000-acre Blue Hills Reservation. While avid skiers won't be wowed by the modest downhill runs, there's plenty of opportunity for cross-country skiing. More than 100 miles of trails allow plenty of opportunity to enjoy a heart-pumping trek through snowy forest. There are loops of varying degrees of difficulty, from 1-4 miles, so skiers of all levels can enjoy.
Chocolate lovers rejoice: a highlight of winter is the Harvard Square Taste of Chocolate Weekend. Throughout the weekend, restaurants in the area add chocolate appetizers, entrees, desserts, and cocktails to their menus. Retailers offer chocolate treats. The free Chocolate Tasting Event in Brattle Plaza features chocolate creations from some of the best restaurants in the Square.
Jan 26-28
7
Photograph: Courtesy Yelp/Jonathan P.
Go snowshoeing at Gore Place
When there's enough snow on the ground, head to Gore Place where you can rent snowshoes. The estate has 50 acres to explore. It's fun for all ages, and a great workout.
For a wintry take on high tea, head to the Langham for Snowflake Tea. The lobby lounge will be transformed into a winter wonderland, and tea will include seasonal variations on classic sandwiches, cakes, scones, and teas (like Holiday Ham, Snowball Truffles, and Frosty Peppermint Cocoa Cupcakes). A children's menu is also available. On Fridays, Saturdays, and Sundays, Snowflake Tea will feature seasonal songs performed by a pianist.
Nov 24-Feb 7, $55pp/$35 children 5-12
Attractions, Towers and viewpoints
When it's too cold to trudge around in the snow, you can still experience its beauty… while staying warm inside, 750 feet above the city. The Skywalk Observatory atop the Prudential Center offers 360-degree views. If it's a clear day, you can see as far as 80 miles away. Enjoy beautiful views of the snow-covered city and the frozen Charles River without catching a chill.
Shopping, Sports gear & clothing
For sailing enthusiasts who refuse to quit in cold temps, or for people who just love the feeling of frozen extremities, the Boston Sailing Center offers Frostbite Racing in the winter. Fleet racing is held on Saturday afternoons from November to March. After a long day of racing, there's hot chili to warm up.
Things to do, Sport events
Though the Sox are on hiatus, you can still feel excitement of a game on a Fenway Park tour. Tours are held year-round, even in the snow.
There's no better way to warm up after playing in the snow than a steaming cup of hot chocolate. Fortunately there are plenty of places around the city where you can enjoy this rich treat. Whether it's classic hot chocolate with a dollop of whipped cream at LA Burdick, a spicy, chile-tinged cup at Flour, or a French-style, melted chocolate version at Thinking Cup, you'll find a variety of ways to warm up with our list of the best hot chocolate in Boston.