The best cocktail bars in Boston
Boston is filled with excellent cocktail bars, whether you're after a perfectly shaken martini or more creative sips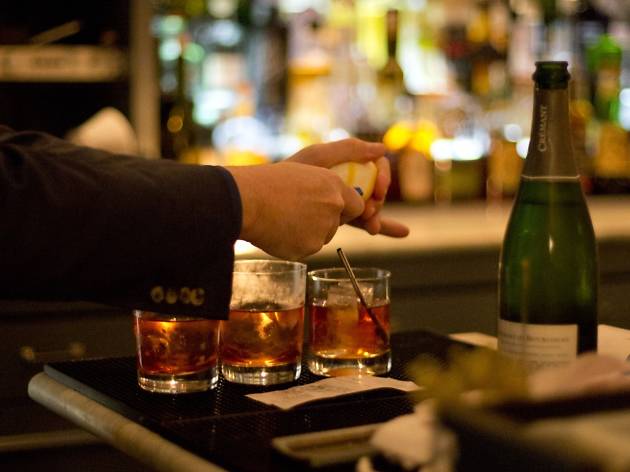 The international cocktail renaissance has shaken up the city's once-staid bar scene. There was a time when Boston was better known for Irish pubs and dive bars, and upscale watering holes were largely confined to hotels. These days, Boston's cocktail bars offer everything from fresh herb infusions to barrel-aged concoctions, but it's not all about seasonal ingredients and cutting-edge experimentation. Some of the best Boston bars concentrate on getting the simple things right, like an impeccable dry martini.

RECOMMENDED: See the full list of the best Boston bars
Best cocktail bars in Boston
1
This hidden sister bar to popular restaurant Journeyman is best found by looking for the disoriented would-be patrons wandering the parking lot between neighbors Bronwyn and the Independent. Once you find yourself inside, you'll be treated to outstanding service and meticulously crafted cocktails while seated at low-key wooden block tables. Show up early or make reservations—staff will make people wait rather than letting them crowd the space.
Read more
2
It's still just as hard to find as its predecessor, the Enormous Room, but once you head through the nondescript door and up the stairs, the similarities end. A giant horseshoe-shaped bar and ample bar stool seating have replaced the low, rug-clad seating platforms and hybrid drink/bathroom line. The cocktails shine and the bar snacks (which include bacon-wrapped dates and deep fried house made pickles) are done just right.
Read more
3
This underground bar has been firmly planted at the top of local and national cocktail-enthusiasts' must-see lists for the personal approach to mixology. Master bartenders present patrons not with a menu but with an ear to listen to each imbiber's preferences, crafting artisinal tipples from their stock of premium spirits and mixers.
Read more
4
Jackson Cannon might well have started it all. When the onetime musician took over the bar program at this hotel restaurant, he changed the city's entire cocktail scene by committing to only the finest ingredients and techniques. Fresh juices, house-made infusions and impeccably sourced liquors and bitters translate to a massive drink menu that is seasonally inspired and populated by reimagined classics as well as more unconventional offerings. Don't bypass the wine and beer lists, either, as both are surprisingly expansive.
Book now
Read more
6
The long narrow bar area becomes a pile of people and high tops at peak hours—show up for last call or on school nights for optimal results. The menu's cocktail list has plenty to choose from, but if you're not overwhelmed by options, ask the bartender for the "special" cocktail binder for hundreds of more options.
Read more
7
The Hawthorne is a swanky lounge spread over several subterranean rooms in the Hotel Commonwealth. It can be difficult to find a free space on one of the spot's many couches, but the classic cocktails and variety of small plates are worth the wait. The soft pretzel with bourbon mustard pairs well with nearly everything.
Read more
8
The only struggle is finding a place to stand at this Downtown Crossing bar, which can run four people deep on the weekends. No, wait, the only real struggle is choosing what to drink, given options like Bobby's Bones (bone marrow-fat washed scotch, punt e mes, benedictine, angostura) and the Hulk Smash (green chartreuse, lemon, mint), meticulously prepared by a handlebar-mustachioed bartender. Traditionalists will be doubly heartened by the classic cocktail selection and the attendant $9 price tag.
Read more
9
Taking over the subterranean digs of former Harvard Square institution Casablanca, the expansive Alden & Harlow has plenty of space for eating and drinking between brick walls lined with reclaimed wood and vintage cookbooks. The cocktails echo the modern American fare, with ingredients like parsnip puree, honeyed kumquat and fennel infused lillet.
Book now
Read more
10
Whether or not you're drawn in by the '60s bohemian theme, there's plenty to like about the Beat Hotel. Like its South End sister the Beehive, this retreat from the bustle of Brattle Street features thoughtful cocktails and daily live music in a cavernous room with plenty of space for all.
Book now
Read more
Show more