21 new fall cocktails to try
This season, Chicago bartenders are mixing up fall cocktails with cider, apple brandy, figs and grapes. One spot is even serving a cocktail inside a giant pumpkin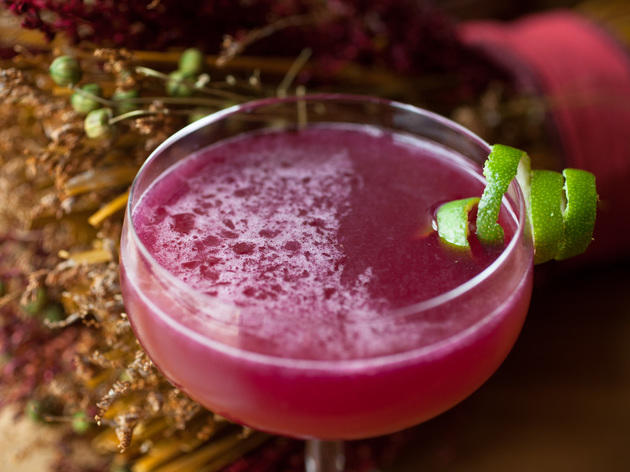 1/21
Photograph: Martha Williams
Grape Gimlet at VeraThe Spanish restaurant's fall cocktail list includes the Grape Gimlet, which sommelier/owner Liz Mendez makes with Concord grapes from Michigan's Mick Klug Farm. Mendez adds the grape syrup to Small's Gin and lime juice for a sweet and tart cocktail.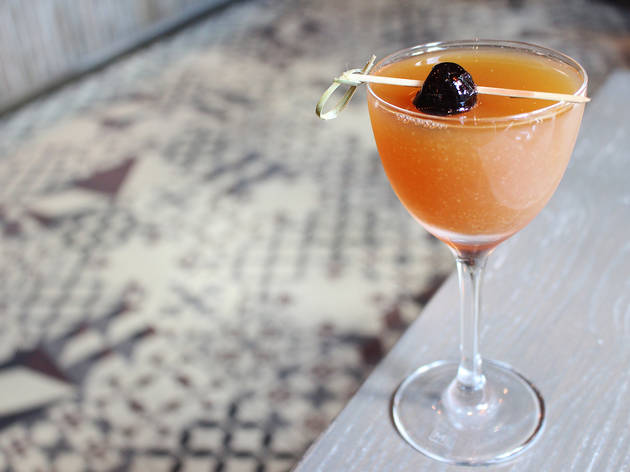 2/21
Photograph: Chloe List
Bella Mela at Nico OsteriaBella Mela, from Nico bartender Matty Eggleston, means "beautiful apple" in Italian, and it's a very autumnal combination of apple brandy, vermouth, orange peel liqueur, apple cider and chocolate bitters.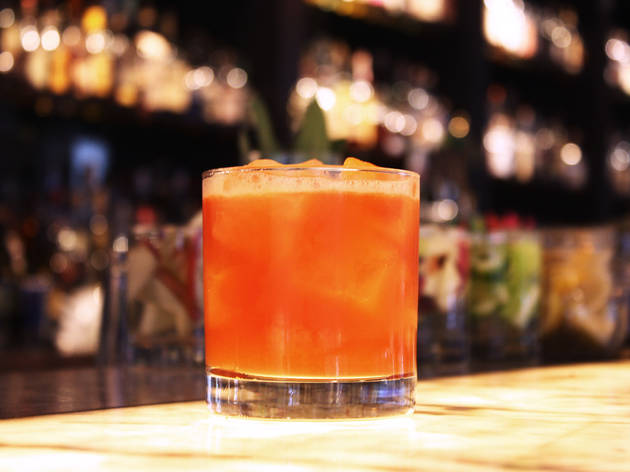 3/21
Photograph courtesy Sable
Gravity Storm at Sable Kitchen & BarSable bartender Chris Cavarra's cocktail is made with apple brandy, vermouth, cinnamon-cranberry syrup, lemon and Fee's Old Fashioned Bitters, and shaken and poured over ice.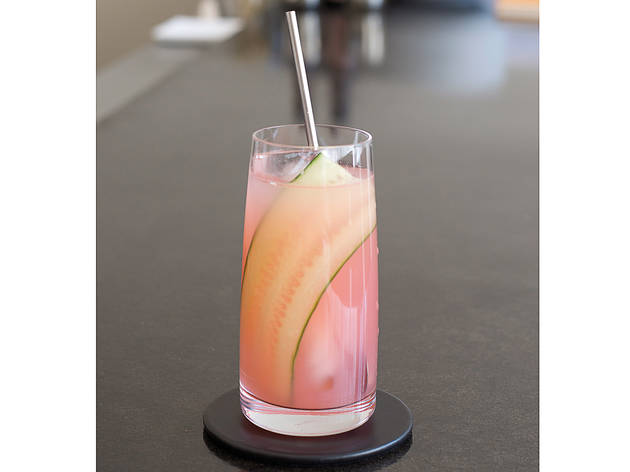 4/21
Photograph courtesy Acadia
Smashin' at AcadiaCrab apples are the star of bartender Arunas Bruzas's cocktail; he muddles the fruit to make a crab apple and mint soda, then adds gin and Aperol.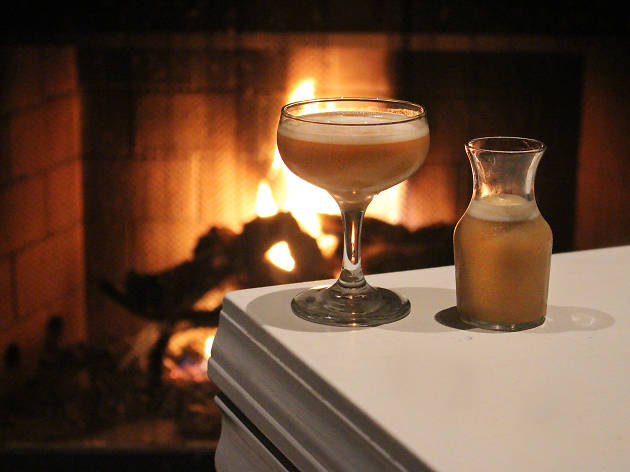 5/21
Photograph: Chloe List
Mary in the Library at the Violet HourBartender Patrick Smith's rich, creamy cocktail uses Unicum Plum, a Hungarian bitter liqueur that's aged with plums, along with gin, chocolate liqueur, egg and nutmeg.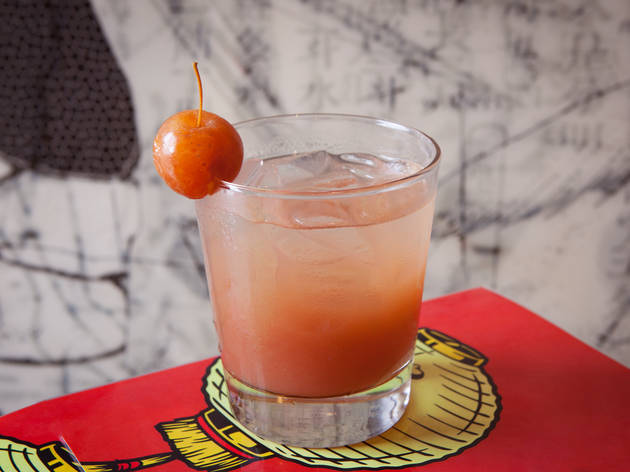 6/21
Photograph: Martha Williams
Pie-Eyed in Polynesia at Fat Rice Fat Rice's tiki-inspired fall cocktail begins with a base of equal parts rum and apple cider, then adds sherry, maraschino liqueur, lemon, and both Angostura and Bittercube Cherry Bark & Vanilla Bitters. It's garnished with a pickled crab apple.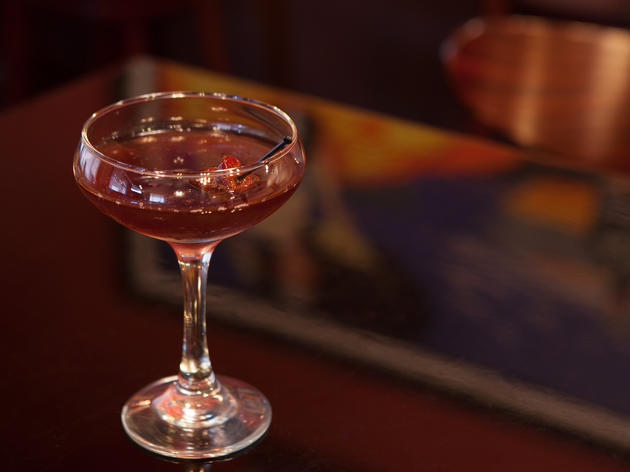 7/21
Photograph: Martha Williams
A Couple Few Figs at FountainheadFountainhead has a great whiskey selection, and this fall it's infusing FEW Bourbon with figs, then adding ruby port, maple syrup and angostura bitters to round out the cocktail. It's garnished with a maple syrup and bourbon–soaked sour cherry.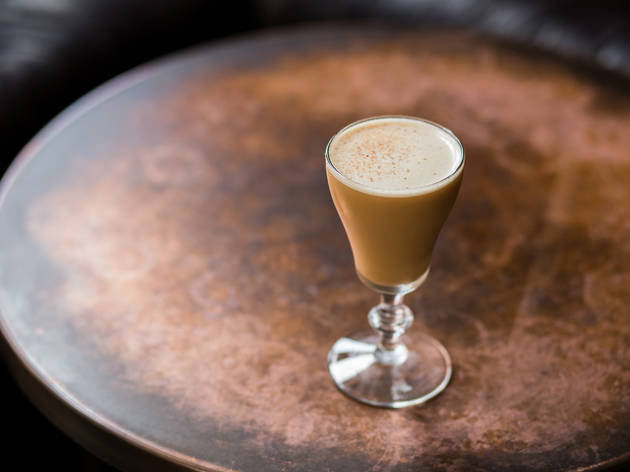 8/21
Photograph: Katie Basil
Fear and Desire at DrumbarInspired by corn pudding, Drumbar's new fall cocktail starts with roasted corn–infused mezcal. Added to that are a couple of amari, vanilla, salt, an egg and Angostura bitters, which add bitterness and roundess. It's finished off with a sprinkle of grated cinnamon.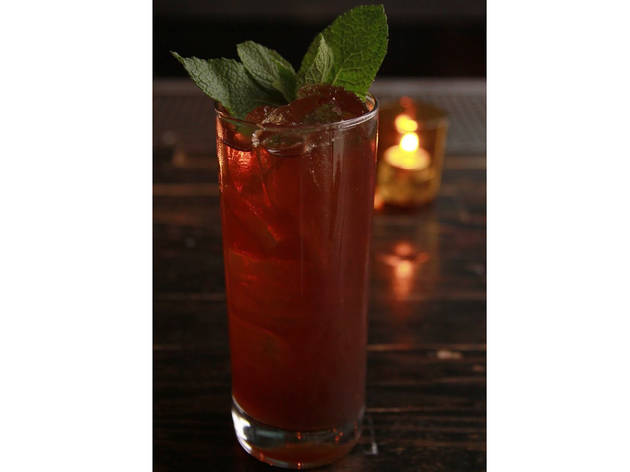 9/21
Photograph courtesy La Sirena Clandestina
The Ancho-Cola at La Sirena ClandestinaFor a spicy fall drink, beverage director Derek Payne mixes ancho chili liqueur, Italian vermouth and lemon, then adds bitterness from orange bitters and Chinotto soda.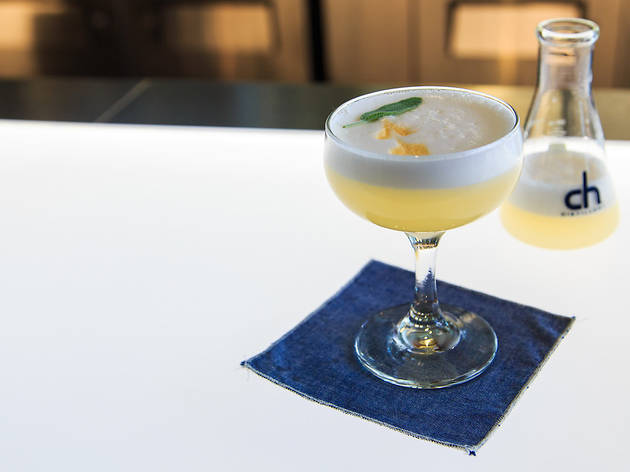 10/21
Photograph: Rachel Oftedahl
Savant Sour at CH Distillery CH Distillery just launched its new aquavit (an herbal, Scandinavian liqueur) this week, and it's showcasing it in a cocktail with sage, simple syrup and egg white.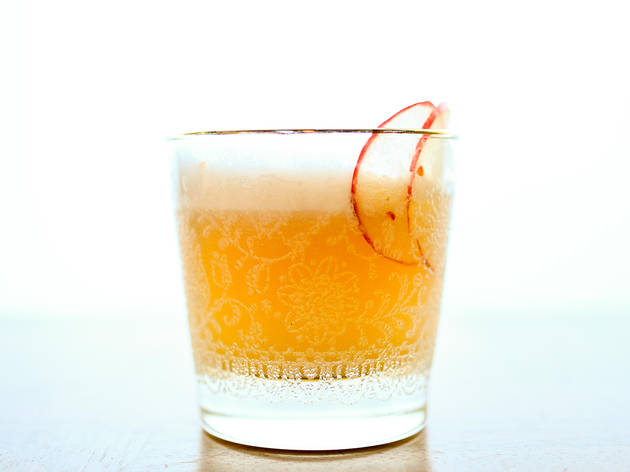 11/21
Photograph: Matthias Merges
Highing Fly at A10 A10 barkeep Alex Bachman will be releasing the fall cocktail menu on October 29, and drinks include the Highing Fly, made with tequila, chili, cider reduction and citrus.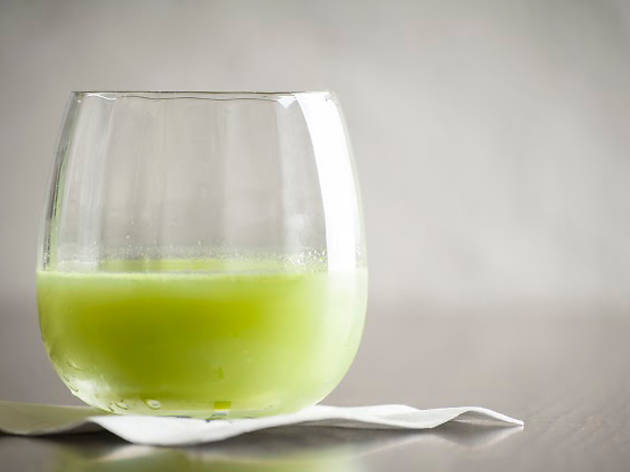 12/21
Photograph: Jessica Lynn Capron
Core Power at the Dawson Get your veggies in with the Core Power, which spikes kale-apple juice with apple brandy, genever and yellow chartreuse, then balances it with honey, lime and celery bitters.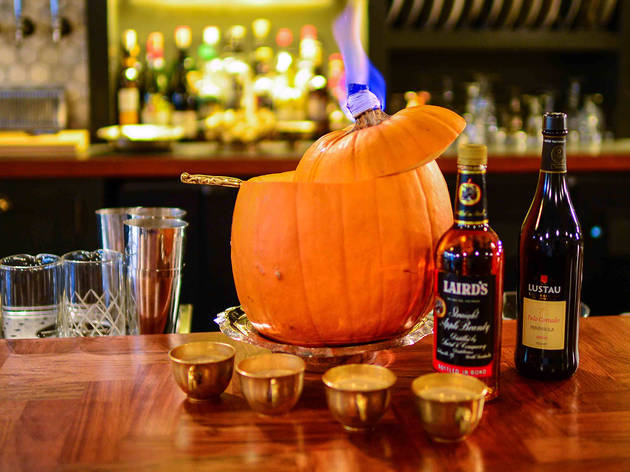 13/21
Photograph: Matthias Merges
Ichabod Cranium at Billy SundayIt doesn't get much more autumnal than drinking out of a pumpkin. At Billy Sunday, the Ichabod Cranium stuffs bourbon ice, applejack/cider fizz and vermouth into a pumpkin and sets it on fire. It's $80 but serves three to eight people.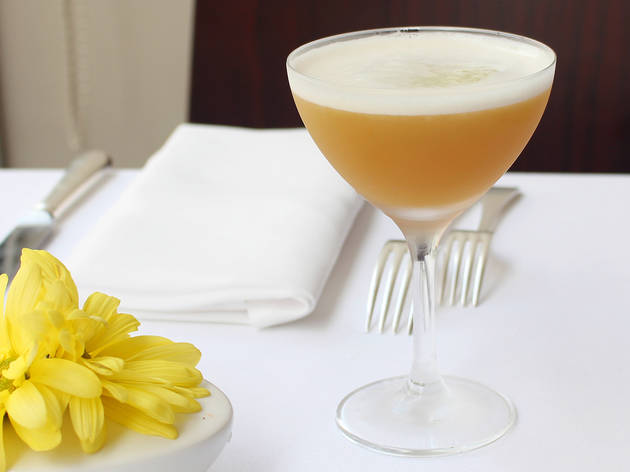 14/21
Photograph: Chloe List
Rum Rebellion at BlackbirdLove rum? Here you go: Kyle Davidson is mixing Plantation 3 Stars Rum and El Dorado 5-year with pineapple juice and allspice dram. It's a riff on the Hotel Nacional, a Cuban cocktail.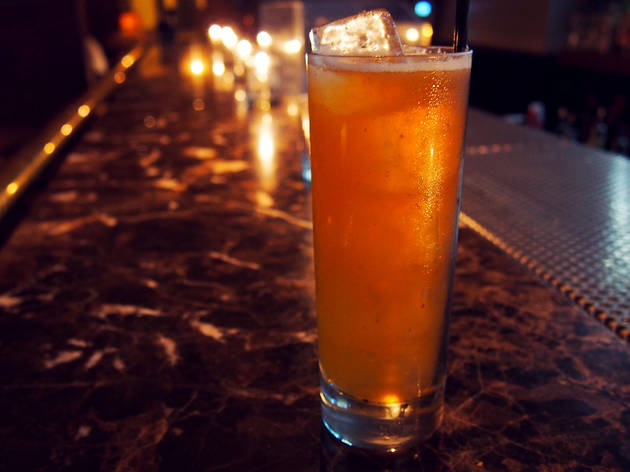 15/21
Photograph courtesy Barrelhouse Flat
Kiss Gamble at Barrelhouse Flat Jessica Tessendorf's boozy new cocktail mixes JK Scrumpy's Winterruption hard cider with rum, amaro and arrack, then balances it with lime and falernum.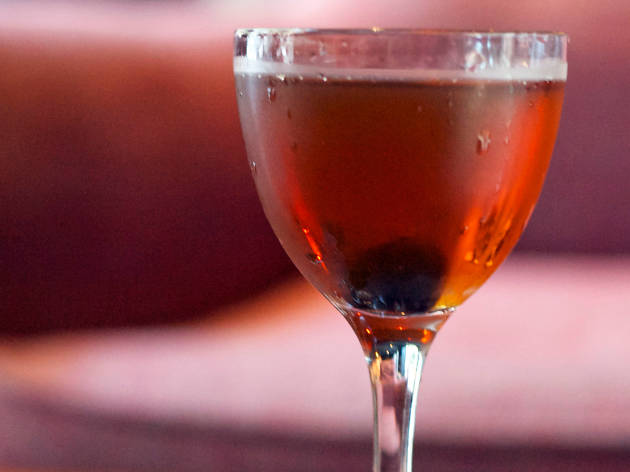 16/21
Photograph: Lindsey Becker
Woolworth's Manhattan at Henry's Swing Club Beverage director Michael Rubel doctors the traditional Manhattan by adding bittersweet Cynar and root beer bitters to Wild Turkey 101 and vermouth.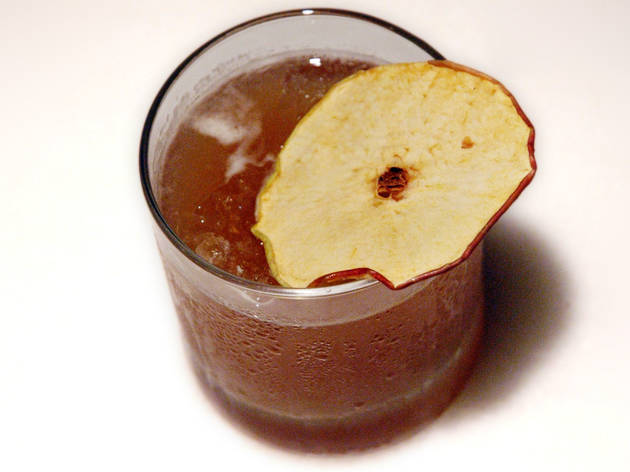 17/21
Hookshot Sour at Mott St.Mott St.'s fall cocktail menu includes this drink that mixes bourbon and Amargo Vallet Angostura Amaro (a Mexican liqueur) with apple, sesame leaf and lemon.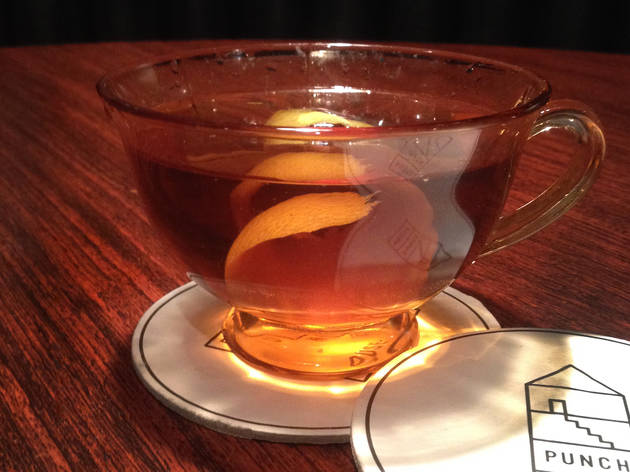 18/21
Photograph courtesy Punch House
Charles Dickens Punch at Punch House Warm up in Punch House's cozy basement with this hot punch, made with rum, brandy, tea, sugar and lemon. It's based on a recipe by Charles Dickens himself.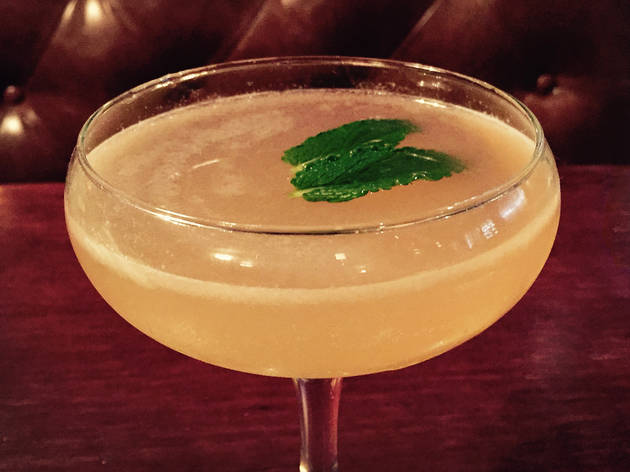 19/21
Panama at Tortoise ClubMade with Chopin Rye Vodka, lemon, Lillet, coconut liqueur, mint and a double hit of bitters—both Angostura and baked apple bitters—this is one hefty cocktail.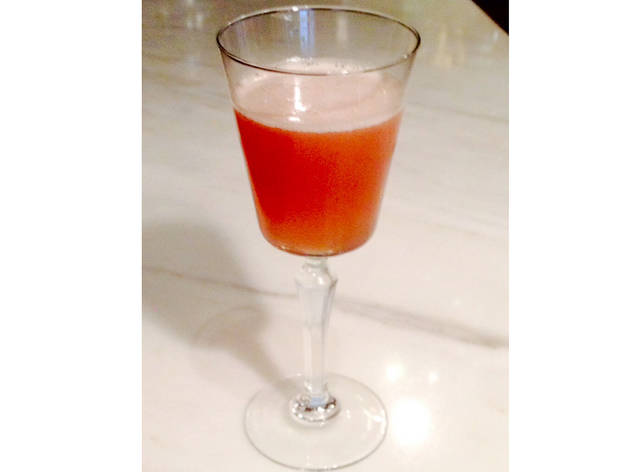 20/21
Photograph courtesy Sepia
Jack Rosie at SepiaBartender Griffin Elliot gives the classic Jack Rose a fall spin by using spiced grenadine and apple brandy, rather than the usual applejack and grenadine.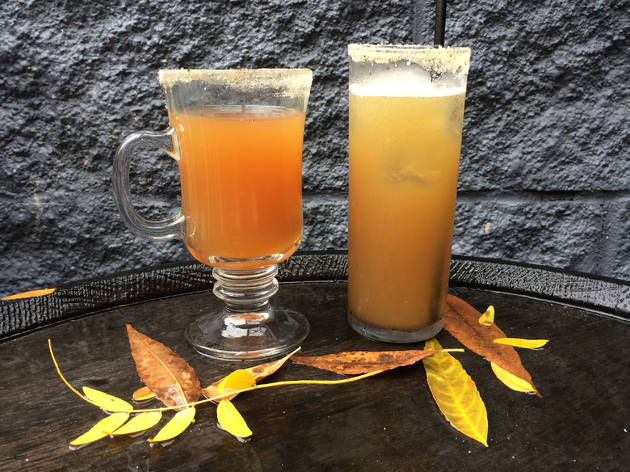 21/21
The Window Swill at Longman & Eagle The cocktail, which can be served hot or cold, features bourbon, apple cider reduction and caramel. It also includes Flaming Sphere, the housemade version of Fireball, which is made with cinnamon, Madagascar vanilla bean, green cardamom, star anise, clove, allspice berry, black pepper and juniper. The drink, inspired by Bang Bang Pie's apple pie with caramelized cheddar crust, also has a caramelized cheddar rim.
After a summer of slushies and frozen drinks, it's time to ease into fall with cocktails heavy on fall flavors. Chicago bartenders are embracing the season with apples, Concord grapes and cranberries, plus more surprising things like housemade Fireball and pumpkin serving vessels. Here are 21 new fall cocktails to try.
RECOMMENDED: Our guide to fall in Chicago
New fall cocktails in Chicago