Best bars in Boystown
Boystown bars range from gay bars to dives to craft beer spots. Here's where we like to grab a drink.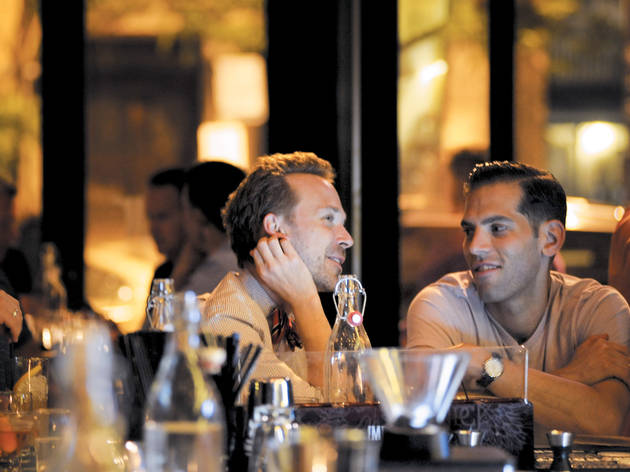 The small slice of East Lakeview that makes up Boystown packs in lots of bars and restaurants. Whether you're looking for the best gay bars in the city or a quiet place to grab a craft beer or wine and cheese at a wine bar, here's where to drink in Boystown.
RECOMMENDED: Boystown neighborhood guide
Pastoral launched as a cheese and sandwich shop, then opened this wine bar in 2012. It's very cozy, and all the food—cheese-focused, natch—works well with the interesting array of wines available by the glass.
Book now
Read more
This teeny taproom is a good stone's throw from the hustle and muscle of Halsted Street's rowdy boy bars, and that's just the way this clientele likes it. Plenty of ladies hang here until the midnight hour, but the boys crash the party shortly thereafter, creating one of the few truly mixed queer scenes in the city.
Read more
You'll never know how relaxing Celtic music can be until you spend an afternoon at this Scottish ale house. Listen closely as you hang out on the serene outdoor patio, eating fish-and-chips (it's all-you-can-eat on Wednesdays and Fridays) and drinking from one of the best Scotch whiskey lists in the city—soon you'll be humming along.
Read more
At this shoebox of a cocktail bar, the drinks are skillfully prepared, the crowd is kept to a minimum by the doorman, and the music never gets so loud that it drowns out your insights on Jean Genet. The clientele is mixed in age but not in gender—and everyone is on their best behavior, which makes it an altogether more sophisticated and adult experience than Elixir's next-door sister, Hydrate.
Read more
Regular strut-through performances by talented female impersonators are a draw for straight and gay patrons alike at this popular night (and brunch) spot, as is the 100-plus strong martini list.
Read more
L & L Tavern is exactly what you would expect out of a dive bar—cheap beer, precarious stools and wobbly tables. Even though they only have drinks, no food, you'll want to hang out for hours at this friendly neighborhood spot.
Read more
This laid-back bar on the Boystown scene, which took over the former Circuit space in 2013, boasts a cloud-like overhead sculpture installation made up of 19,000 twinkling light bulbs. It also boasts a better selection of craft beers on tap than most bars on the Halsted strip, with elixirs like Magic Hat #9 and local brew Half Acre Daisy Cutter.
Read more
Hydrate, Halsted's and Elixir owner Marc Liberson expands his Boystown mini-empire, turning the former Buck's Saloon into a barcade with classic video games from Dig Dug to Donkey Kong. As for drinks, Replay focuses on local and craft beers (26 on tap) and bourbon—a welcome addition to a strip where sugary-sweet mixed drinks and mass-market brews are the norm. The spruced-up patio remains a warm-weather attraction.
Read more
A relatively recent entry among the Sidetracks and Roscoe's-es of the Halsted strip, this popular gay spot contrasts fairly elegant, classic decor with theme nights that wax nostalgic for college debauchery, like Frat Night Thursday.
Read more
This huge beer garden turns into a laid-back college reunion on weekend nights in summer, with people crammed in at the outdoor bar. In colder months, the attention turns to the more sophisticated picks on the beer list and the slabs of ribs that go a long way toward warming the belly.
Read more
This huge Boystown hot spot gets packed, but there are six big rooms, an open-air courtyard and a lush rooftop deck, so you can move around till you find a spot to sip your slushy drink. A longstanding anchor of the Halsted strip, Sidetrack also plays host to a steady stream of community-minded fundraisers and events.
Read more
This bare-bones dive is known for its constant stream of live bands and for being one of the oldest bars on Halsted. It's pretty dark inside, but the drinks are cheap, Jell-O shots come out on weekends and it's a low-key spot for a drink in the neighborhood.
Read more