13 Chicago bars with a great jukebox
A great jukebox can make or break a night out, so try these bars that offer the best tunes in town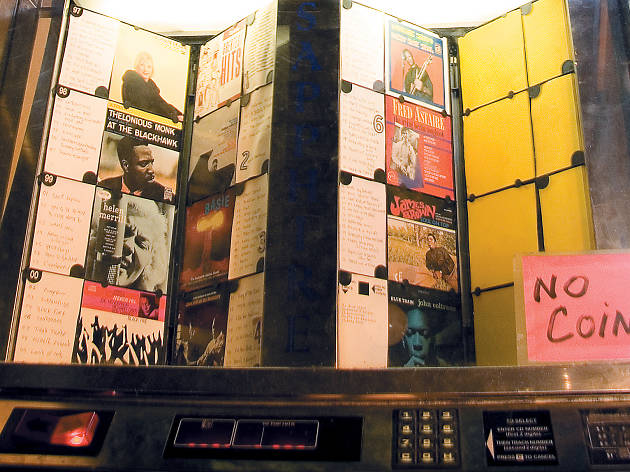 While a photo booth or even liquor stores can add a lot of charm to a bar, a great jukebox has the ability to transform another predictable night out into a small-scale neighborhood bash. So get ready to party it up with local barflies at these (mostly dive) bars with the city's best jukeboxes.
RECOMMENDED: Best bars in Chicago
Chicago bars with a jukebox
California Clipper's jukebox is an old-school treasure that's in the running for coolest in town. It glows with red light like a demonic menace, and features classics from bands such as the Animals, Alice Cooper and Warren Zevon.
Tucked away on the west side of Logan Square, the Double is a great spot for jukebox aficionados. Flip through albums by Dire Straits, the White Stripes and Rolling Stones, and sidle up to the bar for a cold brew.
While the new sign outside now reads "GMan Tavern," this Wrigley bar remains the Gingerman Tavern in our hearts. It attracts many more Metro-loving rockers than cargo shorts–wearing bros, and the jukebox reflects the clientele with selections from bands such as Broken Social Scene and the Strokes.
This beer-and-shot hangout remains one of the diviest dives in Chicago, and visitors love coming here to hang out on lawn furniture while munching on free popcorn and listening to T. Rex and Black Flag on the jukebox.
Even if you're creeped out by L&L's nose-singeing smells and its claimed ties to serial killers, you'll still stay for the cheap beers and free jukebox, which features a good mix of hits from the '70s, '80s and '90s.
This legendary dive has a storied history that's highlighted with references to Roger Ebert, Saturday Night Live cast members and nudie paintings. It should be no surprise, then, that its jukebox selections lean a bit on the vintage side with jazz and oldies picks.
A classic dive that's seemingly frozen in time, Richard's Bar attracts a diverse crowd that comes for the hard-boiled eggs, to-go beers and old-school vibes. As for the jukebox, expect to hear Sinatra, Sinatra and then some more Sinatra.
This Andersonville stalwart continually restocks its fantastic CD jukebox with fresh indie picks. Lately, it's records like Mac Demarco, TV on the Radio, D'Angelo and Real Estate. The player is so popular, it has its own Twitter handle. Pop in enough at this cozy Scandivanian dive, and you'll hardly need blogs and Spotify.
This Edgewater slashie's jukebox is one of the most-interesting you'll find anywhere, since it's filled with mixes made by staff members and friends.