20 places to get a beer while you're working
Sometimes coffee just won't cut it—here's where to grab a beer while you answer emails and work on spreadsheets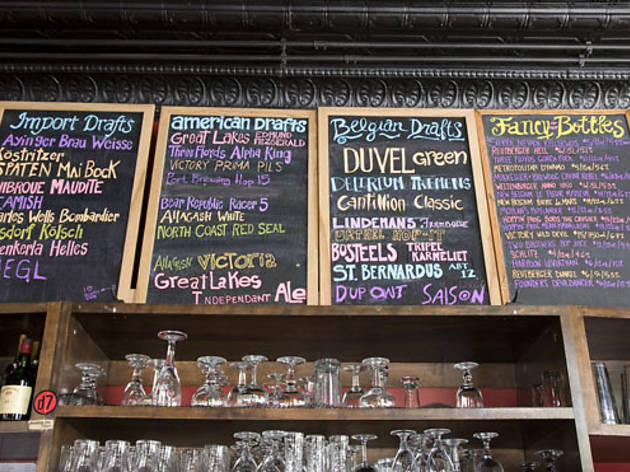 If you're lucky enough to work from home or need to tackle a few tasks away from the office, we have good news: There are plenty of spots that open well before 5pm where you can score free Wi-Fi and grab a drink. Work can (sort of) be fun when you have a beer, glass of wine or a cocktail in your hand, right?
RECOMMENDED: Best bars in Chicago
Think coffee shop plus beer–a really really good selection of beer. The always helpful staff can point you in the right direction for a drink while you plug in and work for the afternoon. Hungry? Grab something from a nearby eatery and bring it in.
Read more
The Lincoln Square bookstore is an ideal spot to browse books or sit down at a table to tackle some work while sipping beer, wine or freshly brewed coffee. Bonus: There are cupcakes from Southport Grocery to snack on.
Read more
The windowless front door isn't exactly a welcome mat, but once inside Christina's compact, cozy digs (and after an insanely cheap Guinness), you'll feel right at home.
Read more
It offers great coffee, but the Andersonville coffee shop also sells craft beer and wines—perfect for winding down from your morning coffee while you work.
Read more
Get there early or keep your eyes peeled for bar seats—DryHop gets crowded and waits for tables only make it feel more like the place to be. The killer French fries, great burgers and steady drafts solidify your decision, and the patio makes a great spot to hang out.
Read more
It can be hard to snag seats at the pub on game days (the Globe is a hotspot for watching soccer and rugby matches from across the pond), so sneak in on an off-day and hunker down to work. They have a solid selection of craft beer and events like trivia at night; you could stay all day if you wanted.
Read more
The taproom has free Wi-Fi, so settle in for the afternoon over a tasting flight. They also have regular tappings of limited releases, so try something new while you're at it.
Read more
The restaurant attached to Schubas is open for lunch, so stop by and grab a snack. Hang out for a while, 'cause there's Wi-Fi, wines and draft beers.
Read more
This sprawling restaurant/bar features a shocking number of beers on tap and just the kind of food you want to have while sampling beers. The menu includes classics like fried cheese curds, mac and cheese and a terrific kimchi-topped burger—perfect for Loop workers to drop in and grab a cold one before heading back to the office. Come summer, grab a spot on the big outdoor patio for prime people-watching and city views.
Book now
Read more
Show more