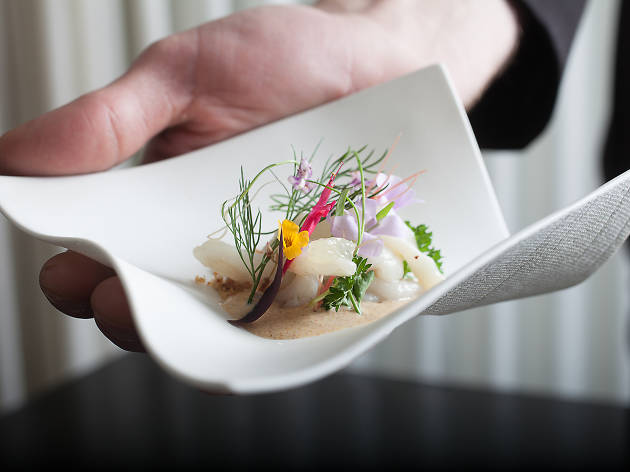 Alinea celebrates its anniversary with a six-course tasting menu to go
Channel your inner Grant Achatz.
Posted: Wednesday April 29 2020, 12:13pm
When Alinea Group co-founders Grant Achatz and Nick Kokonas envisioned the celebration they'd throw for the 15th anniversary of their three-Michelin–star restaurant, it probably didn't involve Alinea being closed to dine-in guests.
In lieu of what certainly would have been a posh, champagne-fueled party, Alinea is instead offering a six-course carryout menu from May 1 through 13 via Tock. (And yes, there are still time slots available, but you should hurry if you want to snatch one up.) The multi-course meal allows diners to recreate "dishes that have defined Alinea's legacy," including chilled English pea soup, spicy prawns and Achatz's iconic tabletop dessert.
The six-course feast is priced at $49.95 per person, and you can jack up your bill with 50 grams of caviar ($125), champagne service ($45) or an Aviary cocktail kit ($44.95–$65). It's a party after all. Take a closer look at the limited-edition takeout menu below:
Blis Steelhead roe: coconut pudding, carrot, turmeric, passionfruit gel
Chilled English pea soup: chamomile-compressed cantaloupe, yogurt custard, Nueske's ham
Spicy gulf prawn: cucumber, Thai curry sauce, Thai aromatic salt
"Rootbeer" of braised beef short rib: fennel, vanilla-scented 50/50 potatoes, dark dried fruits
Wild mushrooms and green asparagus: lapsang souchong tea emulsion, pickled shallots
Chocolate 64% on your table: strawberry, vanilla, hazelnut praline, blueberry, lemon
Most popular on Time Out
- 11 things you might not know about the face-covering requirement in Illinois
- How to buy face masks from local Chicago businesses
- Fat Rice closes its restaurant to transform into a marketplace
- The Shedd Aquarium's live cam is equal parts relaxing and mesmerizing
- Pretend you're on the Millennium Park lawn by streaming these archived summer concerts
Share the story